Looking forward to welcoming your godchild this spring? Or, becoming a mother yourself! We understand the barrage of emotions you contain at this moment, and that is why, while you have been busy thinking about the perfect gift to welcome them with, we're here to help you out!
There is nothing more meaningful than a handmade gift for the newborn, especially if they are someone as special as your child, your best friend, or someone from your family.
And when it comes to babies, you have to make sure the gift is useful and memorable, too. That is why crochet baby blankets are the perfect choice that can help keep the baby warm and cozy.
While you may be busy preparing for other important factors like hosting a baby shower or deciding on the birthing method, we are here to make the other tasks easier for you. In this article, we present the cutest crochet baby blanket patterns so you don't have to compromise on the other important tasks. 
Crochet Baby Blankets: Important Points to Keep in Mind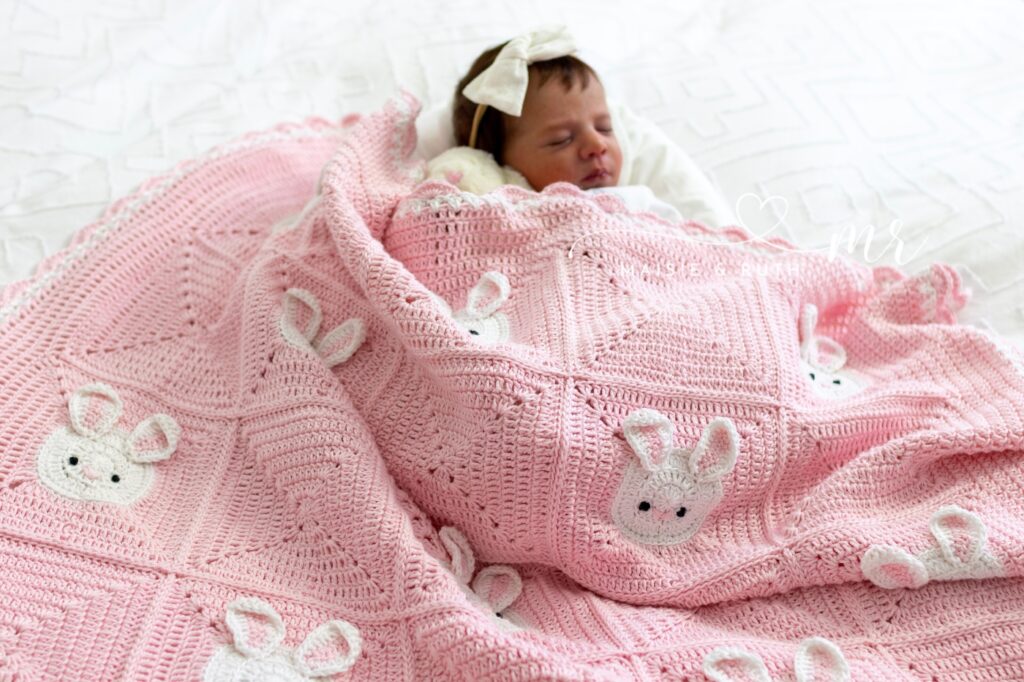 As much as you would love gifting baby blankets, browsing through crochet baby blanket patterns is not enough. Before you start crocheting your favorite DIY crochet baby blanket patterns, remember to buy the best quality yarns that are chemical-free, gentle, dermatologically tested, and, of course, easy to wash and maintain.
The skin of newborns is highly sensitive. Hence, you cannot compromise on the yarn. Acrylic, cotton, and velvet yarns are best for making eye-catching and comfortable crochet baby blanket patterns.
Also, make sure to use lightweight yarn that is soft and breathable and does not irritate their skin. Remember, when it comes to babies, you cannot afford to compromise on safety and comfort.
After all, that is why you are making the crochet baby blanket – to make the baby feel snug and warm (they intensely crave the feeling of their mother's womb for quite some time after they come out of it). Go with bright and cheerful colors because, come on, babies ARE pure joy, whether they are yours or someone else's!
Best Crochet Baby Blanket Patterns for Spring
Here is a listicle of the sweetest crochet baby blanket patterns in lightweight yarn. These patterns are suitable to be tried out even by beginners. Now, let's start, shall we?
1. Granny Square Crochet Baby Blanket Pattern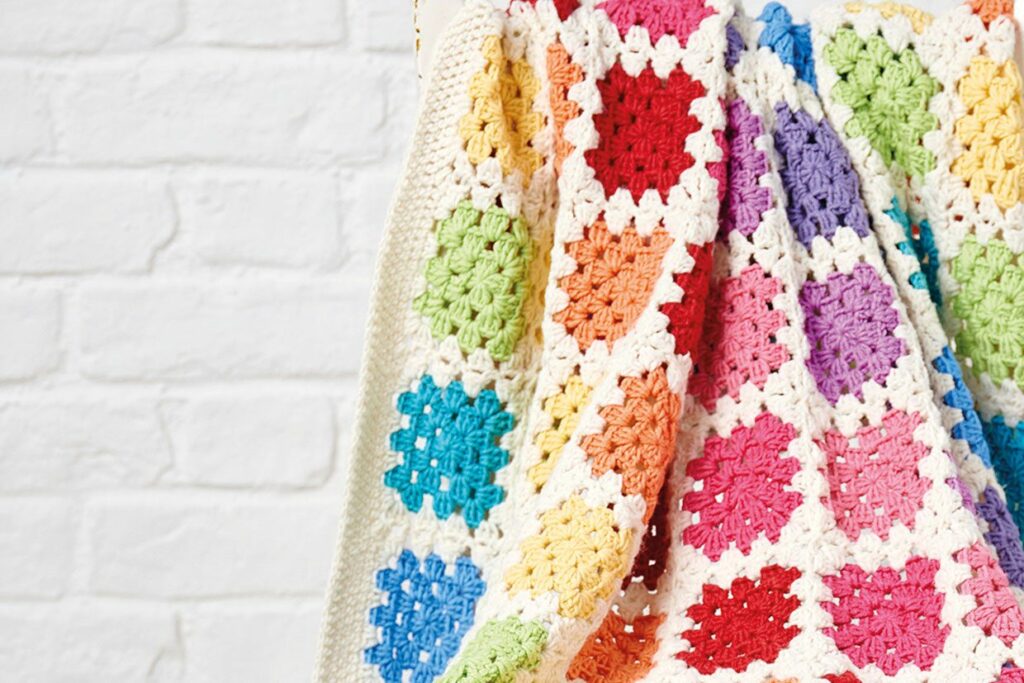 Something about granny squares makes it irresistible to incorporate in crochet patterns. And when it is about crocheting a baby blanket, any list is incomplete without this. Granny square crochet baby blankets in chenille yarn look and feel like a dream, owing to their simplicity and comfort. One of the basic crochet baby blanket patterns for beginners, this is a classic. You can also use worsted yarn for crocheting a granny square baby blanket. Work on the granny squares individually and assemble them once they're complete and you have the time! Use more than one color of yarn for a layered appearance that gives it a look far from plain.
2. Pink Daisy Crochet Baby Blanket Pattern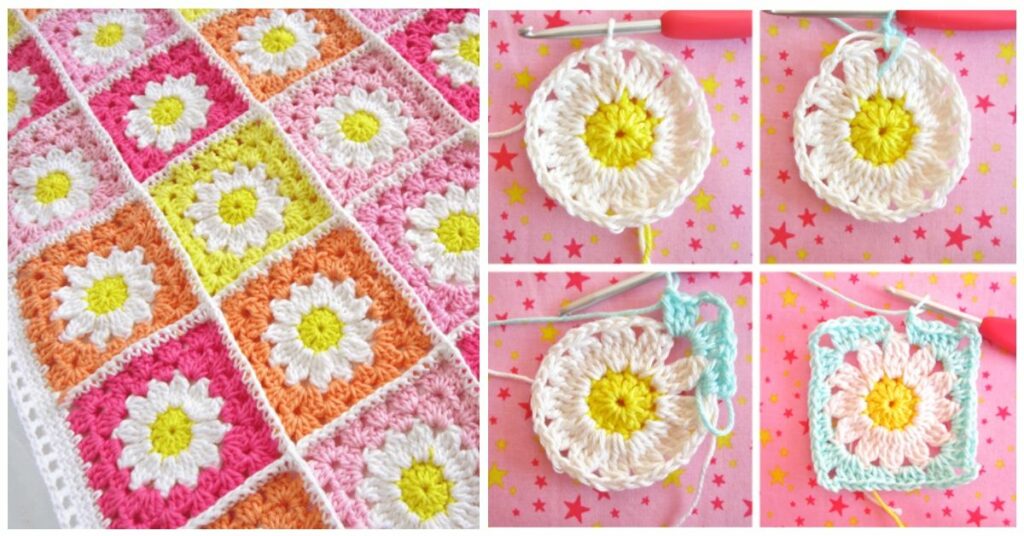 Cute little daisies in pink or blue make for a sweet little blanket design for your sweet little one. This pattern looks soothing to the eye and makes your baby feel cheerful amidst the bliss of a nature-inspired design. Floral designs are not uncommon, but the daisy, especially in crochet baby blanket patterns, gives it a contemporary feel. You can crochet bobble daisies against a backdrop of granny squares, which makes the flower stand out. For a gender-neutral theme, go for daisy colors like green, peach, or even red. You can go for daisy-patterned miniature afghans if all things flowery do not suit your taste.
3. Lacy Crochet Baby Blanket Pattern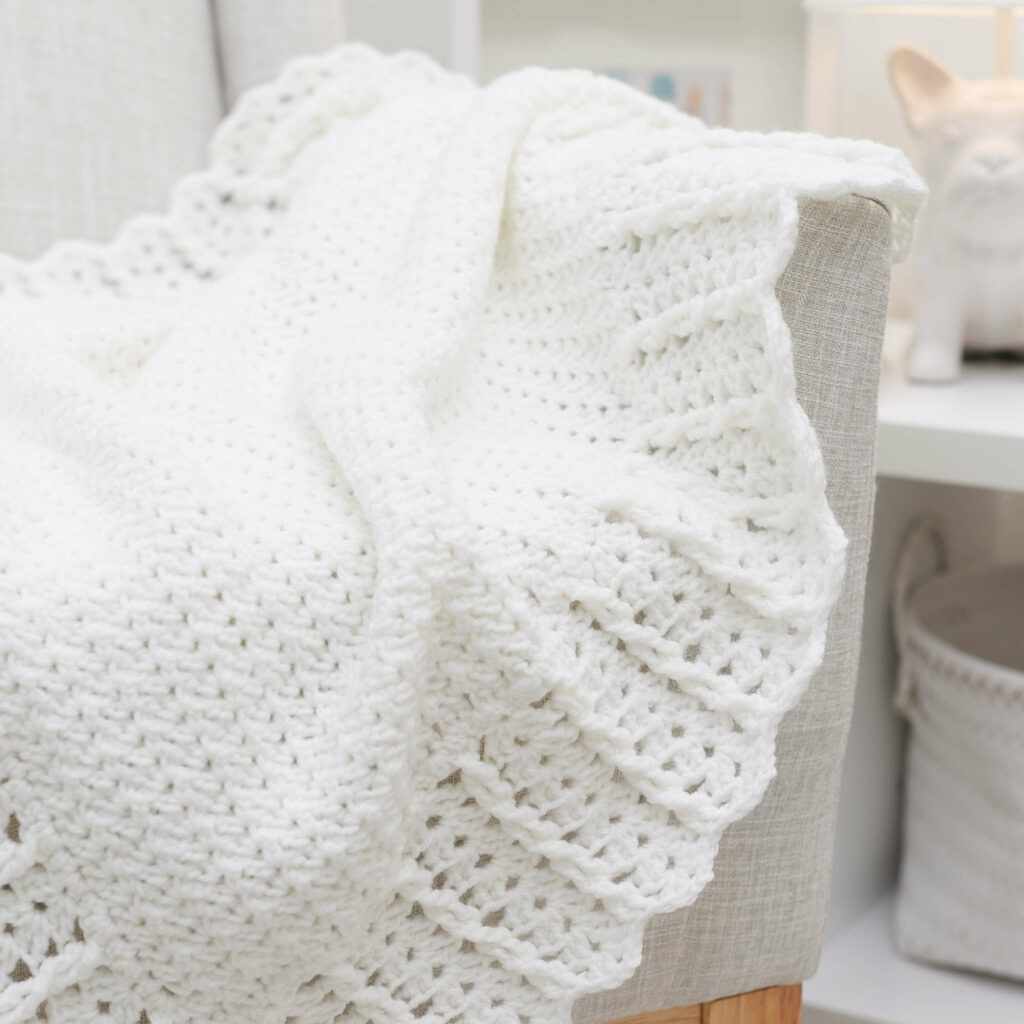 One of the feminine and subtly charming crochet baby blanket patterns, the lacy crochet blanket is adorable. Exuding an air of charisma, the design looks minimal and is aesthetically pleasing. Perfect for a photo shoot, you can double up the lace crochet baby blanket as a Swaddler. Intermediate-level crocheters with a fairly decent experience in the art should try this. Add scallop edges for a prominent visual pattern. 
If you are not sure about your lace crochet skills, add lace frills to your regular crochet baby blanket for the feel.
4. Floral Crochet Baby Blanket Pattern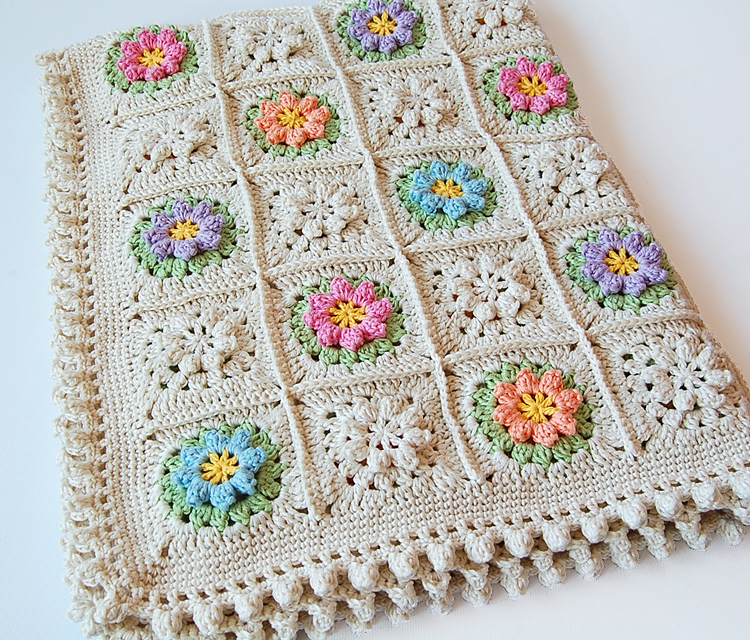 Little flowers in crochet baby blanket patterns are hard to miss. And it's not just because they are easy to stitch but also because of the significance that flowers hold. Flowers represent nature, tenderness, beauty, empathy, and love – the attributes that are predominant in children. Hence, floral patterns in crochet baby blankets are common and, despite this, are never boring. Floral baby blankets look bright and warm. We recommend crocheting multiple small flowers in one or more colors instead of large ones in reduced density. Making this crochet baby blanket design requires the knowledge of basic stitches and is the best project for a beginner. You can even assemble crochet flowers on an easy crochet baby blanket.
5. Vintage Crochet Baby Blanket Pattern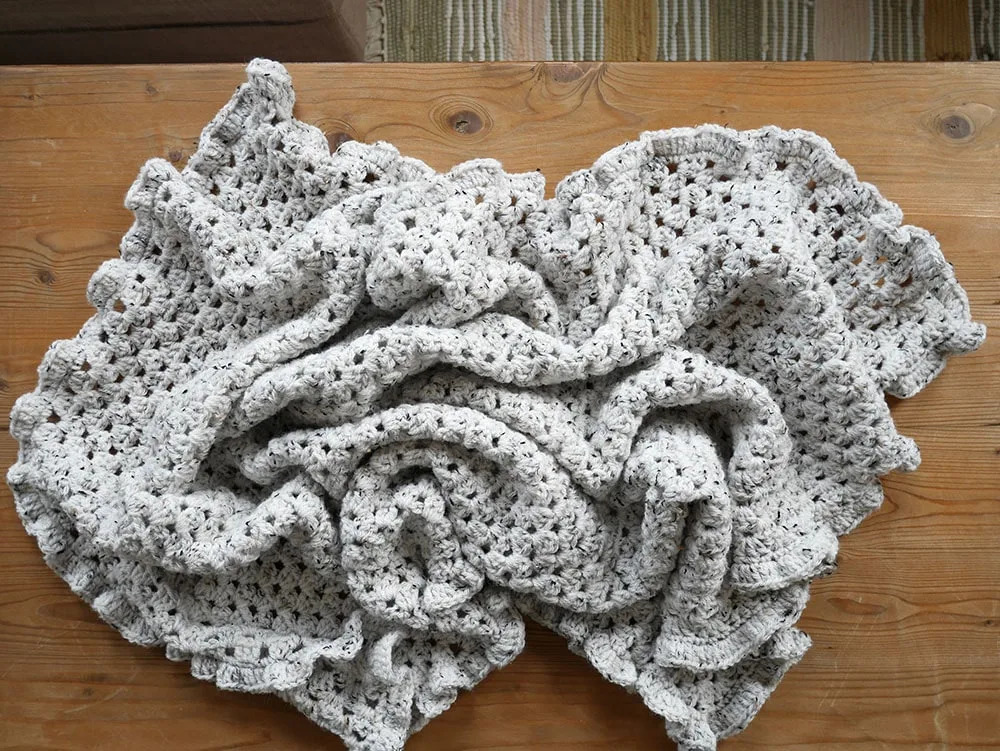 Modern crochet baby blanket patterns are great and convenient and all things good. But a hint of rustic, as found in vintage crochet baby blankets, takes the elegance to a whole new level. Majestic, as you may call it, vintage baby blankets are attention-grabbing owing to the level of detailing. Worsted yarns in neutral grays and off-whites make the task easier for you by incorporating a vintage vibe into your crochet blanket. This blanket pattern preserves your memories with your parents and grandparents and passes them on. While many crochet baby blanket patterns look appealing, this one, in particular, is highly tasteful and speaks volumes of your refinement.
6. Basketweave Crochet Baby Blanket Pattern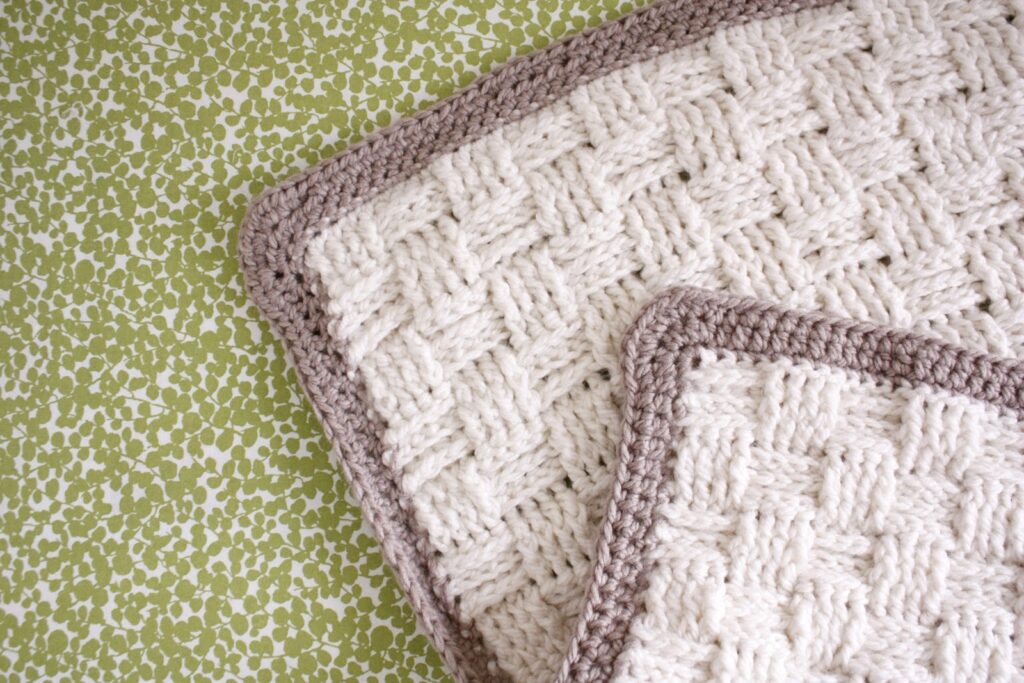 A reversible stitch pattern, the basketweave crochet baby blanket is super simple and even more fun to make. It is a repetitive pattern that requires little time once you master the stitch with due practice. The end result looks highly skilled and complicated, contrary to the skill level actually required. Basketweave crochet baby blanket patterns are in high demand because of the intricacy of the interlinking chains. This pattern has a thick ribbed texture, making it a warm blanket and, hence, one of the most popular choices of parents, and rightfully so. Given the property of the pattern of the stitch, it is also known as the reversible crochet baby blanket pattern.
7. Simple Crochet Baby Blanket Pattern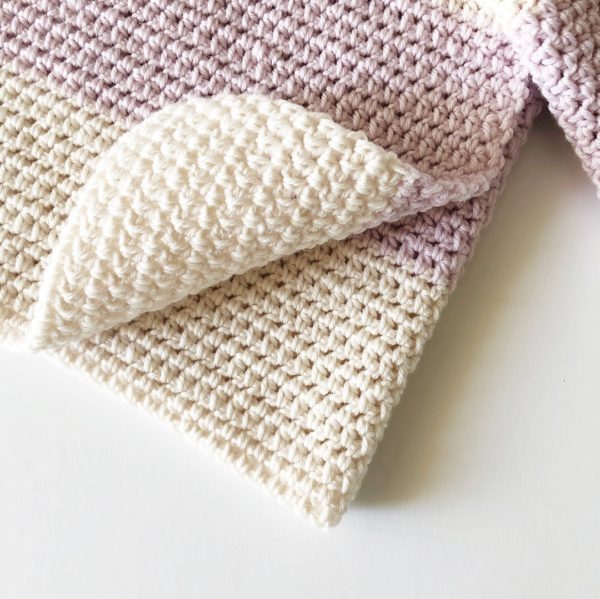 No matter how many intricately designed baby blanket patterns come up, nothing can take over a simple crochet baby blanket pattern. Requiring knowledge of basic stitches like single and double stitches, this is one of the most beginner-friendly crochet baby blanket patterns. Whether you make one for your little one or for a loved one, this pattern is sure to last for years and be a treasure trove of all the memories of mother and child. The uncomplicated patterns make it breathable and soft; hence, it is suitable for infants and children alike. The simple crochet baby blanket is timeless.
8. Bobbled Crochet Baby Blanket Pattern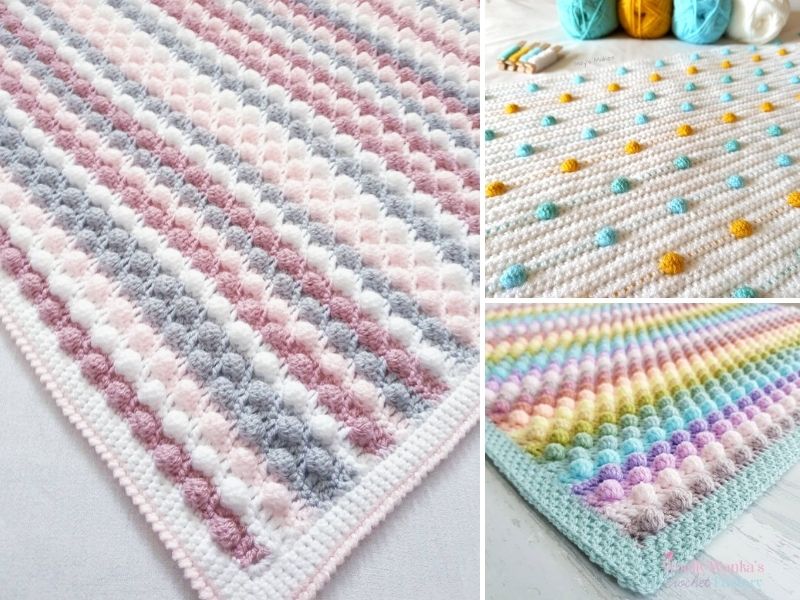 The elevated texture of bobble crochet baby blanket patterns makes it a delightful pattern to crochet and gift. How to make a bobble stitch is all you have to learn and master if you want to DIY the bobble baby blanket. Place the bobbles in densities that are comfortable and convenient for you. You can highlight the bobbles by using a different color for the same. The texture feels fun for children, and they enjoy a good time feeling and marveling at the highs and lows of the blanket they've been covered with. This pattern is likable to babies. 
9. Buttoned Crochet Baby Blanket Pattern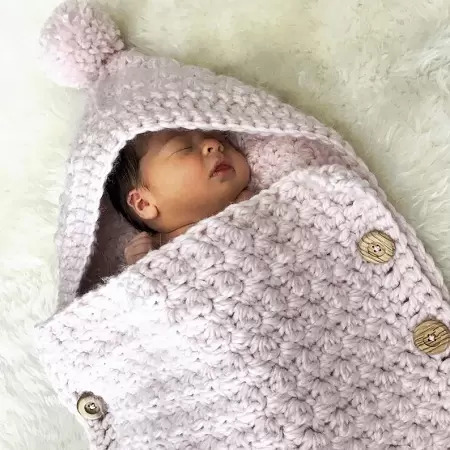 Buttons are a style statement in themselves. And the fact that you can never go wrong with them makes them such a popular choice in crochet items, including crochet baby blanket patterns. Buttoned-down crochet baby blankets provide extra protection during the winter. But even for spring, these buttoned variations in baby blankets are a wise choice because babies tend to get cold easily and need more insulation than adults. You could also use buttons purely for ornamental purposes by sewing them at the edges. Hand-painting buttons could add to personalization. 
10. Patchwork Crochet Baby Blanket Pattern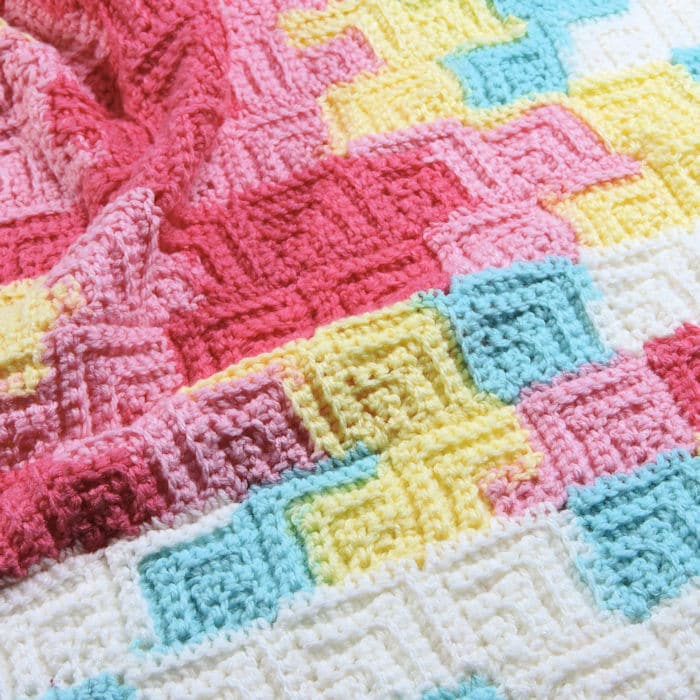 Have a lot of leftover skeins that will ultimately end up in the trash? Do you need a spare blanket for your baby? Crochet the unused yarn skeins to create a decorative patchwork crochet baby blanket. Probably one of the most sustainable crochet baby blanket patterns, this portrays it as a work of art that is tailor-made with utmost love and care. The patchwork baby blanket crochet pattern looks gaudy and provides warmth. You can also use self-striping yarn to create the patchwork baby blanket pattern if you have run out of leftover skeins but want to recreate this look.
11. Customized Crochet Baby Blanket Pattern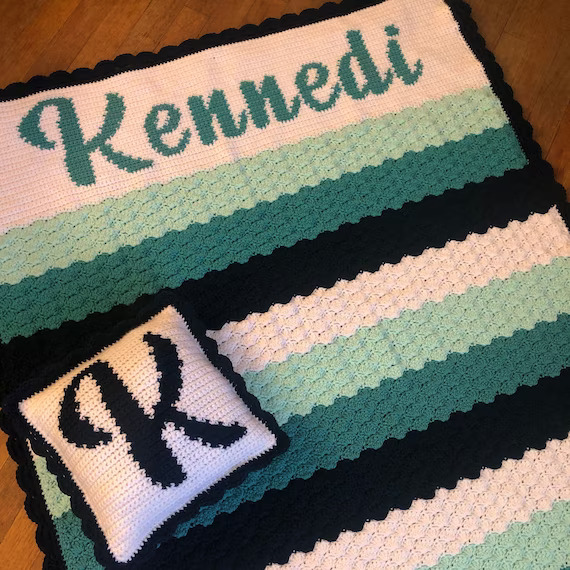 Crochet the name of your baby for a customized crochet baby blanket pattern. This is a wonderful baby blanket crochet pattern you can make all by yourself, even as a beginner. With basic double crochet stitches, you can create a baby blanket that will help the little one in getting a good night's rest. Over the years, it will become a work of art that will be cherished by every member of the family when they walk down memory lane. Hand-making gifts grants satisfaction undoubtedly, but hand-making a custom piece that is truly unique in nature, elevates the feeling altogether.  
12. Rainbow Crochet Baby Blanket Pattern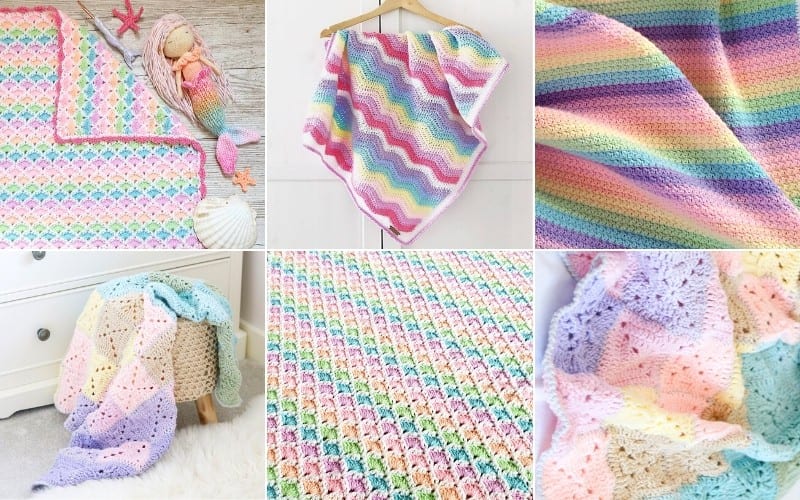 One of the most innovative crochet baby blanket patterns, the rainbow design uses a multitude of colors. No wonder it looks every bit bright and lovely – exactly what a baby would LOVE! Use shell stitches to crochet the rainbow baby blanket for a meticulous pattern framework. Whether taking out your infant for an evening stroll in the pram or resting them for the night in the crib, the rainbow crochet baby blanket exudes positive energy in the surroundings, paving the way for a healthy and happy baby.
13. Polka Dots Crochet Baby Blanket Pattern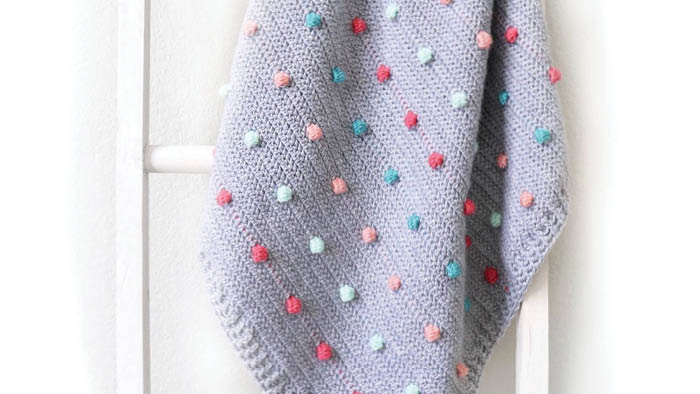 Who doesn't love a hint of polka dots? You do, right? Then why not incorporate these age and time-neutral cute little dots into crochet baby blanket patterns? Use bobble stitches to showcase the polka dots. Instead of the classic black and white pattern, add a splash of colors to your pattern. After all, it's a baby blanket, and colors are the sole attraction when crocheting these! You can add buttons at the elevations for extra decor. 
14. Marshmallow Crochet Baby Blanket Pattern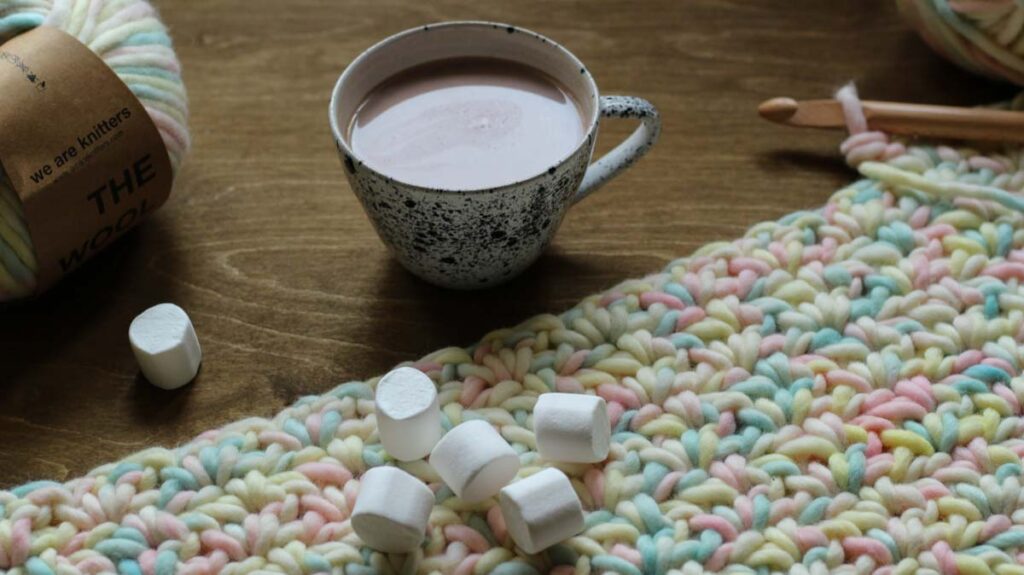 What's the first word that comes to your mind when you think of marshmallows? Squiggly, squishy, and squeezy? Are newborns any different? No, right? Match the attributes of both into crocheting a marshmallow baby blanket. Double stitches should help you DIY the pattern. Think of bright baby pink and white or baby blue and white combinations when it comes to the skein colors. But it doesn't end here. Let your imagination take center stage, and use any other color combo that you think would catch the eye.
15. Cluster Stitch Crochet Baby Blanket Pattern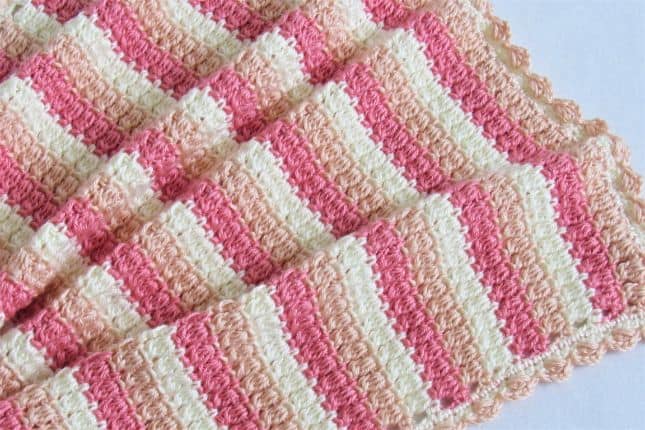 This is one of the bulky crochet baby blanket patterns. Use chunky yarn for the design. The intricate crochet pattern gives the illusion of heavy work that requires intensive labor. While it does, it does not require as much skill level as it presents itself to be. However, the tight weave ensures that your baby stays warm and is not perturbed by the chilly winds. The cluster stitch requires basic stitches and is easy for beginners, too. 
16. Sunshine Crochet Baby Blanket Pattern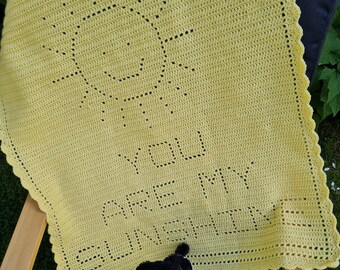 Spring is incomplete without the bright rays of pleasant sunshine. And so are spring crochet baby blanket patterns without the gorgeous hue of yellow. Crochet a bright, smiling Sun for your smiling little one. Add scallops or frills at the edges for a polished appearance. The perfect baby blanket pattern that emanates joy and happiness, the sunshine crochet baby blanket pattern serves as the perfect reminder of the grace your little bundle of joy has brought with them.
17. Gingham Crochet Baby Blanket Pattern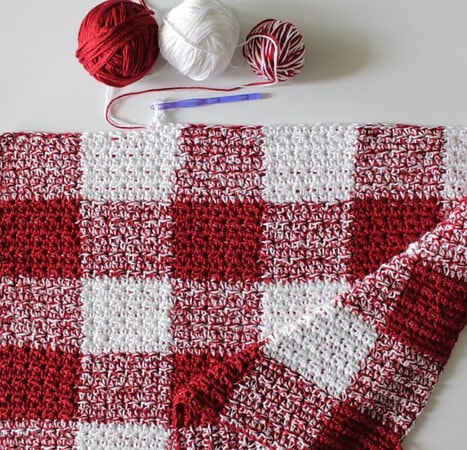 This has got to be among the most versatile crochet baby blanket patterns. The Gingham crochet baby blanket pattern is a modern take on the cluster stitch that gives it a knitted look. Even though it comprises a variation of the cluster stitch, unlike what you would expect, it does not look messy or cluttered at all. Instead, it feels like a breath of fresh air among other baby blanket patterns that may sometimes feel overburdened with patterns and weaves. Try pink, blue, greens, or other neutrals in this variety.
18. Sugar Wheel Crochet Baby Blanket Pattern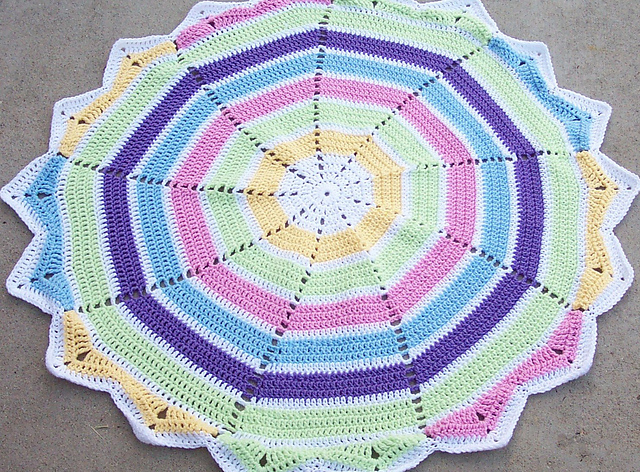 This circular baby blanket is (like its name suggests) the sweetest gift for your niece, granddaughter, or best friend's daughter. Leaving gaps between intricate crochet stitches it gives the illusion of a pinwheel. The sugar wheel crochet baby blanket patterns in pink or blue make the perfect gift for the baby girl or baby boy. Additionally, it is lightweight and not too warm and is ideal for the upcoming summer months.
19. Candy Dots Crochet Baby Blanket Pattern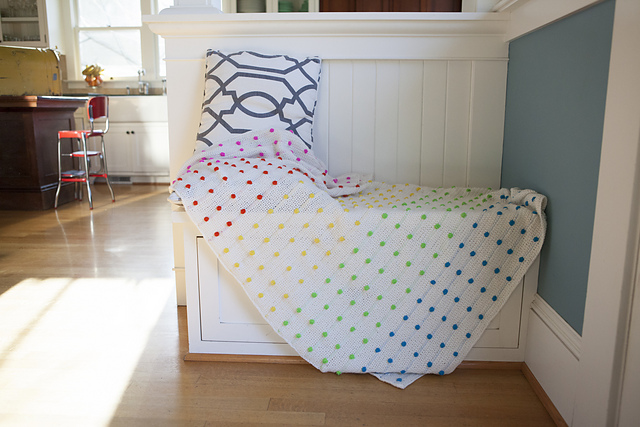 Dot crochet baby blanket patterns are numerous, be it polka dots mini dots, or any other dot pattern. The candy dot baby blanket pattern is no different. It is a bigger dot size than the usual polka dot. Nonetheless, it is attractive and flamboyant. Despite the elaborate appearance, the candy dot baby blanket pattern does not require enormous effort or excessive time. Anyone, especially beginners, can easily master it. In fact, this is one of the easiest crochet baby blanket patterns for beginners and is surely worth trying your hand at.
20. Double Ripple Crochet Baby Blanket Pattern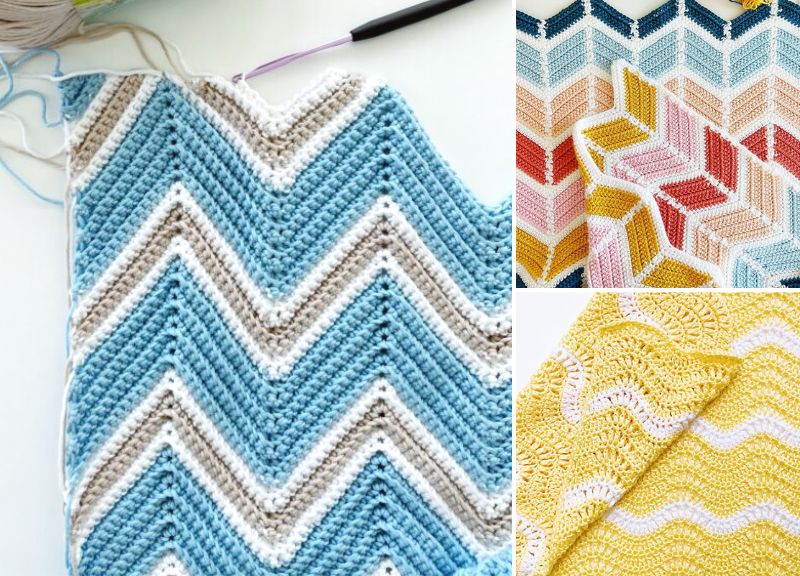 Imagine the calm you feel when visiting the beach and staring at the waves. Feels soothing? Then, treasure the feeling and manifest it in your crochet pattern as a double ripple crochet baby blanket. Gift the feeling of safety to your loved one as you DIY this unique baby blanket pattern. Soft pastel colors work best with this design and enhance the snuggly feeling that a small cutie would love. It reminds them of the time spent in their mother's womb.
21. Elephant  Crochet Baby Blanket Pattern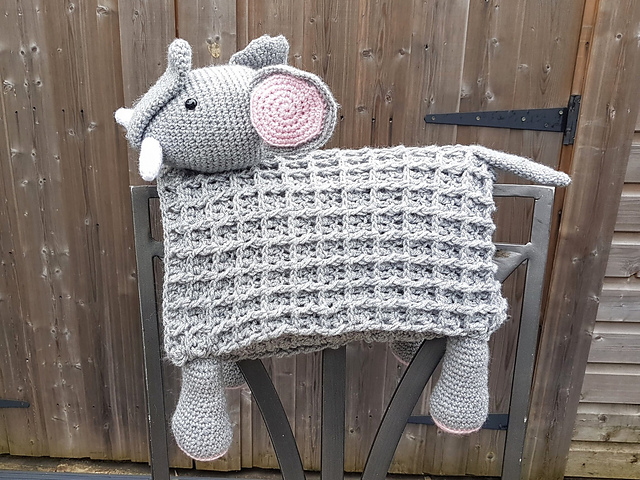 Made up of Tunisian stitches, this is one of the most appropriate crochet baby blanket patterns for a child who loves animals. Child-friendly, cute, and lightweight – a beginner can try a simpler alternative to this baby blanket pattern. That is, you can crochet an elephant baby blanket pattern with simple peaks and valleys made with the help of double crochet stitches. Alternate it with single crochet stitches, and voila! You have a brand new beginner-friendly elephant crochet baby blanket pattern!
22. Moss Stitch Crochet Baby Blanket Pattern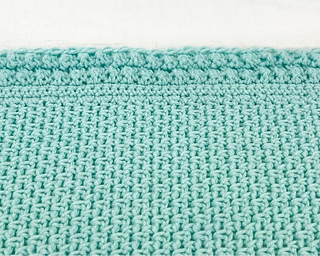 The moss stitch baby blanket pattern is a rich-textured pattern. However, it is one of the fastest crochet baby blanket patterns that you can make when you don't have much time left in your hand. If you are wondering how here is your answer. Single crochet stitches alternating with chains – this is the entire stitch process summed up in a sentence. Hence, it is suitable for beginners and is a great gift idea for both infants and children.
23. Alpine Stitch in Round Crochet Baby Blanket Pattern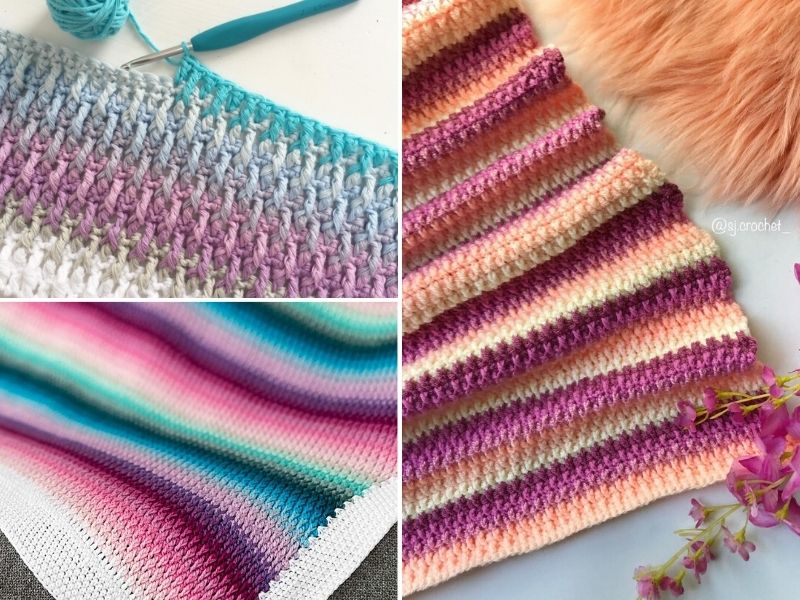 The alpine stitch is one of the most lively stitches in crocheting. Thus, it doesn't come as a surprise when we say that the alpine stitch in the round crochet baby blanket pattern is one of the most colorful crochet baby blanket patterns. The radiance of the colorful vibe is infectious, so be prepared to be attacked by a swarm of smiles and complimentary greetings when gifting this to someone who's recently had a baby. The alpine stitch consists of four rows of repetitive stitches, so once you get the hang of it, the crocheting process gets much faster and easier.  
24. Heart Puff Crochet Baby Blanket Pattern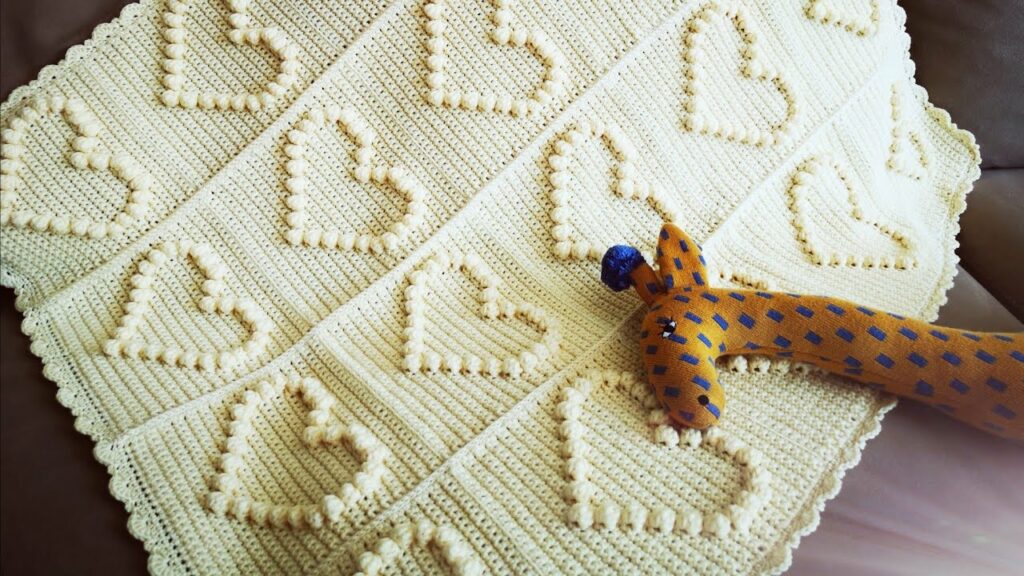 Doesn't your heart swell up in joy when hearing the laughter of your baby or looking at your friend's baby smiling? Express the feeling of gratitude with this design under crochet baby blanket patterns. Use puff stitches to create elevated hearts. The heart puff crochet baby blanket pattern is a free-flowing design that is designed to look all big but is extra soft and gentle, catering to the needs of your baby's skin. This pattern is one of the most preferred textured crochet baby blanket patterns. 
25. Bernat Crochet Baby Blanket Pattern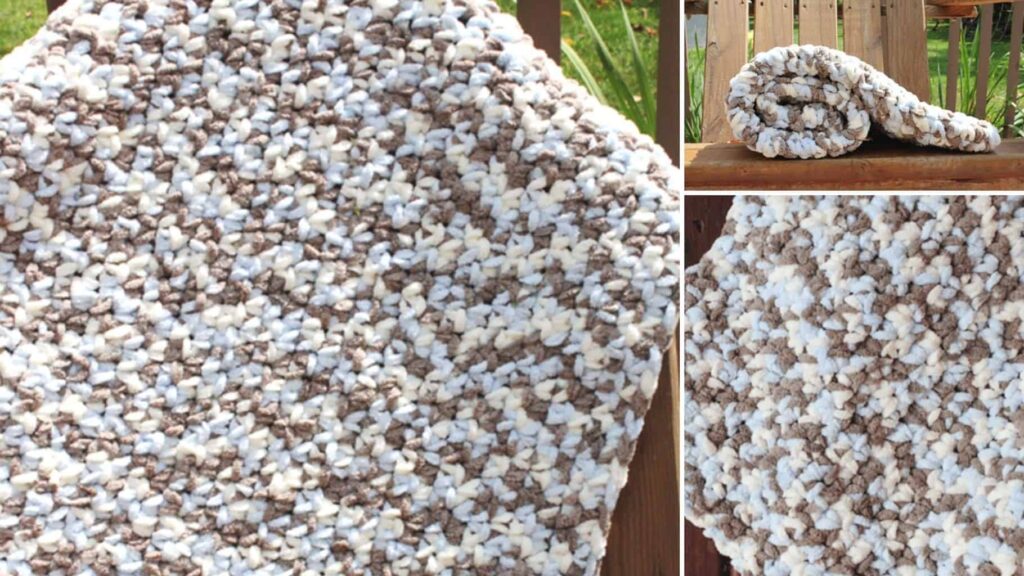 Are you worried about your baby's super-sensitive skin that breaks out into rashes when coming in contact with almost any baby blanket or garment? Well then, if the design doesn't already lure you, this could be another reason why you NEED to make this Bernat crochet baby blanket pattern. One of the most comfortable crochet baby blanket patterns. a beginner adept at making the basic stitches can easily make this blanket pattern.
26. Candy Stripes Crochet Baby Blanket Pattern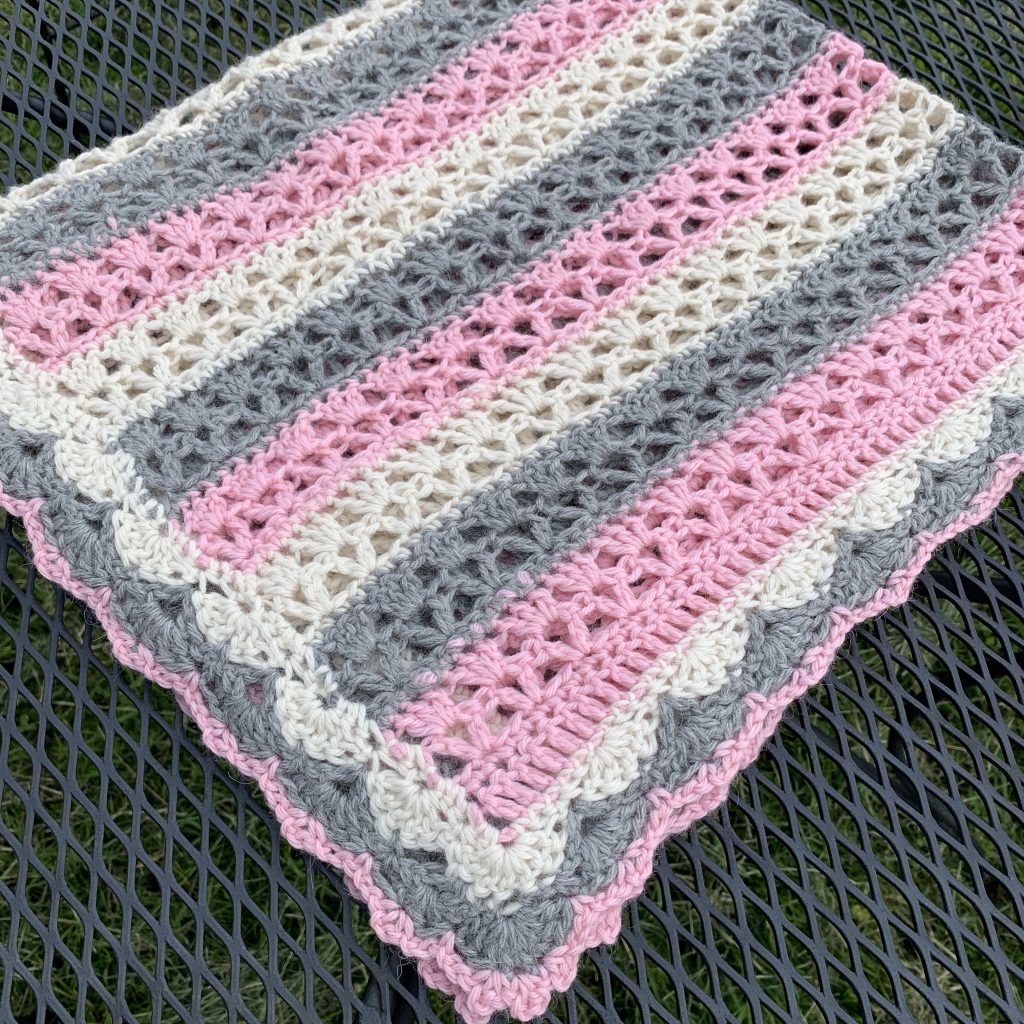 Irrespective of age, we all love candies, don't we? With such interesting, modern, and quirky crochet baby blanket patterns, you could take your love for candies a notch further. Single crochet stitches in strips of alternating colors summarize the basic concept of making candy stripes crochet baby blanket patterns. Simplicity, coupled with cheerful colors, has made this baby blanket pattern an instant hit among new mothers.
27. Crochet Windowpane Baby Blanket Pattern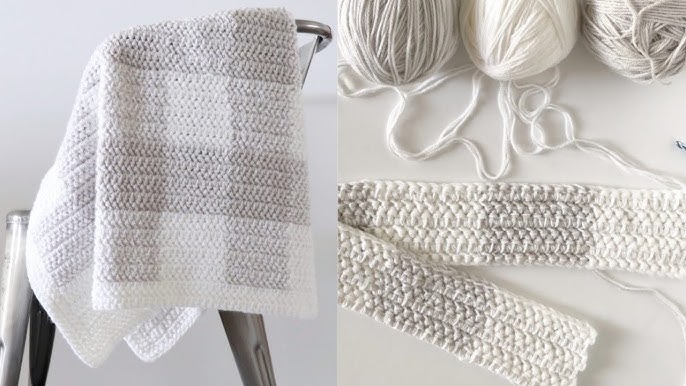 One of the free-flowing crochet baby blanket patterns, the crochet windowpane pattern is best for lightweight yarn. It consists of basic stitches like single and double crochets, paired with puff stitches. Elevations denote the window panes, while the valleys denote the window itself and the base row. The crochet windowpane baby blanket pattern is ideal for spring because of its delicate pattern. Breezy and feathery, your baby will love the feel of this blanket and enjoy sound sleep.
28. Diamond Berry Crochet Baby Blanket Pattern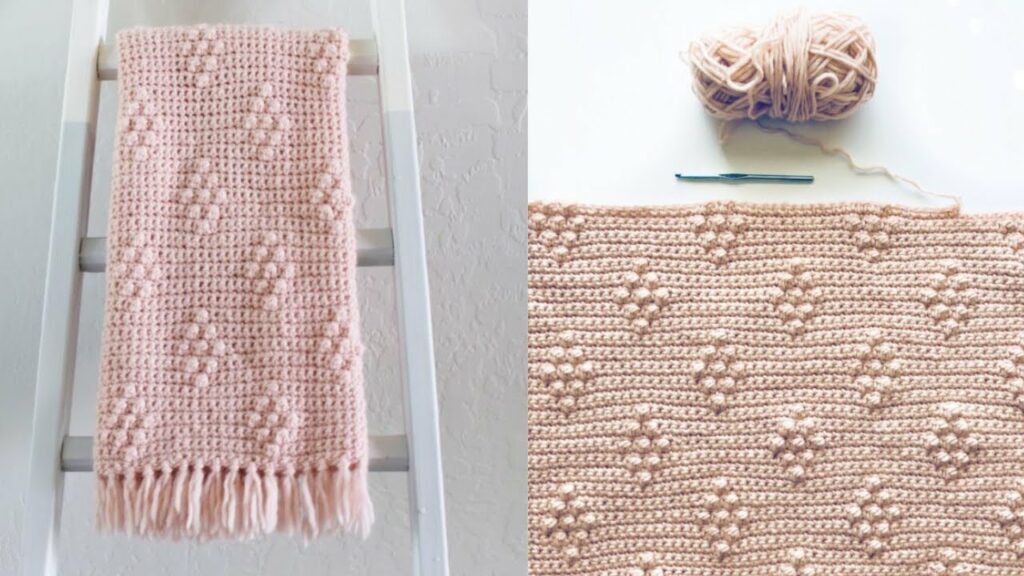 This elevated design is an absolute stunner. Subtle charisma, combined with a taste of elegance, added to the intricacy of crochet – this is what sums up the diamond berry crochet baby blanket pattern. Lightweight and practical, this is one of our favorite crochet baby blanket patterns. You will need to learn the puff stitch in order to be able to crochet the diamond berry baby blanket pattern. The design looks calm and pleasing yet is, in no way, dull or boring. We recommend using one or more different colors for crocheting the diamond berries for a brighter appearance.
29. Shell Crochet Baby Blanket Pattern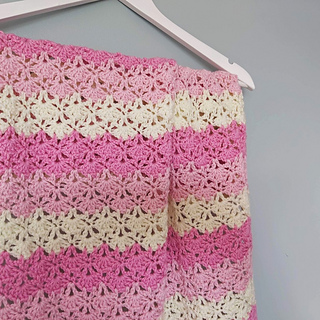 You cannot leave out shell crochet stitches when starting out your journey in the magical healing world of crochet. If your baby loves the water, this is the perfect way to honor their choice – DIY a shell crochet baby blanket for them. The soft texture feels comfortable and cozy for babies and children alike. Moreover, the pattern intrigues both adults and kids equally. Be it macrame or crochet – the shell pattern is prevalent in every aspect, and we are sure you know why!
30. Double Waffle Crochet Baby Blanket Pattern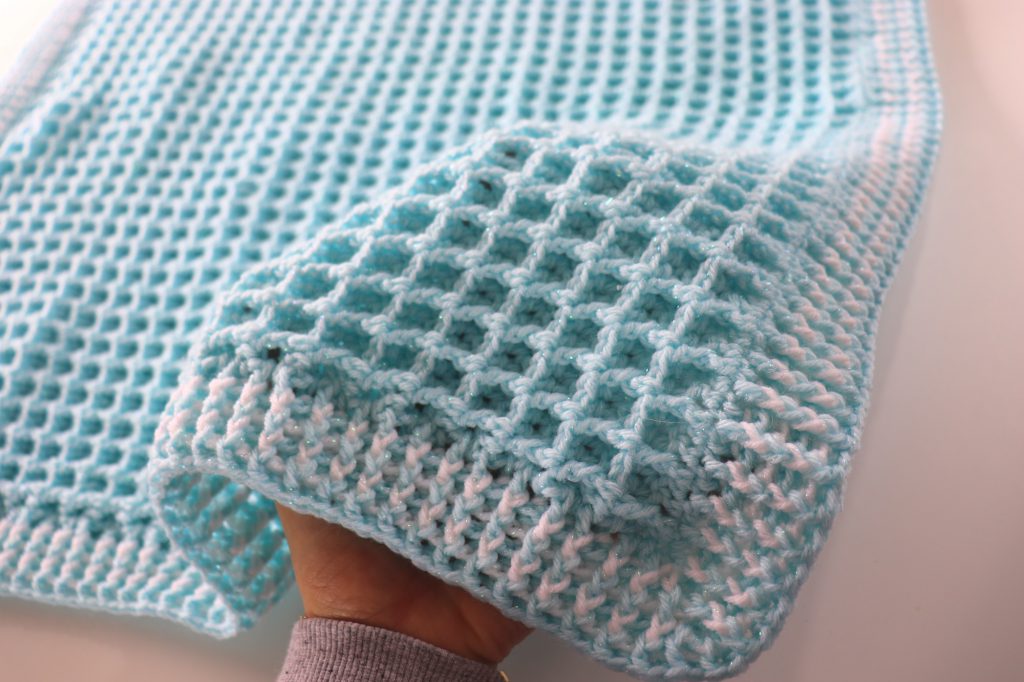 The double waffle crochet baby blanket pattern falls under the category of the easiest crochet baby blanket patterns for beginners. The same pattern is repeated throughout, and the repetition is easy to memorize. Two rows of double crochet stitches alternate with one row of front post double crochet stitches. Simple, right? And yet it provides the ultimate comfort for the slightly chilly nights during the spring, ensuring your baby does not fidget much or have a runny nose the next morning. As inviting as the edible waffle itself, the double waffle crochet baby blanket is a treat to crochet.
Crochet Baby Blankets are More than Gift Items
DIY crochet baby blankets hold within them unwavering and unfailing emotions of boundless love, affection, warmth, laughter, and pure bliss. The significance of crochet baby blankets lies far beyond gifting as part of etiquette and formality.
Thus, choosing the right one among a large number of options for crochet baby blanket patternsis important. It is not just about the skill level you possess but how you can relate the design of the baby blanket to the one you are gifting it to.
So, before you choose a design that is sure to make a style statement when taking out the little one in a pram for an evening stroll, ensure the comfort of the pattern. Most of these patterns are beginner-friendly, so happy crocheting!
Which one among the crochet baby blanket patterns would you like to DIY? Have you crocheted a baby blanket before? Which pattern did you crochet? Let us know in the comments section below; we're eager to hear from you.
Frequently Asked Questions
What is the Best Size for a Crochet Baby Blanket?
Crochet baby blankets come in mainly three standard sizes – small, medium, and large. The small size is ideal for infants and for use in car seats or bassinets. The medium baby blanket is suitable for infants, toddlers, and playmates. The large blanket is perfect for young children.
What is the Quickest Crochet Stitch for a Baby Blanket?
The quickest crochet stitches you can use to weave a baby blanket when you have less time are the single crochet, double crochet, shell, and chain stitches. Using a combination of these, you can stitch various crochet baby blanket patterns that are both functional and adorning. For advanced crocheters, the puff stitch also does not take much time to crochet.
What is the Softest Crochet Stitch?
This opinion varies among crocheters. But if you are looking for the softest stitch for crochet baby blanket patterns for beginners, we would undoubtedly recommend the moss stitch and the double waffle crochet stitch. However, the most important factor that decides the softness of a baby blanket is the texture of the material you are using.