The little crocheted dresses are bound to make your heart go – aww. No doubt, the crochet baby dress pattern is the cutest thing ever! It is the most fun, refreshing, and adorable crochet project you'll ever get your hands on. Beyond the creative joy, you'll also get to give your beloved little ones something special and unique.
Whether you are a new mama or want to gift some handmade love to a newborn or a toddler, our list of crochet baby dress patterns explores all sorts of designs. From modern, trendy crochet baby dress patterns to vintage ones, you name it, and we have it all covered. After all, when it comes to clothing, there's nothing like too many options, right?
Are you ready to crochet for your tiny loved ones? Grab your yarn skein and hook before scanning through our diverse list of crochet baby dress patterns.
Top Exquisite Crochet Baby Dress Patterns
These crochet baby dress patterns are super easy. Even if you are a beginner, you will be able to crochet these dress patterns. Plus, using these crochet baby dress patterns, you will be able to crochet dresses for every occasion! And what does that mean? You are able to save tons on designer baby crochet dresses. Without further ado, let's begin:.
1. Simple Crochet Baby Dress Pattern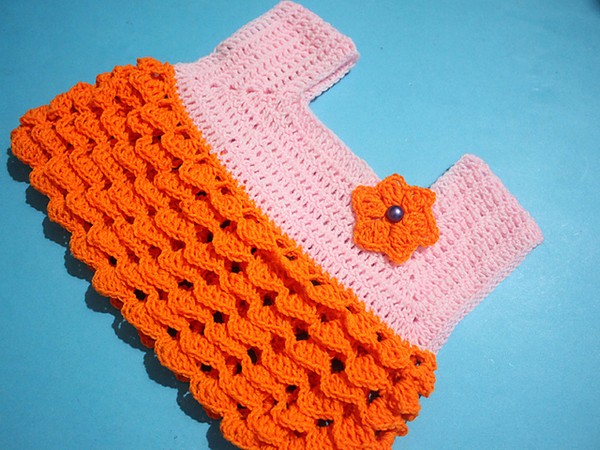 For a start, we have an easy-to-do pattern to crochet a beautiful dress for your little one. It is a blend of simplicity and adorability. And with not very intricate details, this pattern is a splendid choice for beginners.
However, the best part about this pattern is its versatility of colors. Once you learn the pattern, you will able to create this dress in different color palettes and experiment with it. You can even customize the size of this pattern for a newborn to 3 months old and above. Just use DK-weight wool and a 3.5mm crochet hook for easy customizations.
2. Newborn Red Crochet Baby Dress Pattern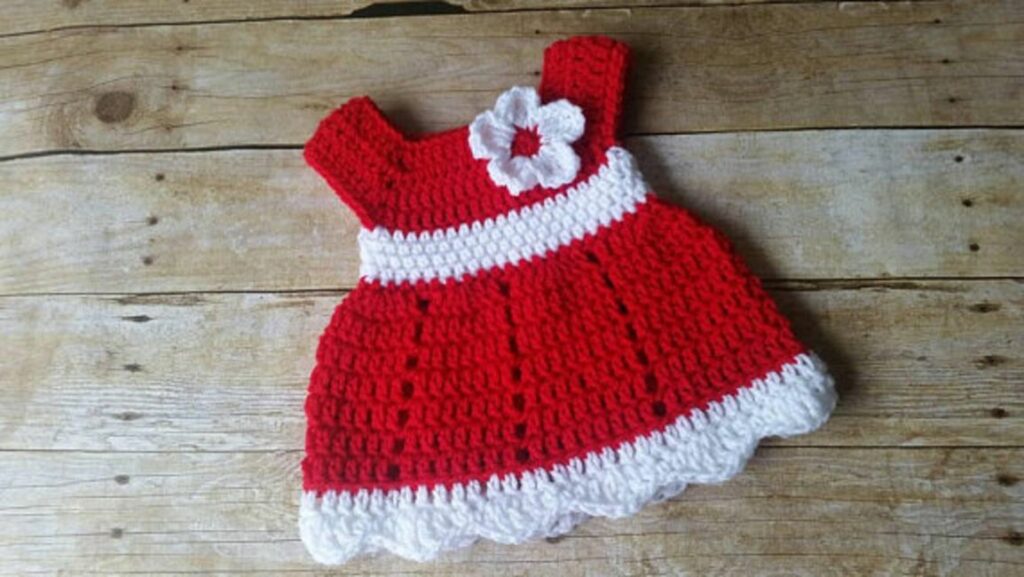 Another free pattern to add to your crochet repertoire is the red newborn baby dress. This red color dress brings femininity to a newborn's wardrobe. You can wear this dress on occasions like Christmas, and trust us, with this dress, your baby will be the center of attraction for sure!
Plus, you will able to crochet it in a single day; it uses simple crochet stitches with little variation for a textural effect. Follow the pattern and choose the right yarn to make the dress suitable for a newborn's skin.
3. Baby Romper Crochet Pattern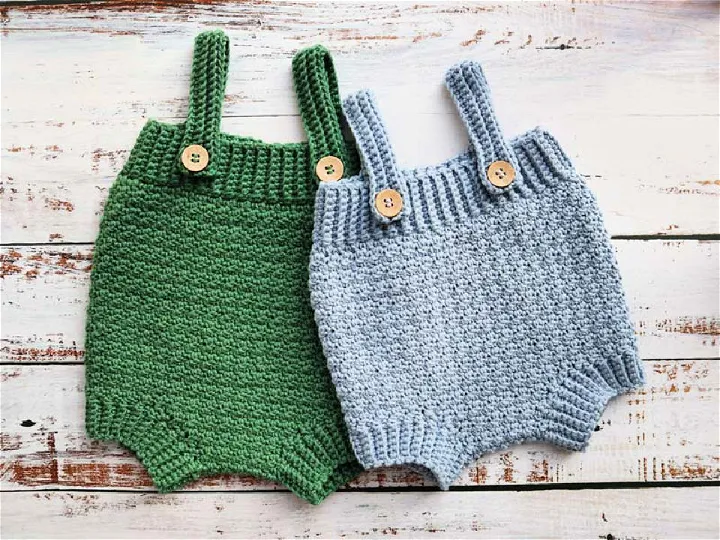 Rompers are always a fun thing to wear. So, why not share this fun with your baby? Crochet a baby romper and be stylish together! Crocheting a baby romper might sound complicated, but trust us – it isn't. With a combination of double crochets and stitches, you will be able to get it done easily. Just follow the given pattern.
You can crochet this baby romper in different sizes. But also remember – when you purchase yarn for this project, focus on getting 100% cotton yarn. And, obviously, customize with colors. From bright summer hues to muted monotones, feel free to choose anything you like!
4. Cute Watermelon Crochet Baby Dress Pattern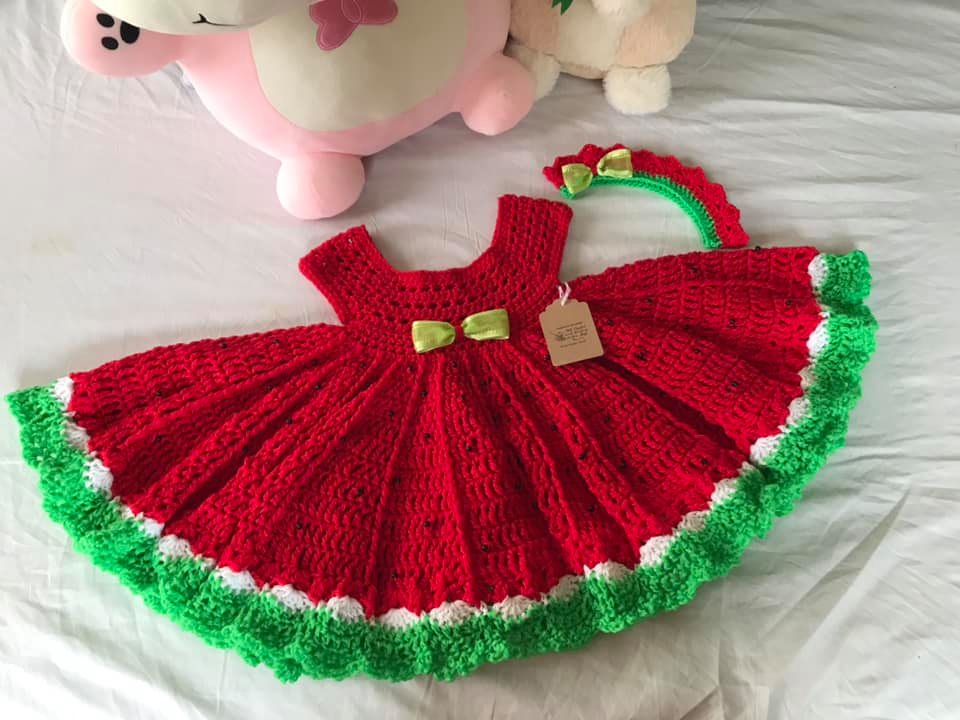 Bored of crocheting the same old baby dresses? Try out this watermelon dress crochet pattern. It is so cute and colorful. And, of course, it adds a fresh summer vibe to the whole project. Just imagine your bundle of joy wrapped up in this pattern – isn't that adorable?
You can even customize the pattern accordingly. It generally fits size 3 to 4. Also, do not forget to add textures and be creative to bring the watermelon to life. And by the time you finish it, we bet you will be obsessed with this watermelon-themed crochet baby dress!
5. Cardigan And Dress Combo Crochet Pattern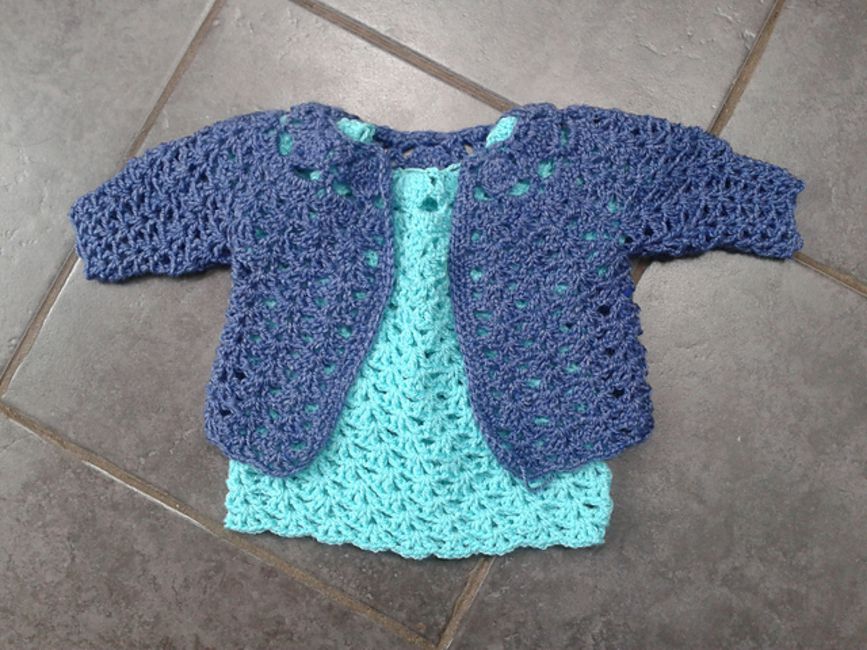 Now, let's share a crochet combo pattern of a cardigan and dress with you. It is a timeless creation. Moreover, it is multifunctional. Your baby can wear it as just a dress or pair it with a complementary crochet cardigan for that extra oomph. The cardigan itself can also be used in various ways. It works especially when it comes to layering the clothes.
Overall, this crochet set pattern is a beauty! Learn the pattern and start crocheting the set today. Using this pattern, you can crochet this combo for 3 sizes – 0 to 3 months, 3 to 6 months, and 6 to 12 months. Additionally, you can crochet a matching bottom to create a very trendy coord set for the baby.
6. Crochet Cardigan Dress Pattern for Baby Girl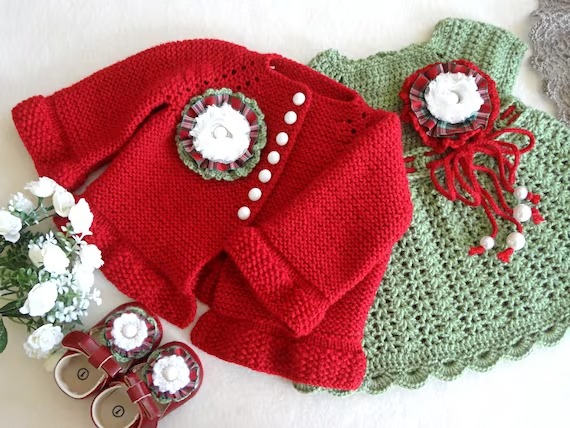 If you do not want to crochet separate parts like a cardigan and dress, do not worry! We have another free cardigan dress pattern for you. This time, the entire dress is crocheted in a cardigan style. With a ballet neck and textured body, this crochet piece is the epitome of elegance. Whether you want to dress it up or down, it works perfectly in both ways.
You can pair colors as per your aesthetics and the season you are crocheting in. If you want to crochet this pattern as a summer dress for the baby, then opt for vibrant colors. Whereas if for spring, choose subtle tones. However, what makes this crochet dress stand out is its lacy pattern and simple yet classy trim borders.
7. Pink Lacy Crochet Baby Dress Pattern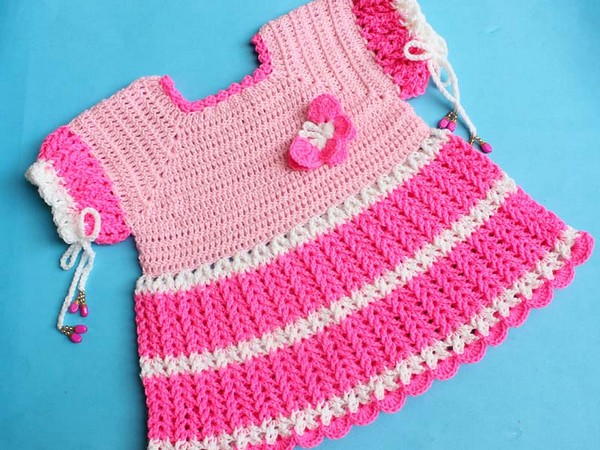 A lacy crochet dress can never go out of fashion! And when it is done in pink, it becomes even more captivating and oozes the princess vibe. With striped color work and short sleeves, this crochet pattern is apt for small babies from 12 months to 18 months.
To make the given pattern your own, add some unique appliques as per your style. Especially if you are making it a gift to someone, add their favorite things to the design. These little details will surely bring a smile to their face.
8. Bumble Bee Crochet Baby Dress Pattern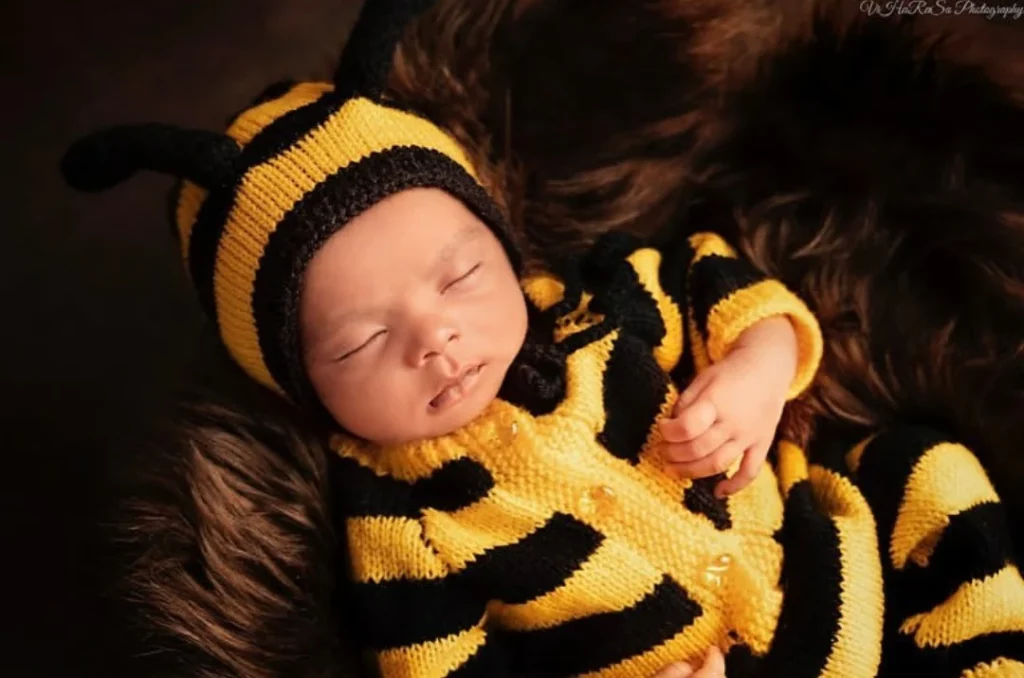 Just like the name, this crochet dress pattern is cute and simple. You can quickly learn this lovable bumble bee dress pattern if you know the basics of crocheting, like single crochet, double crochet, and triple crochet. Use the free pattern to crochet this lightweight dress, which is ideal for babies.
Like the top half, the lower half, i.e., the skirt part, can also be crocheted easily. Do not forget to add a slim border to enhance the overall look of the dress. If you crochet it in a neutral shade, then this dress can be worn on almost every occasion. You have to style it right to create new looks!
9. Cosy Hoodie Crochet Baby Dress Pattern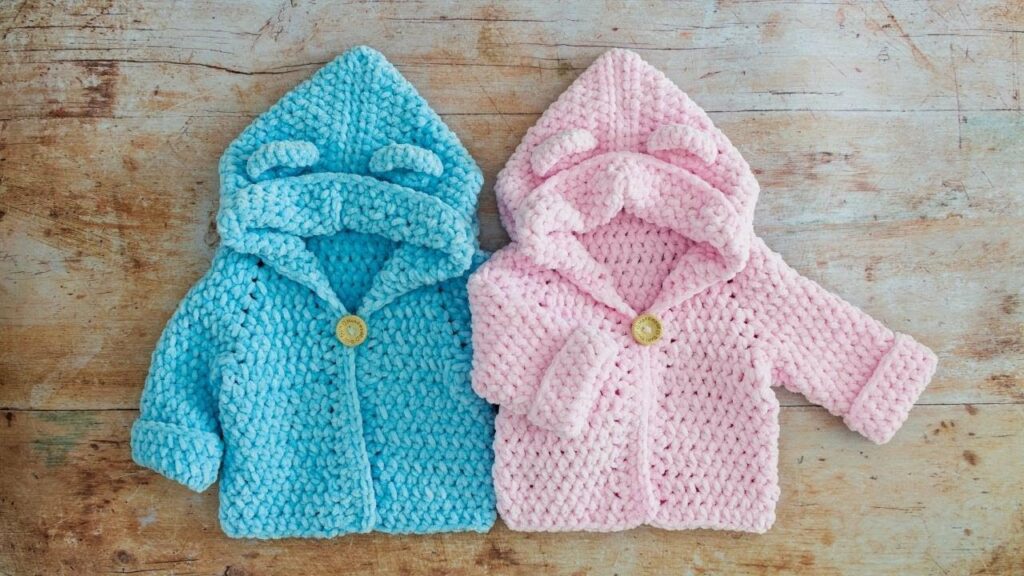 Looking for some crochet patterns for the winter? Here, we have the ultimate pattern: a crochet hoodie! It is so cozy that once you make it in the baby size, you might want one for yourself, too. So, to wrap your little one in this handcrafted goodness, make sure to stick to the pattern. This pattern can fit a baby of 6 months to 24 months.
To keep the baby warm, make sure to pick some warm yarns. While wool yarns are the best to stay warm, wool often tends to be sensitive and itchy to the baby's skin. So either pick some top-quality wool or pick something in between or a blend.
10. Pullover Crochet Baby Dress Pattern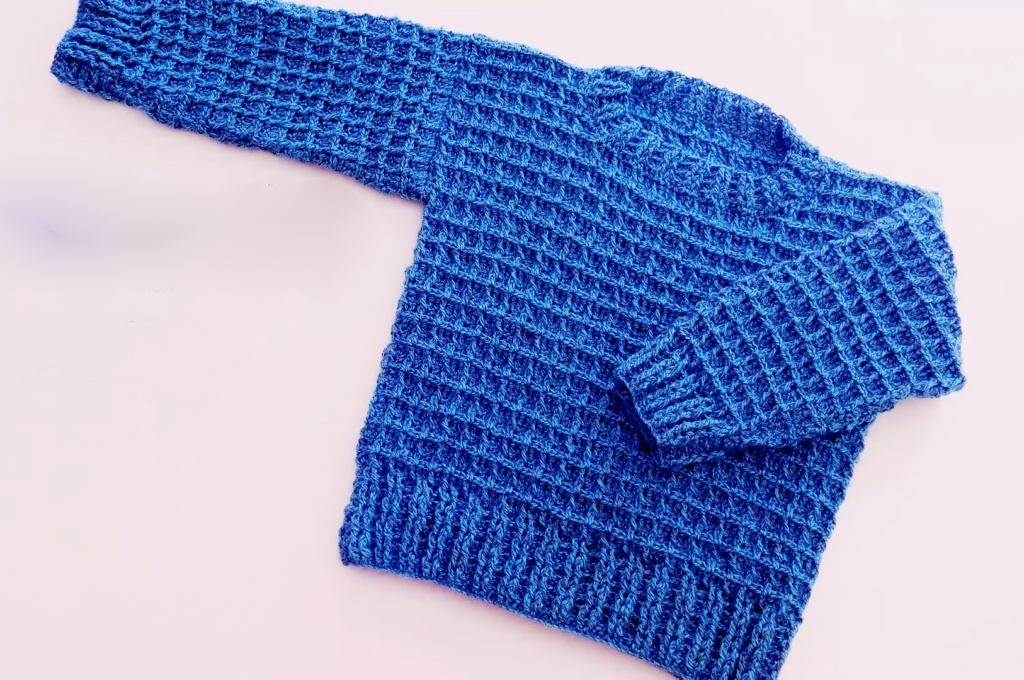 Talking about hoodies, another great crochet baby dress option for winter is a pullover. They are easy to wear and are extremely comfy. You will feel like snuggling up when your baby wears this crochet pattern. Currently, you can use this pattern to crochet for 3 to 6 month babies. The seamless texture from the shell stitch is what makes this dress appear so effortless.
Even the long sleeves and the square neck design add a dimension to the pattern. Crocheting a dress might seem like a lot of work, but in order to create a good crochet pattern, you have to focus on the tiny details, especially when you are creating for a baby!
11. Crochet Baby Dress Pattern for Wedding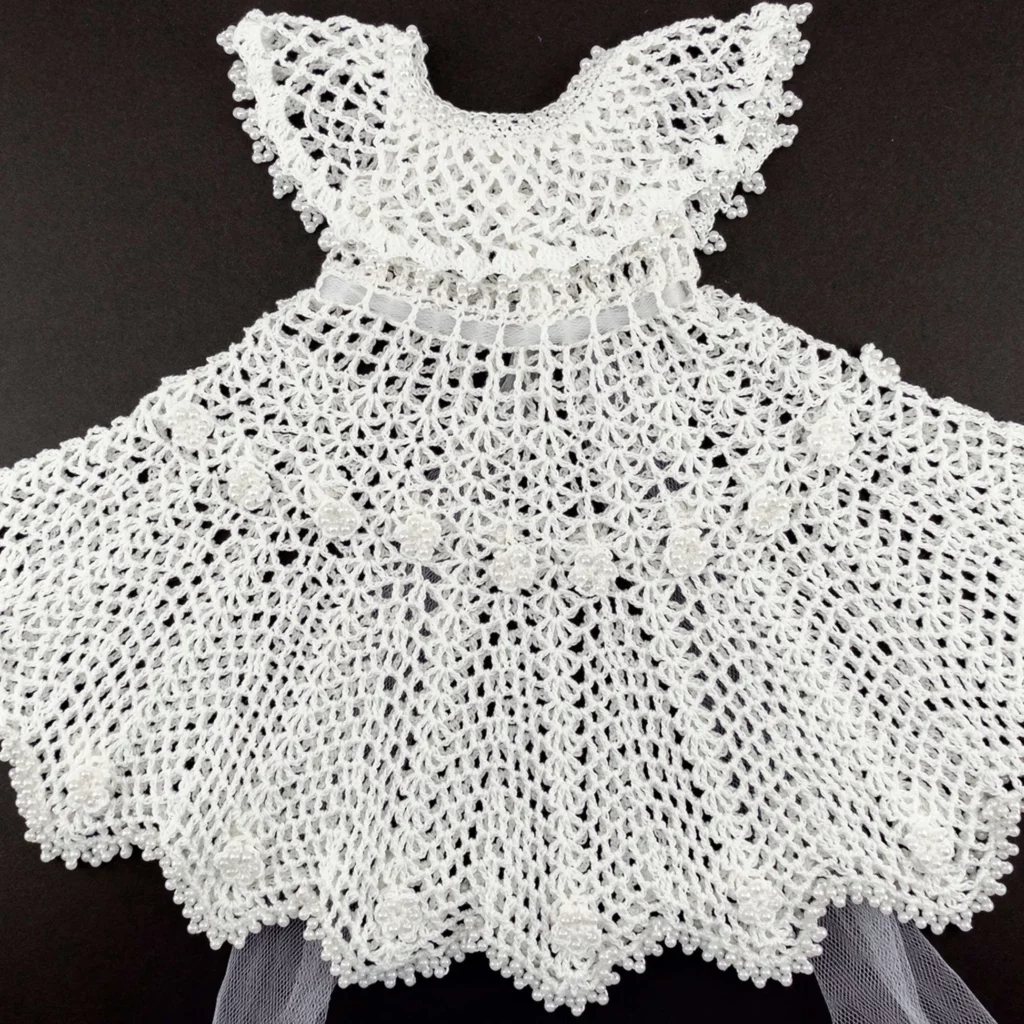 Weddings are an occasion where everyone wants to look the best. So, why leave the babies behind? They deserve to look absolutely breathtaking. And if you are having a wedding in your or your friend's house, this crochet pattern will be handy. It does not take that long to design a crochet wedding dress for your little princess personally.
Whether your baby is a flower girl at the wedding or simply a guest, she is going to look like the main character for sure! Use some pearl beads and white buttons to give that special touch to the crochet dress.
12. Butterfly Pattern Crochet Baby Dress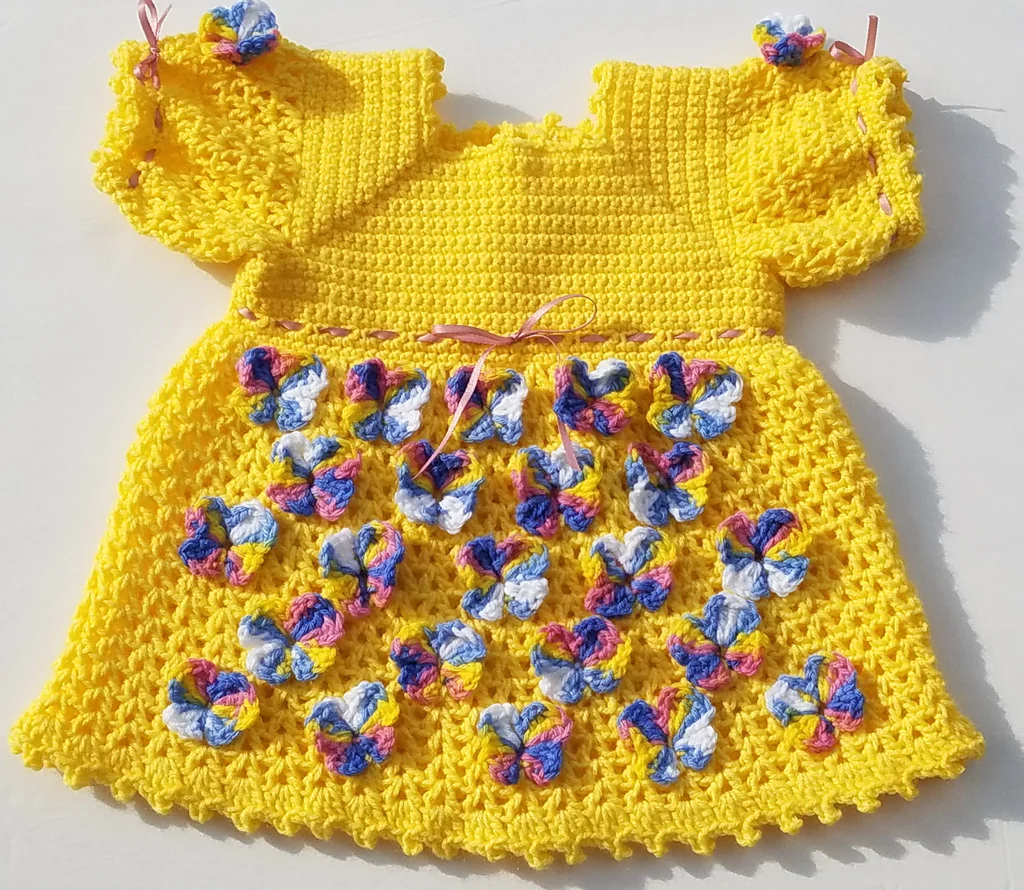 Does your baby love butterflies? Then, this butterfly-themed crochet dress is bound to make her jump with joy. The striped colorwork lends a rainbow vibe to the dress. And the butterfly stitch works up so fast that in no time, you will be able to crochet this pattern for a newborn.
You can also crochet this pattern for babies between 6 to 12 months. In fact, this little dress makes up for a great baby shower gift! Consider making the dress comfortable for all seasons by using soft baby yarn. Ensure it is smooth on the skin.
13. Rainbow Crochet Baby Dress Pattern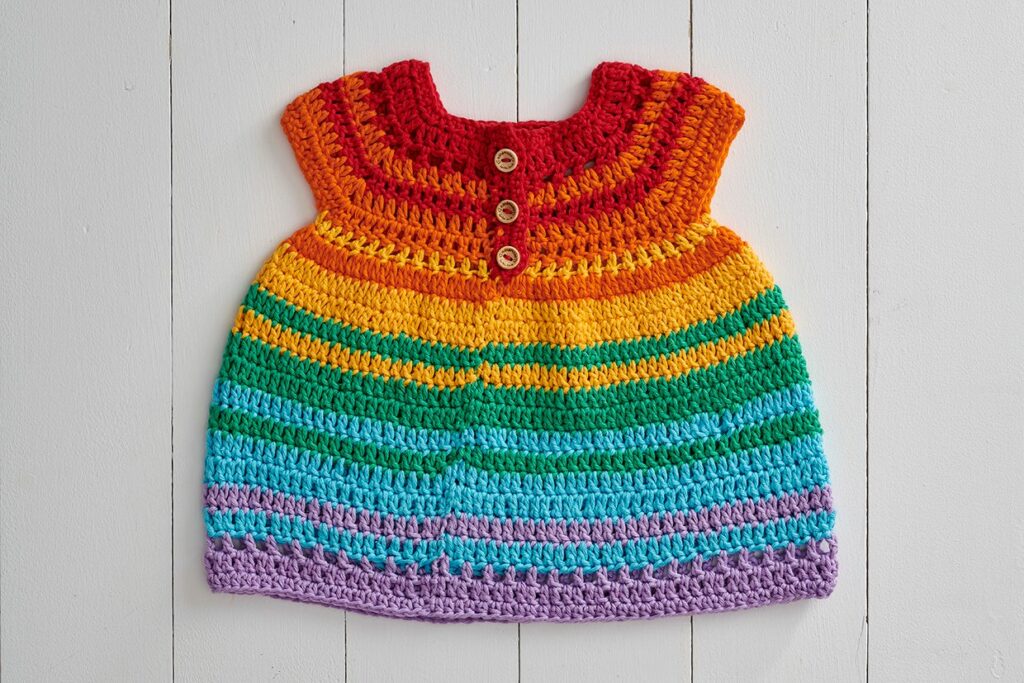 If you want a crochet baby dress pattern that radiates an aura of pure happiness, then you must try this rainbow crochet dress. It is colorful (obviously), full of positivity, and truly mesmerizing. The dress showcases how it is nothing fancy yet fanciful. Just by using a simple double crochet stitch and in-the-round method, you can create a beautiful masterpiece.
This pattern and its step-by-step instructions will help you curate this crochet with ease. Even if you are a beginner, you will see how simple technique can yield the most lovely outcomes. That said, this pattern fits the sizes of toddlers up to 8 years old. There is no doubt why this one is our favorite, and hopefully yours too!
14. Shell Sundress Crochet Baby Dress Pattern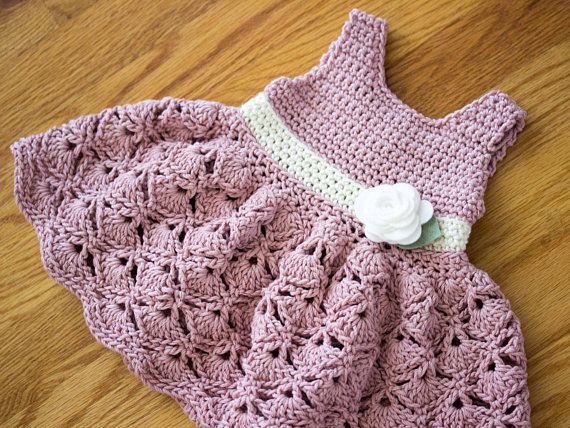 Another unique crochet pattern is the shell stitch sundress. You can use shell stitches to create distinct dresses. Mix and match with other stitches and weave something extraordinary.
For instance, you can play with the shell stitch pattern and create different tops and bottoms of a dress. Also, add some colors in between to divide the two parts of the dress. This way, you will be able to see the difference visually, which greatly impacts the dress.
15. Halter Ruffle Crochet Baby Dress Pattern
Who doesn't like a cute ruffle dress? Ruffles are what bring drama to a dress. Only if incorporated correctly. Otherwise, the dramatic effect can turn into tackiness quite soon. Thus, this pattern is going to help you create the ruffle dress in the right way! Plus, it has a halter.
The combination of ruffles and halter is undeniably unique! The buttons add intricate detail to the piece. It makes the dress complete. Pick some light-worsted-weight yarn and a crochet hook of 4 mm to start crocheting this beauty.
16. Happy Hearts Crochet Baby Dress Pattern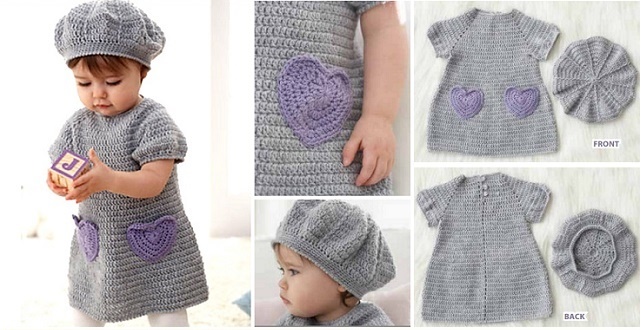 This one-size crochet dress is true to its name. Babies will have a happy heart post wearing this pattern. The lace edging, scoop neck, patch pocket, and cap sleeves all add up to make a stunning pattern.
The pattern here in this dress also uses an uncommon stitch – popcorn crochet stitch. Ensure you are fully loaded with yarn skeins; this popcorn crochet stitch is a true yarn-eater!
17. Falling Fans Crochet Baby Dress Pattern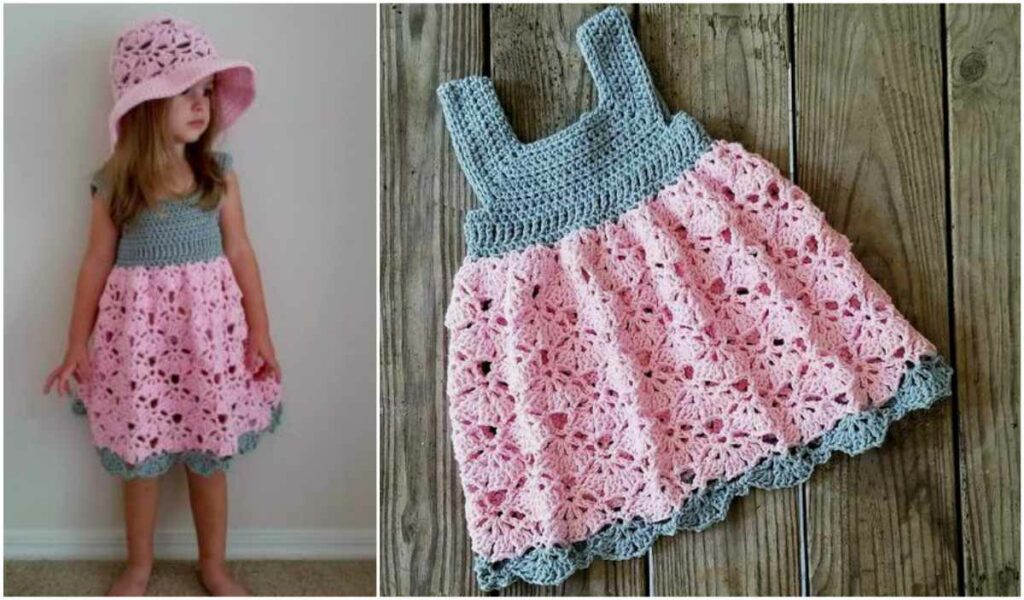 This mesh and lace crochet work will make your girl happy. Be it the color combination of pink and gray or in-the-round work, you won't be able to take your eyes off this particular design. Not only that, the structure of this pattern is also exclusive. It is square on the next and flowy at the bottom.
Whether there is an occasion or not, this design can be worn on a regular basis. As you have access to the pattern here, embrace the process of creating this really pretty design suitable for babies from 24 months to 3 years old.
18. Angel Dress and Pant Crochet Baby Dress Pattern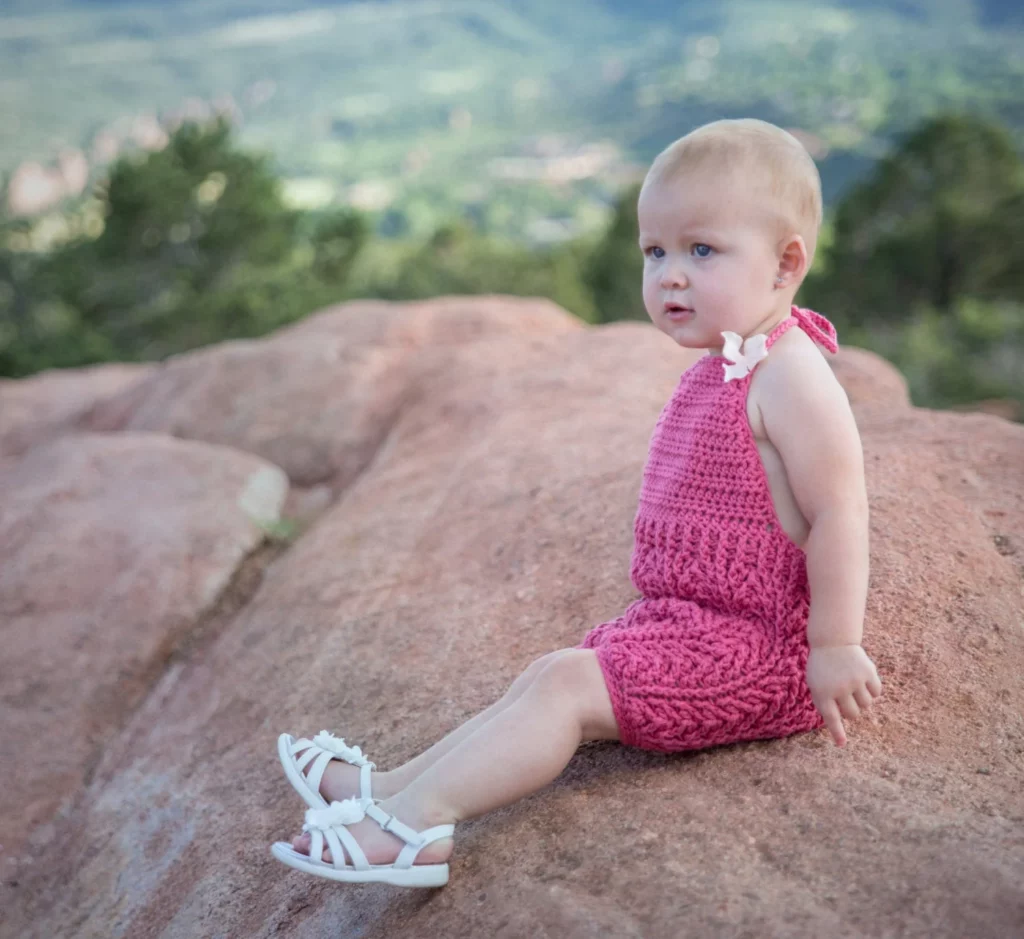 If you have an active baby, this crochet pattern will be super handy! It is one of the most functional crochet designs. Whether your baby roams around or does somersault, this dress and pant combowill keep the baby secure.
To make the pattern feminine, add a little bow and use pretty colors like pink, purple, and white. With the given pattern, you can crochet this dress and pants for a 0 to 3-month-old baby. If you want to make it for older babies, do experiment with the sizes on your own.
19. Vintage Crochet Baby Dress Pattern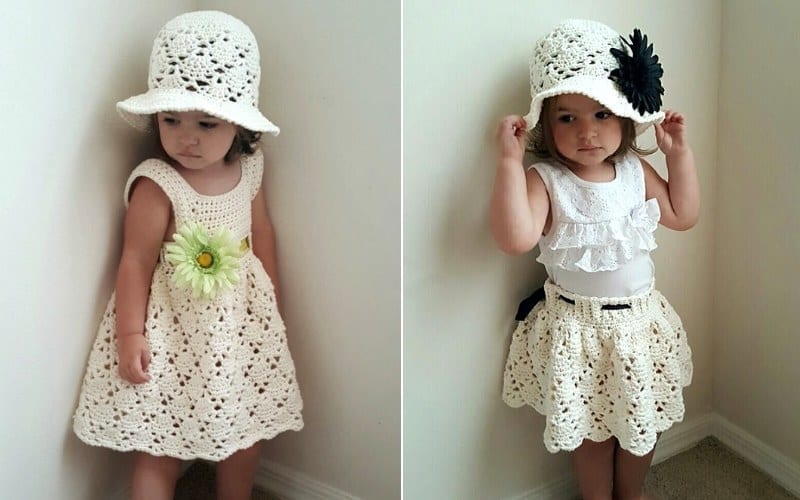 The vintage crochet dress is a timeless pattern. Simple with an alluring charm. Although it might demand a bit of your time, the result is nothing less than a treasure. The pattern opens doors for creativity. It combines single crochet and double crochet with a basic foundation chain. Choose a color that resonates with your child's personality to customize it.
Make the sleeves 3-quarter to give the dress a vintage feel. Besides, the lacy finish with a little bit of ruffle does the job perfectly. This blend of classic design with simple crocheting technique deserves a place in your wardrobe!
20. A Pinafore Crochet Baby Set Pattern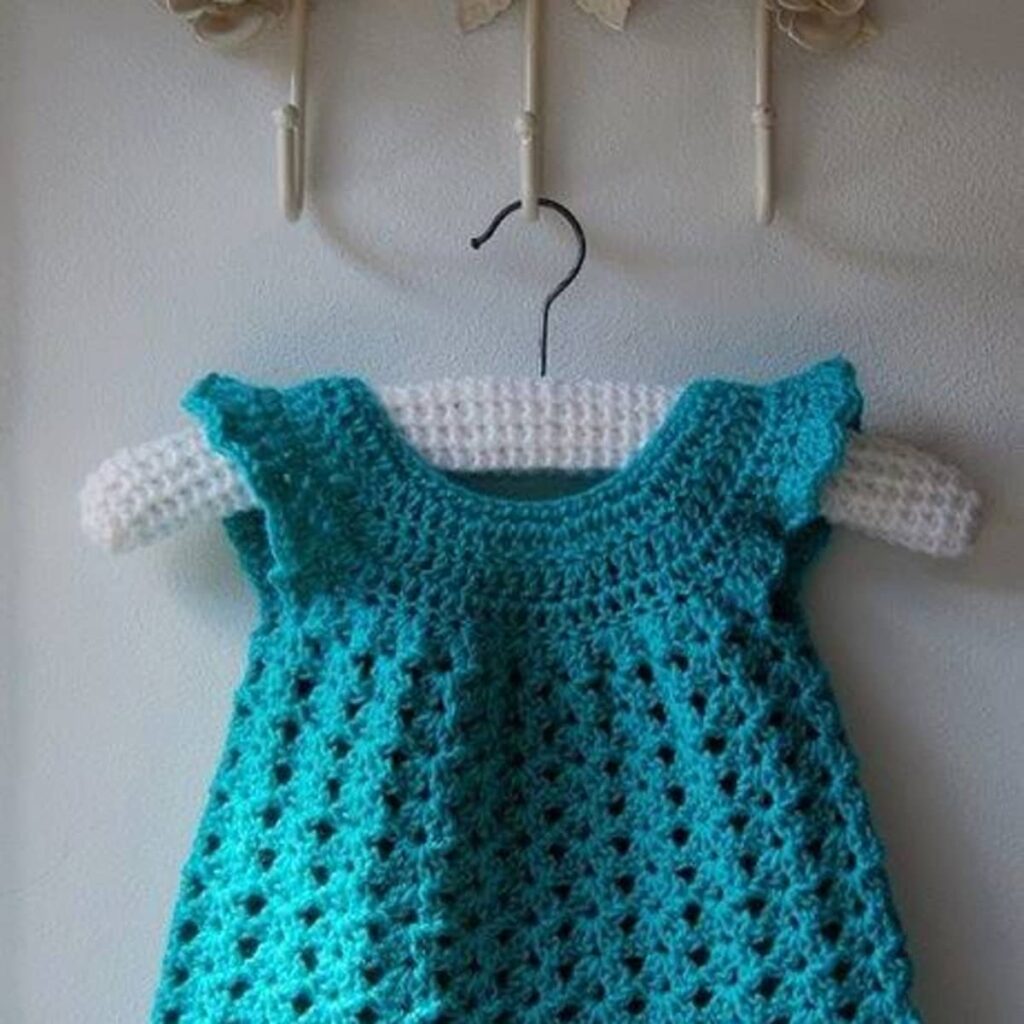 Baby sets are a must-have! Especially if you want to save time when you are trying to get your newborn ready. It makes everything easy and quick. So, take the yarn and weave this crochet pattern for your baby!
The set comprises a crochet dress, hat, and shoes. The cap-like sleeves give the dress an angelic touch. Add some ribbon to make the dress shine even more.
21. Sunflower Crochet Baby Dress Pattern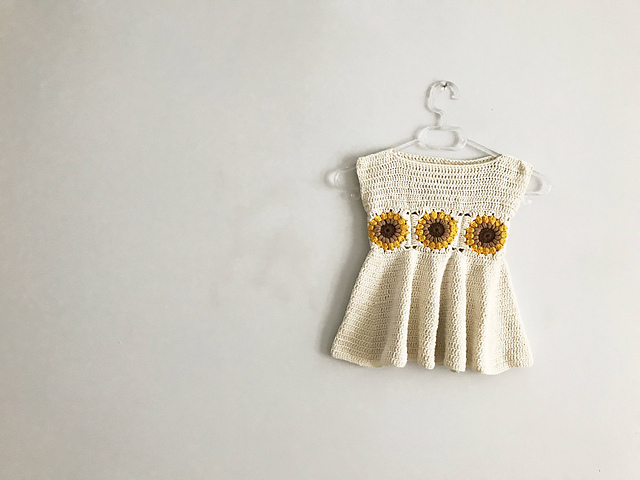 We have another themed crochet dress for your baby! And it is full of brightness. No, not in hues but in the theme itself – sunflower! This is one of the many flowers known for its radiating beauty. Sunshine and warmth are all what the dress is about. So, needless to say, it is also a great fit for summer days.
Talking about fit, this pattern is made for 6 to 12 month years old baby. But if you are a pro at crocheting, you can easily tweak the size of the dress as this pattern involves granny squares stitches.
22. Pineapple Crochet Baby Dress Pattern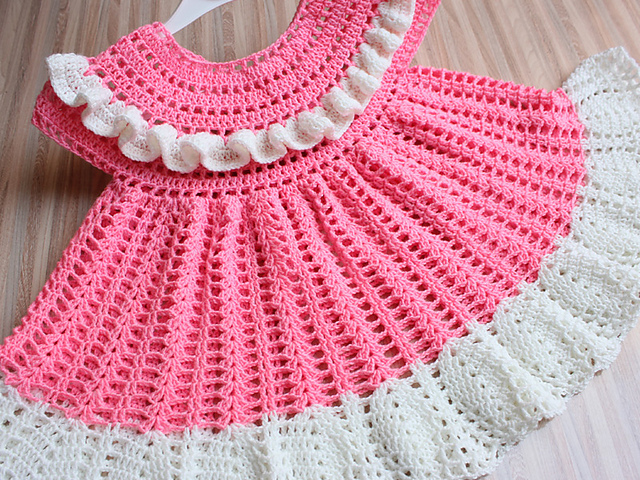 If you are up for themed crochets, we have another one up our sleeves. This one is based on the pineapple stitch, hence the name. It has got it all. The frock-like skirt, cute lace, and ruffle work make the pattern intricate.
This tutorial will help you navigate your way through crochet patterns swiftly. And once you crochet this pineapple-themed dress, your family and friends will be in awe of it.
23. Flared Crochet Baby Dress Pattern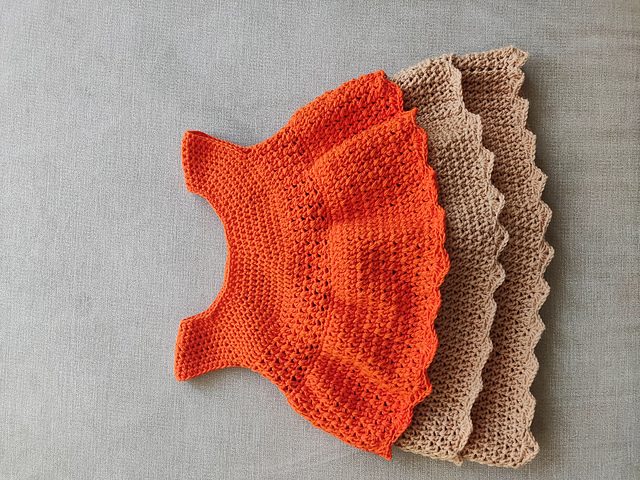 This flared crochet baby dress is a pure delight. It comes out so good that you will want to make one for every little girl you know. However, this crochet needs intermediate skills. But if you are a beginner, don't be disheartened. If you have patience and are willing to brush up your crochet skills, this pattern is a great choice to start with.
In addition, this pattern is a bonus if you are looking to crochet for a diverse age group up to 3 years. The color combination and flowy bottom-in-half-half double crochet look absolutely ethereal.
24. Candy Corn Crochet Baby Dress Pattern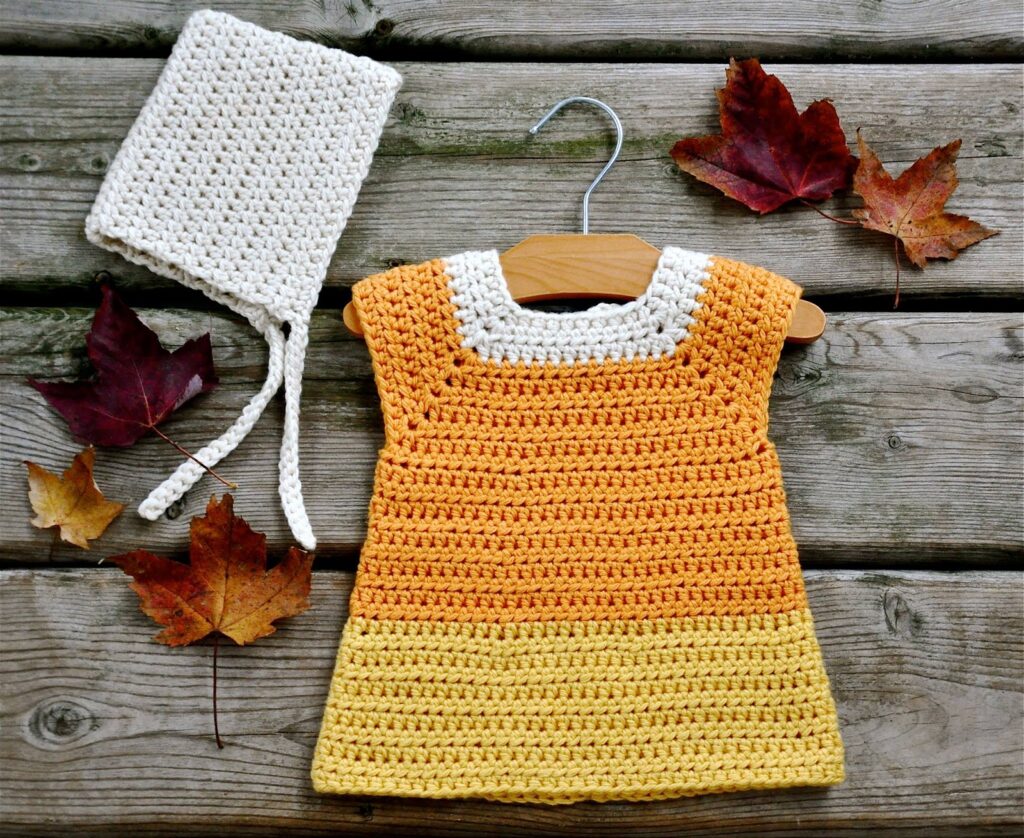 Thinking of what you can crochet for the upcoming Halloween? Well, we have the ideal pattern that fits the bill: the candy corn crochet dress! And is there anything better than a handmade Halloween costume? We guess not!
You will need roughly 3 yarn skeins to crochet this pattern. It is like onesies paired with a crochet hat. The entire combination keeps your little baby warm when they are out for trick-or-treat! But you can also use this pattern to create dresses in different colors according to the occasion.
25. Cotton Candy Jumper Crochet Baby Dress Pattern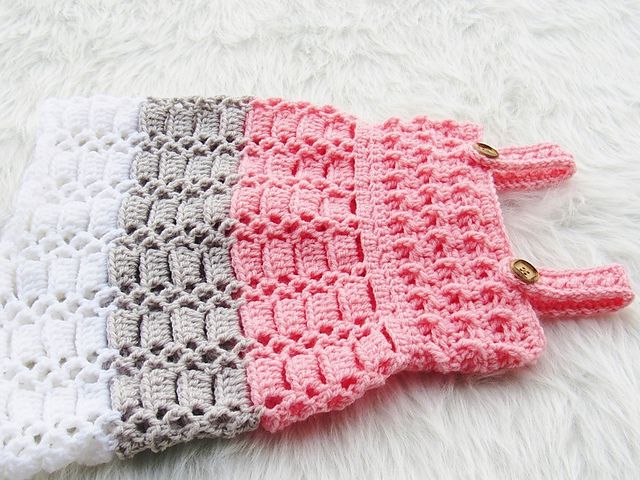 If you are a fan of texture, then this is it. This cotton candy jumper with curbed ribbing and lace skirt is full of texture. And creating it is one fun task! You get to play with colors in every pattern row if you wish!
Work the dress in a large hook to give the dress its flowy nature. Also, when you work with a large hook, you tend to work up the crochet quite fast.
26. Chevron Crochet Baby Dress Pattern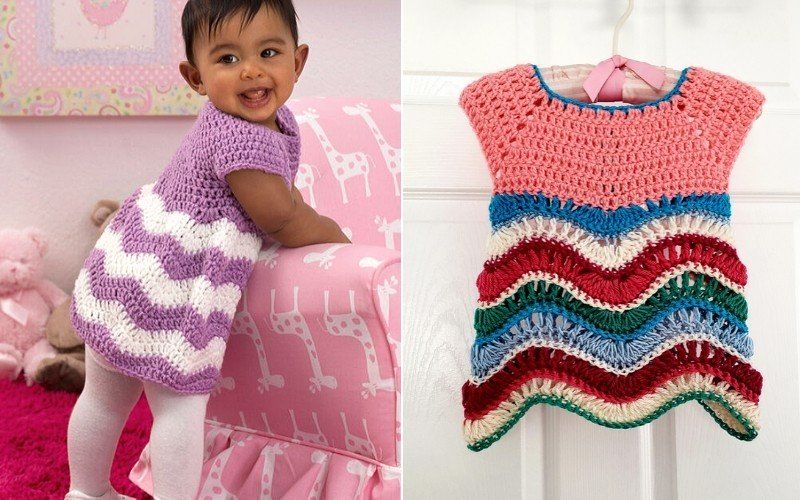 Another beginner-friendly crochet pattern is the chevron dress. It only involves the fundamental techniques of crocheting, thus an excellent opportunity to master your crochet skills with this crochet project.
And with so many colors, this crochet dress will be a perfect dress for your baby's birthday. It will, undoubtedly, make her feel a little extra special on her birthday. Customize it with her favorites!
27. Spring Crochet Baby Dress Pattern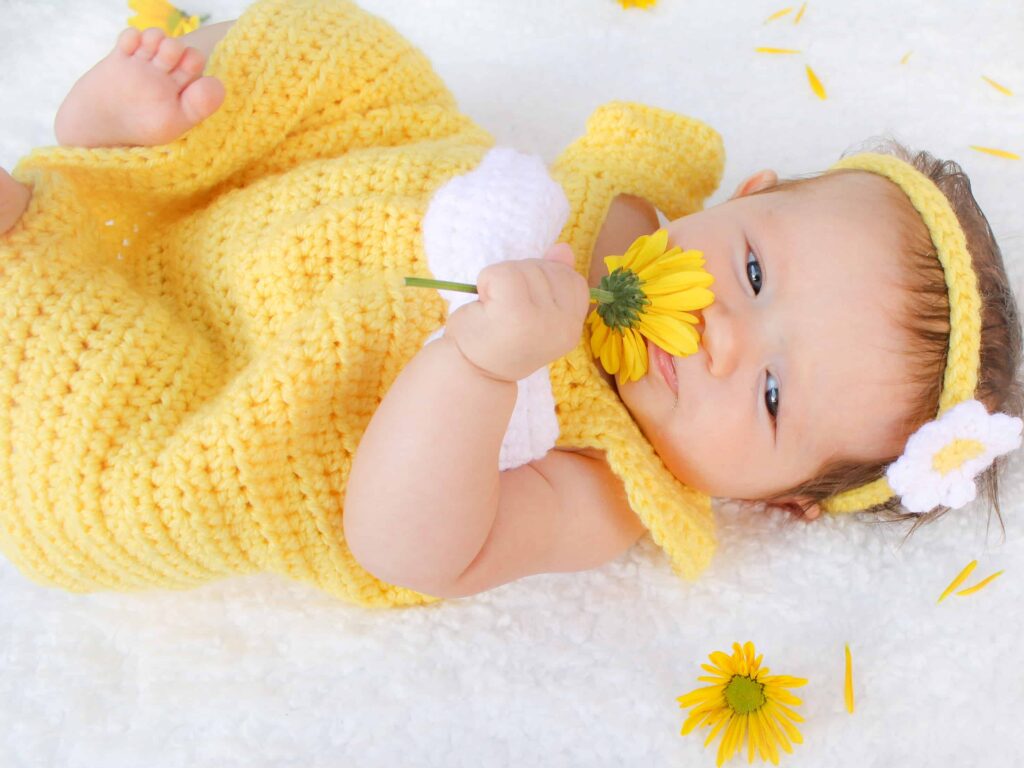 There's no better way to celebrate spring with your little one than by adorning her with a crochet dress made exclusively for the season. The bodice of this spring crochet dress features a delicate half double crochet and single crochet stitch. Follow the pattern immaculately to get the desired result.
Lightweight cotton in pastel shades works best for this pattern. Add a crochet flower or ribbon for an extra touch of elegance to the dress.
28. Fancy Crochet Baby Dress Pattern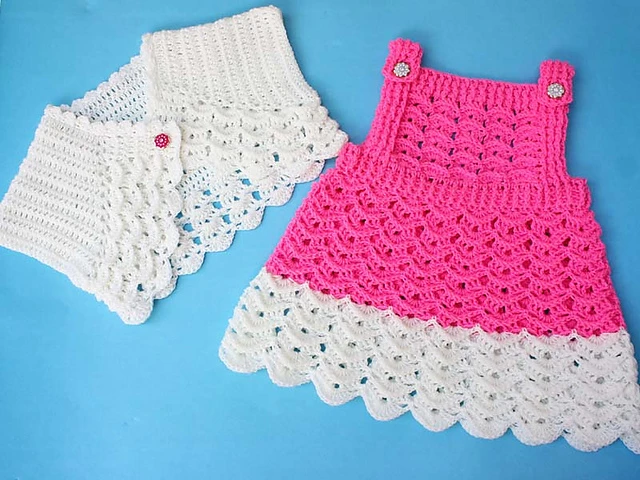 In the mood for something fancy? Challenge yourself with this fancy crochet dress pattern. The intricate work on the bodice will surely make you think: "Can I do this?". But there's no need to guess yourself second; you can do it with the tutorial of this pattern.
Work up this pattern with patience. Do not rush. The little jacket, along with the dress, is also made from the same pattern. Pair it up with tights, and you will have a full, fancy outfit ready for the baby!
29. Princess Crochet Baby Dress Pattern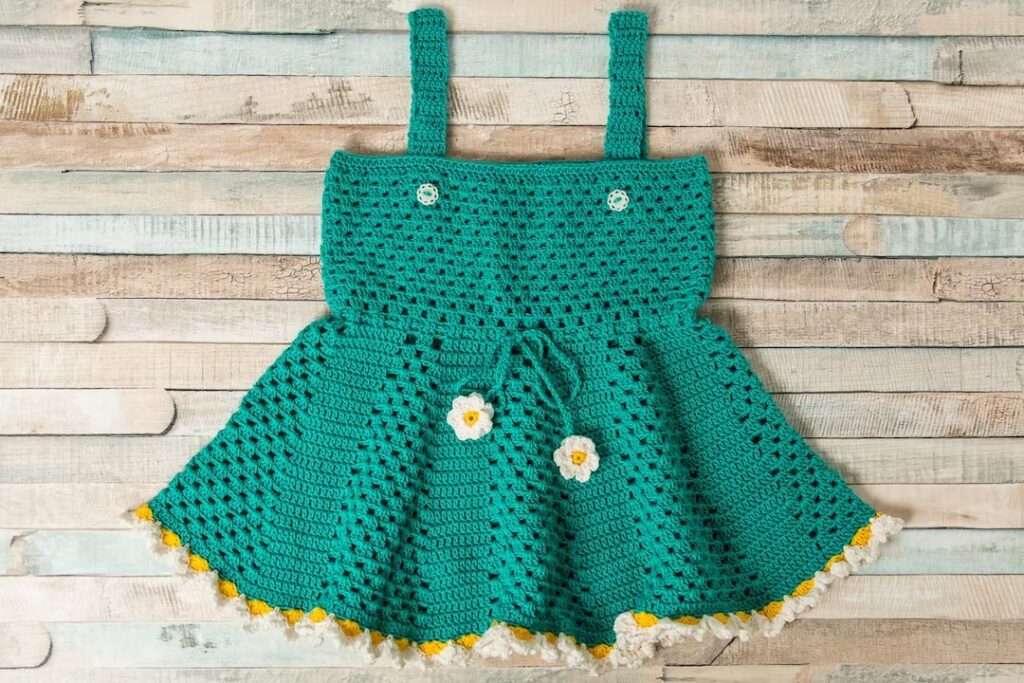 Nothing can beat a princess crochet dress for your little princess. Crochet your little one's fairytale fantasy with this pattern using basic crochet stitches. It is also a great gift for a baby's first birthday.
The pattern includes a gentle V-stitch that exudes regality. And if you want to achieve the classic princess look, opt for soft pastels. If you want to add a modern fairytale twist, pick shimmering neutrals. Also, do not forget to add some flower appliques for the royal touch.
30. Jacket Pattern Crochet Dress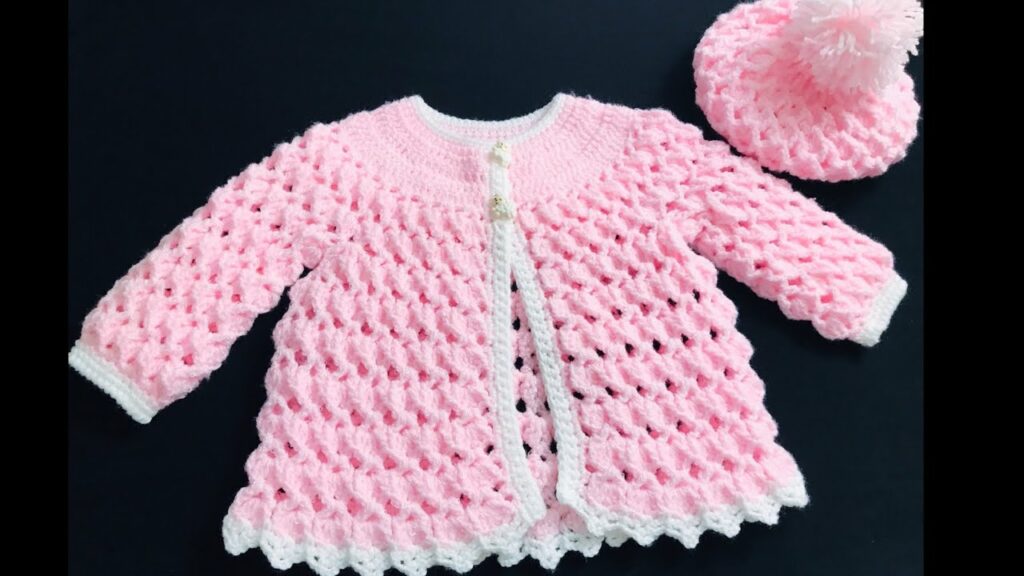 Every child's wardrobe needs a touch of sophistication. The jacket pattern crochet dress serves the purpose. This crochet pattern combines the comfort of a dress with the flair of a jacket. And thus, it results in a versatile piece of clothing, perfect for every occasion.
This jacket pattern can be paired up with other tops as well. Experiment with the looks, and you see how magically you can create stare-worthy combinations.
31. Enchanted Crochet Pattern Dress
An intermediate-level crochet pattern, this dress is stellar in the wardrobe. It is elegant and chic. For detailed notes, check out the pattern. Jot down the main points and start crocheting this baby dress.
What sets this crochet pattern apart is the open back and the cute little bow in the center. To bring out the most pattern, use luxurious silk blend yarn in ethereal shades. You can make this pattern in three sizes – newborn, 3 months, and 6 months.
32. Chip The Teacup Crochet Baby Dress Pattern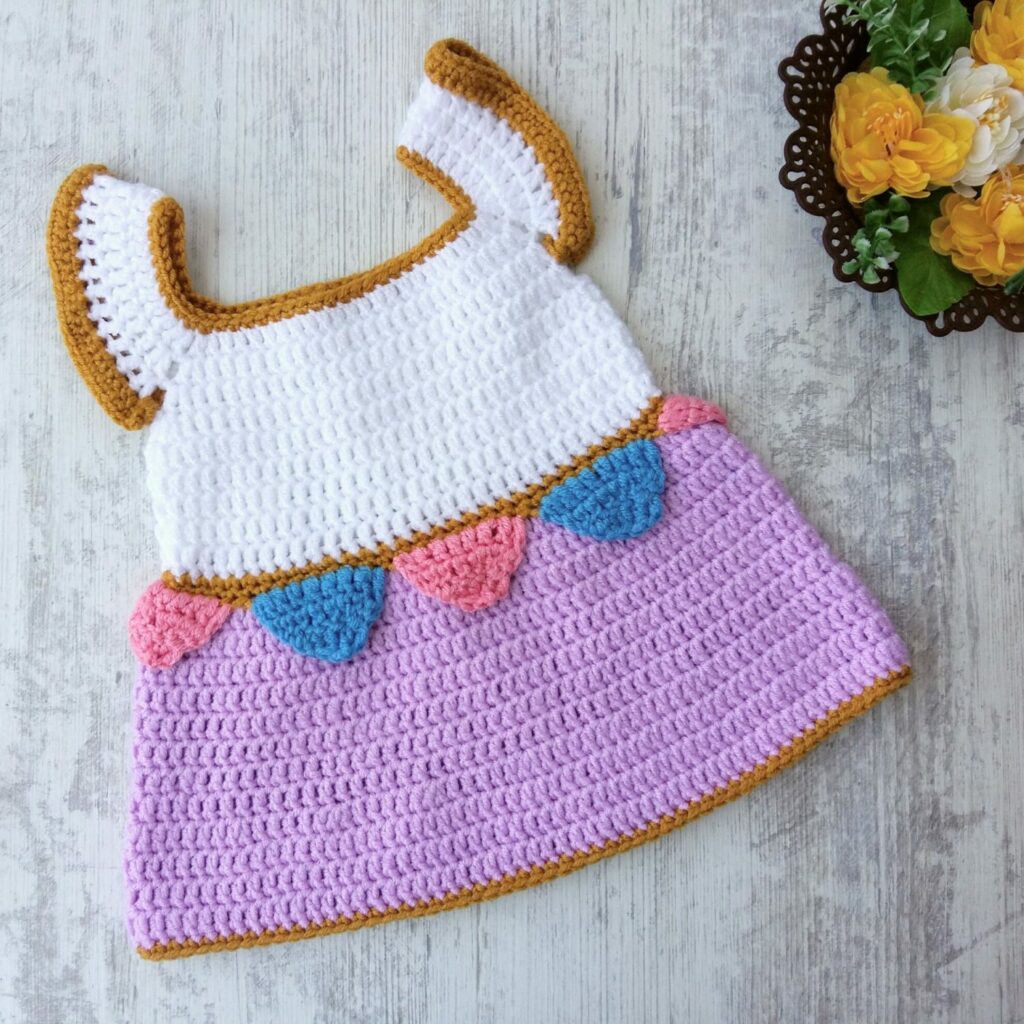 Ending this series of crochet baby dress patterns with a banger, the chip the teacup is one pattern you need to master. It is a "festive" dress. Easters, birthdays, baby showers, Christmas, and whatnot! This pattern fits every occasion (even Halloween if you can alter it with the right colors). And you can get all of this with just basic crocheting skills.
The design is whimsy, and with soft and lightweight cotton yarn, this pattern exudes comfort. Your baby will surely move around freely in this dress. It is fitted at the top and flowy at the bottom. This pattern can be done in three sizes for 24 months.
Final Thoughts on Crochet Baby Dress Pattern
These crochet baby dress patterns are not a mere piece of clothing; they are a person's love for their baby, which, down the line, we know will be cherished forever. These tiny dresses capture the hearts and minds of everyone. And when your little ones don these patterns, they enter a fancy world where their every twirl and smile exudes happiness.
If you love these crochet baby dress patterns, do not just limit yourself to dresses. Explore and create more crochet pieces like accessories, socks, bottoms, headbands, and so on.
That said, which one of the above crochet baby dress patterns caught your attention? Have you tried any of these patterns before? If not, then you must proceed without giving a second thought! You will love every moment of crocheting this unique pattern.
And once done, do not forget to share with us your experience in the comments.
Frequently Asked Questions
What Yarn Should I Use to Crochet a Baby Dress?
Although different patterns need different textures of yarn, in general, make sure you use soft yarn on the baby's skin. Feel the material against your skin and see if it will be comfortable for the baby. For summer crochet dresses, always opt for cotton yarns. And for winters, find a good blend of wool yarn.
How Long Does It Usually Take to Complete One Crochet Baby Dress?
The time required to crochet a baby dress varies depending on the pattern you are choosing. It also depends on your skill level and crochet speed. On average, a beginner can take up to a week to create a newborn baby dress. At the same time, a pro crocheter can complete it even in a day!