So, are you ready to take your DIY Christmas decor from drab to fab? Christmas is around the corner, and it's time to begin your preparations. Do you want to incorporate crochet Christmas decorations this year?
Adding crochet Christmas decorations can be an easy and effective way to bring the best of your DIY skills. Crochet items look adorable and make perfect Christmas home decor. They are also very trendy. You can leave your guests amazed with beautiful crochet wreaths, pillowcases, blankets, and placemats.
You can find endless free crochet patterns with Christmas themes. It can also be a bit tricky to find suitable patterns for your Christmas decorations. But we have made it easier for you.
Today, we will list 30 amazing Christmas crochet patterns to try this year. Grab your yarn, hot chocolate, and one of these free Christmas patterns to make your Christmas fab.
Essential Supplies Needed for Christmas Crochet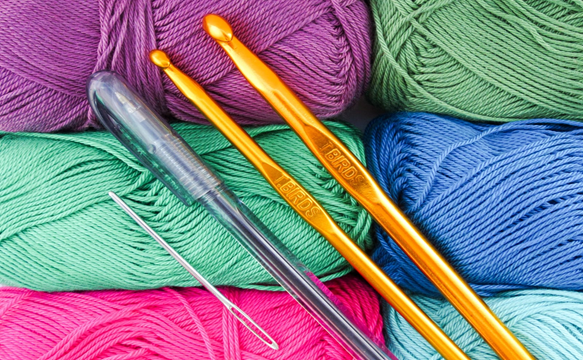 Before discussing Christmas crochet patterns, we will share a list of items/ tools and materials you need to begin your crochet project. Here are some basic materials you need for your Christmas crochet projects-
Tapestry needle – You will need a tapestry needle for joining crochet fabric pieces together or weaving the edges. You can try UOOU Yarn Needle for crocheting.
Crochet hook – The crochet hook is a must for crocheting. You can choose your crochet hook size according to your pattern size and convenience.
Stitch makers – You will also need stitch makers to prevent your live loops from unraveling and to mark your place for stitching.
Measuring tape – It is essential for measuring your yarns, patterns, and crocheted fabrics.
Yarn sniper – You must have a scissor or yarn sniper to cut your yarns after you finish the work.
Blocking board – You will also need a blocking board for specific stitches like the Granny Square stitch or lacy snowflake for your Christmas crochet patterns.
Additional decorations – You can arrange tassels, pompoms, beads, leather accents, or buttons.
Best Yarn for Christmas Crochet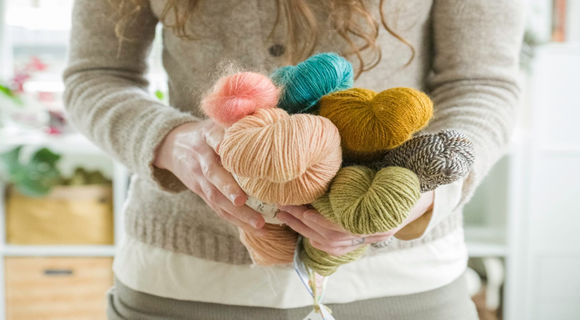 Yarn is necessary for all crochet projects, whether for Christmas or other occasions. You must choose premium-quality yarns for a smooth finish. Irrespective of whether you want to make a Christmas tree skirt, blanket, or pillowcase, you must choose the ideal yarns for your project. Always look for the yarn suggested. For example, if the pattern asks for a specific material like extra bulky or cotton.
But if your Christmas crochet patterns say you can use any yarn, you can choose according to your preference. Also, see what type of yarn your pattern requires, like Aran, worsted weight, or stuffed animals. For instance, try Red Heart Super Saver Yarn for quality and affordability. It will be wise to opt for washable yarns. So, you can use them for a long time and with low maintenance hazards.
How to Choose a Crochet Pattern for Christmas?
Choosing Christmas crochet patterns is one of the most exciting yet challenging tasks. It is also an essential part of your crochet project. Every year Christmas takes place on 25th December. So, you must fix a deadline for your crochet projects, especially if you are crocheting gifts. You can opt for simple patterns that do not need much time for weaving, color changing, or seaming.
But if you have enough time, you can try some large and relatively complex patterns to crochet Christmas decorations. You can choose some C2C crochet patterns to create a comfy blanket to snuggle in or some snowflake design stockings to hang over your fireplace. Your guests will love these Christmas arrangements and praise your skills. Without detailing much in the description, let us begin with the crochet ideas that are ideal for your Christmas preparations.
Best Christmas-themed Crochet Patterns
From simple, single crochet to C2C crochet patterns, there are thousands of incredible free patterns available. Here, we will provide a list of 30 amazing crochet you must try this Christmas: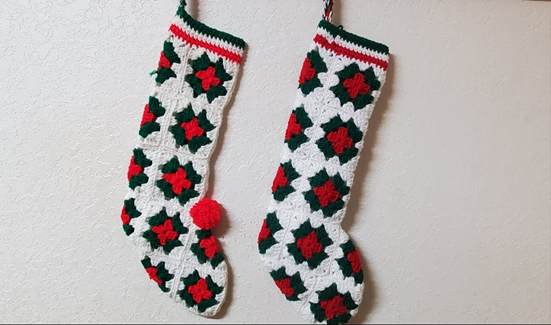 The Granny Square crochet pattern is one of the classic and popular Christmas crochet patterns. It creates adorable square-like patterns. The granny square stockings can display motifs like snowflakes, Christmas trees, and more.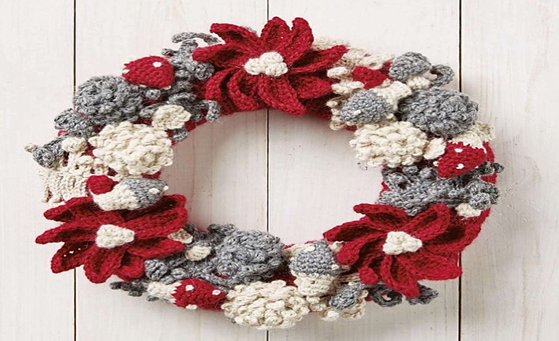 Another popular crochet pattern you can try for Christmas decorations and gifting is crochet floral wreaths. These Christmas crochet patterns include crocodile stitch for flowers and puff stitch for the styrofoam wreath.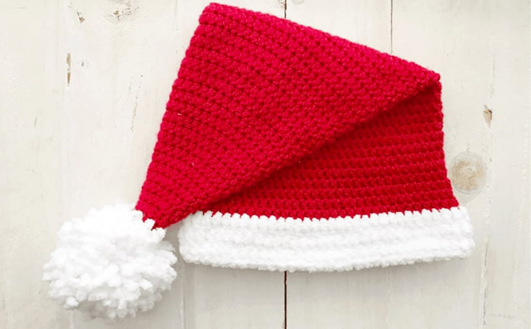 Crochet Santa hats are also a supremely beautiful option for Christmas. You can use a beautiful single crochet stitch to make the base. Also, you can include snowflake stitch or Starburst stitch to make it more interesting and unique. Adding a pom pom or tassel on the top will help enhance the look of your crochet Santa hat.
The Crochet Doily snowflake pattern is also among the popular Christmas crochet patterns. To crochet these doily snowflakes, you should pick super light cotton or acrylic yarns. Also, decorative stitches such as puff stitch or lacy snowflake stitch.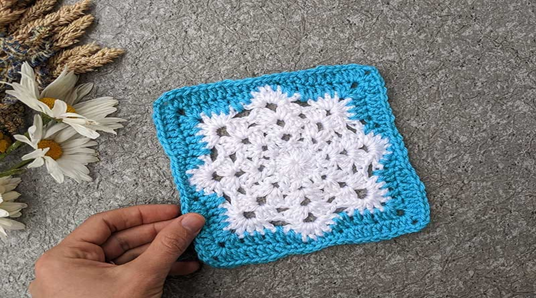 If you are searching for some easy crochet patterns for Christmas, then you can try this crochet granny snowflake pattern. The hexagonal granny square stitch is very popular and ideal for crocheting snowflakes. You can create beautiful snowflake decor with this pattern.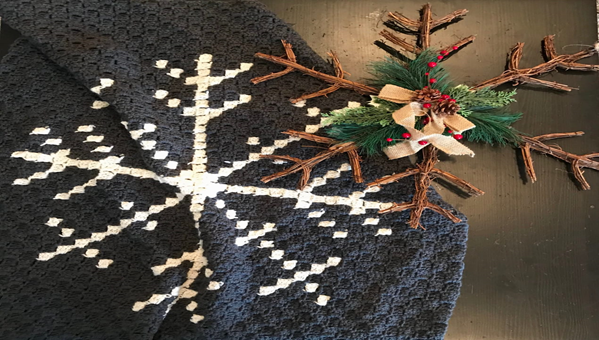 The crochet snowflake Afghan pattern is also an incredible option to try. It uses a corner-to-corner Afghan pattern to create a beautiful snowflake. The main trick is to change the colors at the right time to make a snowflake pattern.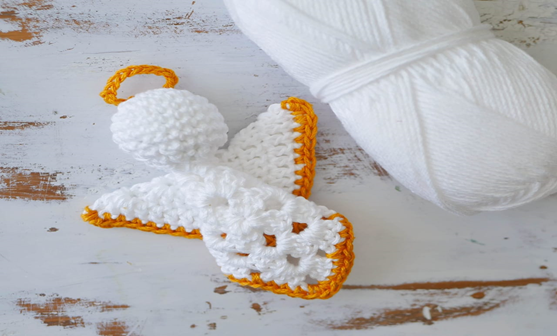 Christmas looks more amazing with little crochet angels. These cute little angel Christmas crochet patterns involve two rows at once: cluster stitch and Amigurumi stitch. Use stretchable or cotton yarns for best results. Also, add artificial eyes or lace to complete the look.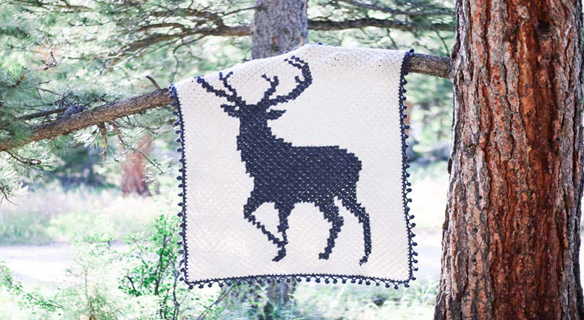 The C2C crochet Christmas deer blanket pattern is also popular and looks fabulous as a part of Christmas prep. The pattern uses a C2C or corner-to-corner crochet stitch to develop crochet items. It is a beginner-friendly pattern that does not require hazardous seaming or color changing.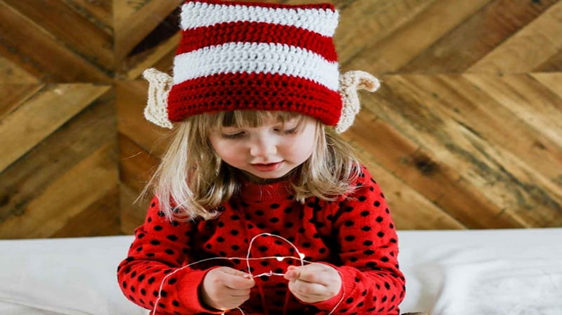 Elf and elf hats are an essential part of Christmas. So, adding a crochet elf hat can be a good addition to your Christmas preparations. Christmas crochet patterns for elf hats include cluster stitch, C2C, and more. You can hang them in your living around a Christmas tree or make some pairs for gifting.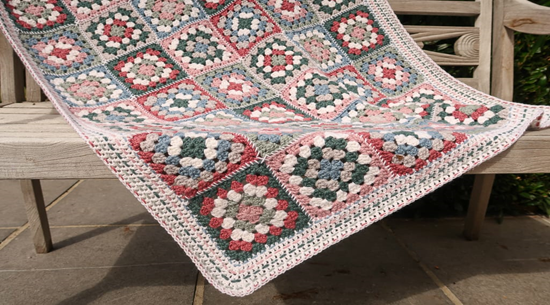 Another interesting crochet-free pattern you will love is the Afghan granny square Christmas blankets. This pattern uses a corner-to-corner Afghan stitch and a hexagonal granny square pattern to create beautiful and comfortable blankets for Christmas. Use bulky yarn for this project.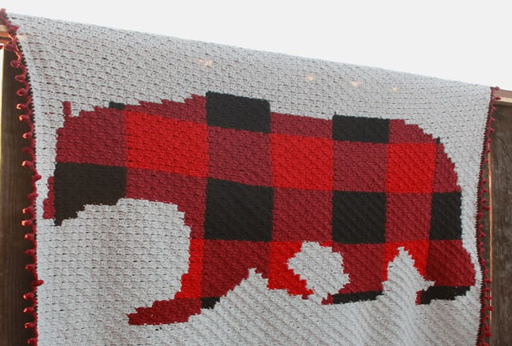 The rustic crochet bears Christmas blanket pattern uses a corner-to-corner crochet stitch to create a beautiful bear silhouette. This free pattern looks more beautiful with a modern buffalo Plaid color. You can use soft and bulky yarn for this pattern.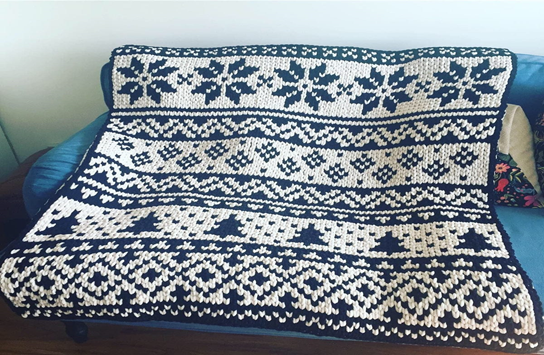 The Scandinavian Christmas blanket pattern is beginner-friendly and helps you add a Scandinavian touch to your Christmas decorations. It uses C2C crochet and Afghan stitch to create an adorable Christmas blanket.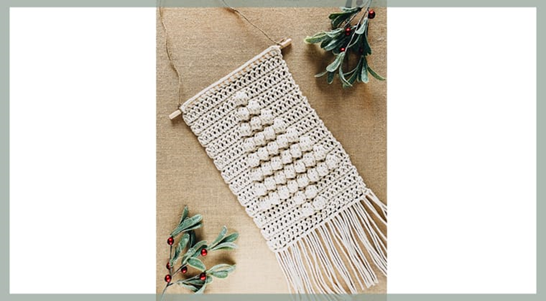 You can also crochet the tree hanging. This crochet-free pattern for tree hanging uses bobble Stitch to make beautiful crochet tree hangings. The pattern is easy to crochet and does not consume much time.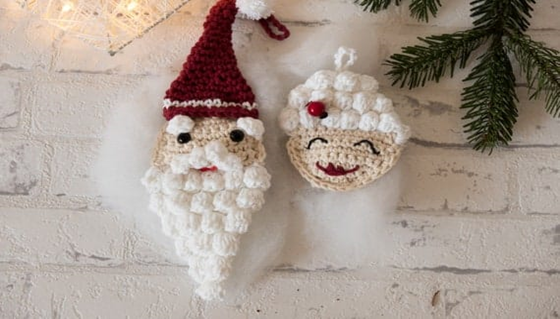 Crochet Santa Wall hangings are also great among Christmas crochet patterns. It includes double crochet, single crochet, and cluster stitch to create a unique pattern. The crochet Santa wall hanging looks amazing with other decors.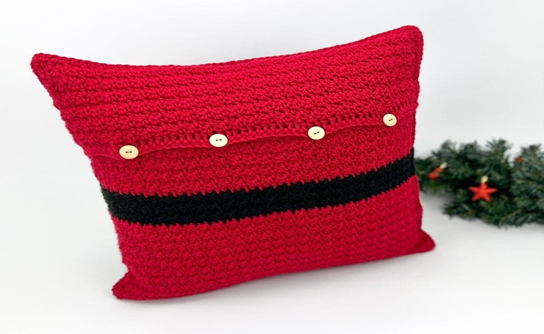 The free crochet Santa pillow pattern is an easy and beginner-friendly pattern. It includes two simple stitches to make the pattern – single and double crochet. You can also make a crochet elf pillow case with the same pattern.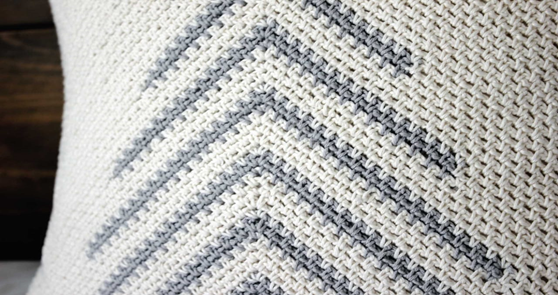 The moss stitches Christmas tree pillowcase pattern displays a sober, minimalist theme. As the name suggests, this pattern uses a diagonal moss stitch to crochet pillowcases. It can use two or multicolor yarn; if you want to keep it minimal, use white and red/brown.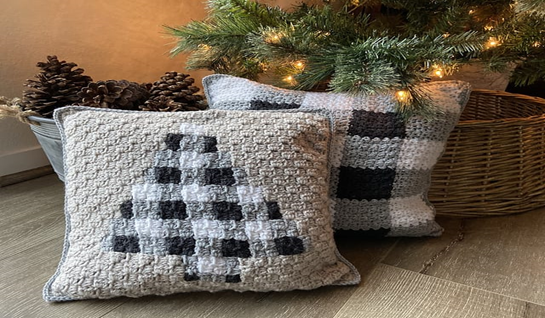 Looking for Christmas crochet patterns to make throw pillows? You can try this plaid crochet Christmas throw pillow pattern. It uses checked plaid stitch for the project. You can use colorful yarns for this crochet project.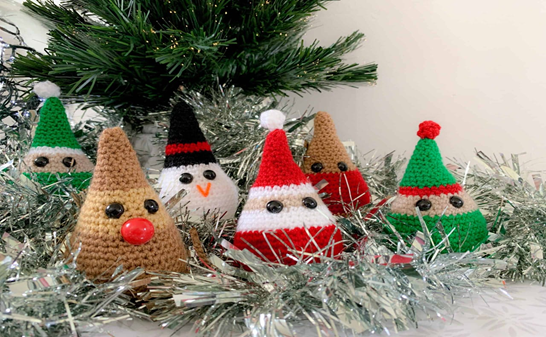 The Amigurumi Christmas tree table ornament pattern also can be a good addition to your Christmas preparations. Do you know the Amigurumi stitch? If not, use this opportunity to learn a new stitch. It is a simple pattern, and you can do it with a beginner's skill.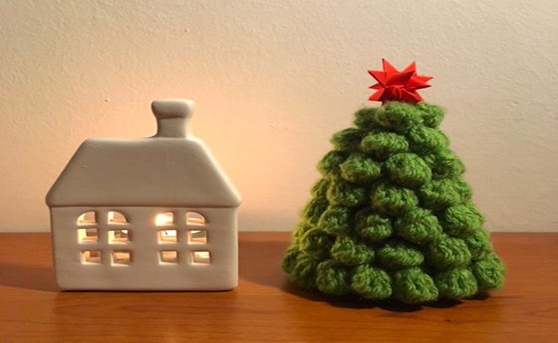 Another beautiful crochet Christmas tree hanging pattern is the bobble stitch crochet Christmas tree. The pattern uses a bobble stitch to create a Christmas tree hanging pattern. You can use cotton yarn with green, brown, and red colors.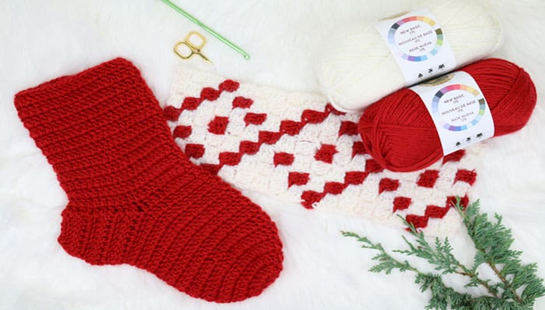 Nordic C2C Christmas stockings pattern involves classic crochet stitch C2C to create the pattern. If you love the Nordic aesthetic, you must give it a try. Also, the C2C or corner-to-corner crochet stitch is easy and simple.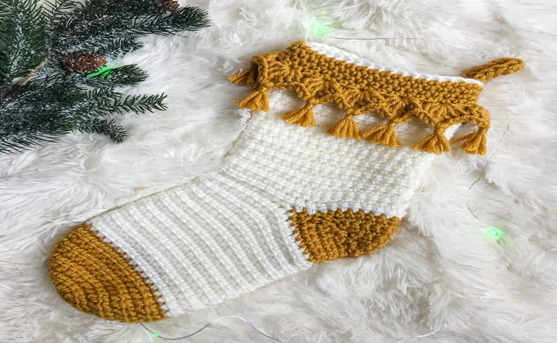 The Boho Christmas stocking crochet pattern looks vibrant and lively. The pattern uses a variation of double crochet stitches to create thick, beautiful Christmas stockings. For best results, use vibrant colors and thick yarns.
The farmhouse crochet Christmas stocking pattern is ideal for the countryside or rustic Christmas decorations. The pattern uses shell and ribbed stitch for crocheting beautiful farmhouse crochet Christmas stockings. You can use vintage colors like baize, off-white, and gray for this project.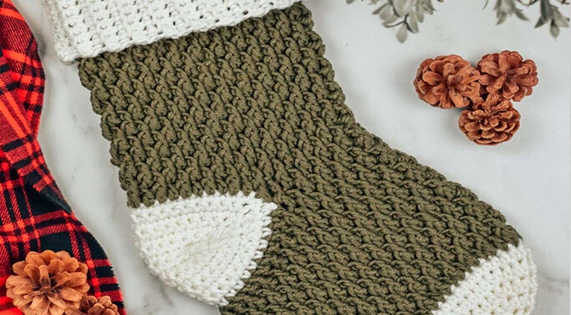 Country cottage Christmas stockings crochet pattern is also a popular choice for Christmas crochet patterns. It uses simple stitches like single, half-double, and double crochet stitches. Also, the pattern is ideal for beginners and intermediate levels.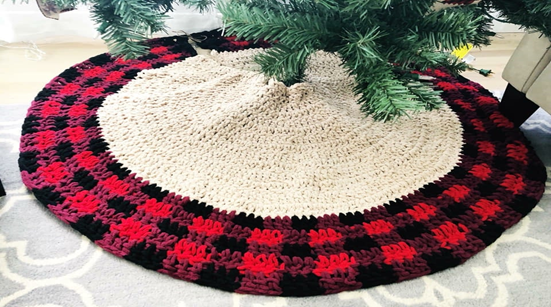 When crocheting Christmas decorations, a Christmas tree skirt is a must. The pattern uses the buffalo plaid stitch to create a thick, beautiful Christmas tree skirt. Remember, you must know the basic crocheting skills to crochet this free pattern.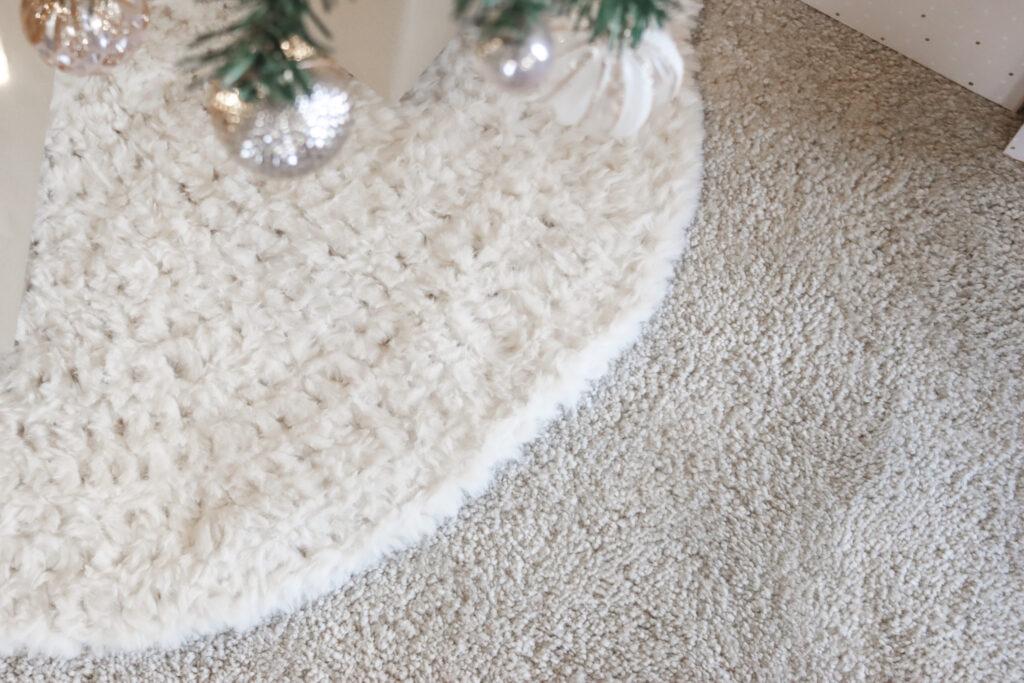 The Alpine crochet tree skirt pattern looks fantastic for Christmas decorations. It uses basic crochet stitch single and double crochet stitches. The primary trick for this pattern is to use extra bulky and worsted/furry yarn. You can use white or gray colors for it.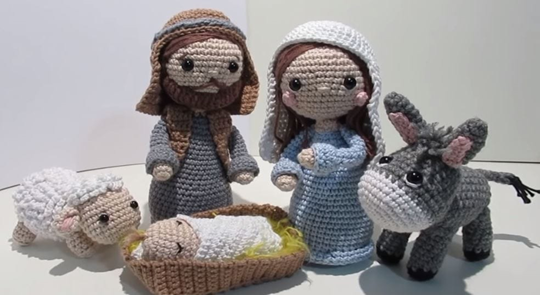 The nativity scene becomes more interesting with this Amigurumi donkey nativity pattern. The pattern uses an Amigurumi stitch to create a crochet donkey nativity. You can use bulky or cotton yarns according to your needs. Use gay, white, and red yarns for this project.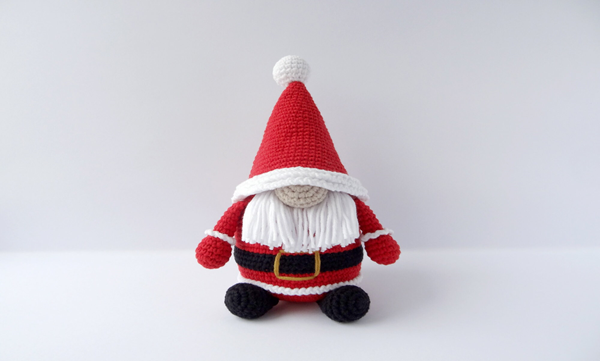 This Scandinavian Santa gnome Amigurumi pattern is ideal for modern interiors. It uses an Amigurumi stitch and gives a minimalist look. Also, you can skip the face embroidery, all thanks to this minimalist gnome pattern.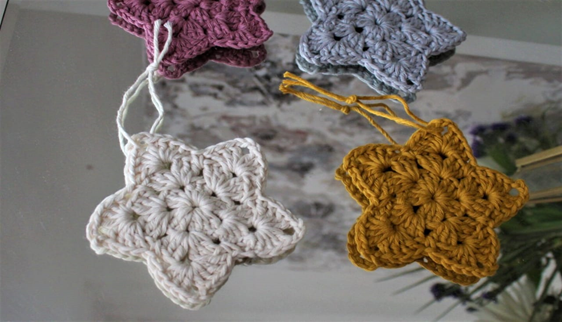 Christmas is incomplete without the big star. Adding a crochet star is a great option. This free crochet pattern is easy to create and uses basic crochet stitches. Anyone with basic knowledge of crocheting can use this pattern.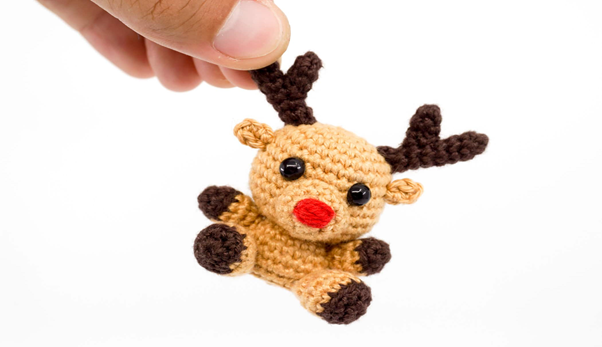 If you are searching for easy Christmas crochet patterns to crochet reindeer, you can try a free Amigurumi reindeer pattern. The pattern is suitable for all skill levels. You can crochet this pattern with basic crocheting skills.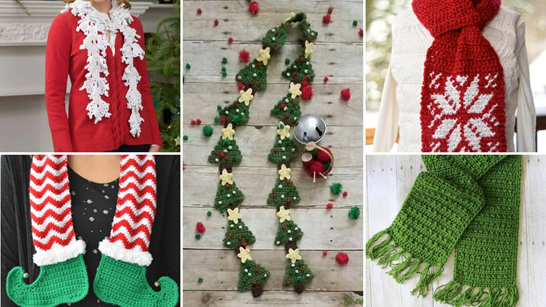 Lastly, Christmas crochet scarf-free patterns can be helpful if you want to crochet gift items. The pattern involves some basic stitching like Harlequin, shell, C2C, etc. You can also select any two basic stitches for this project.
Conclusion
Crocheting your Christmas decorations can be a great opportunity to learn new crochet skills and brush up on what you have already learned. Also, crochet Christmas decorations are quite trendy and look very affordable.
Christmas-themed crochet items bring a homely and cozy touch to the environment and make your guests feel excited to have a close look at every decor.
Also, you can have plenty of beautiful Christmas crochet patterns, from stunning granny square stockings to classic C2C crochet blankets.
Above, we have covered a list of the top 30 free crochet patterns ideal for Christmas. So, bring out your crochet kit and prepare for a fun crochet project.