Mothers, especially those of newborns, toddlers, and kids, often look for cute baby products to make their kids look more adorable. Crochet baby hats are one of them. You can make these hats easily for your child or gift them to a newborn. These hats can keep babies' heads warm, but use skin-friendly, soft crochet.
These crochet baby hats are very cute, and the best part is that you can make an easy crochet baby hat using just a few basic stitches. Adding details like flower applique or animal-inspired crochet ears with advanced techniques can make these hats more decorative and eye-catching.
If you love crochet hats, you can make cozy, handmade baby hats using easy techniques. This article will share 30 easy crochet baby hat patterns perfect for infants, newborn babies 3–9 months old, and up to 2 years old.
Whether you want a baby girl or boy hat or a unisex crochet hat, we have covered almost everything.
Without any ado, let's get started!
Things to Consider Before Start Working on Crochet Baby Hat Patterns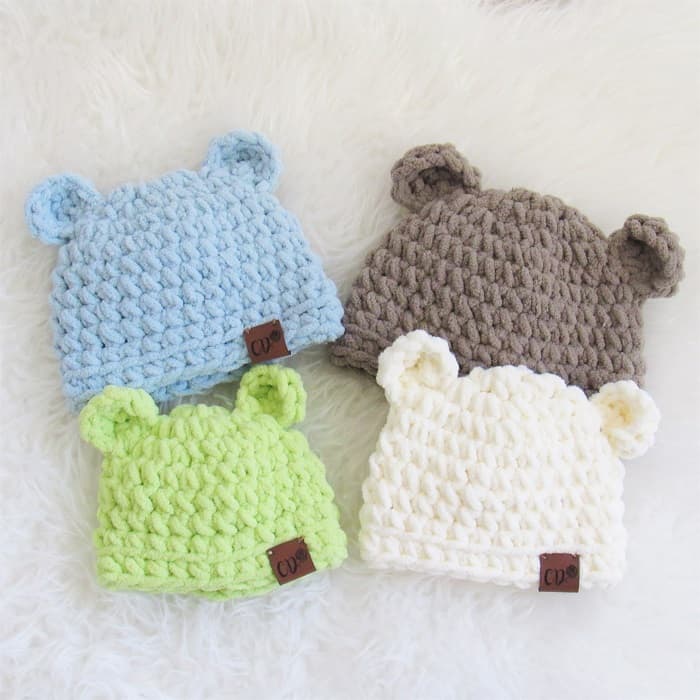 Before you start checking out the patterns for making an easy crochet baby hat, there are several things you should consider.
Make sure you have the correct measurements according to the baby's head's appropriate size.
Choose a soft, comfortable yarn perfect for the baby's delicate skin.
Choose the correct hook size to help you achieve the correct gauge and size for your baby hat.
Select an appropriate stitch pattern. Otherwise, it might get too loose or tight, making babies uncomfortable.
Ensure you know how to care for and wash baby crochet hats properly.
By considering these factors, you can start making an easy crochet baby hat and make sure that you create a cozy, comfortable, cute, and beautiful crochet hat for the baby.
Easy Crochet Baby Hat Patterns That Anyone Can Make
1. Beanie Crochet Hat Pattern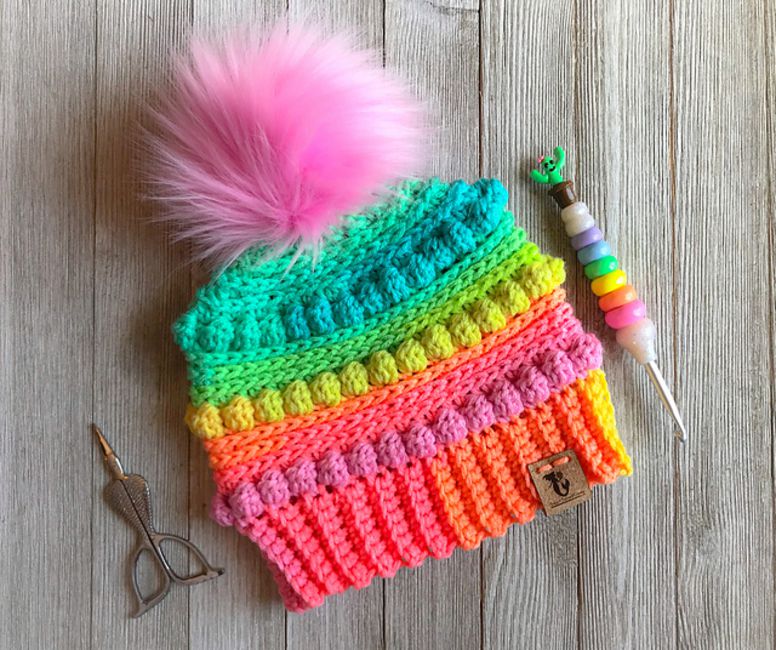 Are you ready to show your crochet skills like a pro? No matter whether you are a beginner or professional, creating the ultimate textured beanie with this beanie crochet pattern could be the perfect thing you can do! This pattern is perfect for those who enjoy working crochets using beautiful colors.
You can make this hat only with medium-weight yarn in complementary shades like Peacock Sparkle and Pinky Toes Sparkle, along with a hook. What's more? Just a basic stitch, gorgeous texture, and sparkle, and the beanie cap is ready that your kid will love to wear.
2. Pumpkin Hat Crochet Pattern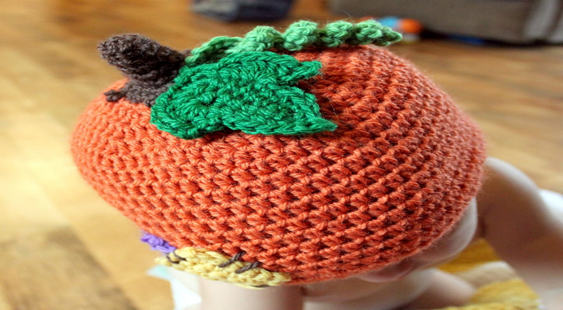 Crafting a cozy pumpkin beanie with this free crochet pattern will make your kids look super adorable. Designed with love and featuring natural pumpkin-colored yarns, creating stalks and leaf patterns, this cap is perfect for babies to toddlers.
You can show crocheting skills with 100% acrylic weight yarn and a hook. Perfect for your kids, this hat is great to wear in winter and even in light winters to keep the ears warm and the head protected. Get ready for the pumpkin beanie: an adorable option for your kid's wardrobe.
3. Newborn Frog Hat Crochet Pattern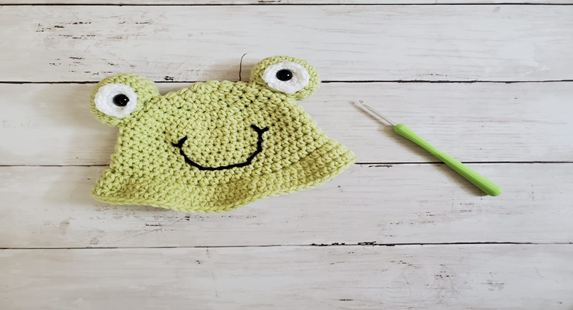 What about creating a frog hat with this crochet pattern? It is perfect for your little munchkins and newborns and features a realistic frog design. You can make it just with green yarn and two crochet hooks. The colorful green yarn is perfect, but a touch of white and black for creating the ideal illusion of a frog makes this more beautiful.
The finished size of this easy crochet baby hat fits newborns and toddlers. Undoubtedly, you will find this hat a perfect one for your baby's first trip! You can add adorable buttons for the frog eyes, but making the whole pattern with yarn gives it an enhanced look. This hat is perfect for creating gifts for small babies, or you can make it for your babies, too.
4. Shell Stitch Baby Cap Crochet Pattern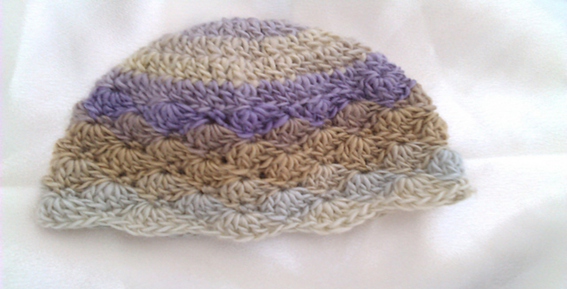 Let your child shine like a beautiful pearl with this adorable and excellent shell-stitch crochet cap! Undoubtedly, you can consider this baby cap a perfect fit. A super cool look with these caps can be achieved using 100% acrylic and anti-pilling yarn. Don't forget to pick the right crochet hook.
This beautiful cap is made with intricate detailing and a shell stitch pattern. Both newborns and toddlers can wear it. Using vibrant and contrasting colors can make these crochet caps look beautiful and elegant. You can even add shiny and colorful pearls to create an eye-catching statement for your baby!
5. Sunflower Looking Hat Crochet Pattern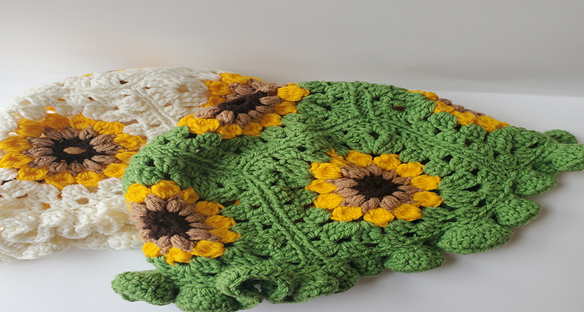 If you want your little one to look like a sunflower, a sweet sunflower crochet hat is the perfect thing to make! This free crochet pattern is perfect for making your baby look super cute. Making this pattern is easy; you must follow some simple steps and stitches to complete the making.
This easy-level crochet project can be easily made for newborns and toddlers. Become more creative and create something special for your favorite little person!
6. Knit-Like Crochet Baby Beanie Crochet Pattern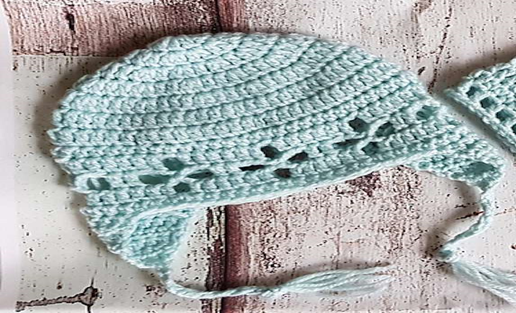 The knit-like crochet baby beanie pattern is one of the most flexible ones present in this list of crochet hats. You can make it any size. All you need to do is follow the simple steps and pick any crochet hook size and yarn type for the making.
First, you have to start with creating a ridged brim. This provides the perfect cozy fit for the babies. The stitches are also knit-like, providing excellent density and a comfy feeling. These hats keep your baby's ears warm, too. So, if you want to make an easy crochet baby hat pattern, make this one.
7. Slouchy Crochet Hat Crochet Pattern
When it comes to making an easy crochet baby hat, this loose-fitting slouch hat is perfect to consider. This crochet pattern is excellent and looks super cute when babies wear them. These slouchy hats are oversized and usually have a drawstring. These can help you to tie the hat tightly under the baby's chin.
These Slouchy hats are available for both children and teens. If you want a simple design or want to add a flower to it, you can change the overall look. These crochet hats are perfect for baby girls and boys and can be made using vibrant colors.
8. Baby Bonnet Crochet Pattern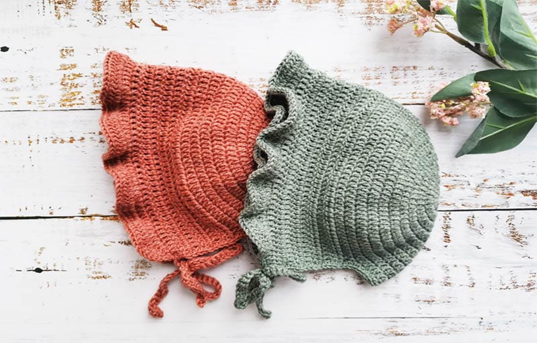 If you want to make an easy crochet baby hat for your baby or gift it to any child, the baby bonnet crochet looks affordable. However, it is a bit more special when you make this by hand for your baby.
When you follow this crochet pattern to make a perfect bonnet hat, you will have an adorable bonnet. This easy crochet pattern is perfect for both boys and girls. Pull the brim forward because, in this way, you can keep the sun or rain away from the baby's face and will protect your baby.
9. Crown Baby Hat Crochet Pattern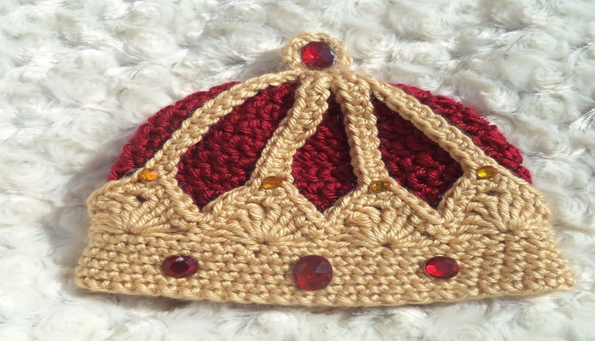 These crochet baby hats are mainly designed for little ones, toddlers, and kids. These hats are the perfect choice for newborns. Therefore, this hat option is as terrific as your baby's first hat.
It is also a good design to keep your baby's ears warm. This pattern has a fold-up brim, so these can easily fit into your baby's head. This hat is even more adjustable and ensures it stays on the baby's head better. Whether a boy or a girl, it will look super cute.
10. Crochet Pixie Bonnet Pattern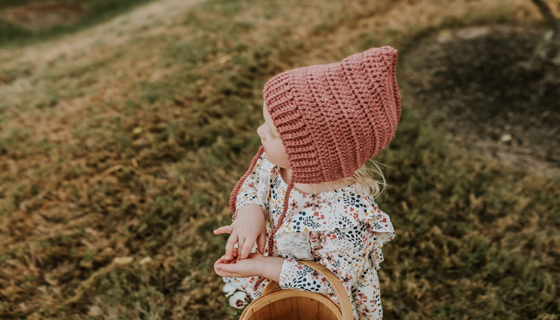 Make a beautifully designed crochet pixie bonnet that everyone will adore. To make this crochet pixie bonnet, a thick-and-thin yarn is used. This hat pattern can be completed quickly, and the result is super cozy and looks great on your kids.
It is a very easy crochet pattern that can be crafted using half-double stitches. Tassels are present in this pattern and on the ends, creating a fun shape and style. If you want to make a hat for babies that is super easy but different from others, this crochet pixie bonnet is a great choice.
11. Cluster Shaped Beanie Crochet Pattern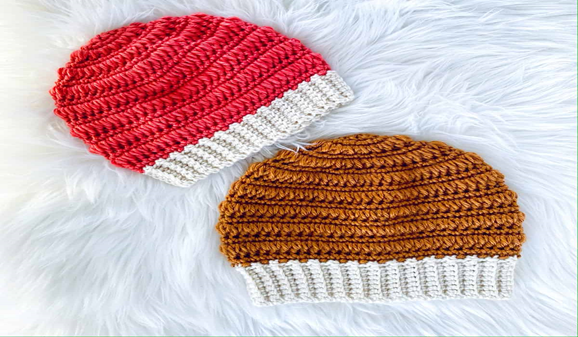 This easy baby crochet hat pattern uses an ombre-colored yarn with a combination of cluster stitches. Applying this technique can help you create a perfect design that looks more flawless, intricate, and fine than it is.
This hat often impresses people because of the crochet skills required to make it. This makes this hat a perfect gift item, or you can keep it for your baby to wear at special events. This particular hat is ideal for newborns and toddlers because of the pattern and material of the crochet.
12. Earth-Space Crochet Pattern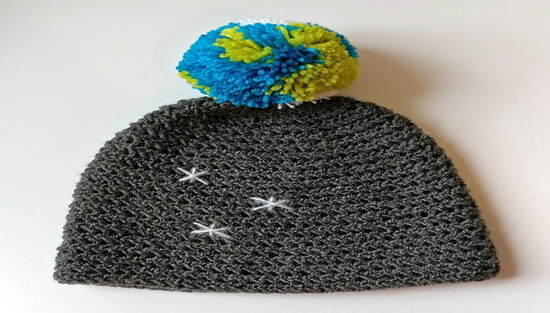 If you want to make an easy baby crochet hat, opting for the earth-space pattern helps you get two crochet baby hat patterns in one hat. If you think it is complex, it is not. But the design and pattern make the whole thing more interesting.
You can add tiny embroidered stars to create a view of Earth and space. And to create the earth look, make an earth-inspired pom at the top of the hat. When you create this, the outcome looks cute and suits babies perfectly.
13. Crochet Football Earflap Hat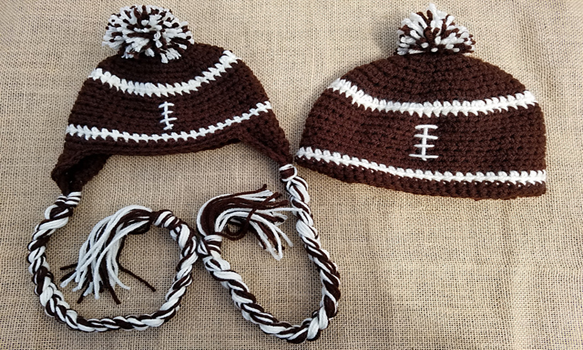 A crochet football earflap hat is perfect for you, baby, if you are a sports lover. Get your baby ready for sports at an early age, or you can take him to different matches wearing this football earflap hat.
This cute crochet football hat is easy to make and is also a perfect item for your baby. As there are Earflaps in these hats, it usually keeps the baby's ears warm even in the wind. These are usually designed with decent colors and a braid so the braids can be tied securely under the chin, giving babies a better fit.
14. Earflap Hat Crochet Pattern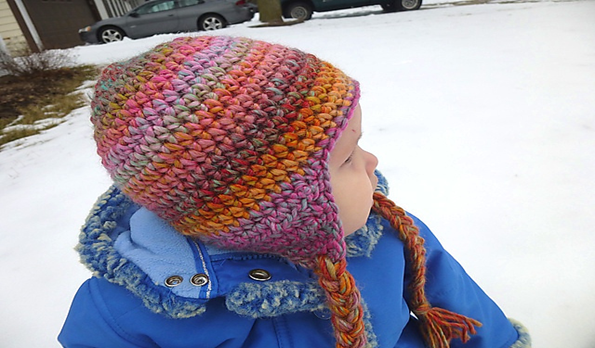 This earflap crochet hat can be made using a terrific yarn selection and is full of vibrant colors. This particular pattern is great for newborns and even for toddlers. If you have more than one kid, you can make this easy baby crochet hat for all.
You can complete this hat by working in a continuous round. But make sure to slightly down the hat while doing the back part. To enhance the overall look, embellish with character and animal designs is a great idea. Make it. Whether you make it with or without the braids, it looks nice in both.
15. Vintage-Inspired Crochet Beanie Pattern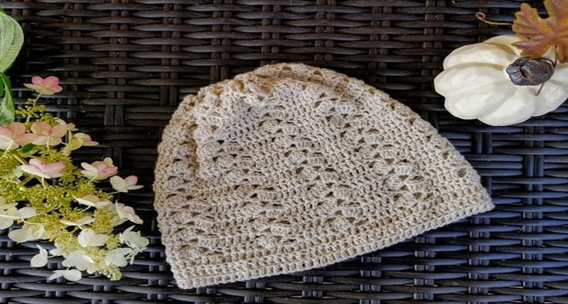 This option is perfect for you if you want to make a versatile crochet baby hat. Make a simple beanie hat, or add little earflaps to create that vintage look. This hat pattern is feminine, so you can consider this hat a perfect option for baby girls.
This is a super cute baby beanie that can change the look of your little munchkin. You can add a pom pom on top of that and the earflaps for extra cuteness. These classic vintage-inspired caps can be made using more than one color.
16. Glover Stitch Crochet Hat Pattern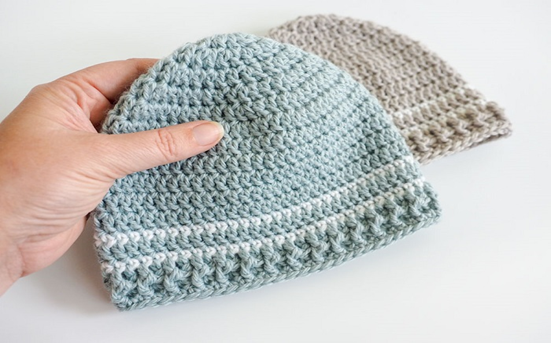 Looking for an easy crochet baby hat pattern for a quick crochet project? You can try the Glover stitch hat pattern. The glover crochet hats look amazing on both kids and adults. Also, the Glover stitch creates a thick and comfortable fabric ideal for winter hats. You can stitch this beautiful hat for your kid.
Also, you can opt for a mom-and-me set with two look-alike Glover stitch hats, one for yourself and one for your baby. To crochet this pattern, you must know cluster and crunch stitches well. Use Cotton or non-peeling acrylic yarn for this crochet hat.
17. Crochet Animal Hat Pattern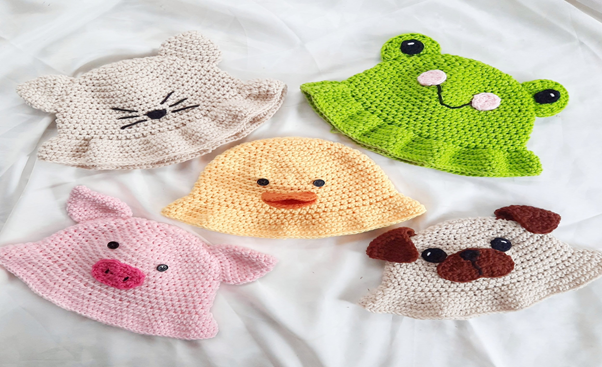 The crochet animal hat pattern is also one of the popular hat patterns for babies. It is an easy crochet baby hat pattern that you can try. The crochet animal hats also look very adorable on kids. You can get various free baby hat animal patterns – crochet baby rabbit hats, tiger hats, chick hats, or turkey hats.
They are also a good option for dressing your child for different seasons and holidays. For instance, you can crochet a baby turkey hat pattern to gift kids on occasions like Thanksgiving. Plus, most crochet animal hat patterns use basic crochet stitches (SC, DC, Ch, moss stitch, etc..)
18. Textured Crochet Snowman Hat Pattern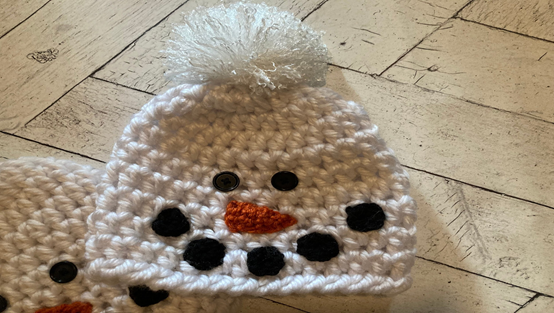 Another beautiful baby crochet hat pattern is the textured crochet snowman hat pattern. They are also easy to crochet and do not require difficult seaming or color changes. The pattern looks incredible with popcorn/puff stitch detailing. The fluffy and detailed stitch also creates a warm and comfortable hat for your baby.
It can be a perfect option if you want an easy crochet baby hat pattern for winter. But be mindful while changing color to create a snowman face on the hat. Try the Red Heart Super Saver Yarn combo of cherry red, black, and white yarn to crochet an adorable textured crochet snowman hat.
19. Scalloped Crochet Hat Pattern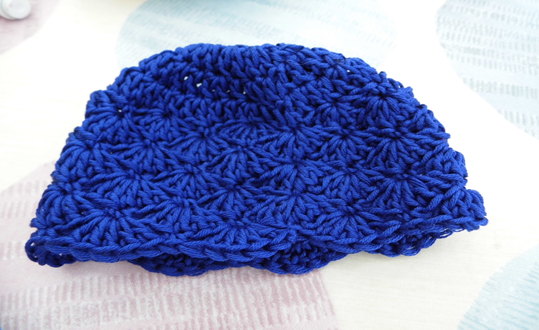 Scalloped stitch crochet hat patterns are also great for kids. They look cute on babies and suit all kids, whether newborns, toddlers, or preschoolers. It is also easy to crochet and requires minimal tools and materials. The scalloped baby hat pattern uses a stitch to create a beautiful scallop-like pattern. With this unique hat pattern, your baby will look like a precious pearl.
You can get the right look with 100% non-peeling acrylic yarn. Choose any cool or pastel color to crochet this baby hat. You will also need a 4mm crochet hook, stitch maker, and yarn snipper for this project.
20. Cool Crochet Tiger Hat Pattern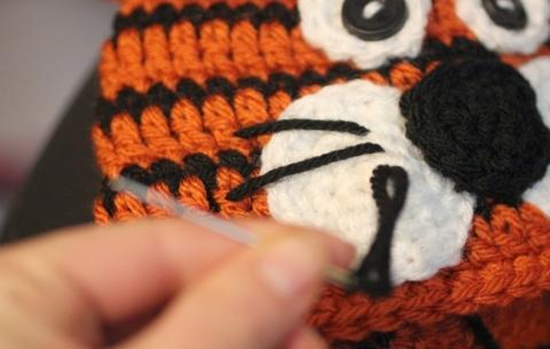 Let your baby roar and shine with this cute and cool crochet tiger hat pattern. This sporty crochet hat pattern features the majestic animal with its vibrant colors. The crochet tiger hats look great on kids of all ages. You can even include some features of polar bears, dogs, or zebra to make it more interesting.
All you need for this project is tiger-colored yarns, a 5 mm crochet hook, and two black buttons (for eyes). Also, use worsted-weight yarns for the best results. The cool crochet tiger hat pattern uses single crochet, double crochet, and sometimes half double crochet/ chain stitches.
21. Seashell Baby Bonnet Crochet Pattern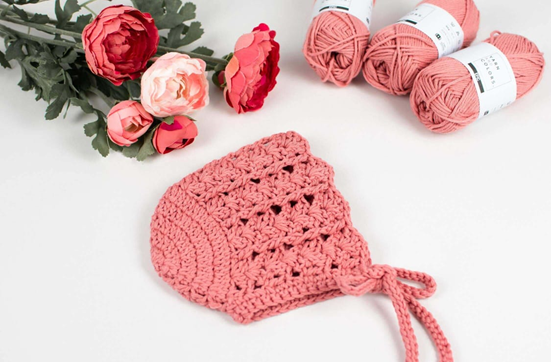 Love Bonnet hats? Then, you must try this beautiful seashell baby bonnet crochet pattern for your next project. It is an easy crochet baby hat pattern ideal for beginners and advanced beginners. Bonnet hats always look good on kids, and the seashell pattern makes them more attractive and stylish. You can use any color of yarn you like.
The seashell bonnet hats look cool in both solid color and multicolor. The pattern uses single-crochet, seashell, and double-crochet stitches. You can also use chain stitch for the bonnet strings.
22. Crochet Monster Baby Beanie Pattern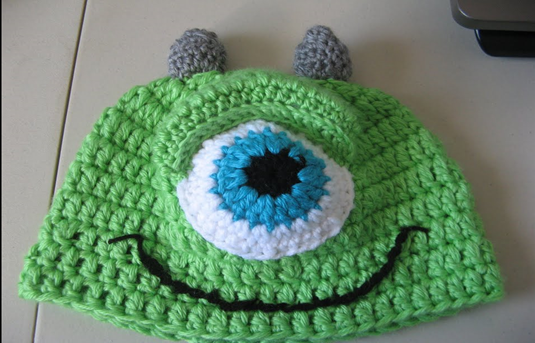 The crochet monster baby beanie pattern looks incredible for little kids. The colorful beanies featuring funny monster faces are great to give your kid a funky look. Also, most kids love these jolly and cute monster beanies, so you do not have to coerce your kids to wear these winter hats.
Add eyes, teeth, and ears for a more personalized look. You must have intermediate crocheting skills to crochet this hat. You will need a 4.5 mm crochet hook for the main body and a 3.5 mm for ears and teeth.
23. Crochet Dino Stripes Baby Hat Pattern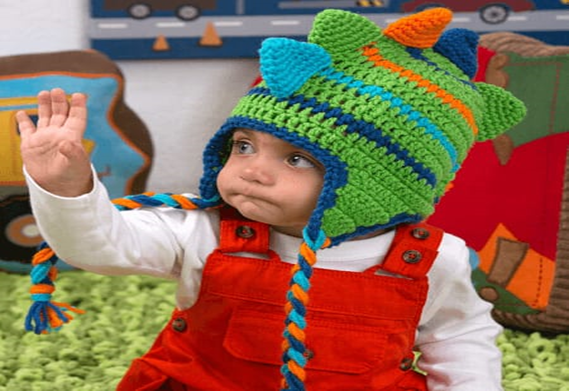 If you want something stylish and easy to crochet, you might like the crochet Dino stripes baby hat pattern. The pattern is easy and mostly uses SC, DC, and Ch stitches. To crochet a Dino stripes baby hat, you will need 2-4 colors of yarn, one 5 mm and one 5.5 mm crochet hook.
The best part of this dino stipes baby hat pattern is you can choose any color combination according to your choice. For example, you can buy an Inscraft Crochet Yarn Kit for Beginners and pick your suitable yarns for the project.
24. Gorgeous Crochet Sweet Bunny Hat Pattern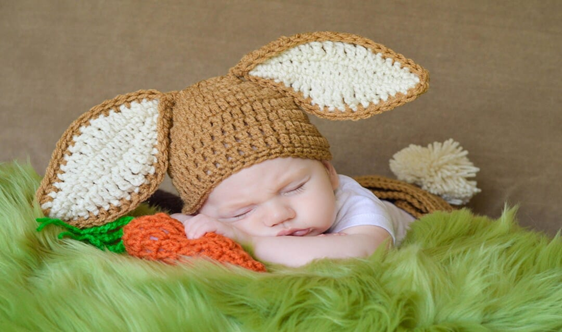 The gorgeous, sweet bunny hat pattern is easy to crochet and a good option for beginners. The cute little bunny hats with long bunny ears look adorable on kids and make them more cute. You can choose colors like all-white, black-pink-white, brown and white, or pink and white. Also, you can add braid trims or earflaps to make it more attractive and cozy.
Use soft and washable yarns to make them an excellent choice for your kid's winter wear. To crochet this pattern, you need your preferred yarns and a 5.5 mm crochet hook.
25. Mickey Mouse Inspired Crochet Baby Hat Pattern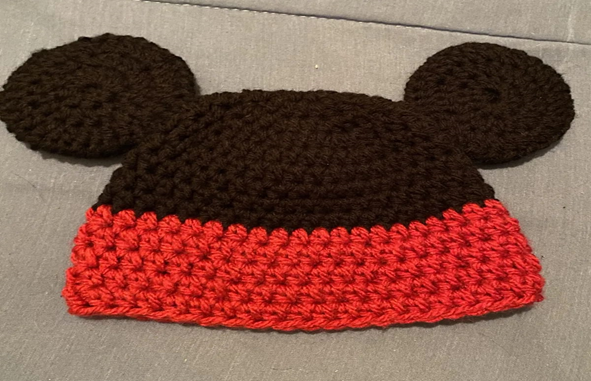 Another iconic and easy crochet baby hat pattern you must try is the Mickey Mouse-inspired baby crochet hat pattern. Who doesn't love Mickey Mouse? If your kiddo is also a fan of Mickey Mouse, then nothing can beat this Mickey Mouse-inspired crochet hat. The hat features beautiful Mickey ears in red and black color. Also, the pattern is easy to crochet and does not have complex color changes. You can crochet it in three different sizes. Plus, all kids love this beautiful cartoon hat, so you can gift it to other kids.
26. Best Floppy Brim Baby Hat Crochet Pattern
Searching for a cute but stylish crochet baby hat pattern? Try this floppy-brim baby hat pattern. It is easy to crochet and give your little girl a fashionable look. All you need for this crochet hat project is a soft, premium quality yarn (color of your choice), a 4.5 mm crochet hook, and some beads, buttons, feathers, or artificial flowers for embellishment. The floppy-brim baby hat or sun hat will help to protect your kid from the scorching heat. They can wear this beautiful sun hat for all the seasons.
27. Crochet Beanie Pattern With Pom Pom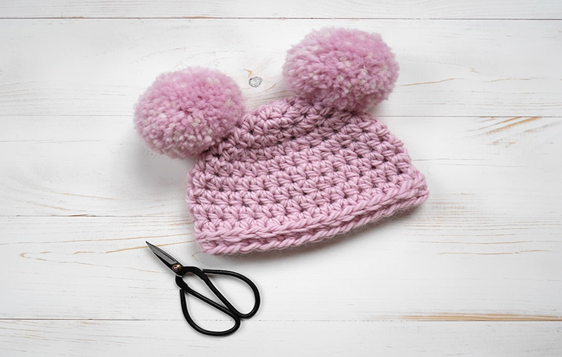 Crochet beanie pattern hats with pom poms are also a great option if you want an easy crochet baby hat pattern. You can crochet this beautiful baby hat with basic crochet skills. Most baby beanies with pom poms use single crochet, chain, and sometimes double crochet stitches. You can buy pre-made pom poms for the top or utilize your yarn to make them. The pom poms bring added cuteness, and your baby looks more adorable. Also, you can make solid color and multicolor pom pom beanies, depending on your choice.
28. Crochet Bear Hat Pattern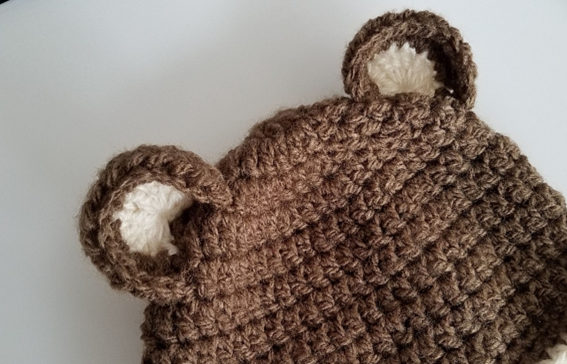 Make your little one the cutest baby bear in the world with this cute and cozy crochet baby bear hat pattern. Babies look lovely in these snuggly and comfy crochet hats. And you can make them with minimal requirements. The pattern is beginner-friendly, and you can crochet it with basic crocheting skills. You can choose the traditional brown and white palette to crochet simple and comfortable bear hats. But if you want to give it a twist, you can experience vibrant colors. Also, you will need a 5.5 mm crochet hook to work on this pattern.
29. Easy Crochet Baby Turban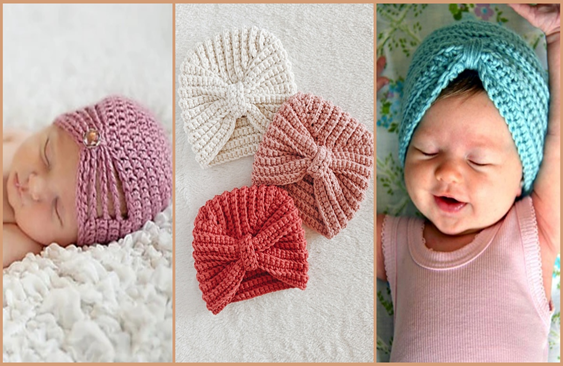 Show off your crocheting skills with these beautiful and easy crochet baby hat patterns. It is one of the easiest crochet hat patterns. Most crochet turban hats use single crochet stitches, and anyone with basic crochet skills can crochet this hat. Solid-colored turban hats look adorable on kids. But if you wish, you can try double or multicolor yarns to upscale your crocheting skills. Plus, you can add a bow, flower, or statement knot to give it a personalized look. It is a perfect pair for gifting little kids on birthdays, Thanksgiving, or Christmas.
30. Crochet Baby Bobble Beanie Pattern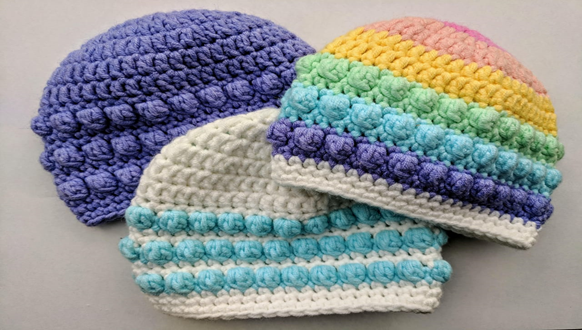 Lastly, the crochet baby bobble beanie pattern is also a beginner-friendly and easy crochet baby hat pattern. If you are looking for a cute and cozy crochet baby hat pattern that is also easy, you must try this pattern. The pattern is easy to follow and includes a bobble stitch for a wobbly and comfortable texture. Also, they are breathable and light, so your kid can wear them all day without any problem. Also, they look bright and beautiful, and your kids can wear them on special occasions like Thanksgiving, get-togethers, or Christmas Eve.
Easy Crochet Baby Hat Patterns: Takeaway
Crochet baby hats are perfect items and excellent handmade gifts for any parent to show their affection, love, and care toward their babies. Handmade gifts always hold more emotion than readymade ones.
Creating a beautiful, unique crochet hat for little ones is easy with so many crochet patterns and ideas available. Whether you are looking for a classic, modern, or trendy style or even a vintage pattern, there are options for everyone to make an easy crochet baby hat.
From basic newborn hats to stylish infant beanies, these baby hat patterns are eye-catching and awe-inspiring. The right guidance on making the perfect crochet hats can make your little one a fashionista. The information we have mentioned earlier is helpful for both professionals and beginners.
What's more? Start browsing the options and making an easy baby crochet hat with whatever skill level you have.
Frequently Asked Questions
How Long Does it Take to Crochet a Baby Hat Perfectly?
Baby hats are small crochet projects that do not require much time. The time to crochet a baby hat depends on your chosen stitches and pattern. A simple, chunky pattern will not take more than 30 minutes. But classic stitches may take longer.
How Can I Make the Crochet Hat Fit in My Baby's Head?
You must measure your baby's head before crocheting a hat. But if you end up making it too small or large. There are ways to mend the mistakes. For an oversized baby hat, add a few stitches to each round. And if the hat is overlarge, add ribbons, stitch it back, or try a hot bath.