The art of creation holds an important position in the lives of every craft enthusiast who remains on a trail forever to invent new things. However, several times, they fell short of the ideas, but now, no more as we present to you our free collection of these enchanting Bernat Baby Blanket Yarn patterns. It doesn't really matter if you're a novice seeking a quick project or an experienced crocheter yearning for a new challenge.
Our patterns cater to every skill level and taste and offer creatively diverse designs. From the effortless elegance of the Sandy Beach Bernat Baby Blanket to the whimsical charm of the Unicorn Dreams Baby Blanket, each pattern here will tell you a unique story.
With Bernat Baby Blanket Yarn as your companion, embark on a journey that blends comfort and craftsmanship. Start stitching today and bring comfort, joy, and love to the little ones in your life.
Materials Required for Bernat Baby Blanket Yarn Pattern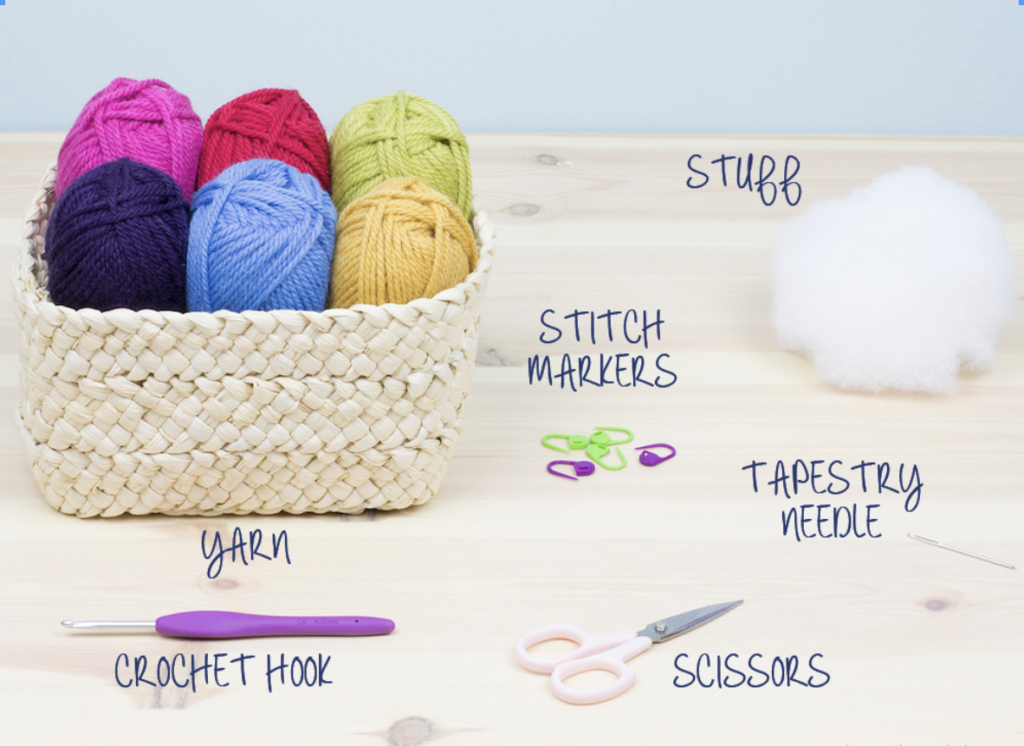 Before you begin crocheting, here are some common materials that you'd need:
Gather these materials, and you're all ready to create magic with crochet and yarn!
Best Bernat Baby Blanket Yarn Patterns
1. Sandy Beach Bernat Baby Blanket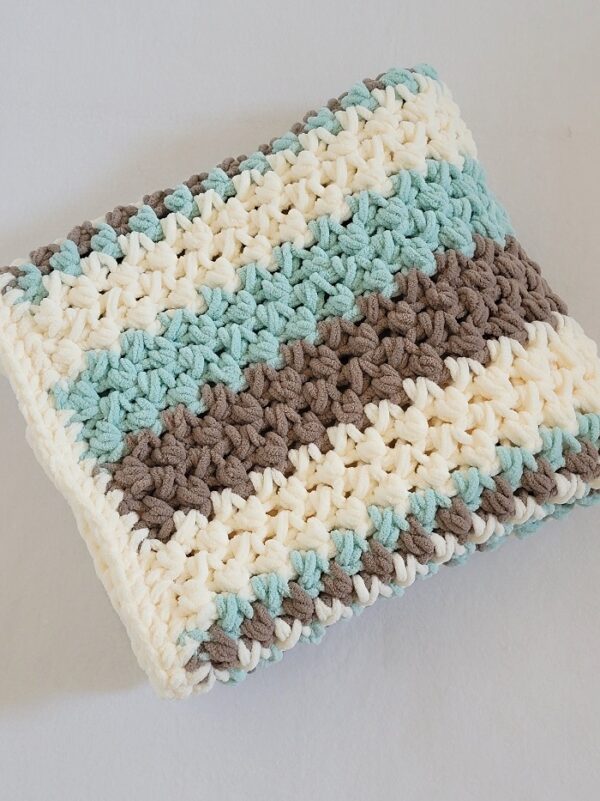 Indulge in a creative journey with the Sandy Beach Bernat Baby Blanket pattern. In a mere 4 hours, you'll crochet a delightful masterpiece. The pattern's simplicity makes it accessible for all skill levels, with an easily repeatable stitch sequence.
Whether using a trio of colors or opting for a single neutral hue, the result is a visually appealing and textured masterpiece. Sized at approximately 40 inches long and 33 inches wide, this blanket is versatile and ideal for various settings.
2. Cat Nap Bernat Baby Blanket Yarn Pattern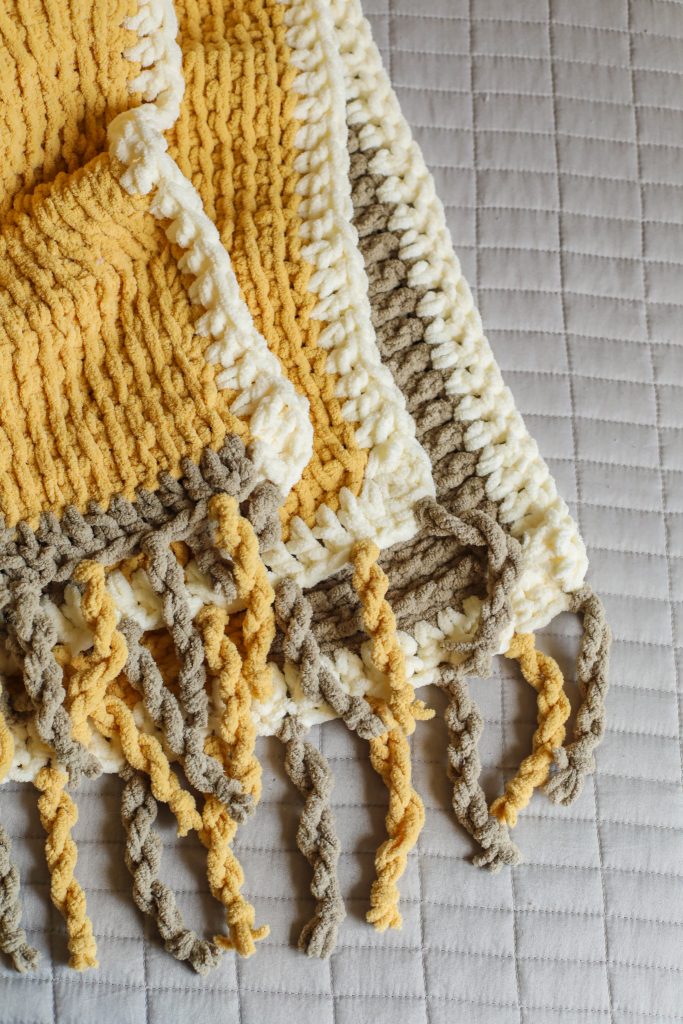 Let us embark on a journey of discovery with this Cat Nap Bernat Baby Blanket Yarn Pattern, which combines the charm of Tunisian crochet and the convenience of Bernat Baby yarn, preventing tangles and simplifying the creative process. This versatile blanket offers comfort during lazy days, movie marathons, and cuddles with your feline friends. The blanket, crafted using Bernat Blanket yarn, boasts a delightful texture and practicality.
3. Big Star Crochet Blanket Pattern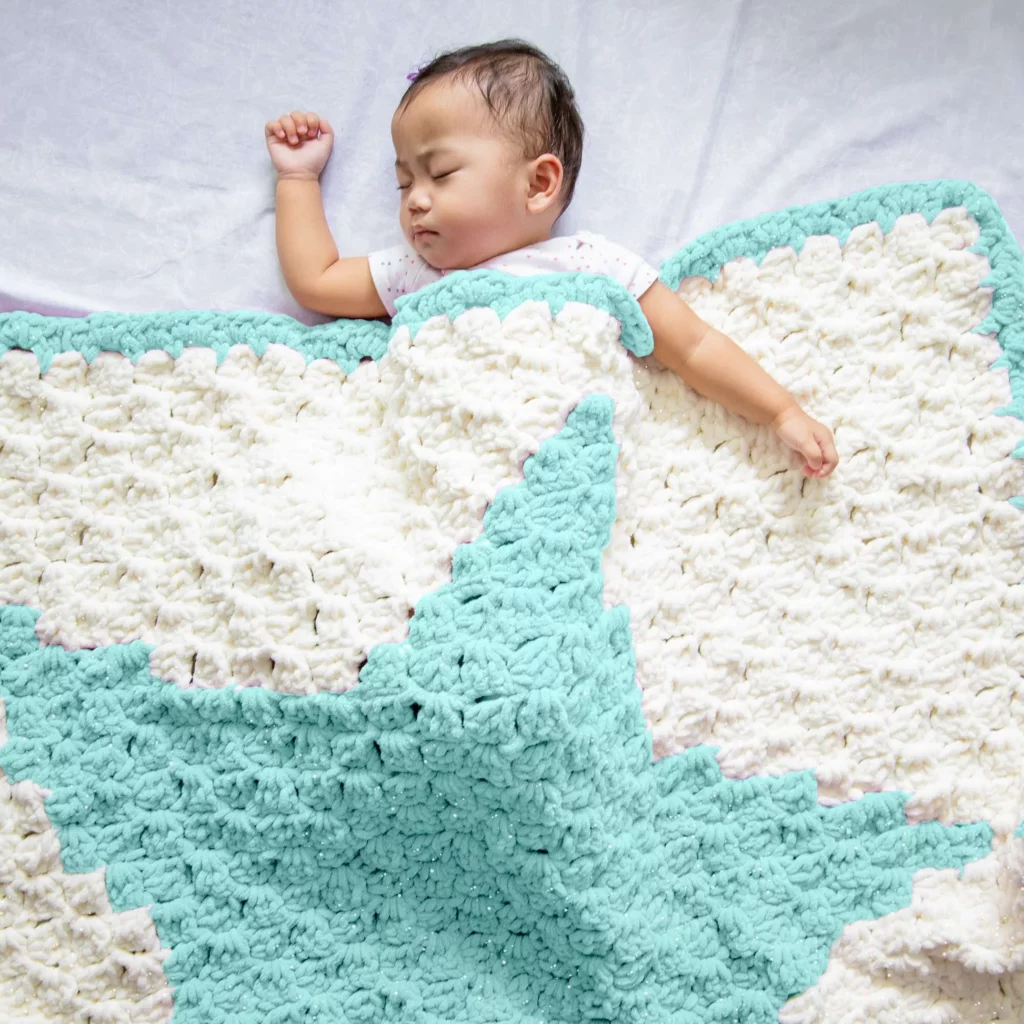 The Big Star Crochet Blanket Pattern is created from the desire for timeless elegance and durability. You can easily craft this one using slip stitches; this pattern is perfect for leisurely TV crafting sessions. The finished 45″ x 45″ square blanket exudes a simple farmhouse allure with its white yarn.
The pattern embraces functionality with heavy-duty snaps for versatile use, be it as an infant carrier cover, car seat/stroller blanket, or cozy baby blanket. Elevate your crafting with this engaging project that blends style and utility.
4. Multi-Function Infant Blanket Pattern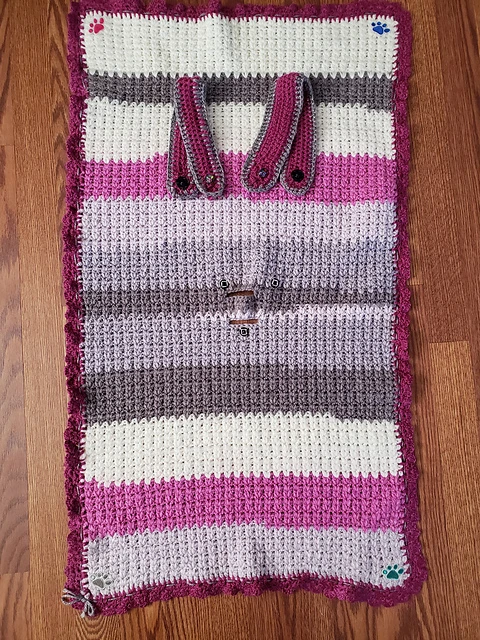 Unlock the versatility of the Multi-Function Infant Blanket Pattern. This pattern gifts you the ability to crochet a multipurpose baby blanket that caters to various needs. From infant carrier cover to car seat/stroller blanket and cozy baby blanket, this creation simplifies parenthood. Detachable straps and heavy-duty snaps provide customization and ease of use.
Seamlessly transitioning between functions, this blanket showcases your crafting prowess and ensures comfort for little ones. Elevate your gifting game with a creation that makes life easier for parents and caregivers.
5. Crochet Miller Afghan Pattern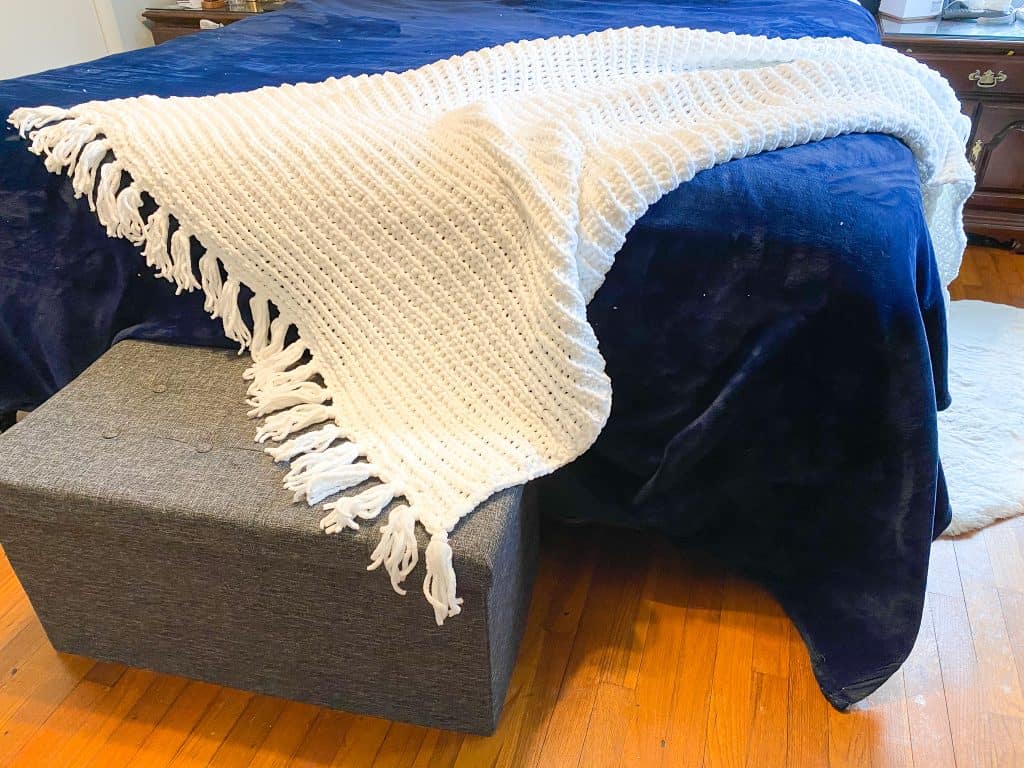 Immerse yourself in the world of crochet with the Crochet Miller Afghan Pattern. Inspired by timeless designs, this pattern combines durability, functionality, and style. Craft a stunning king-sized bed throw or a couch accent with Bernat Baby Blanket yarn.
A simple slip stitch pattern, accented with fringe, yields a farmhouse-style beauty. This beginner-friendly pattern is perfect for TV crafting and yields a cozy 50″ x 70″ blanket. Delve into crafting and gifting with a pattern that stands the test of time.
6. Bernat Chunky Afghan Pattern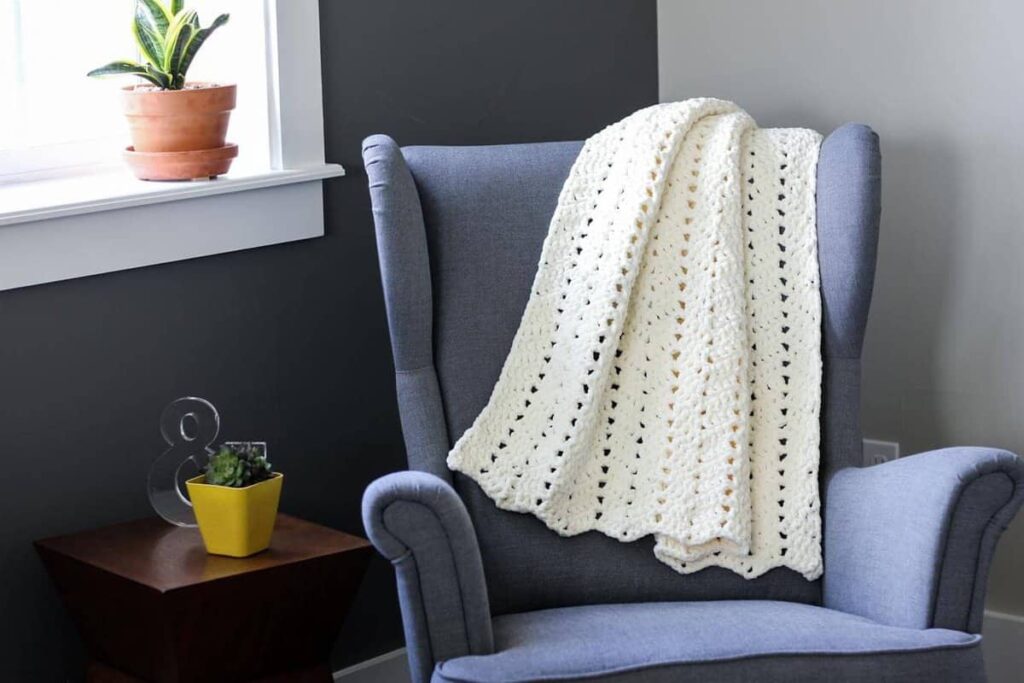 Crocheting is an art that effortlessly weaves comfort and creativity together. In this pattern, the Bernat Chunky Afghan comes to life, offering a perfect blend of nostalgia and modernity. Imagine plucking the brightest, fluffiest clouds from the sky and transforming them into clouds of yarn. This chunky crochet blanket is a timeless baby gift, its softness irresistible for both babies and adults.
The pattern, available for free, introduces various sizes and can be crafted rapidly using Bernat Blanket Yarn. The stitch choice, "Peephole Chevron," ensures a delicate yet gender-neutral touch, perfectly practical for daily use and washing.
7. Touch of Texture Bernat Crochet Blanket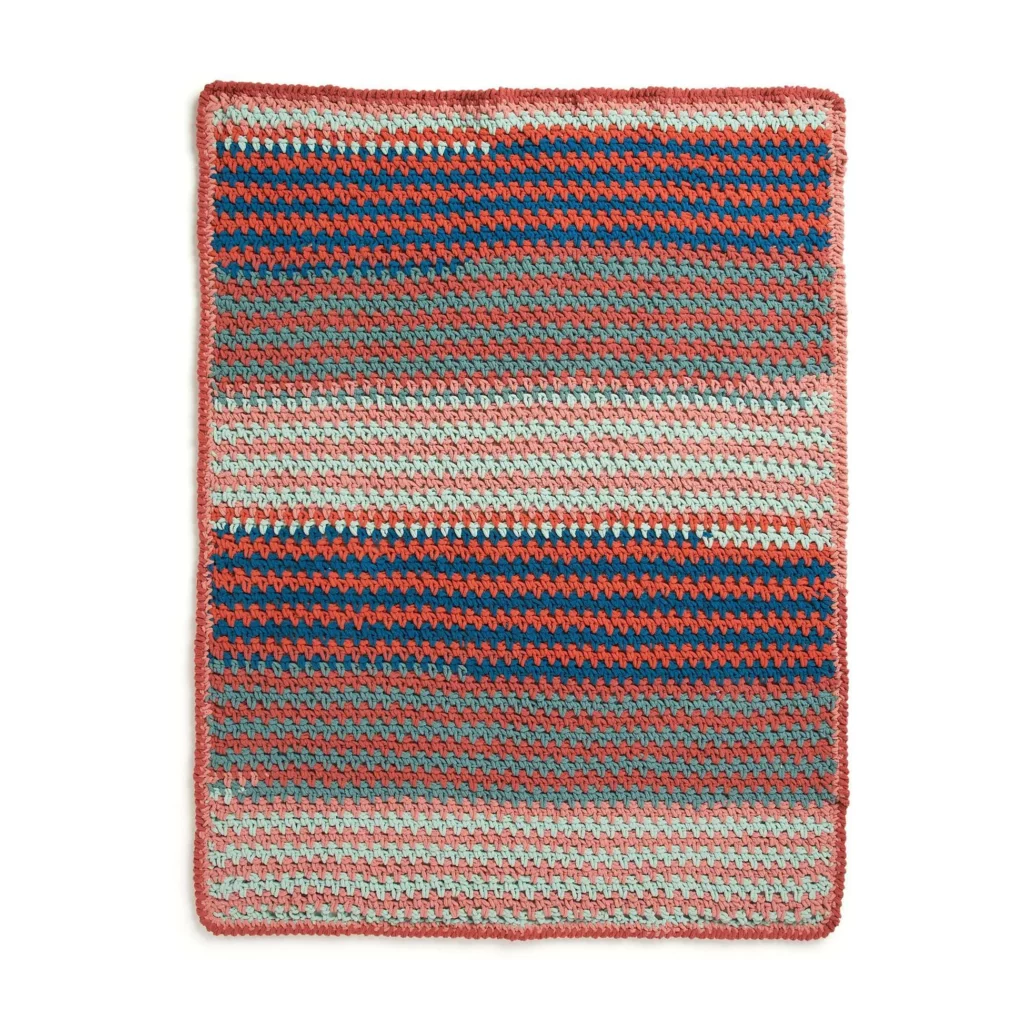 Indulge in the tactile wonders of crochet with the Touch of Texture Bernat Crochet Blanket. This project is a testament to how simple stitches can create intricate beauty. Bernat Blanket Yarn will be your canvas for the interplay of colors and patterns. The texture achieved through basic stitches like single crochet and chain stitches is astounding.
The result is a generously sized, cozy masterpiece that measures approximately 50″ x 60″. This easy-to-follow pattern is accessible to crocheters of all skill levels. The use of contrasting colors and the tactile allure of the textured stitches make this blanket a visual and sensory delight.
8. Two-Hour C2C Crochet Blanket Pattern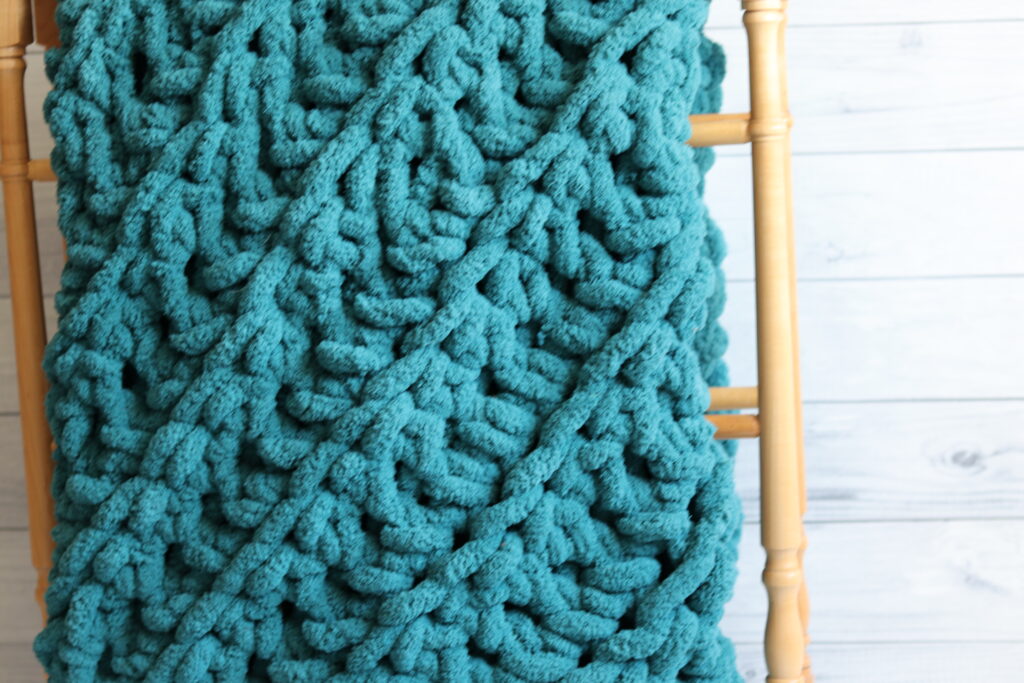 In a world that often rushes past, it's a joy to find a crochet project that marries speed and elegance. The Two-Hour C2C Crochet Blanket Pattern is the embodiment of this harmony. Corner-to-corner crochet takes on a new dimension with this pattern, proving that complexity isn't always necessary for beauty. With a jumbo hook and Bernat Blanket Extra yarn, the process becomes not just efficient but also incredibly satisfying.
Despite the time-saving approach, the resulting blanket showcases simplicity's elegance. Measuring approximately 54″ x 54″, this project is an excellent choice for busy crafters and last-minute gift-givers, showing that creativity can thrive even in the briefest of moments.
9. Bernat Mock-Cable Crochet Baby Blanket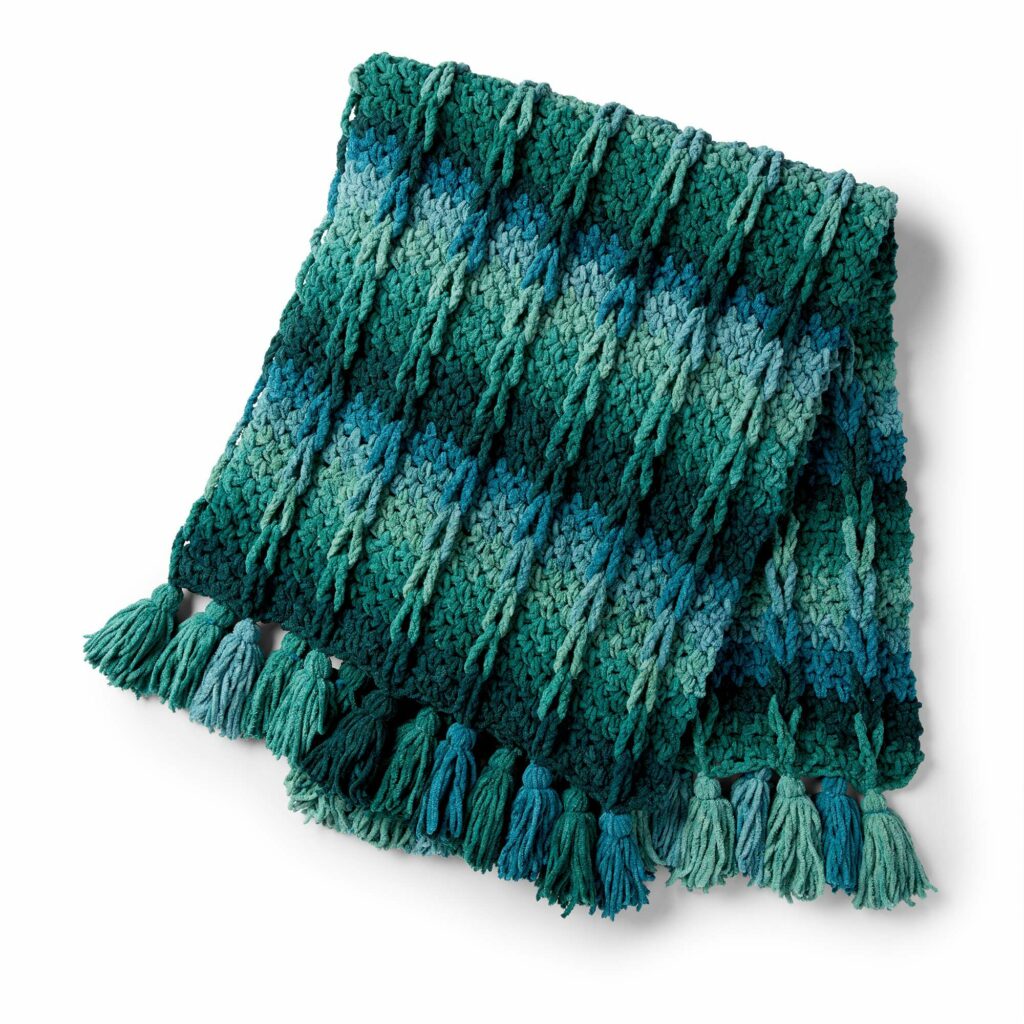 Elegance radiates from every loop of the Bernat Mock-Cable Crochet Baby Blanket. With its meticulously arranged stitches, this project is a masterpiece of visual intrigue. The mock cable design, achieved through clever stitch placement, brings depth and sophistication to the blanket. Bernat Blanket Ombre yarn in Ocean Teal Ombre adds a touch of gradient beauty.
As you follow the pattern's straightforward steps, you'll witness how simple techniques can create intricate-looking results. The finished blanket, measuring approximately 49″ x 60″, is a versatile addition to nurseries and living spaces alike.
10. Easy Extra Crochet Bernat Baby Blanket Pattern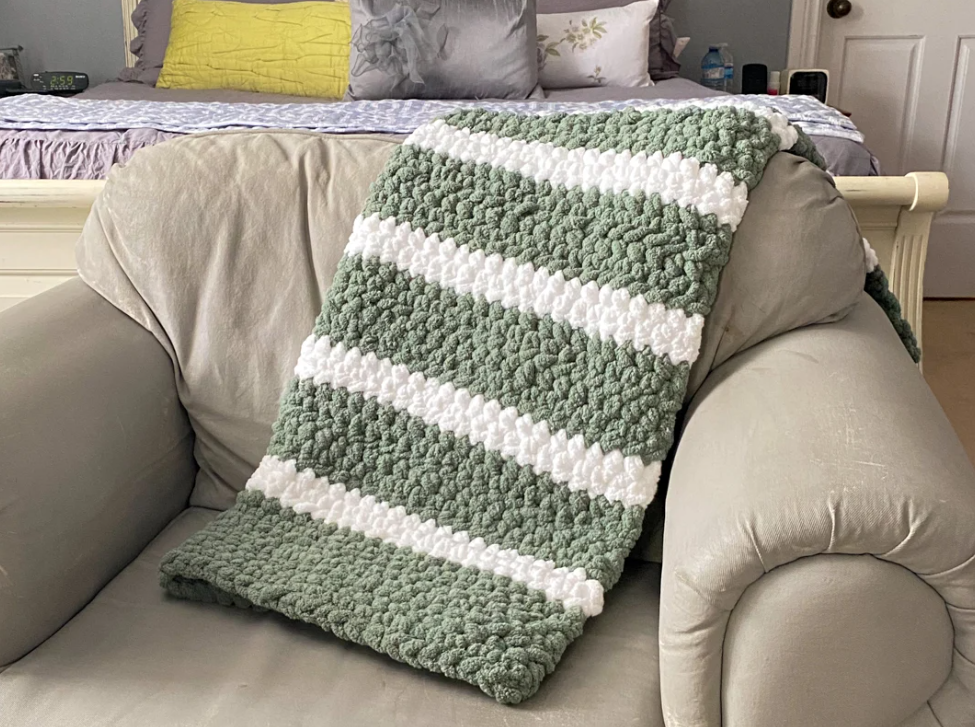 Simplicity is the key to comfort, as proven by the Easy Extra Crochet Bernat Baby Blanket Pattern. With just a few skeins of Bernat Blanket Extra yarn and a 15mm crochet hook, you'll create a wonderfully squishy blanket that measures approximately 32″ x 50″. This beginner-friendly project embraces the beauty of basic half-double crochet stitches, allowing the yarn's texture to shine.
The stitch simplicity doesn't compromise the cozy outcome; in fact, it enhances it. Designed for those who seek a quick yet delightful project, this blanket is a testament to how a straightforward approach can yield fantastic results.
11. 3-Hour Bernat Baby Blanket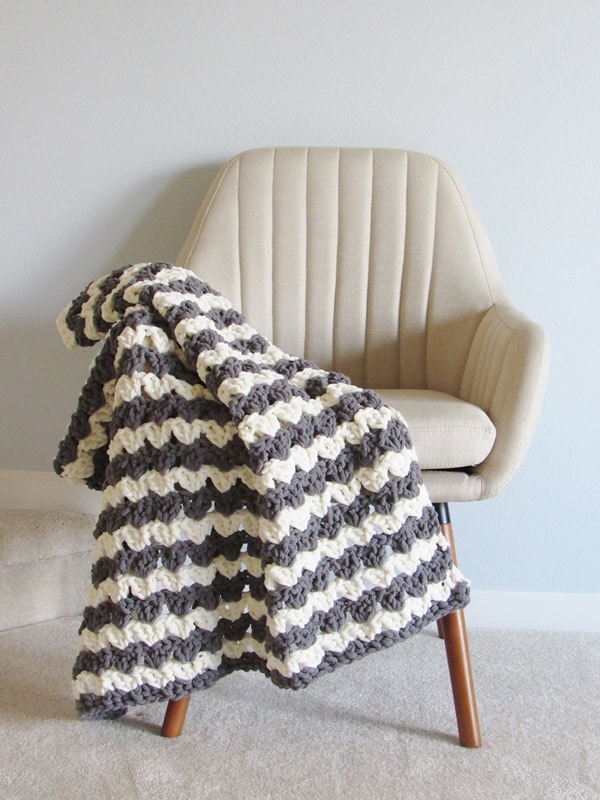 In a world where time is precious, the 3-Hour Bernat Baby Blanket pattern becomes a treasured ally. With just 2 skeins of Bernat Blanket yarn and a 10mm crochet hook, you'll whip up a plush, cozy blanket in about 3 hours. The simplicity of the design doesn't compromise its impact; the heartwarming stitches evoke comfort and joy.
This quick project is perfect for holiday gifting or moments when you crave the satisfaction of a completed creation in record time. The finished blanket measures approximately 37″ x 36″, a testament to how crafting can transform mere hours into lasting memories of creativity and care.
12. Mock Granny Stitch Pattern Blanket: A Modern Twist on a Classic
The timeless charm of crochet granny stripe blankets has captivated many crafters. If you're one of them, you'll appreciate this innovative take on the beloved crochet granny stitch. This mock granny stitch blanket, created with Bernat Blanket yarn, reimagines the traditional pattern while maintaining its allure. By using half-double crochet stitches, this design eliminates the large gaps often seen in regular granny stripe patterns, resulting in a baby blanket with a seamless texture.
While the example showcases shades of blue, the possibilities for color combinations are endless, allowing you to tailor the blanket for boys, girls, or any preference. In just six hours, you can create this stunning blanket that offers both simplicity and style.
13. Mint Choco Chip Bernat Baby Blanket Yarn Pattern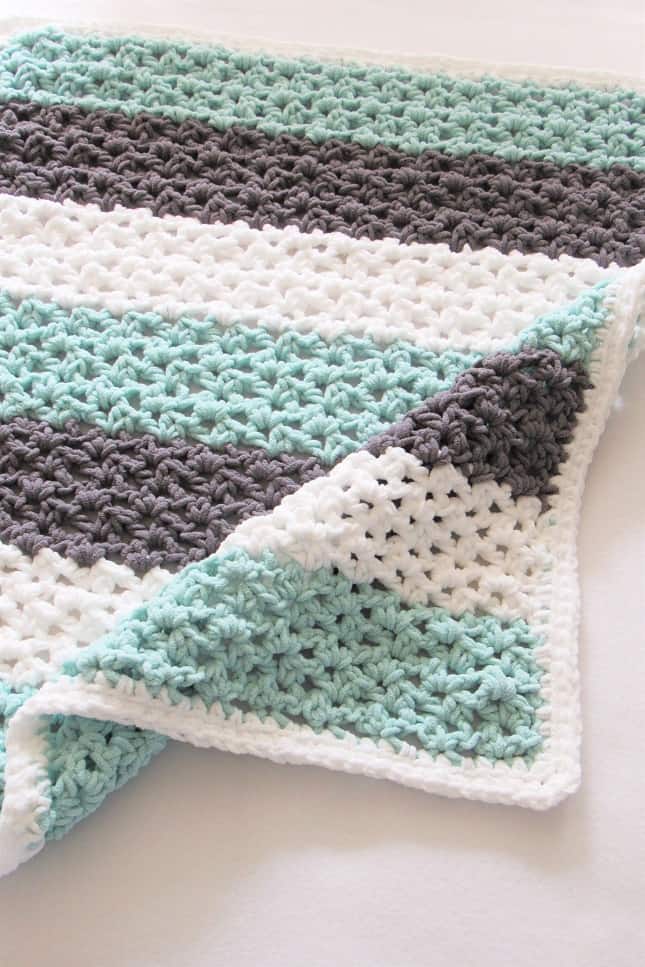 Crocheters who have an affinity for the classic beauty of granny stripe blankets will adore this fresh interpretation. Crafted using Bernat Blanket yarn, this mint choco chip baby blanket showcases the appeal of the granny stitch with a delightful twist. This pattern offers a unique blend of two shades of blue and cream, resulting in a charming color palette.
The innovative modification of the traditional pattern eliminates the gaps commonly found in projects made with this yarn. With the potential for color combinations that cater to boys and girls alike, this blanket is a versatile choice. By using straightforward half-double crochet stitches and a creative approach to color, you can complete this lovely pattern in just six hours.
14. 6-Hour Crochet Baby Blanket Pattern: Quick, Cozy, and Charming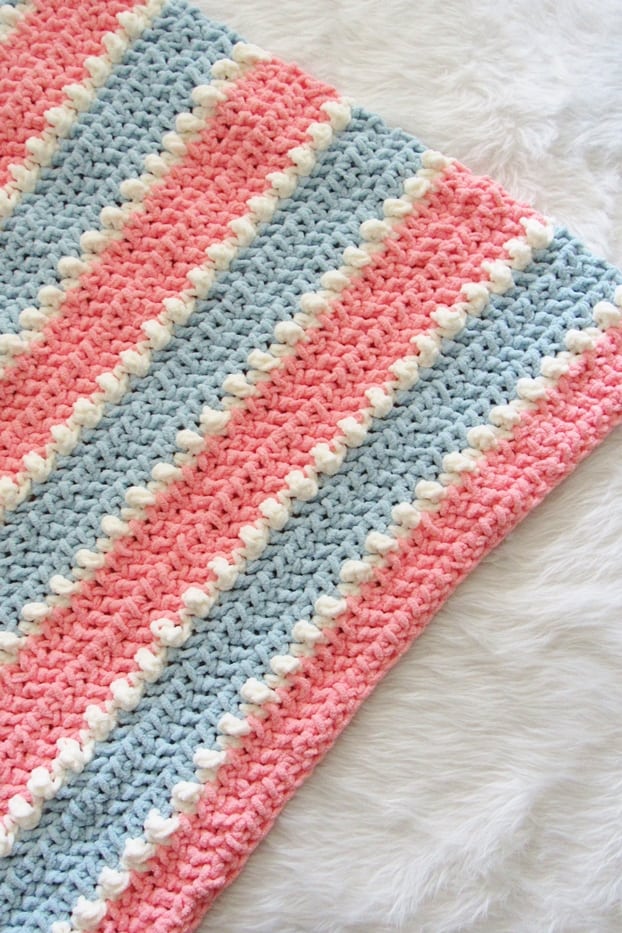 This adorable crochet baby blanket presents a compelling challenge: to create a striking piece within a mere six hours. With its simple yet charming design, this project is well-suited for both beginners and experienced crocheters seeking a swift gift idea. The blanket's visual appeal arises from the strategic use of stripes, and it's particularly fitting for baby boys, though adjusting colors can easily tailor it for baby girls.
Employing Bernat Blanket yarn in varying shades, this pattern showcases the comfort of squishy textures. The resulting piece boasts not only visual allure but also a remarkable tactile quality. Whether as a thoughtful present or a delightful addition to your home, this crochet baby blanket pattern offers a harmonious blend of style and practicality.
15. Waves Bernat Baby Blanket Yarn Pattern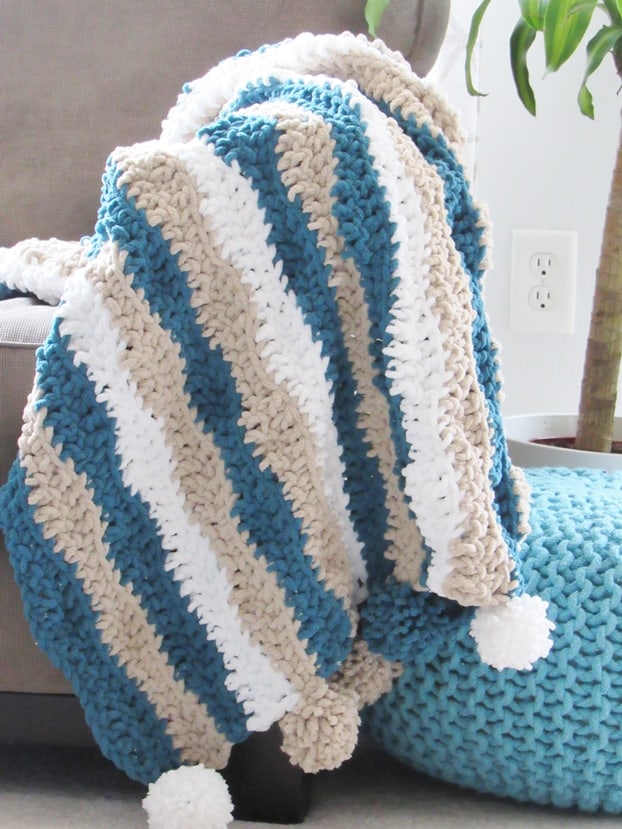 Elegance and simplicity converge in this charming crochet waves baby blanket. A serene wave stitch, carefully selected yarn, and a dash of creativity make for an effortless yet captivating project. With Bernat Blanket yarn at the helm, this piece exudes a plush texture that's both cozy and refined. The gentle waves, achieved through a combination of tall and short stitches, create a sophisticated yet understated appearance.
The color choice adds an extra layer of finesse, offering the perfect balance between chic and comfort. Perfectly suited for both beginners and seasoned crocheters, this pattern is a testament to the beauty that can emerge from seemingly uncomplicated techniques.
16. Pile of Squish Crochet Baby Blanket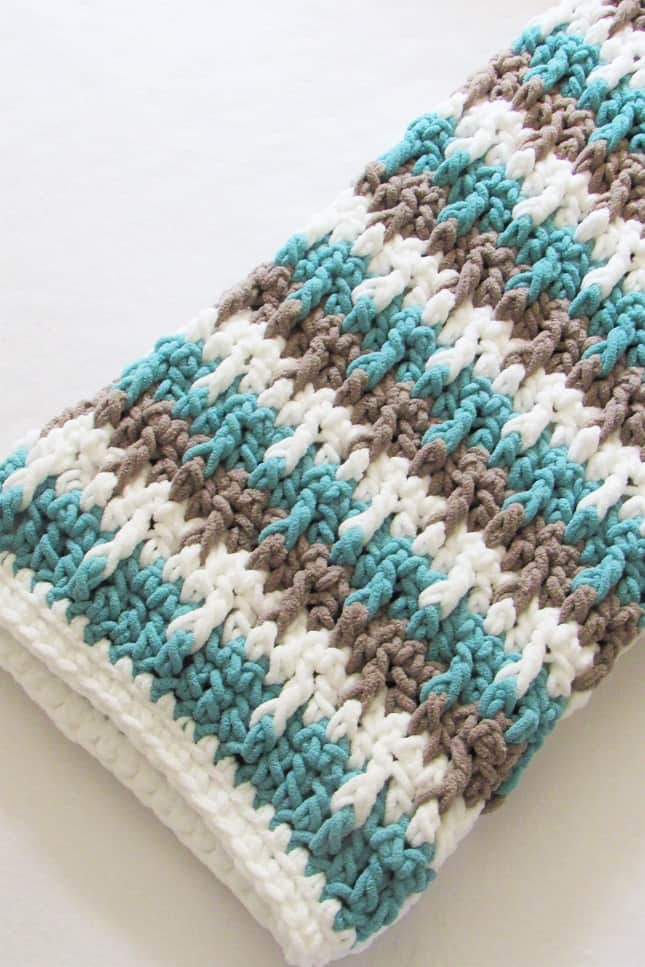 Get ready to dive into the delightful world of squishy crochet with this captivating baby blanket pattern. Combining playful stripes with the cozy allure of Bernat Baby Blanket yarn, this creation promises not only visual charm but also an irresistible tactile experience. The subtle textures and bold stripes come together seamlessly, creating a blanket that's both visually striking and delightfully touchable.
Whether you're a seasoned crocheter or a beginner seeking a rewarding challenge, this pattern offers a journey into the world of squishy crochet bliss.
17. Baby Bear Bernat Blanket Yarn Pattern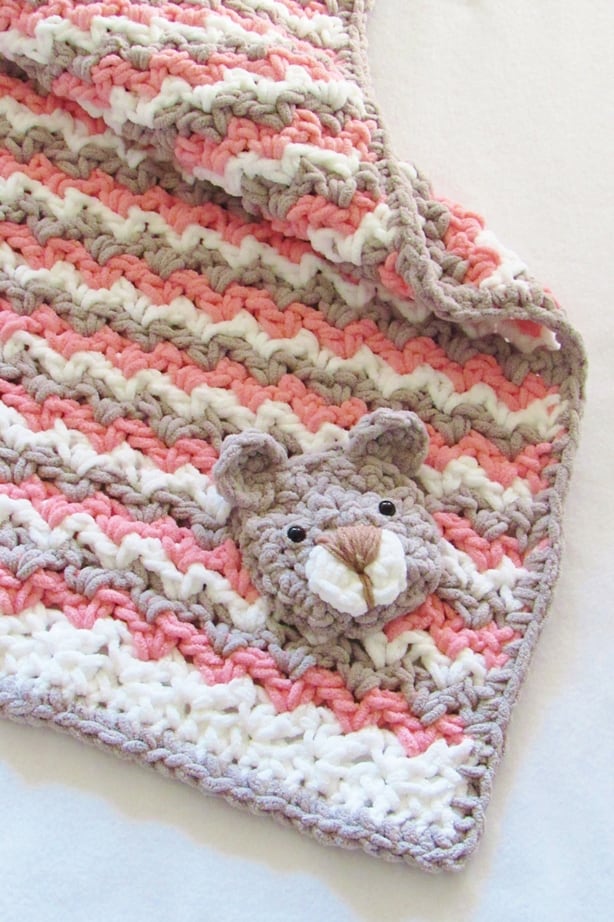 If you're searching for a heartwarming and handmade gift for a baby, this crochet baby blanket-free pattern is your answer. The charm of this chunky crochet blanket, made with Bernat Blanket yarn, is absolutely irresistible. The pattern offers an optional teddy bear appliqué that adds an adorable touch.
The blanket's design showcases tightly packed stitches, resulting in a soft and cozy texture that is perfect for keeping the little one warm. The bear appliqué, though optional, contributes an endearing aspect to the finished product. This crochet pattern is not only delightful but also swift, taking approximately 4.5 hours to complete.
18. Cookie and Cream Crochet Baby Blanket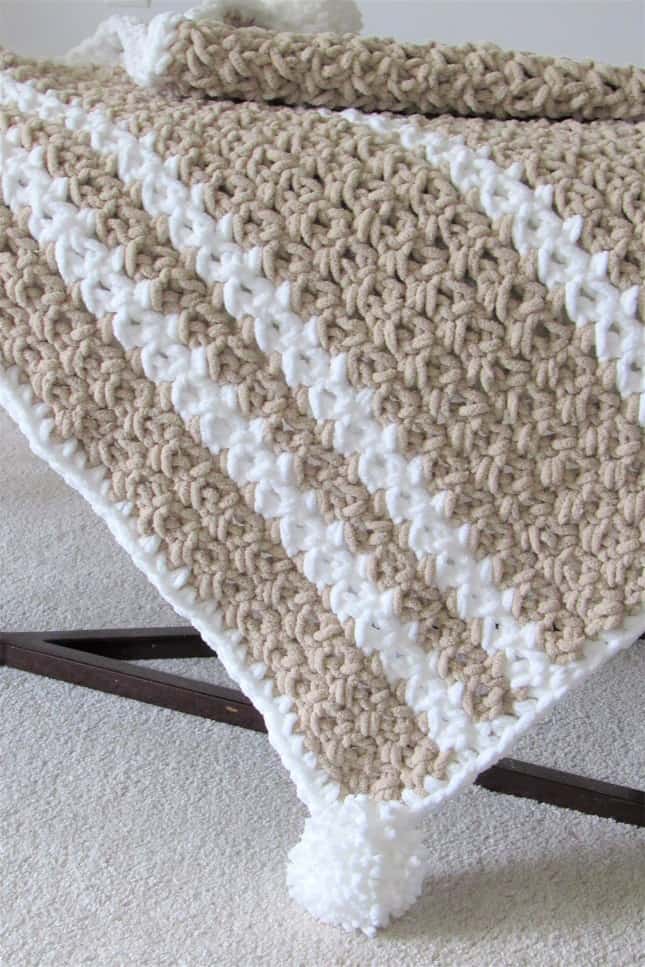 Discover the joy of crafting a quick crochet baby blanket with this delightful pattern. Designed to be beginner-friendly, this project is ideal for those seeking a satisfying accomplishment or a charming baby shower gift. The beauty of this blanket lies in its simplicity – it requires just three basic crochet stitches: single crochet, double crochet, and chain-one space.
This pattern comes to life with the contrast of two favorite colors combined with Bernat Blanket yarn, resulting in a squishy and cozy creation. The finished product showcases a wonderful textured pattern that's simple yet appealing.
19. 4.5 Hour Bernat Baby Blanket Yarn Pattern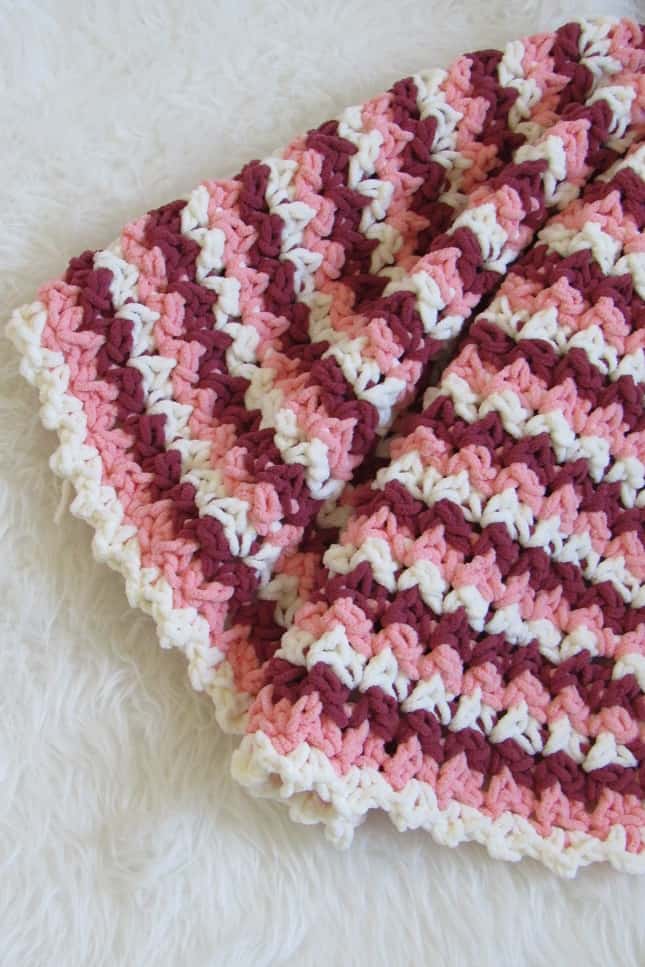 If you're eager to embark on a new crochet journey, this easy Bernat Baby Blanket yarn pattern is a fantastic starting point. Despite its apparent intricacy, this project can be completed in just 4.5 hours, making it perfect for beginners seeking swift gratification.
The stitch pattern features a blend of single crochet, double crochet, and three double crochet together (3dctog) stitches, which create an appealing bobble texture. The pattern's rhythmic rows of double crochet work up quickly, resulting in a chunky, cozy baby blanket.
20. Blue Clouds Baby Blanket: Easy Blue Clouds Bernat Baby Blanket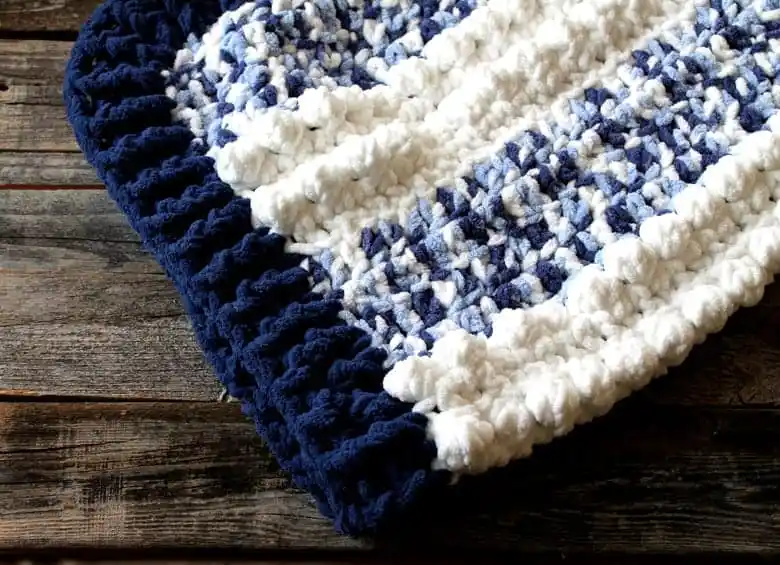 Searching for a charming and practical gift for a little one? Look no further than this easy and free Blue Clouds Baby Blanket crochet pattern. Designed for simplicity and comfort, this pattern is accessible even to those new to crocheting. Crafted using Bernat Blanket yarn, a bulky gauge 6 chenille yarn, this baby blanket boasts a soft and plush texture that's perfect for snuggling.
The design is characterized by rows of puffy bobbles that mimic fluffy clouds, creating a visually appealing and tactile surface. The pattern's straightforward combination of single crochet, double crochet, and the 3dctog (3 double crochet together) stitch ensures that both beginners and experienced crocheters can achieve stunning results.
21. Gray and Green Bernat Baby Blanket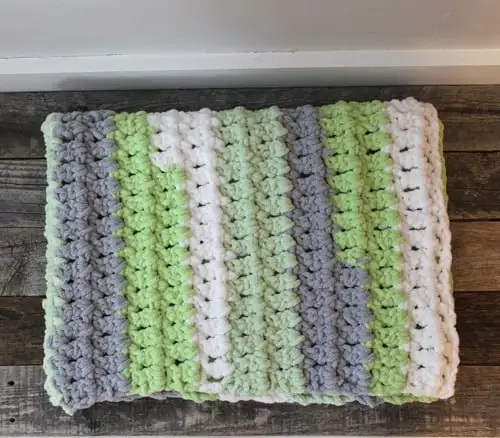 If you're on the hunt for a simple yet soft striped baby gift that's both practical and enjoyable to make, this Gray & Green Easy Striped Baby Blanket Crochet Pattern is an ideal project for you. Designed with beginners in mind, this crochet pattern involves only two stitches: the double crochet together and the single crochet stitch.
The chunky pattern ensures a quick and satisfying project, perfect for those new to crochet. This pattern utilizes Bernat Blanket Yarn in baby stripes chenille, particularly the Sprouts colorway, which features a lovely combination of green, gray, and white.
22. Pink Lemonade Crochet Baby Blanket Pattern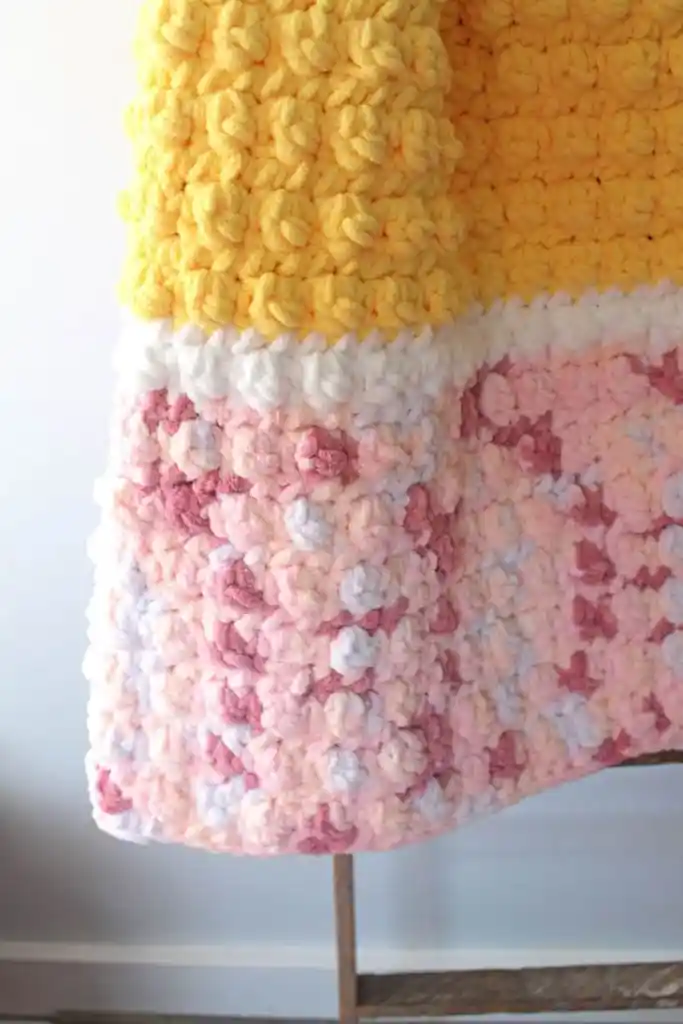 Are you searching for a soft and functional chunky crochet throw blanket? Look no further. The Quick & Easy Pink Lemonade Stripe Bernat Yarn Chunky Crochet Blanket Pattern offers an inviting project that's not overly complex. This patternemploys just two crochet stitches, single crochet, and even berry stitch, which creates a charming textured square.
Crafted with super bulky yarn, this chunky throw blanket is both rapid to make and delightfully cozy. The choice of Bernat blanket yarn ensures a comfortable and satisfying crochet experience. The chenille yarn quality adds a fuzzy touch to the blanket, inviting you to snuggle up with it.
23. Pink Dreams Cloud Baby Blanket Pattern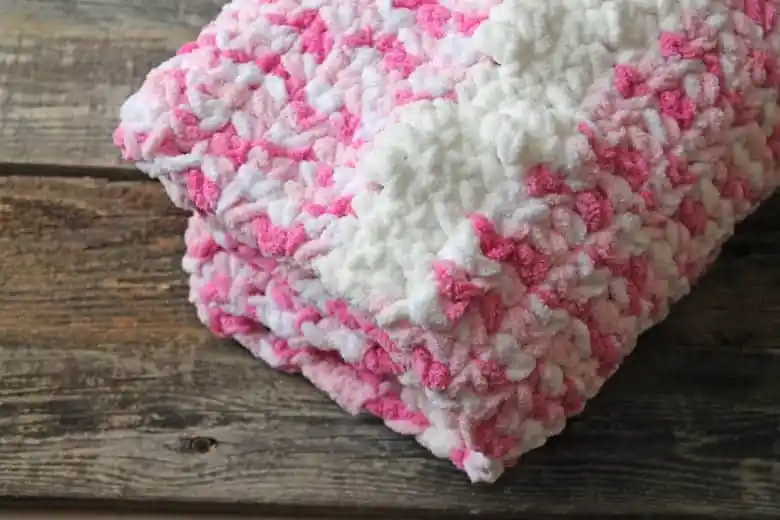 For an enchanting and practical baby gift, the Easy Pink Clouds Baby Blanket Pattern is a perfect choice. This pattern is designed with simplicity in mind, incorporating just three stitches: single crochet, half-double crochet, and triple crochet. The resulting chunky baby blanket boasts an appealing texture that works up quickly, thanks to the chunky yarn and straightforward stitches.
The Bernat blanket yarn, particularly the Pink Dreams colorway, lends a charming touch to this project. The super bulky gauge 6 yarn ensures a speedy completion while providing a cozy and cuddly result.
24. Lilac Dreams Chunky Baby Blanket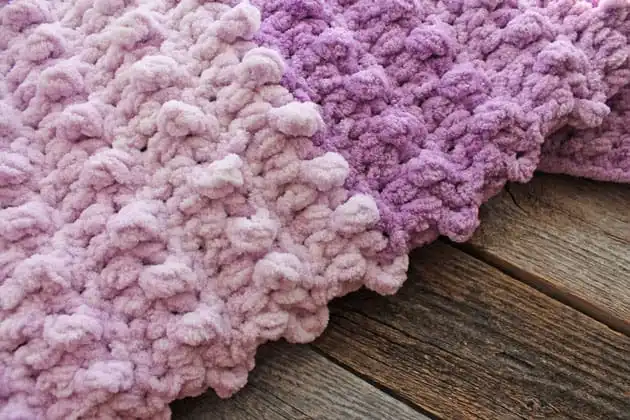 Elegance meets simplicity in the Quick and Easy Chunky Crochet Blanket Pattern Lilac Fade. Designed to showcase the beauty of ombre yarn, this pattern utilizes super bulky Dappled Bernat Blanket Yarn to create a charming and textured blanket. The stitches used are simple yet effective—single crochet, double crochet, and triple crochet stitches come together to create a raised puff design.
What sets this pattern apart is its built-in border, which eliminates the need for additional finishing touches. Crafted with Bernat Baby Blanket Yarn in a lovely Crocus Faerie colorway, this crochet baby blanket is not only beautiful but also practical and snug.
25. Stonewashed Crochet Baby Blanket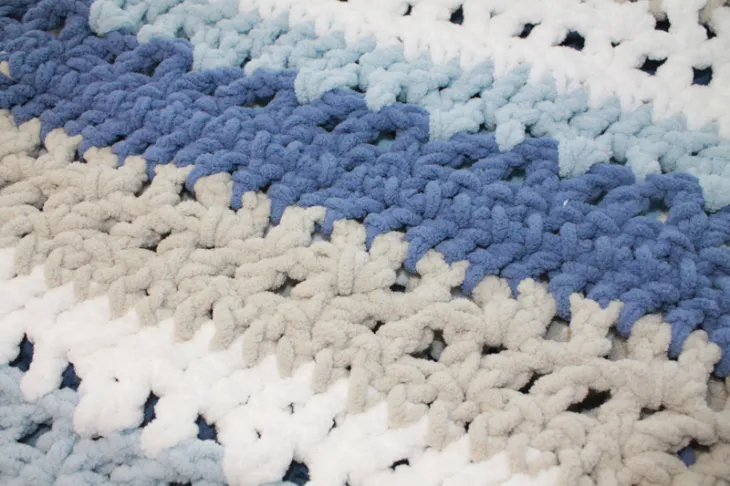 Are you looking to crochet a soft and practical baby blanket that's not overly complex? Try the free Stonewash Striped Chunky Baby Blanket Pattern. This pattern employs a few stitches, including the textured square and herringbone half double crochet, a simplified version of the half double crochet stitch.
Utilizing super bulky chenille yarn, the blanket works up quickly, with an easy repeat pattern. The chosen yarn, Bernat blanket yarn, adds to the blanket's appeal due to its chenille-style texture. This pattern offers flexibility, allowing you to scale it up for a chunky chenille throw blanket.
26. Textured Velvet Bernat Baby Blanket Yarn Pattern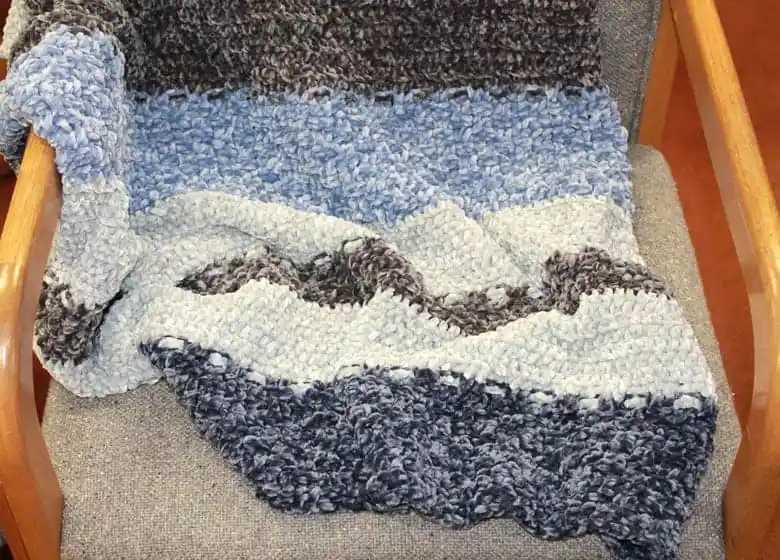 Discover the joy of crafting a textured velvet blanket with this free crochet pattern. Whether you're a beginner or an experienced crocheter, this pattern guides you through creating a luxurious velvet-textured blanket. This patternutilizes three crochet stitches: half double crochet, front post double crochet, and back post double crochet.
The chosen yarn, Bernat Velvet Yarn, adds a touch of luxury and warmth. This bulky-weight yarn is perfect for winter projects and is available in various colors.
27. Diamond Baby Blanket Pattern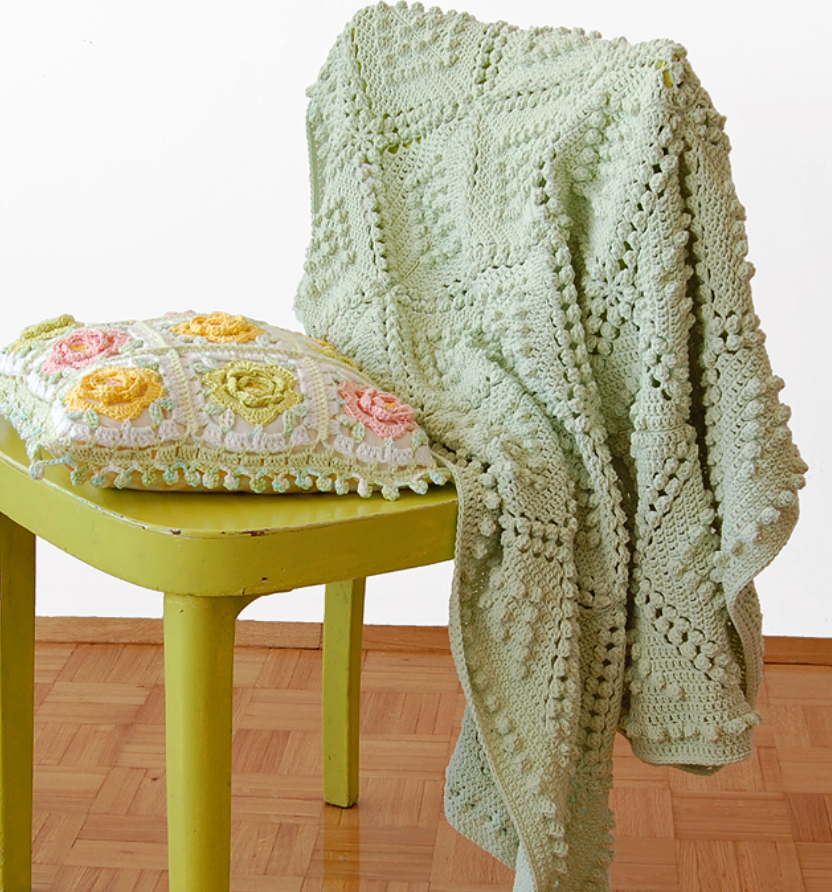 For a charming vintage-style baby blanket, consider crocheting the Diamond Baby Blanket. This versatile pattern can be resized to create a throw as well. The pattern offers different blanket sizes, each catering to specific needs and stages of a baby's growth.
This pattern includes options like a lovey, preemie, receiving blanket, baby blanket, swaddling blanket, and crib blanket sizes. These sizes ensure that you can customize the blanket to suit your preferences and available yarn.
28. Unicorn Dreams Baby Blanket
If you're looking to create an enchanting and adorable baby blanket, the Unicorn Dreams Baby Blanket Pattern is an excellent choice. This pattern combines various blanket squares featuring rainbows, balloons, flowers, unicorns, and more, resulting in a whimsical and charming crochet project.
The pattern is easy to follow and suitable for crocheters of varying skill levels. This pattern offers multiple blanket sizes, allowing you to choose the ideal dimensions for your project.
Conclusion
In the crocheting world, Bernat Baby Blanket Yarn patterns offer a treasure trove of creativity and comfort. Ranging from patterns like the Sandy Beach elegance to the whimsy of Unicorn Dreams, these patterns cater to every skill level and taste.
Crafting transcends mere blankets; it weaves memories and stories with every stitch. With Bernat Baby Blanket Yarn as your guide, you embark on a journey that melds comfort and craftsmanship.
These patterns have been curated to inspire and guide, embracing diverse designs that nurture creativity. Stitch by stitch, these patterns become gifts that bring joy, warmth, and love to the little ones in your life. Start your crocheting journey today, and let your imagination flow as you create magical moments with crochet and yarn.