If you are willing to upscale your crochet collection with a new pattern of style, then Herringbone half double crochet is a must-try! After all, it is in the spotlight for a reason. It's modern, unique, and super easy to crochet. Plus, Herringbone half double crochet is the perfect stitch to add intricate texture to your crochet projects.
While the Herringbone half double crochet might sound complicated as its name suggests, once you get the hang of the rhythm of hook and yarn in Herringbone half double crochet, it will be your go-to crochet technique to use in an array of crochet projects.
And to help you do that, we are here with a detailed Herringbone half double crochet tutorial. We have divided the entire tutorial in an easy-to-understand manner.
In addition, read till the end to get a basic insight into Herringbone half double crochet, along with crocheting ideas and tips.
The Basics of Herringbone Half Double Crochet
Herringbone half double crochet, also referred to as HHDC stitch, is a visually appealing crochet stitch that enhances the distinctiveness of your crochet. It is just slightly different from Herringbone double crochet (we will come to it in a bit). The signature Herringbone weave or pattern that is seen on the textiles is achieved in a Herringbone half double crochet by changing the angle. The slanting angle mimics a beautiful diagonal pattern in a row.
Also, we suggest you keep in mind the turning technique to ensure a seamless continuation of the pattern. Once done, the pattern on the whole in a Herringbone half double crochet resembles the shape of an arrow. If you are comfortable with the basic crochet stitches, like crocheting in the row, and the fundamentals of how a half-double crochet stitch works, you can easily upskill to this new crochet technique.
As you upskill, if you love challenges – do not forget to use different stitch variations and color combinations in your Herringbone half double crochet swatches.
Herringbone Half Double Crochet vs. Herringbone Double Crochet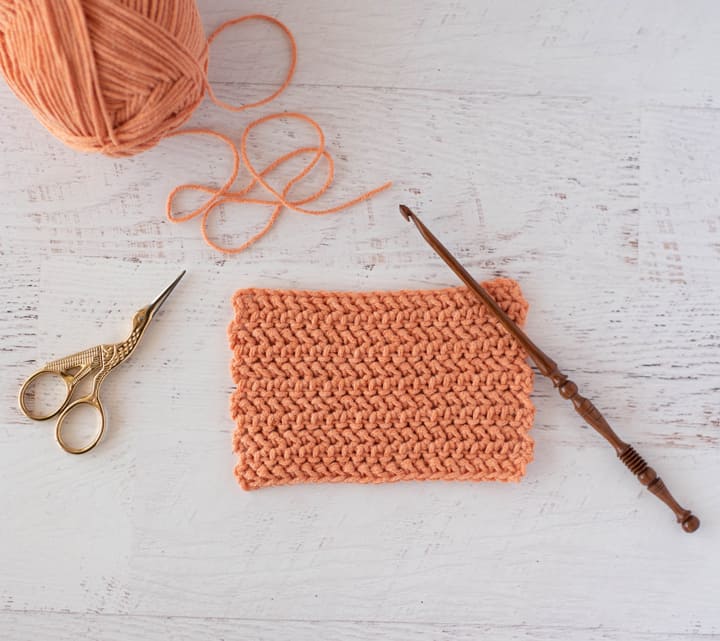 To state it in simpler terms, Herringbone half double crochet is a simpler variation of Herringbone double crochet. On the one hand, Herringbone half double crochet boasts a slanted texture with a single yarn over, while on the other, Herringbone double crochet creates a more elongated effect with double yarn over.
Another factor that distinguishes both these crochet stitches is the texture. When you work a Herringbone half double crochet, you will realize the texture of this crochet is finer. At the same time, the texture of a Herringbone double crochet is a lot bolder in appearance.
Materials Required to Start Herringbone Half Double Crochet
Understand the basics? Yes, we know it isn't rocket science. Especially when explained in a clear-cut way. But, before heading ahead, it is essential for you to learn about the requirements that are a must for you to proceed with herringbone half double crochet. Here is a list of things you need
1. Selection of Yarn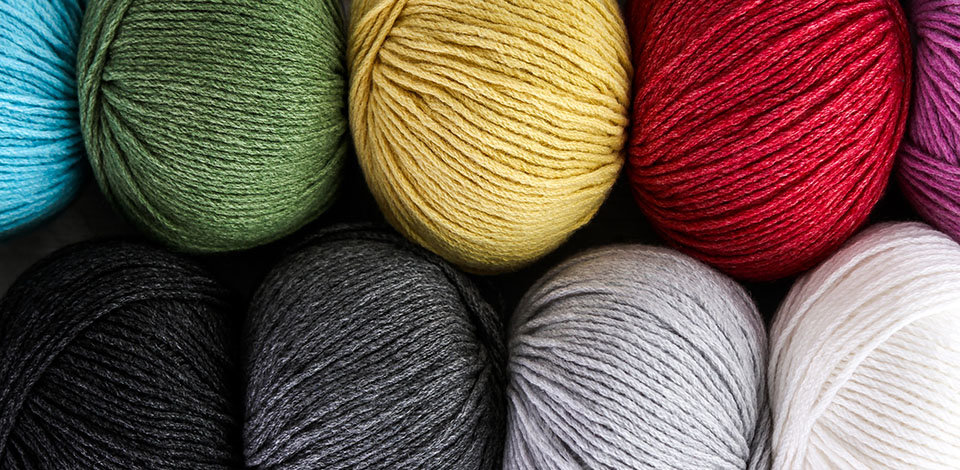 All yarn works fine in Herringbone half double crochet. But we feel the smooth yarn aligns the best with Herringbone half double crochet. It elevates the crochet's texture. Also, stick to a medium-weighted one to showcase the "Herringbone" pattern. In addition, while selecting the yarn, do consider the color. It has the most visual impact on the overall look of your crochet.
2. Crochet Hook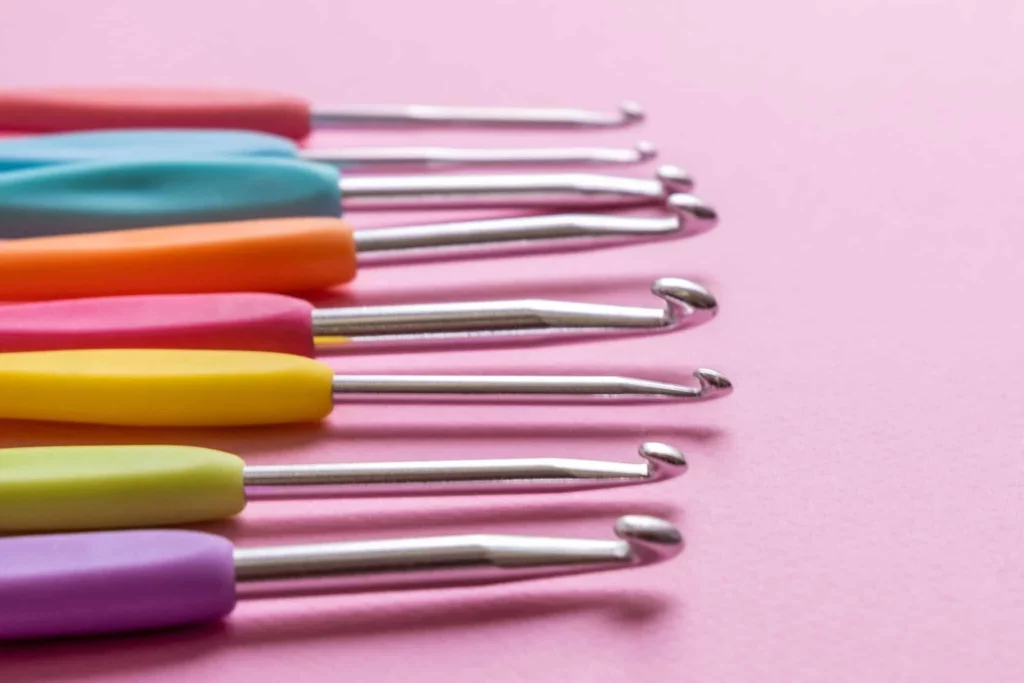 Now, the crochet hook depends on your yarn selection. Choose one that complements the yarn. The hooks influence the overall outcome of Herringbone half double crochet. Usually, a 4mm or 5mm hook works fine. If you want a tighter woven fabric, opt for a smaller hook. In case you desire a tad loose fabric, select a large hook.
3. Additional Materials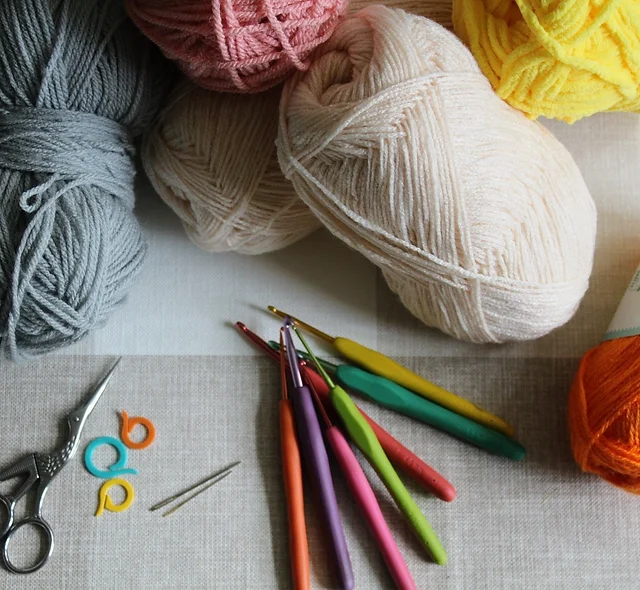 This point clubs three other important materials for a hassle-free crocheting experience of Herringbone half double crochet. These are a pair of scissors, a needle, and a stitch marker. Scissor helps to cut the loose ends of the yarn neatly. And a needle will help you quickly stitch the ends. However, our favorite remains the stitch marker. This tiny tool is a savior. It saves time, increases accuracy, and prevents many mistakes in stitch counts, specifically in larger crochet designs.
Essential Tip: Organise your workspace before you start crocheting. Make sure the space is well-lit to avoid any eye strain and work precisely.
Herringbone Half Double Crochet: An Easy-to-Follow Tutorial
Now that you have your work setup ready, what are we waiting for? Without any further ado, let us take you through each step to nail Herringbone half double crochet flawlessly:
Step 1: Create a Foundation Chain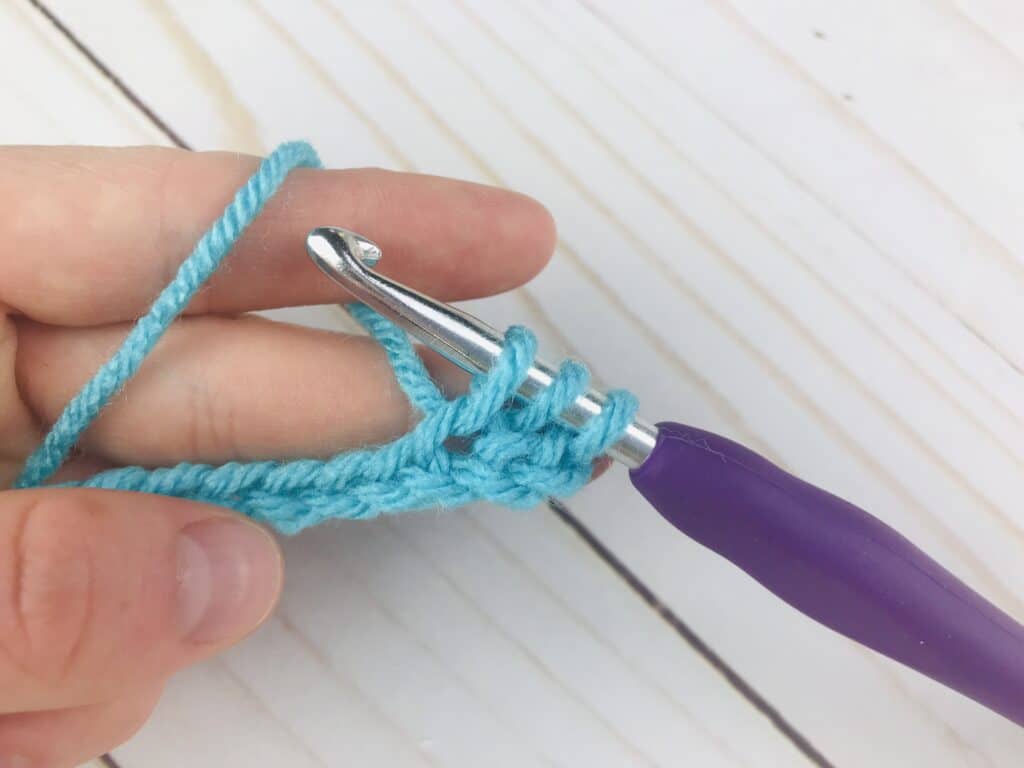 For this versatile Herringbone half double crochet stitch, you can create a chain of any length in accordance with your design. In short, there's no necessity for a specific stitch multiple. You can start with any number of chains. Just make sure the formation is right, as the entire crochet stitch depends on it.
First, make a slipknot.
Then, start forming the 'n' number of chains; for instance, take 15.
Step 2: Form the First Row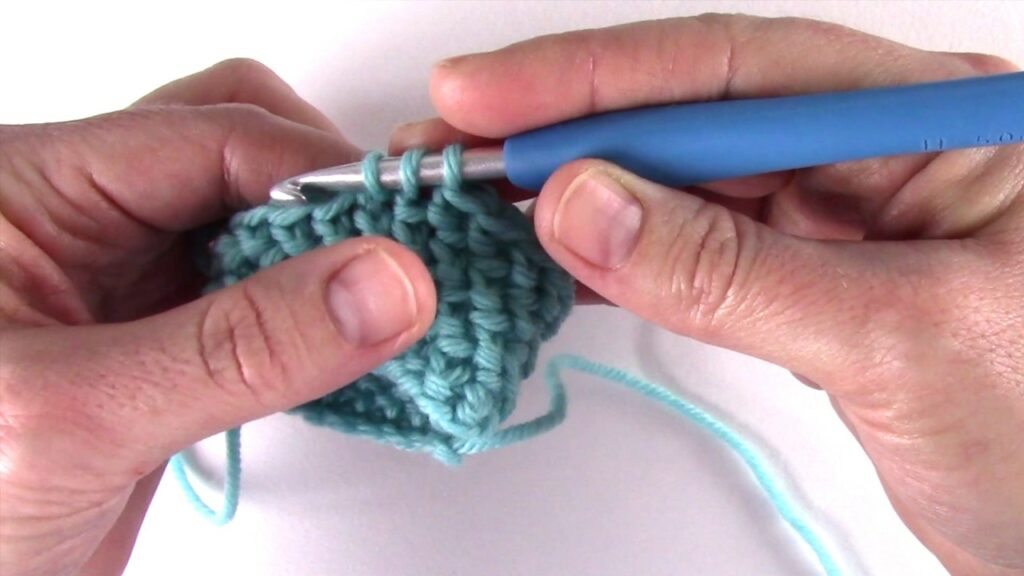 Once the foundation chain is formed, it is time to crochet the Herringbone half double crochet into the first row:
Skip the first 2 chains and start at the 3rd chain.
Now yarn over and wrap your hook with yarn from back to front.
Then, insert the hook into the next chain ( a crucial step to get the Herringbone half double crochet pattern.
Again, yarn over; this time, complete it from front to back.
After that, at the same time, pull the wrapped yarn on the hook through the loop under the chain.
At this time, there should be three loops on the hook.
Next, draw it under the first loop on the hook (In a regular Herringbone double crochet – usually after the yarn is over, it is pulled directly through both loops).
Now, there are two loops on the hook.
Yarn over once again and then pull through the remaining two loops – and that right there is the popular Herringbone stitch.
Repeat this entire process from the yarn over and insert to pull through the two loops for the rest of the chain in the row. As you work toward the end of the first row, you will notice the symmetrical pattern come to the fore.
Step 3: Turn The Row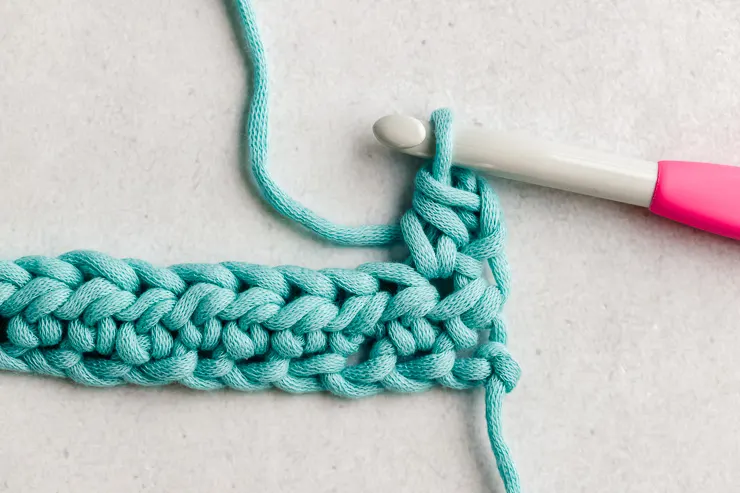 Make a chain of 2 at the end of the first row.
And turn your row to continue forming subsequent rows as per the requirement.
Step 4: Form the Subsequent Rows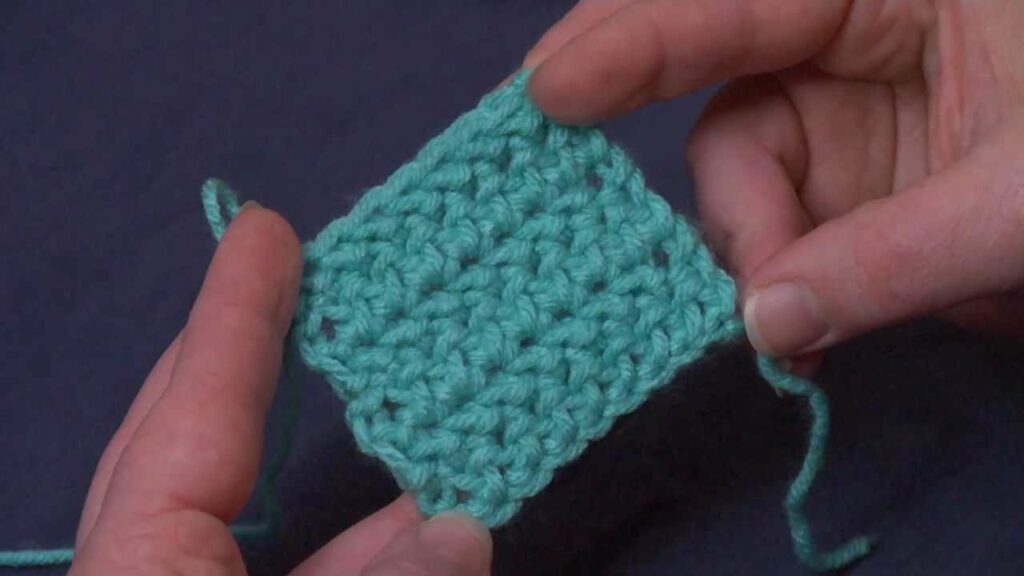 Consider the chain of 2 as a stitch.
Skip the first stitch.
And work the same process mentioned in step 2.
Get into the rhythm and continue to complete all the rows of your Herringbone half double crochet project.
Bonus Step: The Final Stitch For Herringbone Edgings
Go back to the skipped chains at first.
Yarn over at the top of the chain.
Insert the hook and finish the final Herringbone stitch.
Point to Remember: Always work the final stitch on top of the chain once you have completed the rows. Or else, it won't have a seamless and straight finish on the edges.
Common Mistakes in Herringbone Half Double and Ways to Fix It!
It is very common to experience a few hiccups as you learn to work Herringbone half double crochet. But all the hiccups are worth it for the result – sophisticated crochet! That said, do not get worked up. We have got you covered on this part as well. Here are some potential challenges and tips to fix them for a more refined technique:
1. Practice First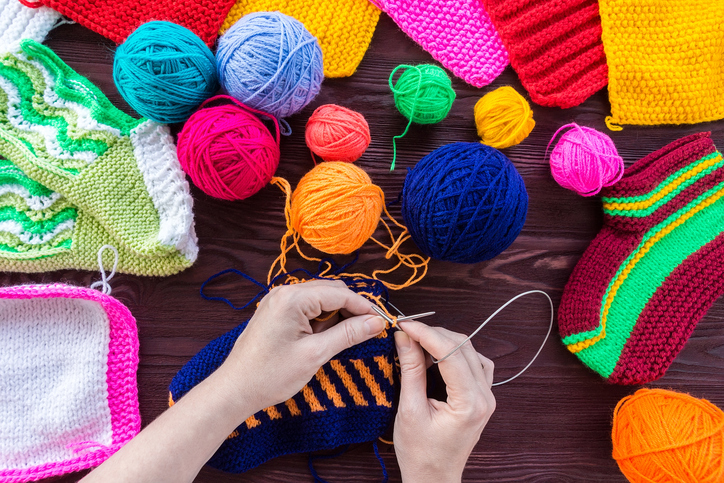 Practice before you jump into your main project. Although it is fairly easy, you do need time to practice. Do not rush into it. Take it slow. Make sure you can imply all the baby steps mentioned in the tutorial above practically with a crap yarn. And then start your main project.
2. Double-Check The Loops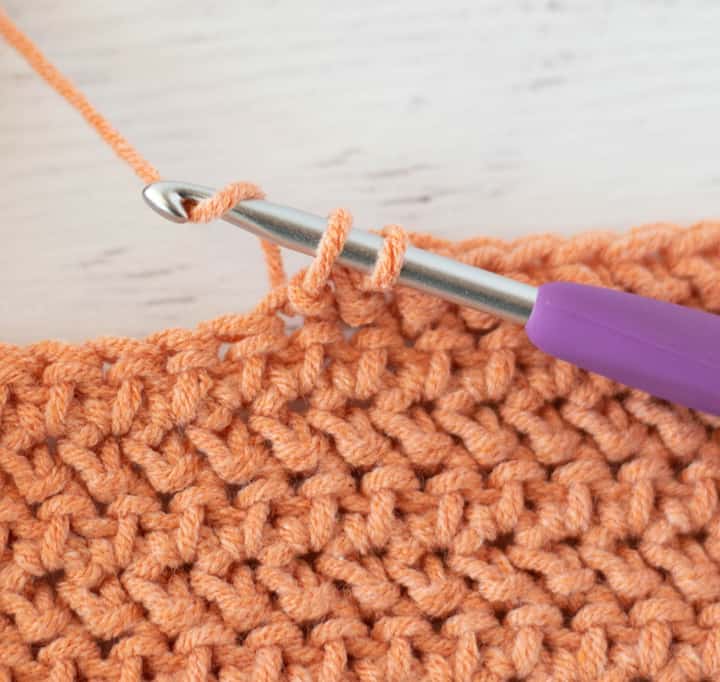 Initially, it is very common to mess up the loops. Always make sure you have inserted and pulled through the correct number of loops. In case of any mistake, re-do it by inserting the hook back through the loop.
3. Do Not Skip Notes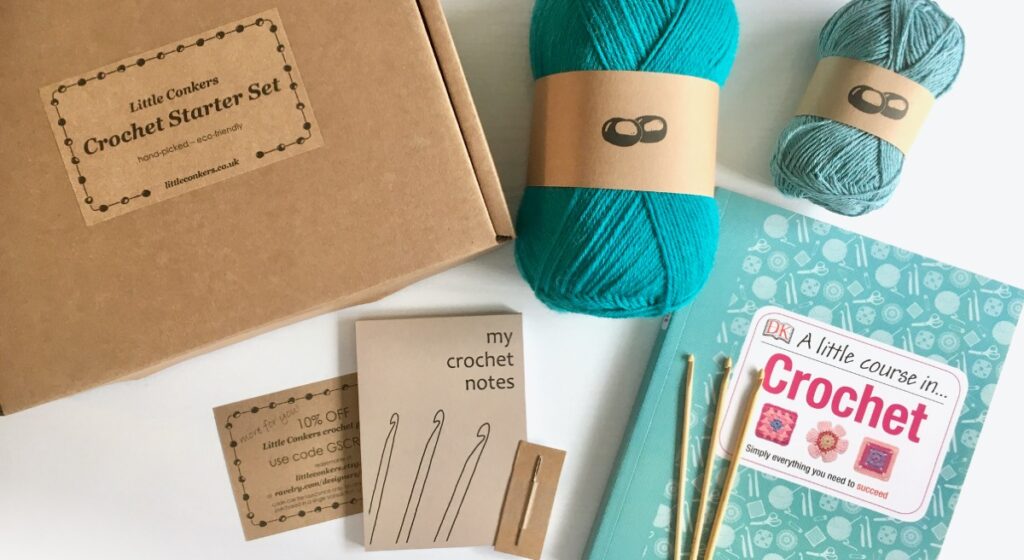 One of the common mistakes is that crocheters skip to take notes. But it is very crucial to stay on track to note down the stitch counts and pattern variations to avoid rookie mistakes as you proceed crocheting a Herringbone half double crochet.
Creative Project Ideas to Use Herringbone Half Double Crochet
This is one of the most versatile reversible crochet stitches. You can use the Herringbone half double crochet technique in numerous ways. As you gain confidence in the technique, take a quick look at a few project ideas to showcase your Herringbone creativity:
1. Beanies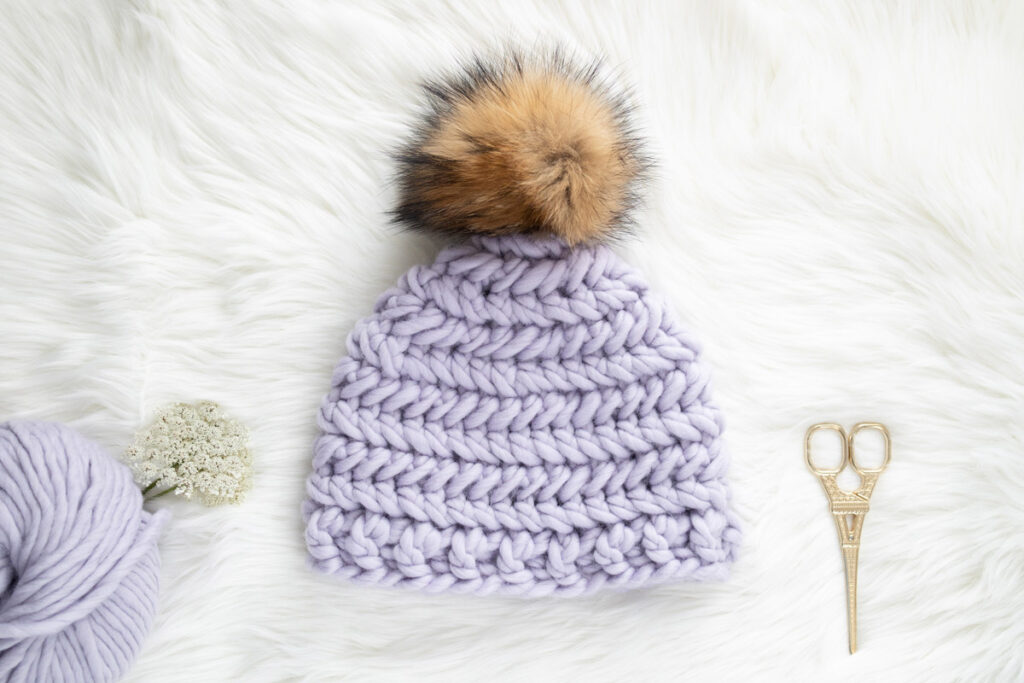 Beanies look extremely cute and chic in the Herringbone pattern. You can create a beanie using Herringbone half double crochet in the round variation. It creates an exclusive texture. And, of course, it will keep you warm.
2. Wall Hangings and Decor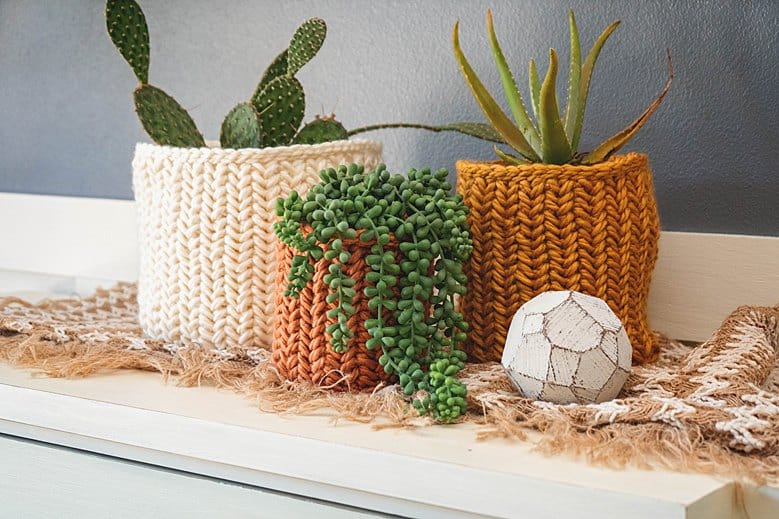 Herringbone half double crochet works best on flat surfaces like wall hangings. You can play with different colors and customize it as per your taste. It is a fantastic accent for your home decor. You can also curate mandalas and coasters using Herringbone half double crochet. Be it the living space or bedroom, these items with a personal touch only uplift the space.
3. Blankets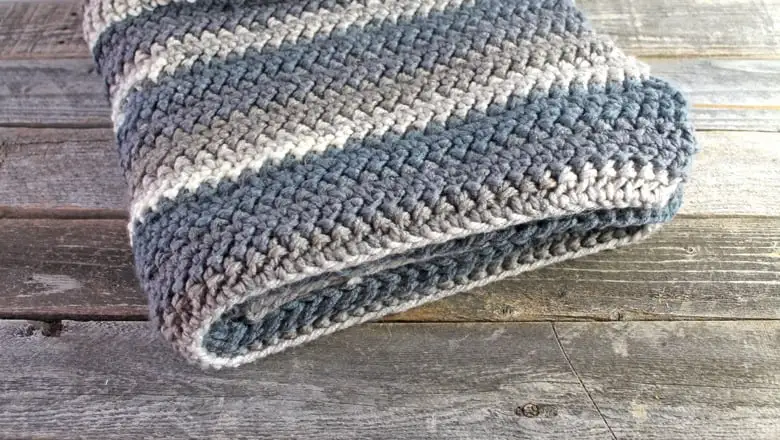 A cozy blanket, baby blanket, and throws become extra special when you crochet them on your own for loved ones. And if you are wondering which crochet stitch is apt for such large designs, it is none other than Herringbone half double crochet. This stitch is easy, and the texture makes it comfortable.
4. Clothing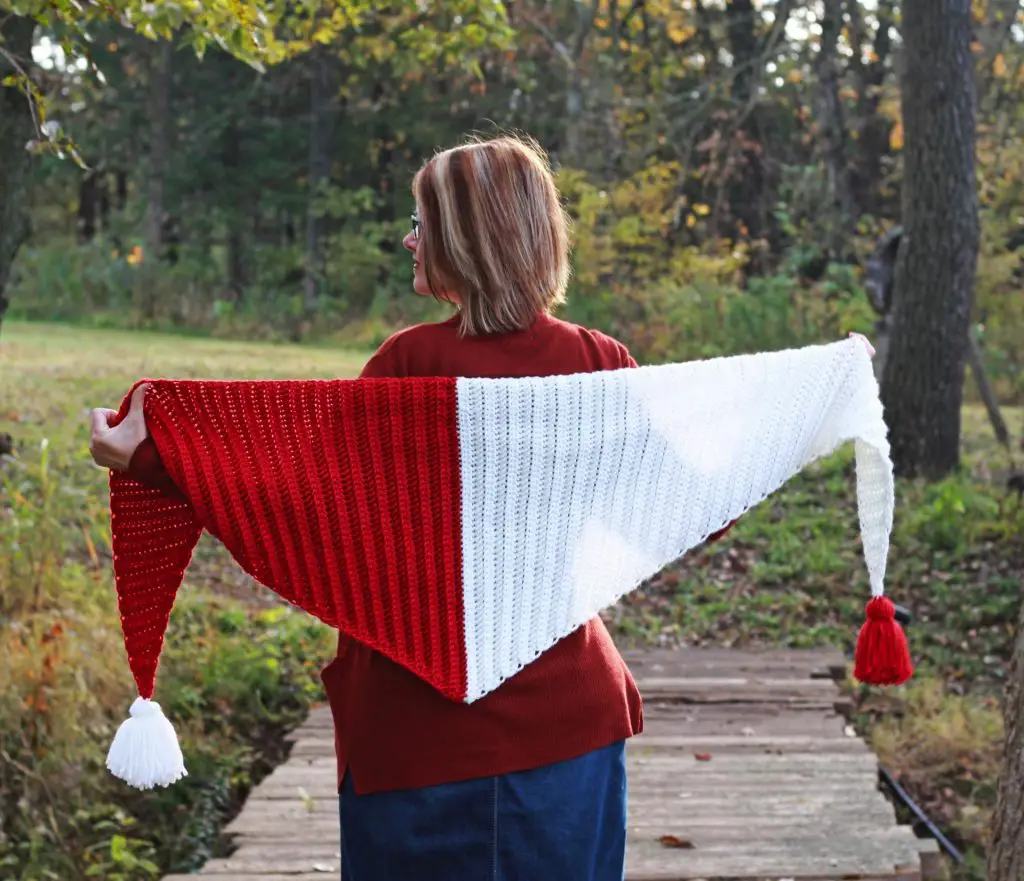 Herringbone half double crochet can also be used to crochet sweaters, cardigans, shawls, and scarves. Although the difficulty level increases in such projects, the outcome is a masterpiece. The herringbone pattern adds a versatile touch to your wardrobe. Plus, these garments are classic and comfy.
5. Bags and Totes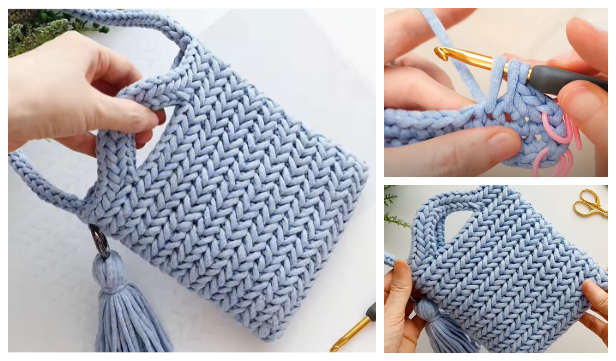 Styling your outfit with statement accessories like a Herringbone bag and a tote will make you stand out from the crowd. The designs of such bags are trendy, casual, and unique. You can pair it up with literally anything. If you want to let your bag do the talking and carry a Herringbone one for sure!
Herringbone Half Double Crochet: The Art of Slant Patterns
This newfound tutorial of Herringbone half double crochet will surely add to your expertise and expand many creative endeavors. We have spilled all the beans from the basic understanding to the importance of selecting the right tools, a simplified tutorial to tips and tricks to refine the Herringbone technique, and a plethora of creative ideas to use this crochet stitch.
Make Herringbone half double crochet your signature style. And let your passion for crochet ooze out in every yarn you weave. Along with this, do not forget to experiment with the HHDC stitch's variation.
So what are you waiting for? Grab a yarn and a hook to create, experiment, and share your Herringbone half double crochet project with the world (and with us)!
If you find our guide to HHDC stitch helpful, do share your experience in the comment.
Frequently Asked Questions
How Difficult is it to Work on Herringbone Pattern Difficult?
It is absolutely not that difficult to work on the Herringbone pattern. Even if you are a beginner, you can learn it with patience and practice. But we always suggest first getting a hold of the basic crochet stitches. This will only make it easier for you to learn the unique twists of crocheting the Herringbone pattern and follow the tutorial.
What is a Half Double Crochet Back Loop?
A Half double crochet back loop is nothing but a variation of it where instead of going through the top of the chain, you will have to go through the back loop of the chain. Yarn over, insert the hook through the center of the back loop and pull it through the remaining back loops.
How Do You Crochet a Herringbone Stitch in The Round?
Herringbone half double crochet is so versatile that you can easily incorporate it in several ways. All you have to do is apply the mentioned steps in variations. For example, you can work it in the round by starting with a foundation chain and joining it into a loop. Then, crochet the Herringbone half double crochet stitches into the chain loop.
Can We Customize the Herringbone Half Double Crochet?
Yes, its easily adaptable nature makes it a popular choice among crocheters. You can play with colors, mix different textures of yarn and Herringbone in the round, and use lace, embellishments, and applique to customize this crochet stitch.