Do you remember your first crochet piece? We are positive that you do. Crochet might be a meticulous and tedious task, but once we get the hang of it, nothing seems impossible. By the way, what piece of clothing did you make?
Wasn't it a sweater, mittens, or a pair of socks made by your grandmother or mother when you were a baby? And it never stops here; as we grow up, we get more of such pieces. One of the common pieces girls demand during high school is a scarf.
The warm touch of the wool entangled in beautiful colors is a piece of clothing that can keep us warm in all conditions. It's not the wool that keeps us warm but the love out of which it was made.
So, with winter approaching soon, we have curated 33 infinity scarf crochet patterns for you. Pick the best and be ready to demand the same from your mommies or grannies!
Essential Requirements for Infinity Scarf Crochet Pattern
Our mothers and grandmothers are no doubt the experts for the job. But not everyone is lucky enough to have them around at the present moment. So, it is best to learn the art by ourselves so that we can be amazing mothers and grandmothers in the future.
Patterns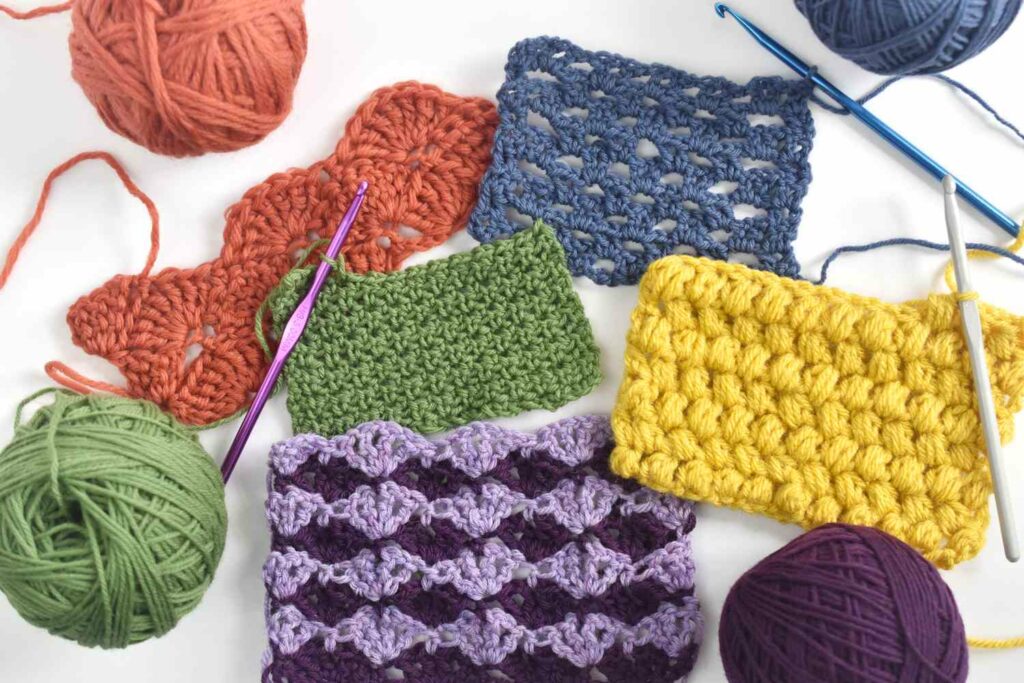 There are numerous patterns through which we can knit crochet designs. Some of them are single crochet, double crochet, half double crochet, treble crochet, and many more. It is best to learn the art first-hand to learn better.
One-on-one classes allow us to build a connection with the mentor and get access to some valuable insights that can only be gained via experience. For starters, we can focus on easy patterns to get a hang of the art.
Materials Required to Work on Infinity Scarf Crochet Pattern
We need some back 4 to 5 supplies to get started with crocheting.
Additional Tips to Adhere for Infinity Scarf Crochet Pattern
Make sure to choose a soft yarn. Pure wool can sometimes be rough on the skin and cause rashes. So, do a skin test with the yarn before buying one. Simply wrap a few yarn threads around your hands and let it stay for some time. If the area gets itchy, then we know that the yarn is not appropriate. Like this, select the best suited to your skin and start knitting. Infinity scarf crochet patterns usually involve two different types of patterns used in their designs. The different patterns made with different colors help in enhancing the look of the scarf.
Now, with all the details done, let us dive into the charismatic arena of 33 magical infinity scarf crochet patterns to up your game of fashion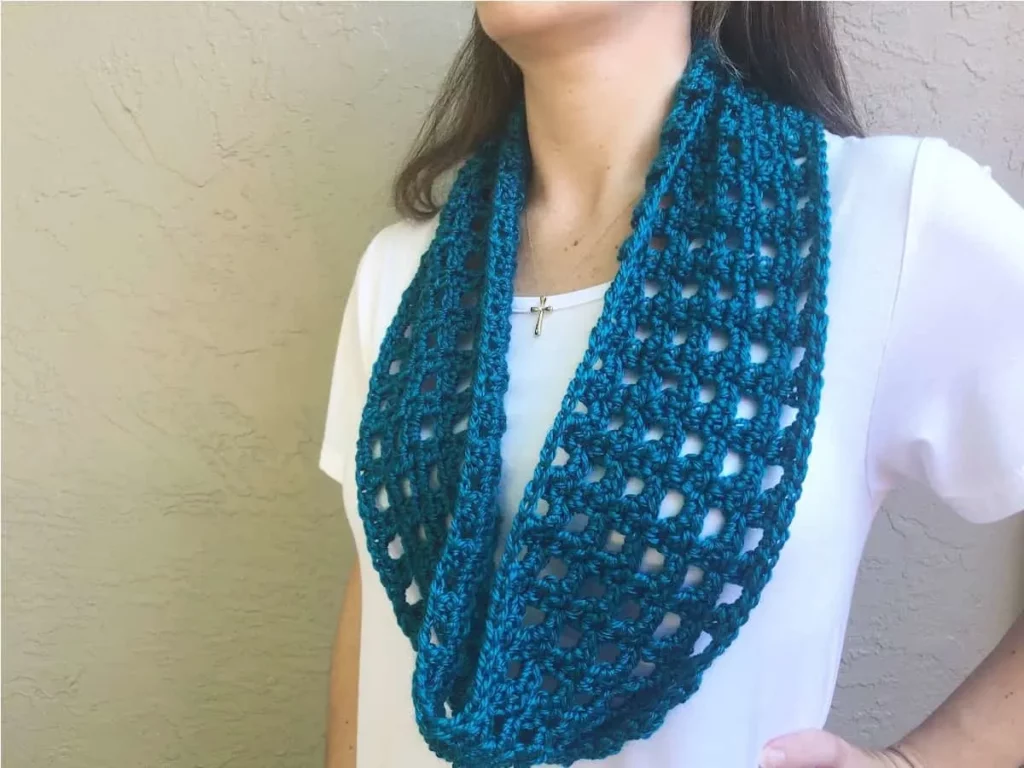 This all-weather infinity scarf crochet pattern is one of the easiest patterns to begin your crochet journey. The scarf is made of easy lace and two rows of the same design. The best feature of the infinity scarf is that it is an all-purpose scarf.
During the summer months, this thin layered scarf can be added to the outfit to achieve a stylish look. Do you see the holes in the scarf? These holes help in the exchange of air, thus making it breathable and bearable in pleasant summer months.
The scarf can be used in the winter months as well. The thin layer of the scarf easily allows the addition of another one. So first, wear a thick scarf around the neck. Then add this on top to achieve a beautiful look.
2. The Single Color Charm
Before we head onto some pretty complex yet pretty multi-colored infinity scarf crochet patterns, let's try some single-color charmers. Analytically speaking, the single-color scarves can be pretty similar to the denim jeans we all love to wear.
They have a single color and go with almost all of our tops, making it a hassle-free outfit choice. It is the same with single-color crochet scarves. The single-color scarves are easier to style with our outfits.
Here, we have chosen a ribbed-knit look pattern for our scarf. This pattern gives a beautiful texture to the scarf, making it a basic yet exquisite piece of art. The scarf can be paired with a casual look or a party look just about easily.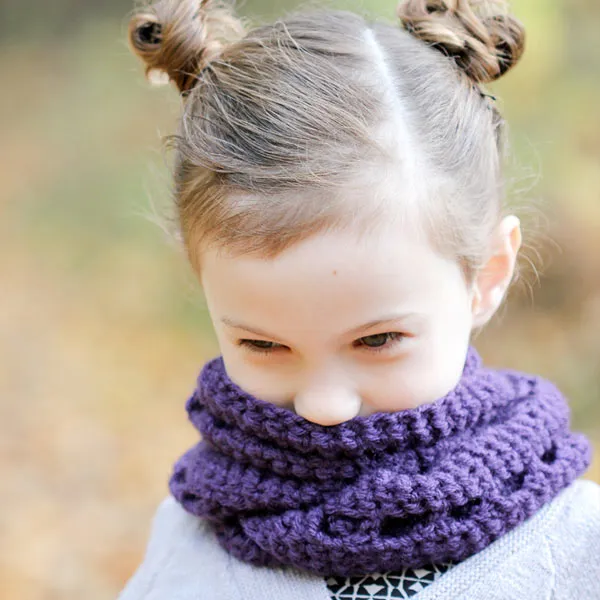 When was the first time you picked up a crochet hook to knit? For whom did you make the first piece of crochet clothing? Whatever the case, the most important piece of clothing a woman can knit is a crochet piece to comfort her child.
This infinity scarf crochet pattern is a single crochet and is super easy to make. Choose one color and start knitting. Make sure to use an extra soft yarn to comfort the delicate skin of a child. Also, the scarf can be made pretty quickly, considering the size cuts back more than half time than the original one.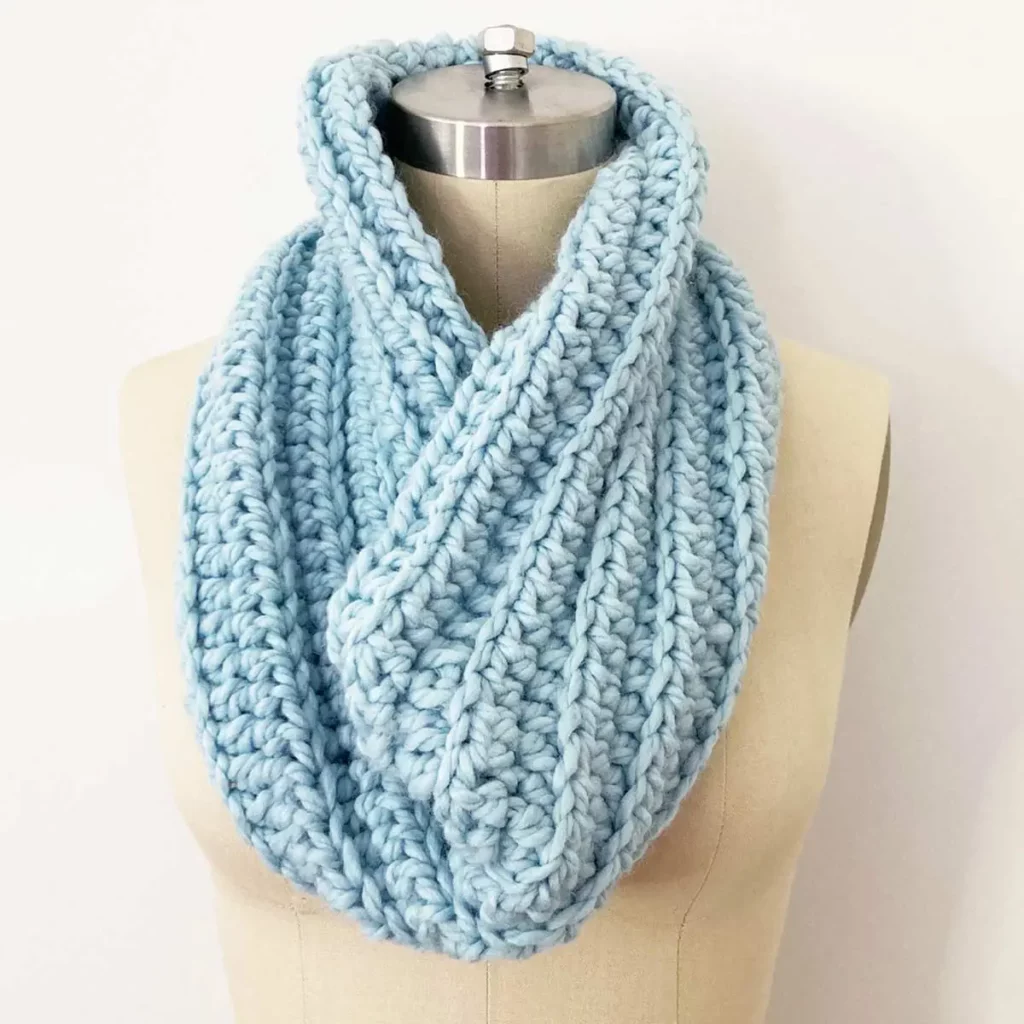 This infinity scarf crochet pattern is made by using half half-double crochet stitch into the back loop. The pattern, as mentioned earlier, gives a ribbed look to the scarf. The yarn used here is very thick. The application of thick warmth makes it an excellent piece of clothing for harsh winter weather.
Isn't the pattern beautifully amazing? The thick size and light shade of the yarn make every piece of turn and knit in the scarf visible. Every loop and knit made justifies the hard work and dedication of the maker, making it an exquisite piece altogether.
Try to use a light shade of yarn like this one to accentuate every detail of the scarf properly.
Let's move on to some multi-colored infinity scarf crochet patterns to get a beautiful look for the winter months. This scarf is made using the open stitch pattern. It has a mixture of tight knits as well as some gaps with a beautiful white separation.
The separation done with the white line helps the other colors to pop and contribute equally to the beauty of the scarf. Five colors are chosen for this scarf, but you may choose more. Never shy away from experimenting and creating a signature for yourself.
However, make sure to choose all the shades: dark, dark-toned, or light-toned. Mixing up the hues can be pretty good, too, but it has to be done quite tediously to achieve the right combinations.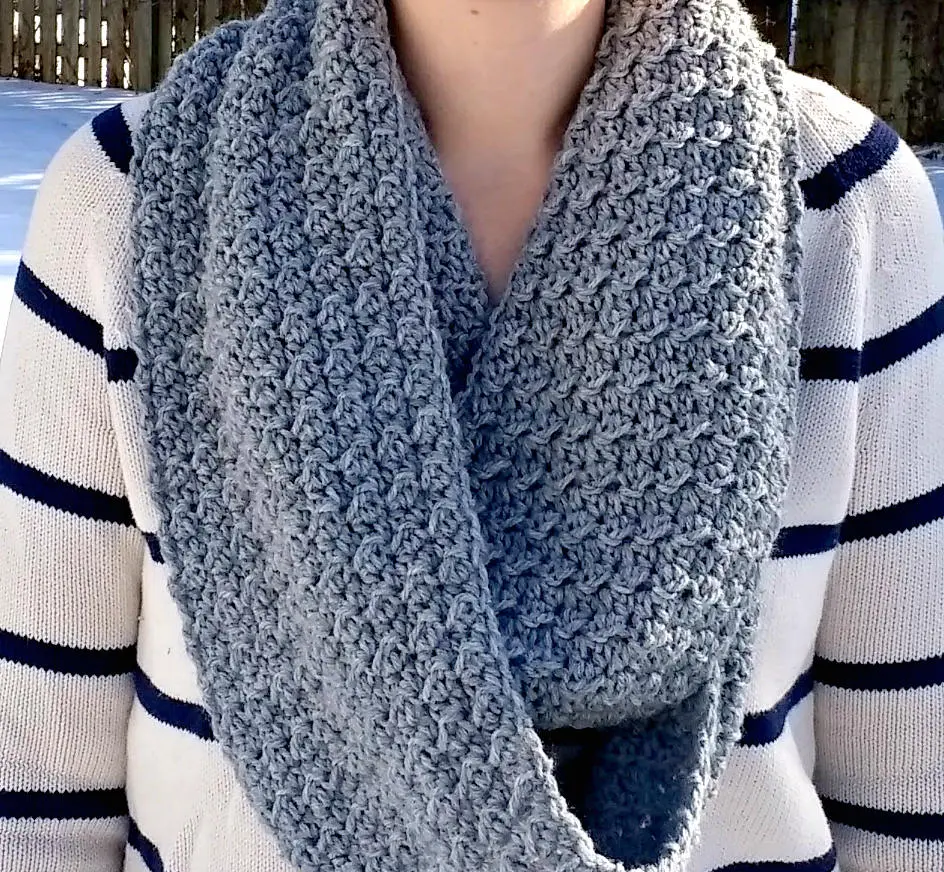 After trying out a single-color scarf and a multi-colored one, let us try out a monochromatic infinity scarf crochet pattern. The stitch pattern can be chosen at your convenience and expertise.
However, the pattern used here is a slip stitch and half-double crochet stitch pattern. It is best to use a yarn thread with medium thickness. The medium thickness will help in achieving clean textured knits in the scarf.
Select one color, like blue. Now, choose 3 or 4 shades of blue, both light and dark tones mixed. Start knitting them together in order to achieve the monochromatic look!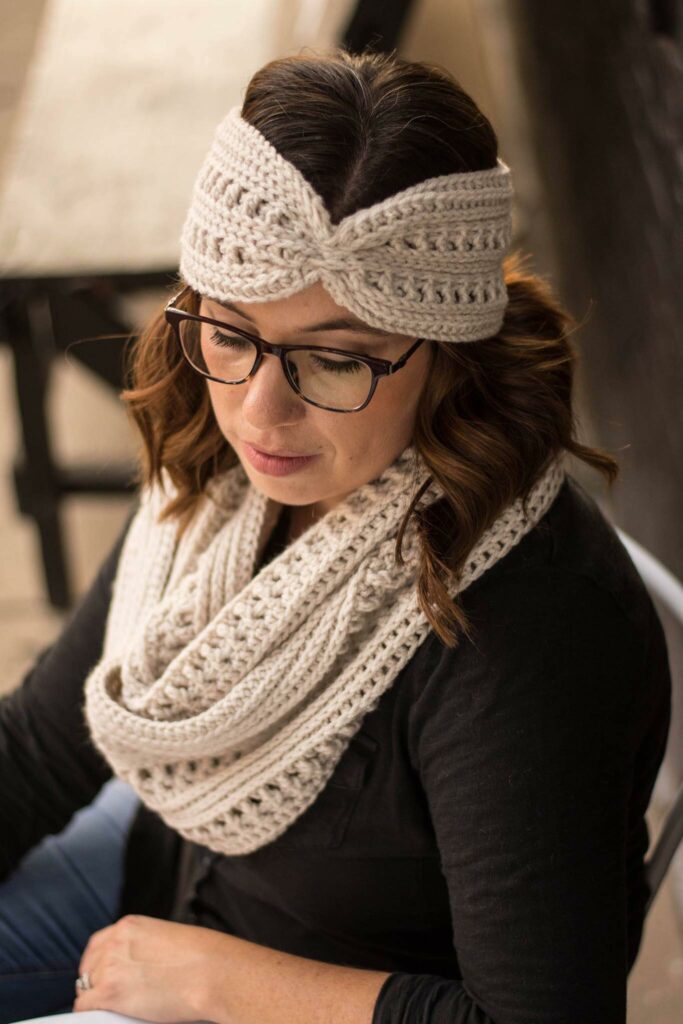 This off-white double-gear scarf pattern is just WOW. The design is quite an inspiration and can be a go-to look for all the women willing to achieve a boho vibe in the windy autumn months in the States.
The infinity scarf crochet pattern chosen here is a mixture of patterns, including camel stitch and post stitches. Although it can be a hard design to pull off, it is worth a try. It is not mandatory to make it the same.
Take a yarn of medium thickness. Now, start knitting in a crochet pattern that you know best and have patience. Keep the color the same and make a headgear with the infinity scarf to achieve an artistic boho vibe.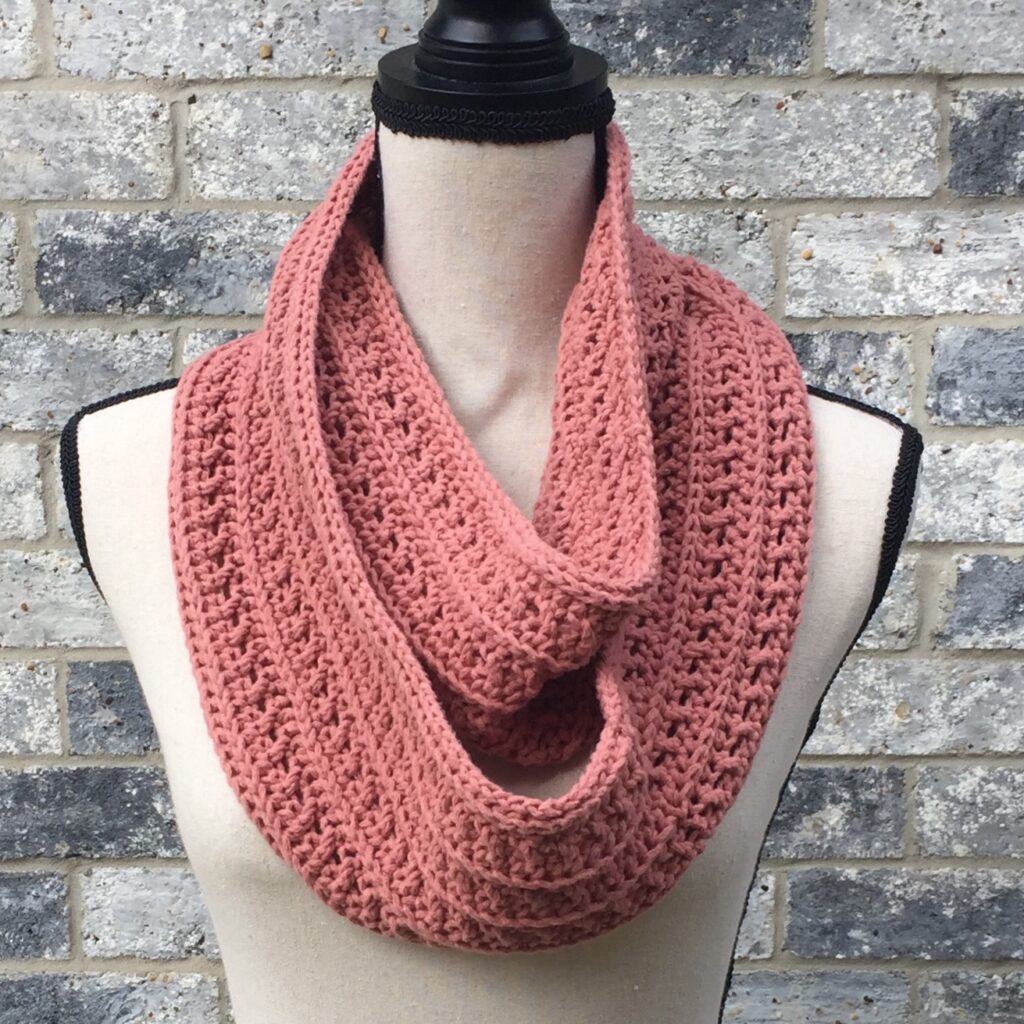 Pink is one of the few single-color options that go well with almost all outfits. The pink shade gives a subtle look and compliments the red nose we get due to winter.
The infinity scarf crochet pattern may vary depending on the skills of the individual. As we can see, there are two types of patterns used here. One is a single crochet pattern that acts like borders to the scarf. The other is a broader crochet pattern with some gaps that make it unique to the scarf.
Opt for a yarn with medium thickness and soft touch to make it last longer.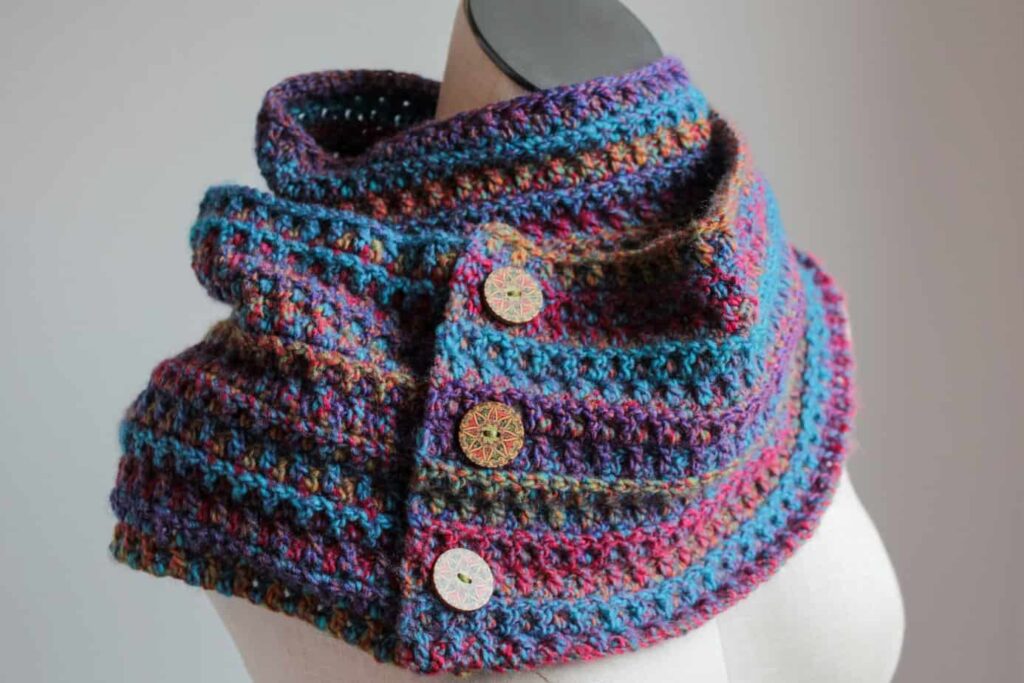 Adding a twist to the traditional infinity scarf, we will be giving a new look to the infinity scarf crochet pattern. We agree that the color scheme may look difficult to achieve, but the pattern is very simple. The entire scarf designs are knitted using a single crochet pattern. As for the color, buy multi-colored yarn and one single-colored yarn. As per the image, the single color should be blue.
Now, start knitting with the multi-colored yarn for one line and add the blue in the second line. Keep alternating between the two colors until the required width is achieved. Now, instead of sewing the ends together, add buttons on one side and make holes on the other. A sturdy new look for the infinity scarf is ready and gives out a chic, hippie vibe.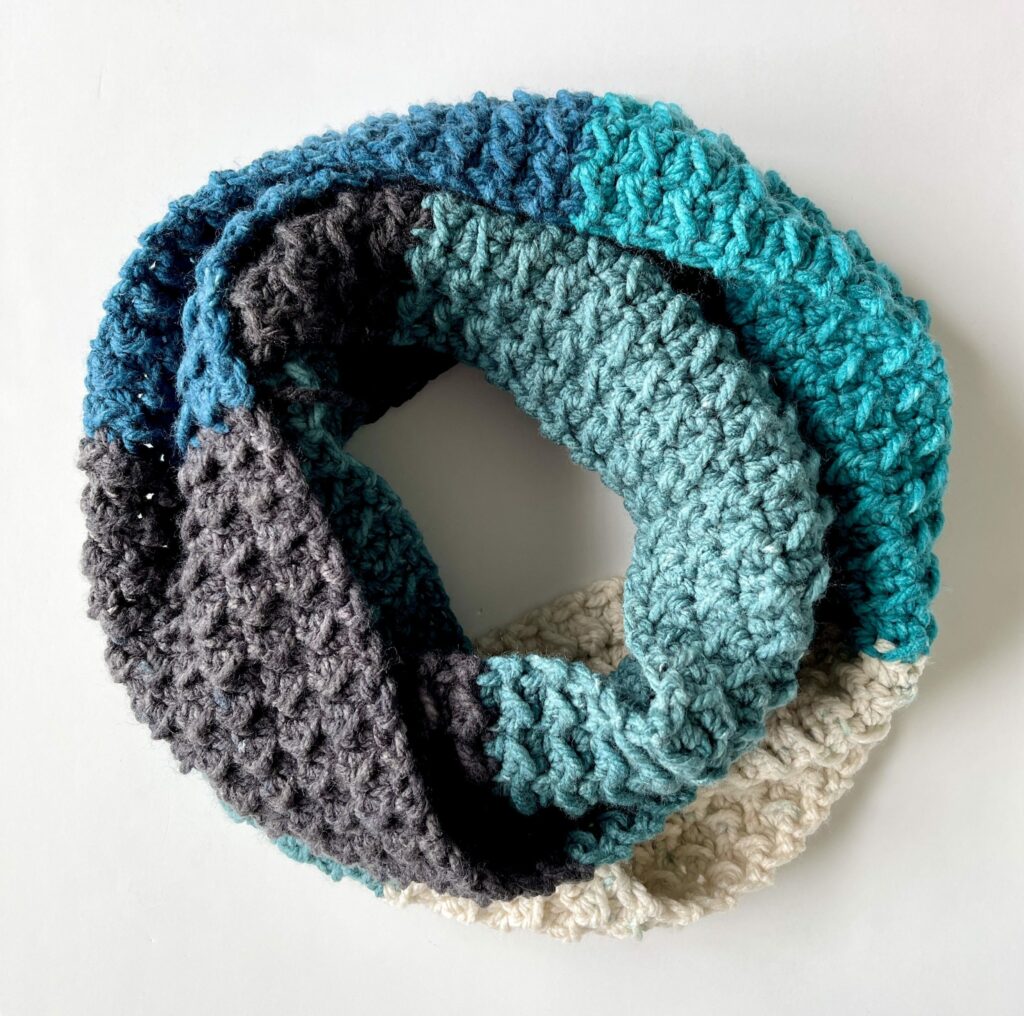 This infinity scarf crochet pattern is a bit complex for a beginner to try out. Someone who has a bit of experience in crocheting can be a perfect fit to take up this DIY scarf pattern. First, we have to select four colors to make this scarf.
The reference above is quite a fine combination to have a hassle-free start. Select one color and start knitting. The patterns used here are slip stitch and half double crochet. Now, make patches of almost equal lengths and sew them up at the end using a yarn needle.
Or take a piece of cardboard and wrap the wool around it as per the color hierarchy you desire. This will help in achieving an easy change of color while knitting without requiring sewing at the end. Select the process best suited and start knitting!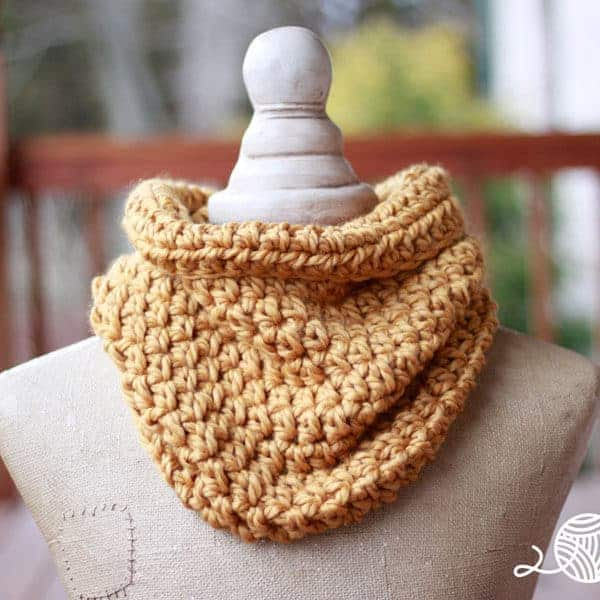 Do you need a sturdy scarf to help through the harsh American winters? If yes, then this is one of the best infinity scarf crochet patterns to try out. The scarf requires approximately 3 types of different crochet patterns to achieve the scarf in the image.
Here, we have to use slip stitch, half double crochet, and chain stitch to knit the yarn altogether. We will use super bulky yarn to help during extreme weather conditions. All the stitching patterns used are quite effective in keeping the knot close and intact. Furthermore, it helps make it a perfect scarf for cold winters.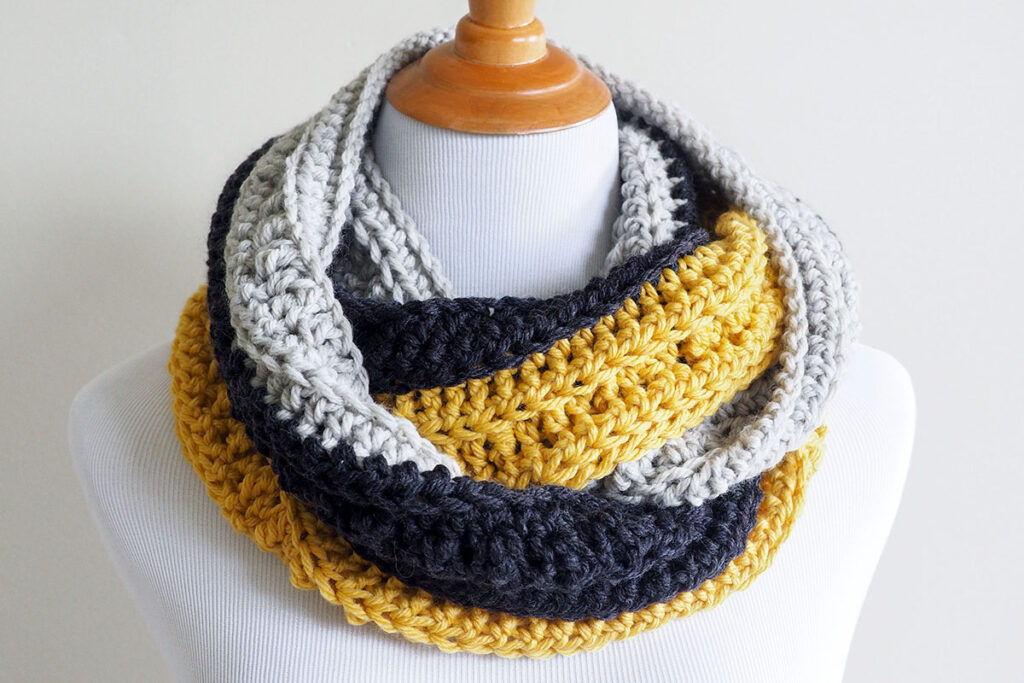 The triple-colored infinity scarf crochet pattern is a beautiful way to learn the trick of color blocking. One color is knitted vertically for almost one-third of the width. After that, another color is attached to the scarf with the same width distance, followed by the third color with the same distance to complete the infinity scarf.
Multiple patterns can be chosen for this scarf design. Some of the common patterns are slip stitch and half double crochet patterns. The scarf is not tightly knit, making it breathable and an ideal choice for windy weather as well.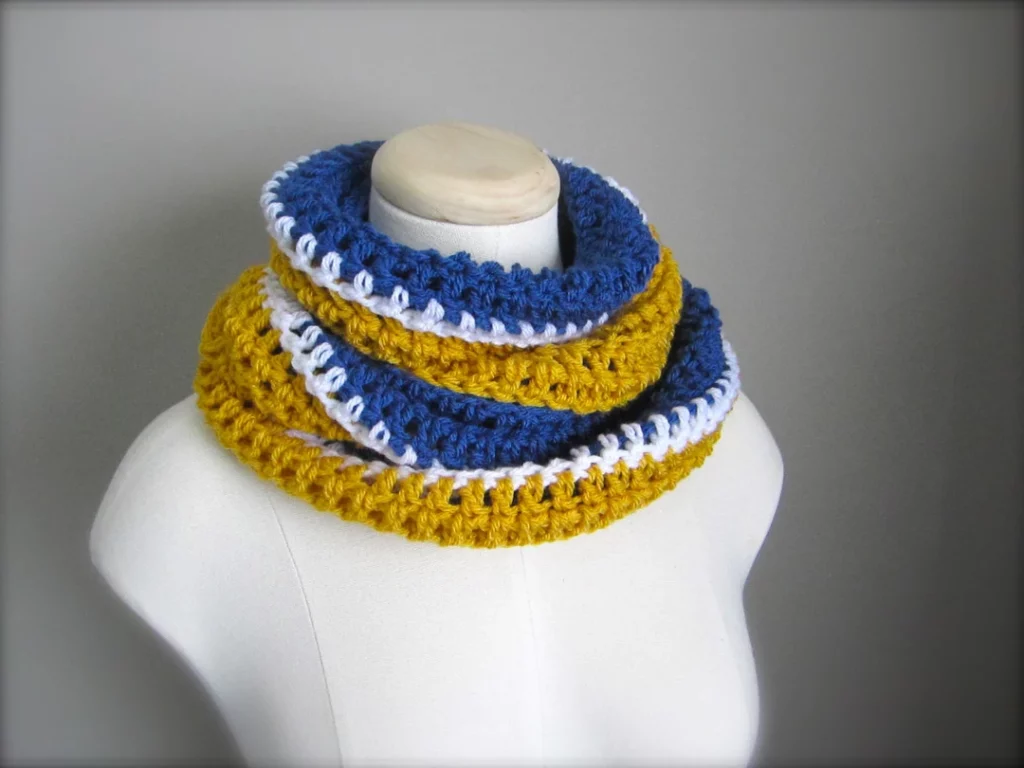 We have encountered some sturdy infinity scarf crochet patterns made with bulky yarn threads. These threads are tightly knit to make it a perfect scarf choice for winter.
We have a twist to this concept that will make the scarf breathable and ideal for casual wear other than cold winters. The triple-colored infinity scarf is very similar to the earlier one. Here, as well, we have to block three colors vertically of shades that you like.
In the image, we have three very common shades that complement many sports teams. So, this infinity scarf can be a big hit among students and sports fans.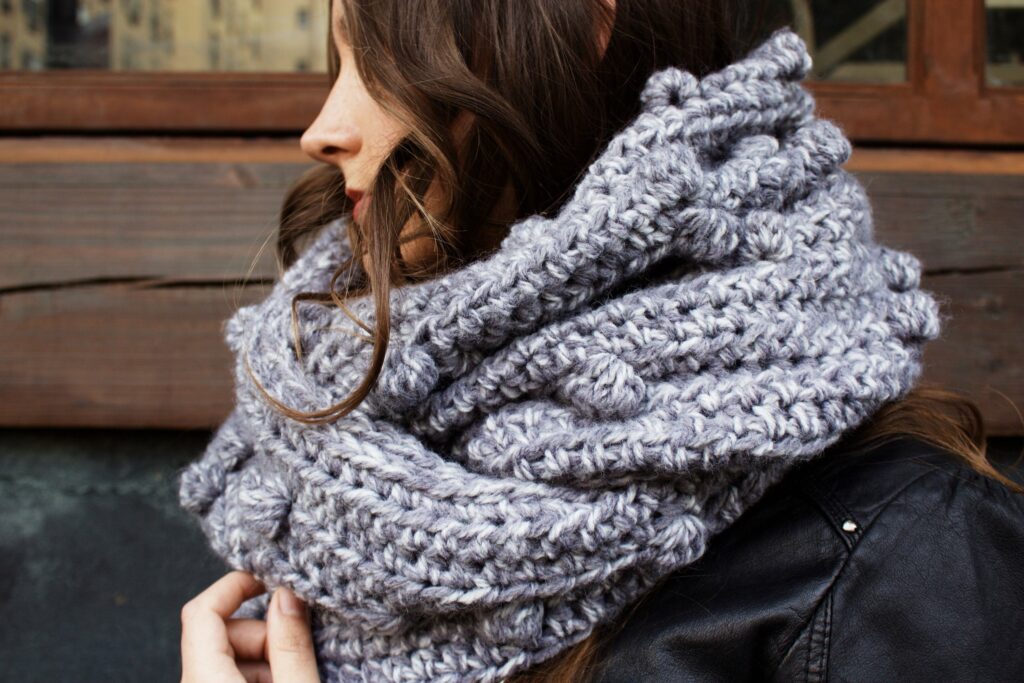 This infinity scarf crochet pattern requires a combination of approximately 4 types of crochet patterns. It is a beautiful piece of handcraft that requires precision and hard work. It is an easy design made with the help of half double crochet, single crochet, slip stitch, and bobble stitch.
If these patterns are a bit too much, then opt for one or two crochet patterns that you are familiar with and get going. Add an adequate number of wool balls across the entire scarf to give it a smart and unique look.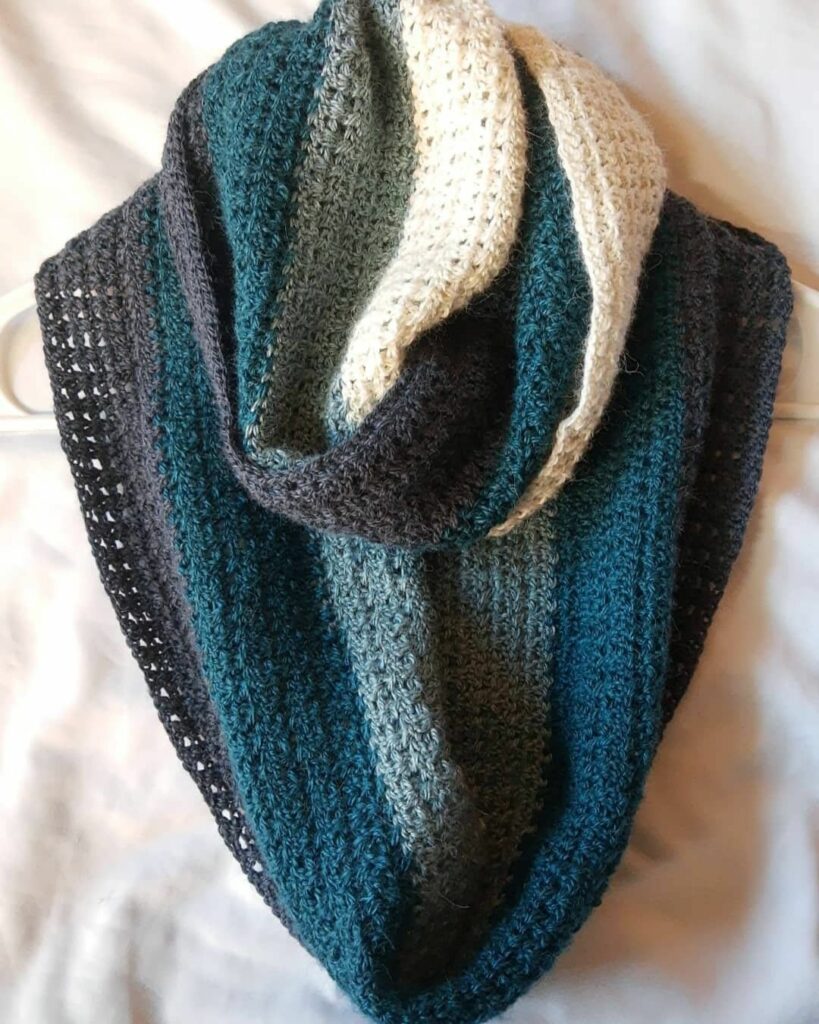 Now, we will select 4 different yet not-so-different colors to achieve our ombre magic infinity scarf crochet pattern. To create an ombre shade, we must choose 4 or more colors of a single color with its different shades. The different types of stitch patterns used here are chain stitch, single crochet, double crochet, and slip stitch.
Different types of crochet patterns are used in the edges of the scarf, the place where two colors meet, and the entire solid color part. Leading to the usage of 3 to 4 stitching patterns.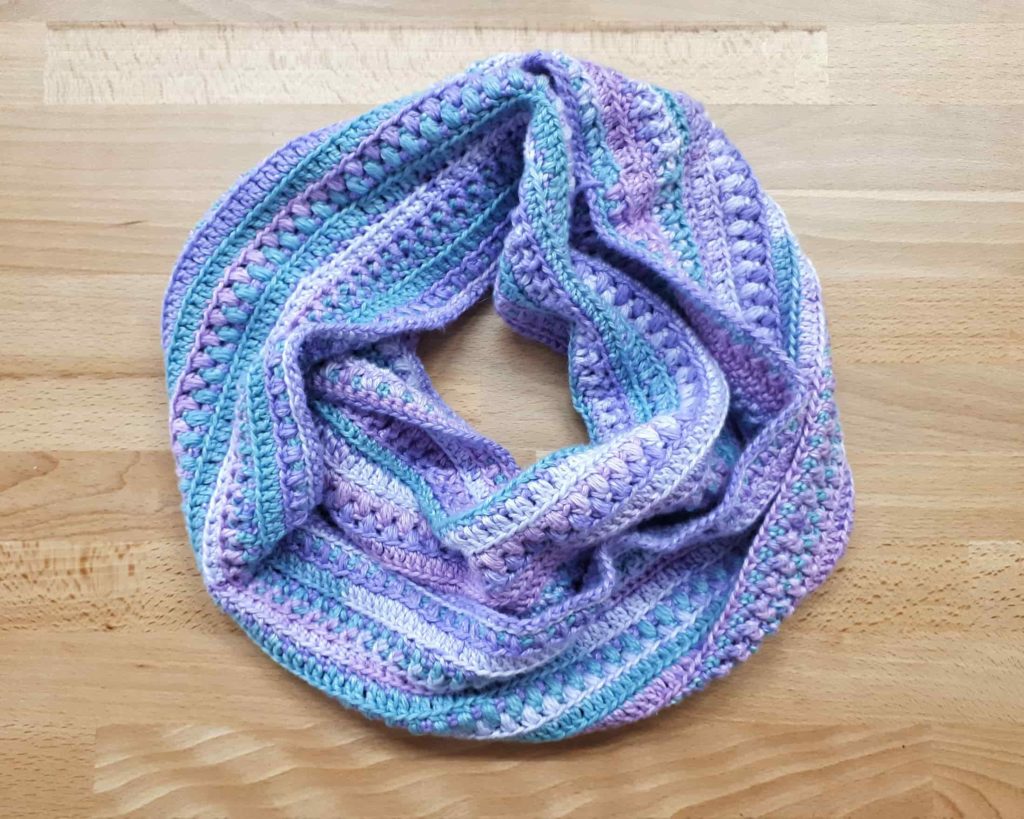 Now, we will talk about a beautiful infinity scarf crochet pattern that is made with a mixture of unicorn colors except pink. We are going to use three shades of blue and two shades of purple to complete the scarf. The color combination is rather unique, yet balance each other out pretty well. We can even add a layer or two of white color to enhance the look of the scarf.
The scarf is knotted up using a chain, slip stitch, back loop, half double crochet, and single crochet patterns to achieve this warm piece of clothing.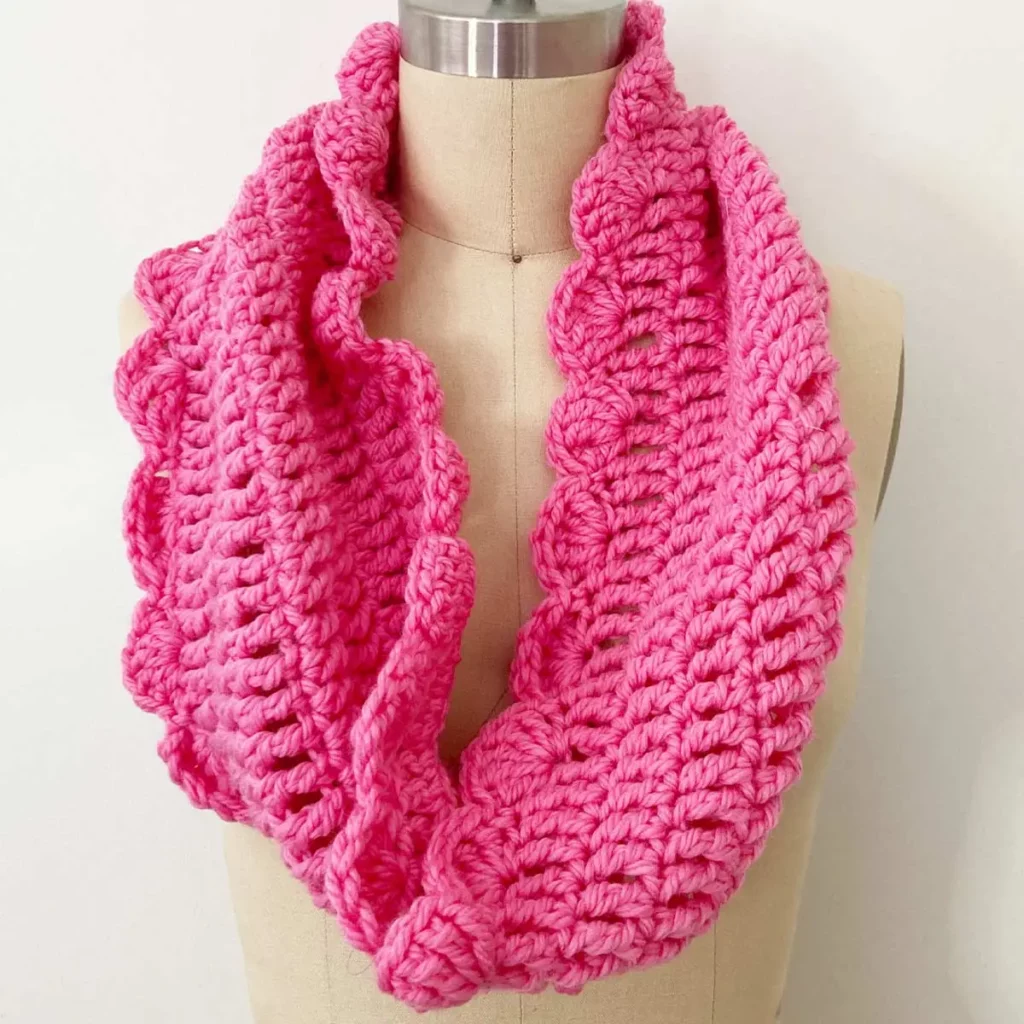 Margot Robbie's Barbie movie brought in a huge wave and demand for different shades of pink color in the market. The excellent marketing strategies convinced huge brands like Zara and H&M to lead unique campaigns to launch the special Barbie collection, i.e., a series of pink clothes.
Sphere, we bring to you our version of Barbie clothing, the dark pink infinity scarf crochet pattern. The longer stitch in the scarf, made along with treble crochet stickers, gives a light look to the threads. This helps in achieving perfect shell laces for the edges.
A trendy choice to beat the harsh winter cold with stylish clothing.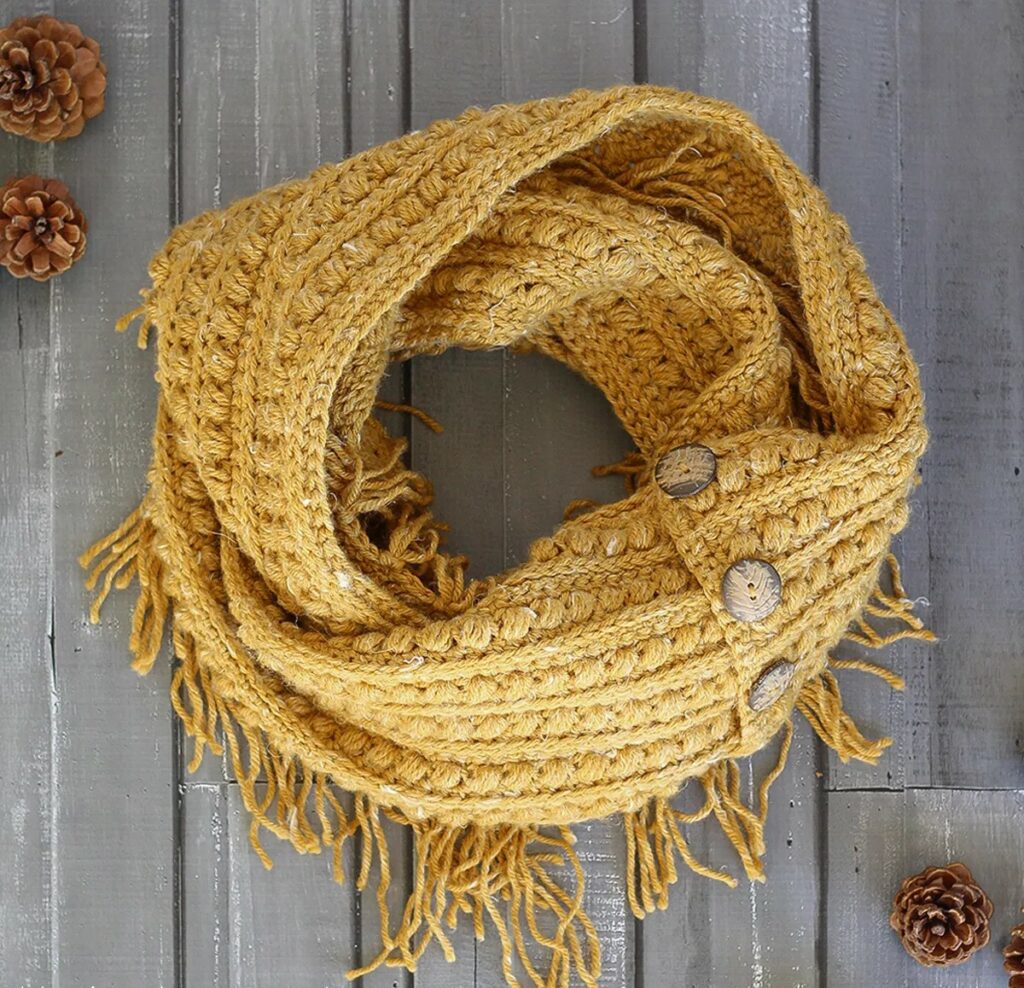 Woolen clothing and tassels have had a bond far unknown. Most of our old woolens have far too many tassels in them. Honestly, for many of us, woolen clothing is incomplete without tassels, especially blankets or shawls.
So, to bring in a touch of nostalgia and fashion, we have a trendy scarf option for you. The textured tight-knit scarf has a string of tassels hanging out from one of the outer linings of the scarf. Surprisingly, it has wooden buttons at the end.
I am making it a perfect fusion of traditional and old while giving a rustic vibe to the scarf.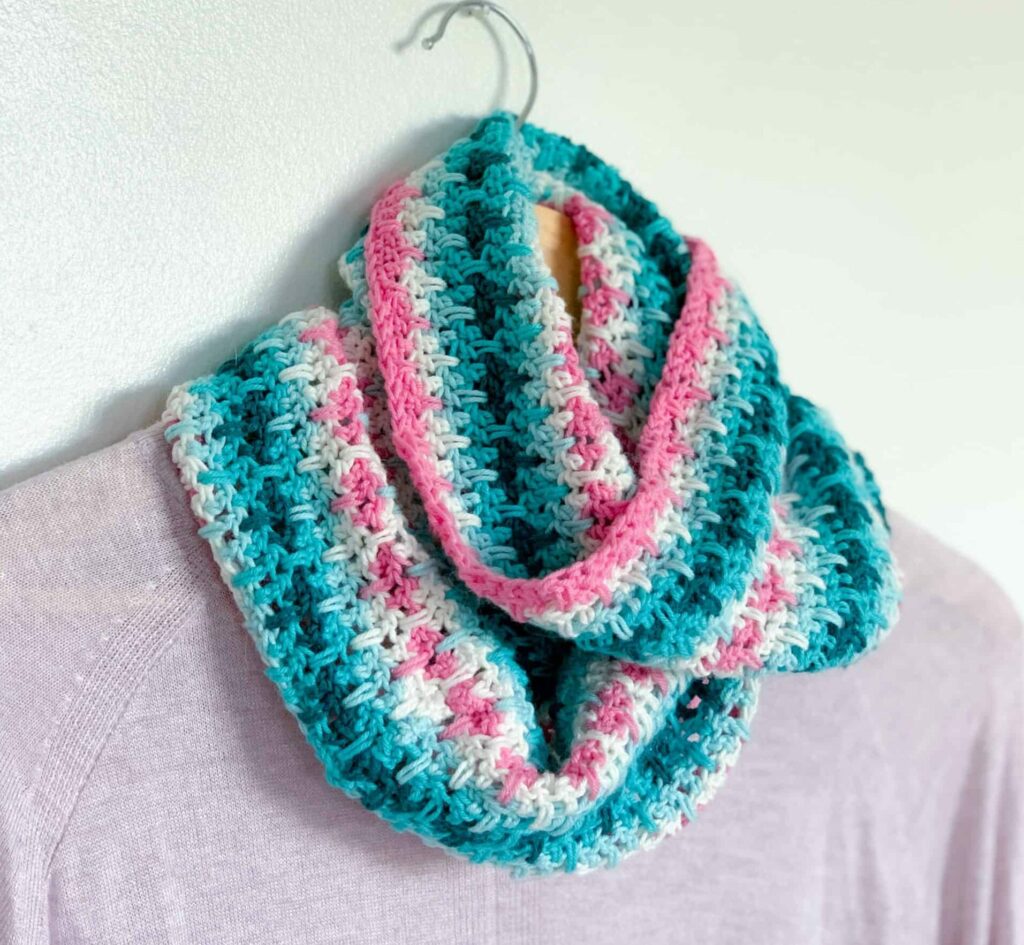 Here, we chose to create a gender-neutral infinity scarf crochet pattern of our own. All over the world, blue is chosen to be the color for blue, while pink has been given to the girls. This fusion of pink and blue is out there to resonate with the people struggling with the acceptance of gender neutrality. Anyhow, we have used 3 shades of blue, one shade of pink, and a white color to balance different shades.
The crochet pattern started with single crochet leading touching, double crochet, long double crochet, and slip stitch to achieve the infinity scarf.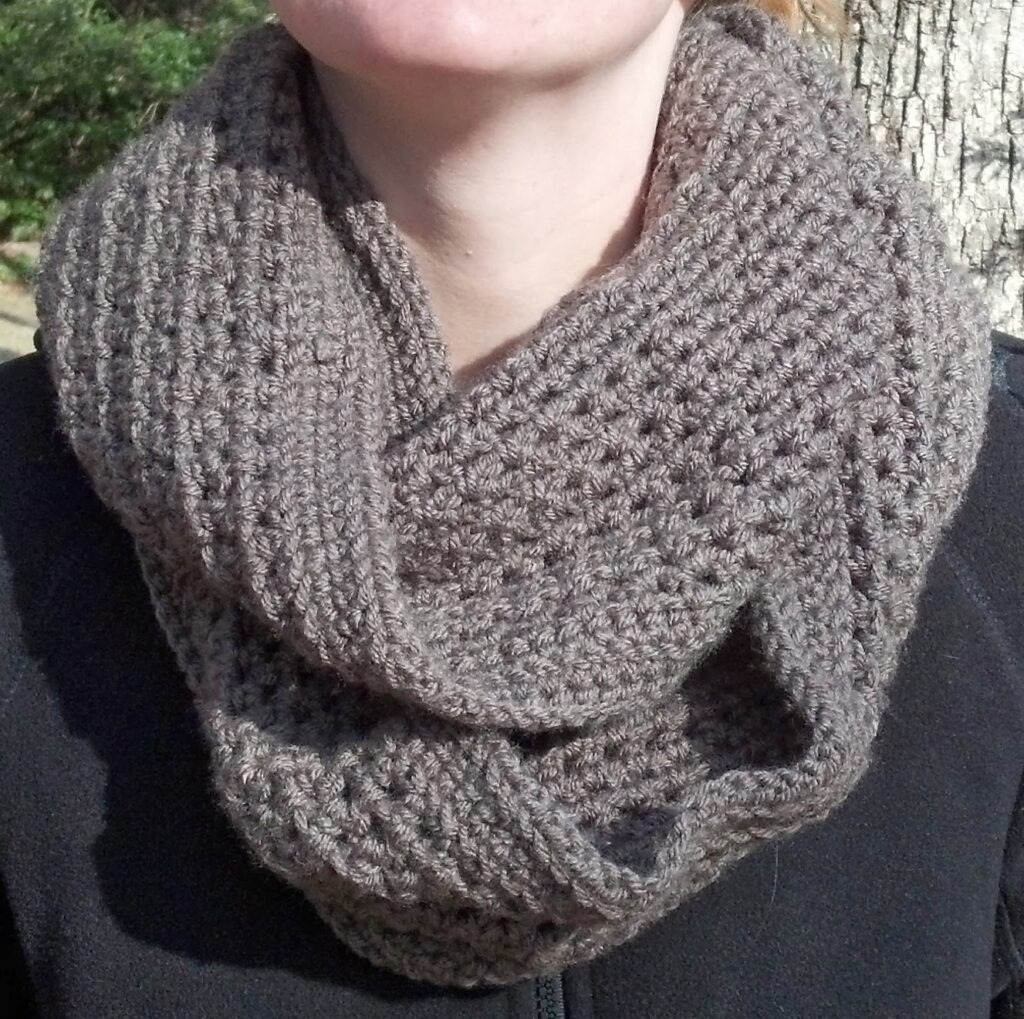 We have a beautifully crafted honeycomb infinity scarf crochet pattern in quite a shady color – gray. Americans tend to enjoy the 'gray area' and are very sly to use it for their benefit.
In this pattern chain, half-double crochet and slip stitch patterns are closely knitted to get a honeycomb look. Make sure to opt for a medium yarn thread that shouldn't be too thick or too thin, the perfect gray spot! Those will help in getting a proper textured look.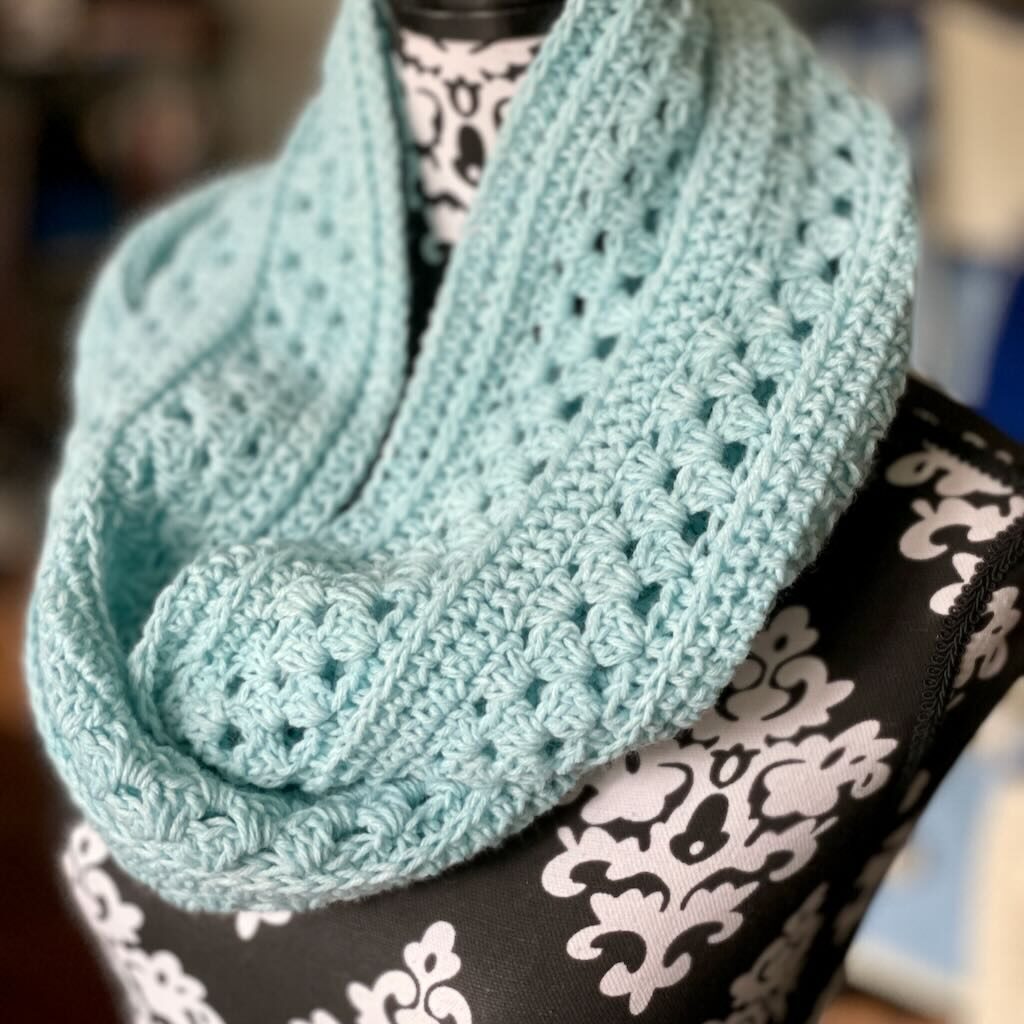 Blue is an exquisite color that compliments almost all skin tones and goes with most of the color shades. They are easy to style and pull off. Here, we will achieve this beautiful infinity crochet pattern by mixing a few stitches. The half double crochet and camel stitch are used to create a sturdy texture for the surface, along with granny stitch to get a bit of lacy texture across the boundaries.
Make sure to select a soft yarn that has medium-thick yarn threads. A bulky thread will destroy the texture and look of the scarf. Also, choose blended yarns to make the scarf lightweight and easy to wrap around.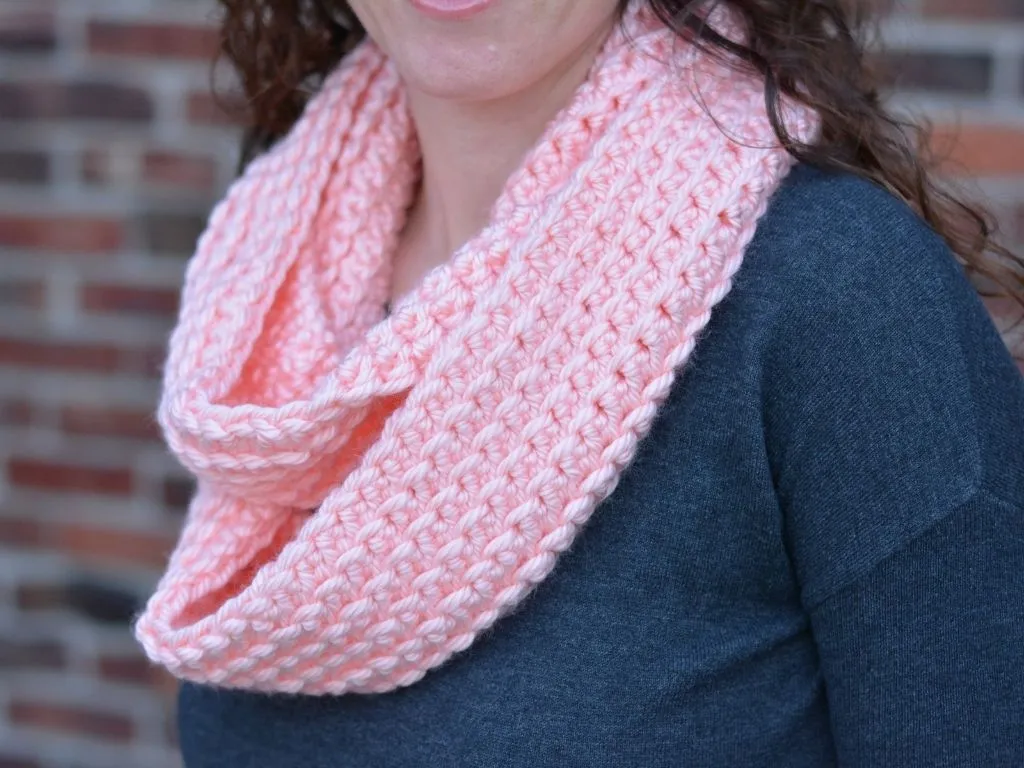 The infinity scarf crochet pattern is a beginner-friendly design that helps achieve a simple yet beautiful scarf. Here, one crochet pattern is used that is knitted into equidistant loops. Upon keen observation, we find out that the knits are very close and tight, making it a perfect infinity scarf to withstand the freezing American winters.
The ridged look of the stitch helps the scarf in attaining a beautiful texture. Make sure to use bulky yarn threads to make the scarf bold-looking and appropriate for chilling winters. The yarn used should be lightweight and soft to make it a handy piece of woolen.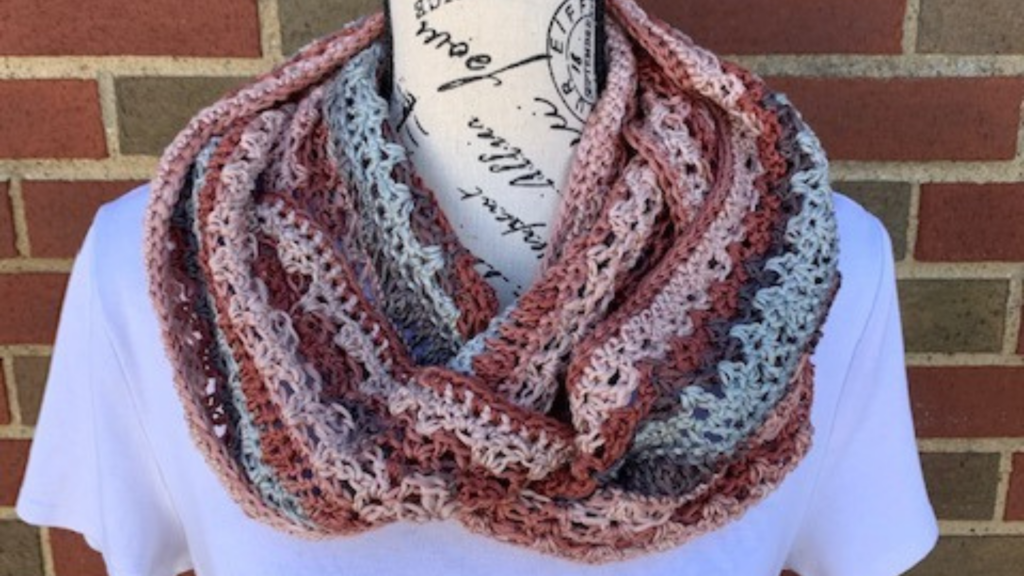 It is known that we can find seven different colors of sand all across the world. In some parts, we may find red, while others are in different locations. However, taking inspiration from this piece of geographical fact, we have named our next scarf. The infinity scarf crochet pattern is made with the amalgamation of several special crochet patterns like v stitch and popcorn stitch.
If these patterns are unknown to you, then go ahead with any design you like and knit a beautiful infinity scarf. Try to use multiple colors as shown in the image and use soft yarn for repeated use and utility.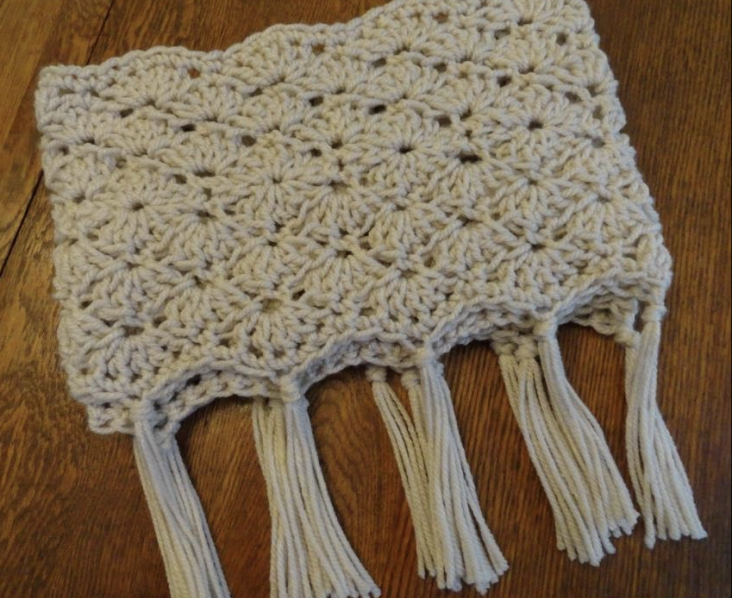 We have already talked about the wonder and design that tassels bring to any woolen clothing. Here, we will be talking about an infinity scarf crochet pattern made out of two colors. The colors used here are gray and blue; you may change the colors as per availability. But this combination will have more repeated use than varied color choices.
The yarn threads used should be soft in touch and of medium thickness. The patterns used here are chain, double crochet, skip, and slip stitch. Pick up patterns that you are comfortable with. Comb the yarn threads to get perfect tassels and attach them to one boundary line of the scarf.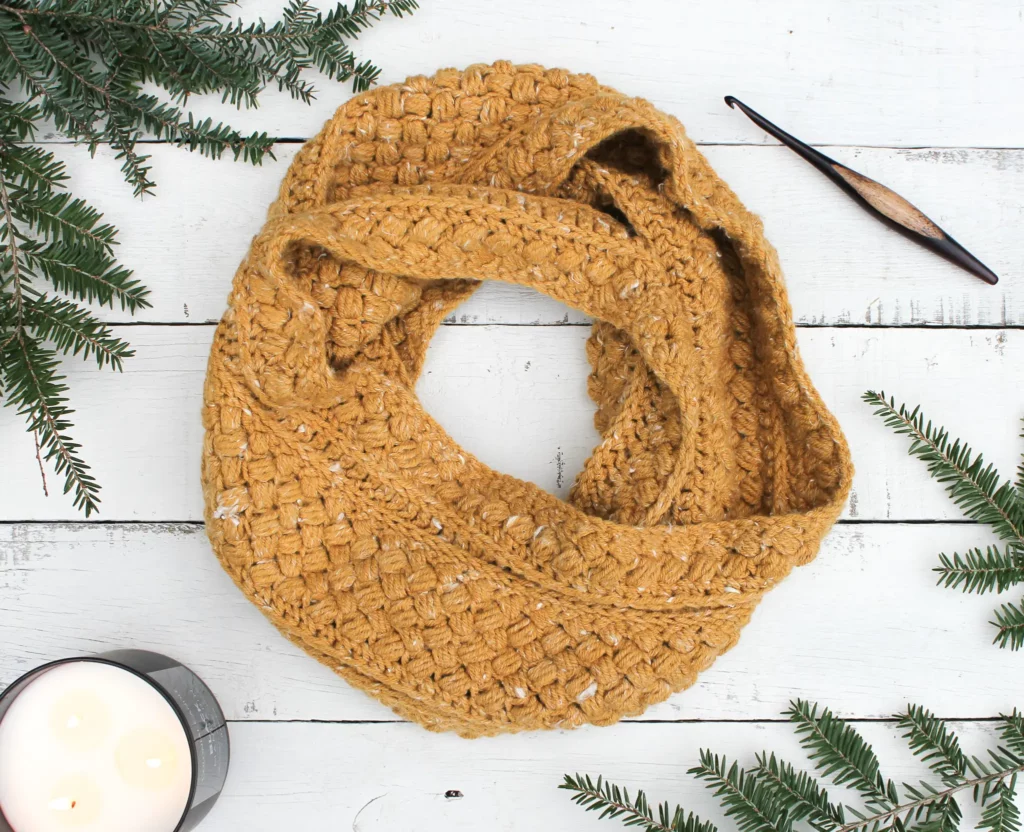 The closely knitted textured infinity scarf crochet pattern requires constant observation and hard work. The crochet patterns used here are more than 4 and are best done by a well-acquainted knitter. This is one of those designs that a beginner might want to sit out of. The crochet patterns used here are chain, half double crochet, puff stitch, single crochet, and slip stitch.
The versatile combination of the crochet patterns immensely helps in making it an exquisite piece of art. The yarn thread chosen should not be bulky; medium-thick threads would be fine. They help in achieving clean textures all over the scarf.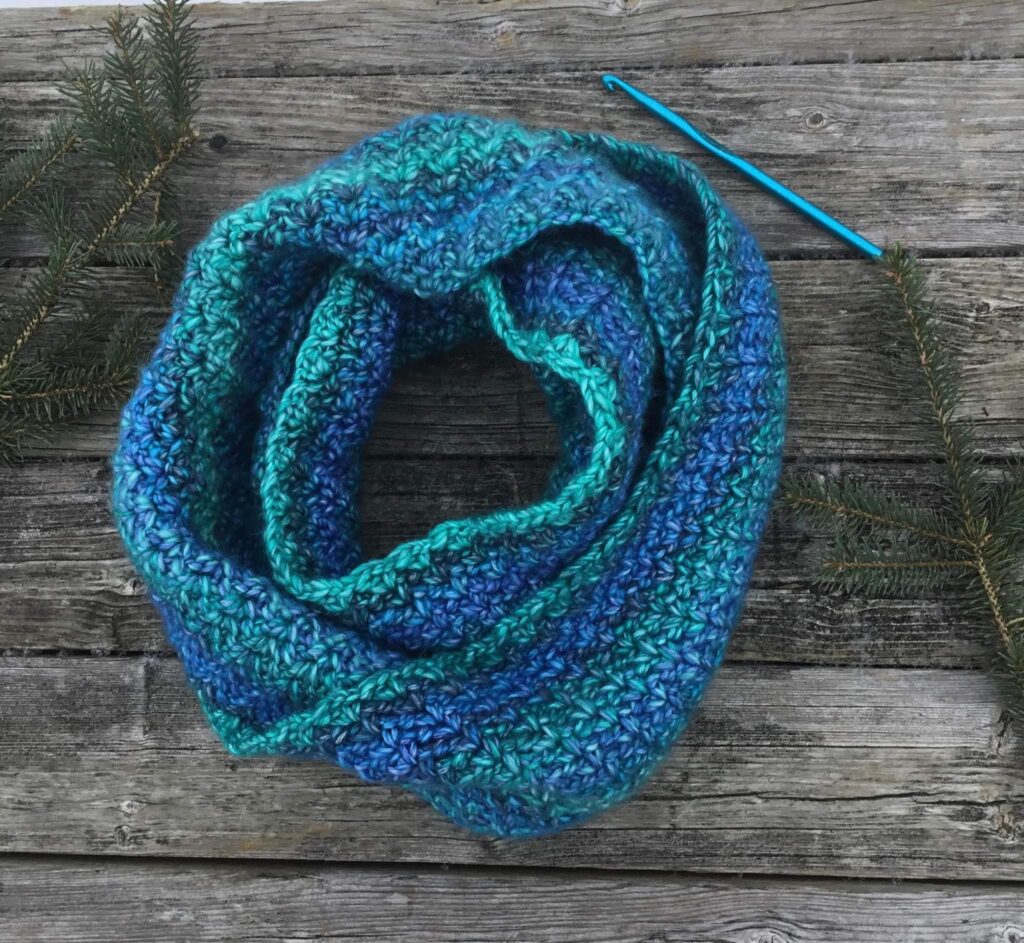 An exquisite piece of winter clothing that will remind you of the beautiful ocean blues and greens. To the times when we experience two different colors of water just merging into one another and becoming one yet distinct. This infinity scarf crochet pattern is beginner-friendly and uses some simple crochet patterns. Here, we must use half double crochet, double crochet, and slip stitches appropriately to get the desired design.
The yarn thread can range from low to medium. Too thin is not a good choice. Select 4 to 5 shades of blue and green combined for the perfect look.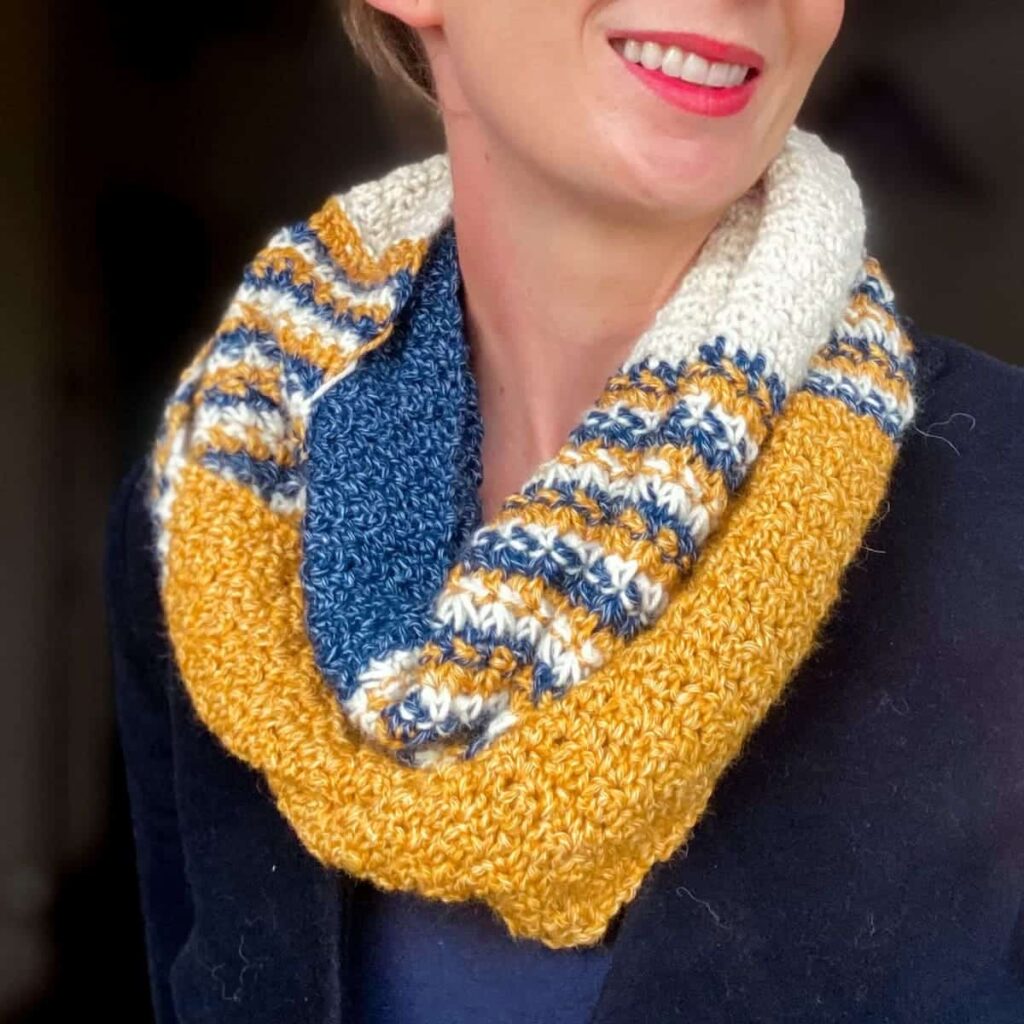 Although we talked about the yellow, blue, and white combination earlier, we will be discussing a different look and pattern with the same color combination. The infinity scarf crochet pattern has a delicate and soft look. It is a beginner-friendly pattern and can be easily customized to different color combinations. Here, we will use different crochet hooks.
The striped portion requires a smaller hook size (4.5 mm) for an intricate, woven look. The single-color portions can be made using a larger-sized hook (5.5 mm). Crochet patterns used here are chain, single crochet, double crochet, and turning chain.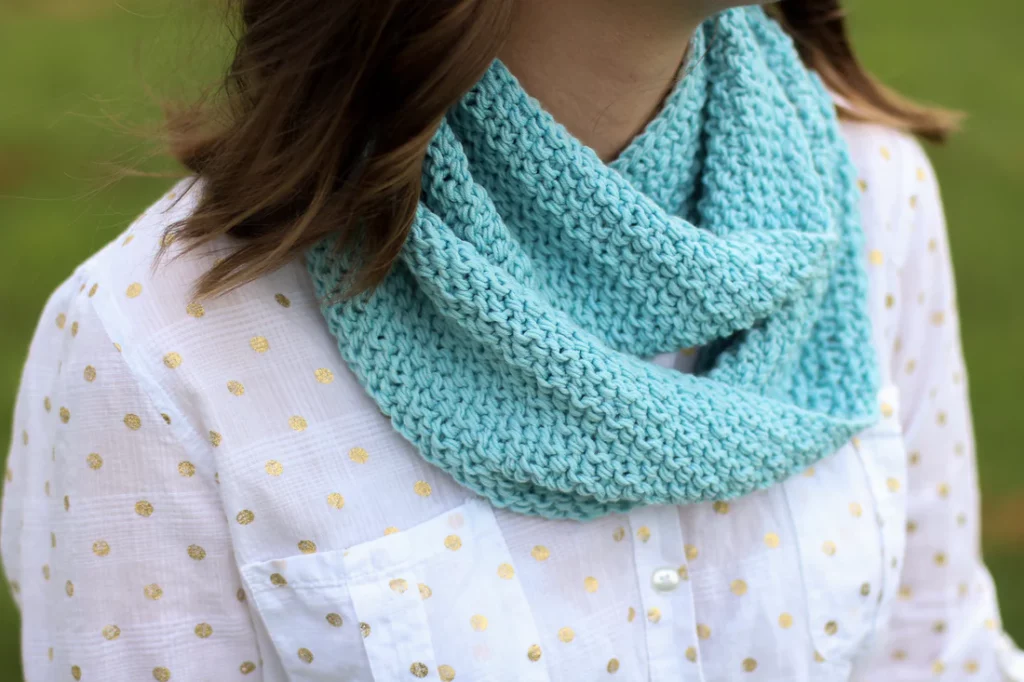 The turquoise and sky blue yarn thread colors are usually sold as the same. So, whichever shade you can find among the two, go for it. This infinity scarf crochet pattern is a simple, closely knitted traditional pattern. The single-color scarf choice is a subtle yet effective choice that comes to repeated use in the future.
The light tone of the color makes it an excellent choice to style with varied color combinations. A simple single crochet pattern is used to knit the whole scarf. It is a hassle-free knitting option with no added complications, making it the perfect first crochet scarf.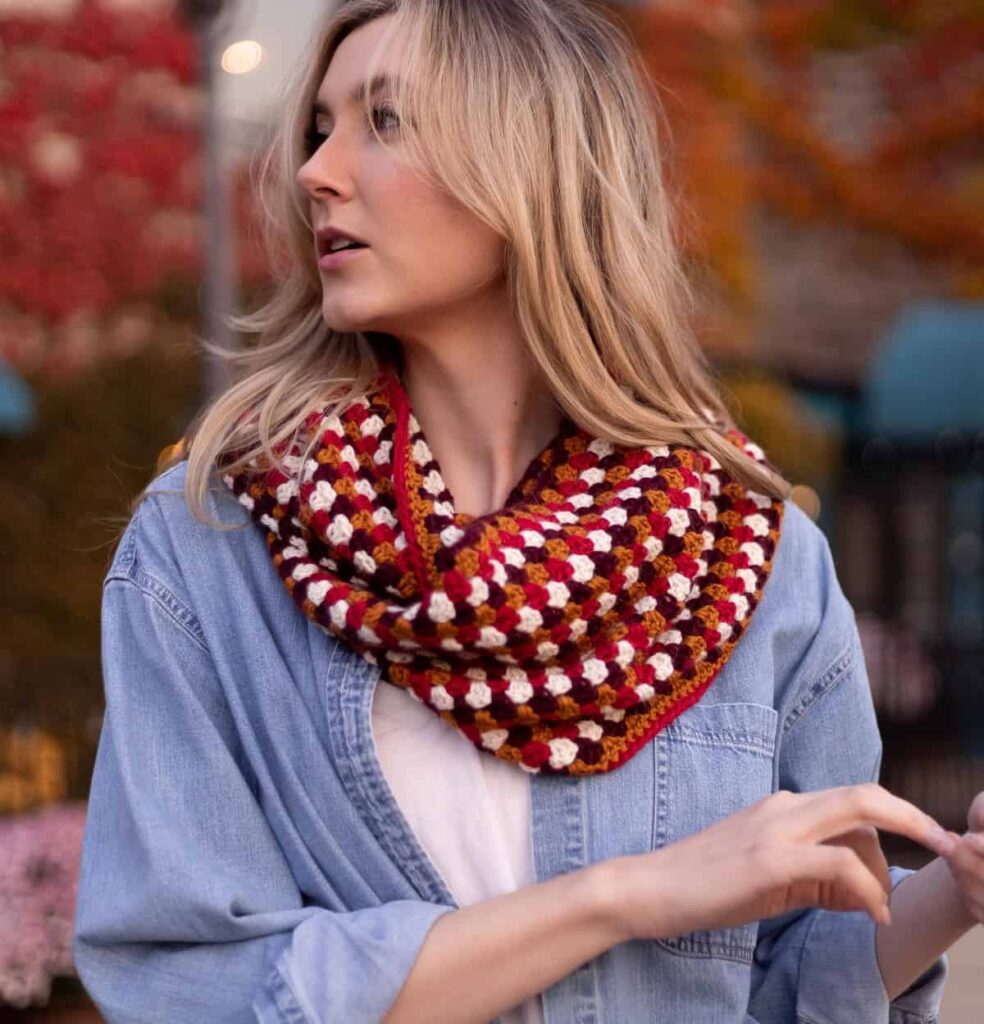 Taking inspiration from our grandmothers, here's an infinity scarf crochet pattern that will help you make a beautiful design to gift your grandmother. Here, we will use the square pattern crochet design to make the infinity scarf. The square crochet pattern made its entrance in the early nineteenth century, making a hit among women.
This is why the square pattern is often referred to as granny's crochet design for the sake of timeline. Here, we will take 4 vibrant colors to knit the scarf. The yarn threads used here are of medium thickness. This allows for a proper representation of the texture and layers.
Finally, we unveil the most sought-after monochromatic infinity scarf crochet pattern. It is a beautiful example that helps achieve a comforting piece of woolen clothing. Black and white are statement-neutral colors that go with most of our outfits. It is a beginner-friendly scarf design that involves easy knitting patterns.
To achieve the authentic look as per the above picture, make sure to select thick, bulky yarn threads. The squishy alternate column design provides appropriate focus to both colors. Make sure to use an off-white, cream-toned white color instead of a bright white color to create a subtle look.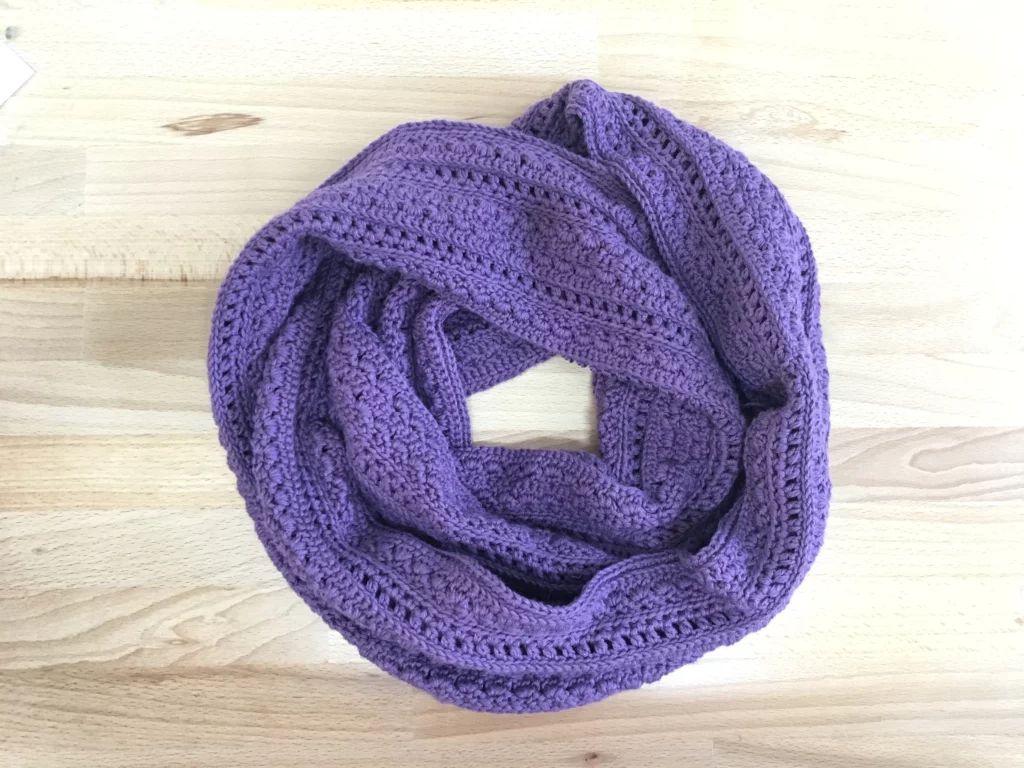 The infinity scarf crochet pattern usually reminds us of floral patterns due to the primrose stitch used for knitting. It is a simple, beginner-friendly design that requires just one crochet pattern.
The crochet hook used here is 3.5 mm, a narrow hook to engage in an intricate weave for the double-layered scarf. The yarn thread should be a bulky one. Make sure to buy a thread ranging from thin to medium.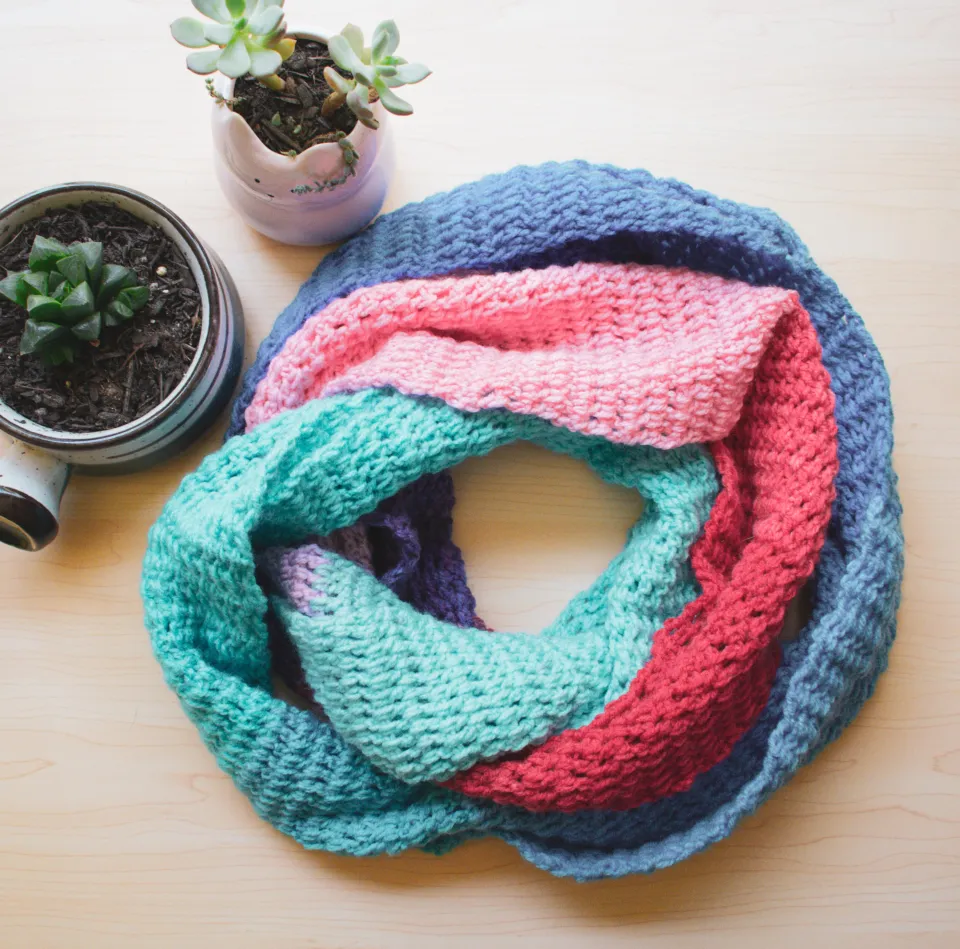 Now, we will make a multi-colored infinity scarf using vibrant colors that remind us of the flower-laden garden. For this, we will need a 5 mm crochet hook and acrylic blended wool yarn that is both soft and lightweight. Here, we will use a combination of chain and double crochet stitch patterns to achieve the desired scarf look.
Start with any color of your choice and knit us a sufficient patch of it. Now, start with another color and make a patch of the same length as the previous one. Continue the process until the scarf is made.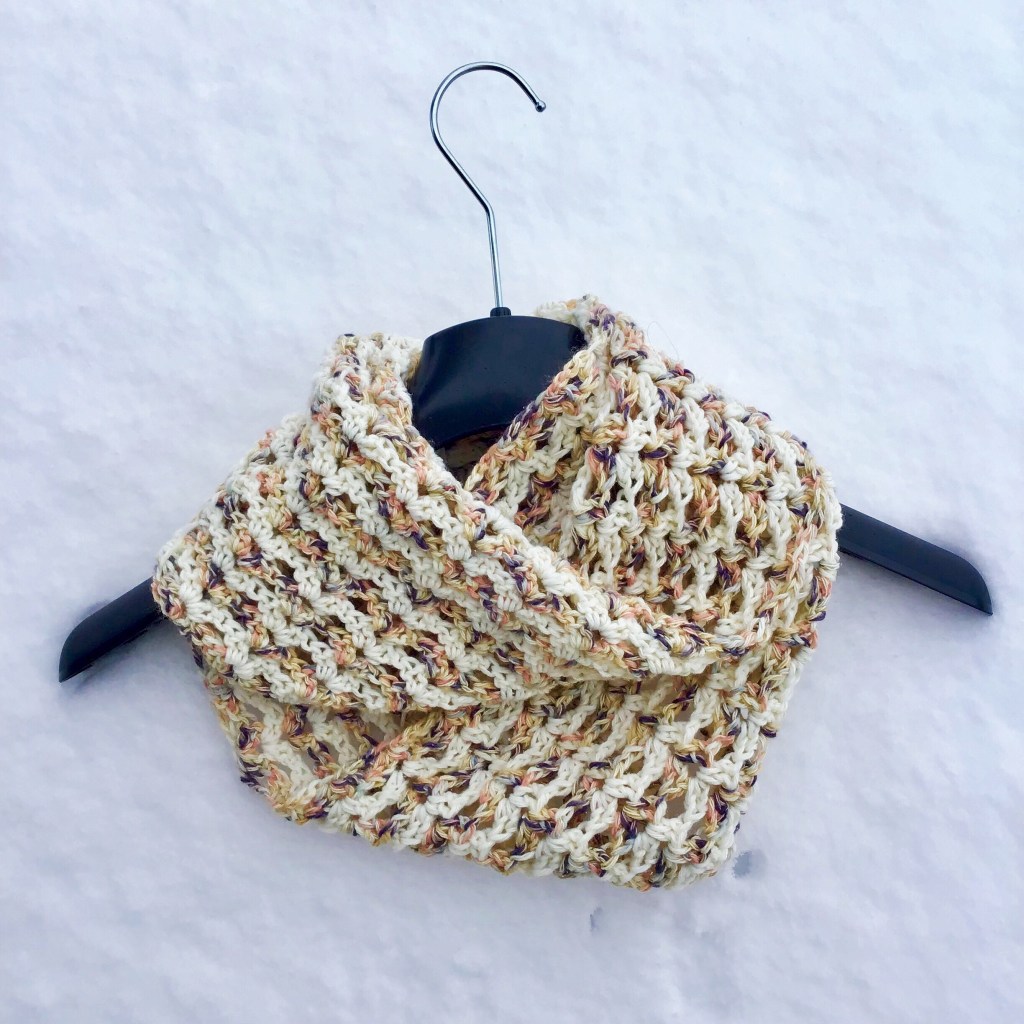 Many believe that this is a Japanese wonder and is often known as the Shin-yu infinity scarf. The infinity scarf crochet pattern is divided into 3 sections and is made up of fan stitches coupled with chain stitches. The final touches are added to the scarf by giving a lacy boundary to seal the look of the incredible-looking scarf. Make sure to use a thin yarn thread or a thread slightly thicker in size than the prior.
The low thickness of the yarn thread will help in creating an intricate web-like structure. The colors used here give out a boho-beachy vibe and can be worn with many outfits.
Conclusion
Finally, we come to the end of this handcraft-inspiring journey. In this article, we explored the world of threads, colors, and a century-old legacy. Some of us have had the opportunity to live and experience the meticulous task our mother and grandmother did for us with smiling faces. But some of us did not get the opportunity for the same.
Did you learn crocheting from your parents?
Let us know of your experiences in the comment section below. Crocheting is a beautiful type of craft. It is our responsibility to keep our culture and legacy alive. So, let us together take a step towards learning about our crocheting and try some patterns. Remember, its the efforts that count, not the results.