Looking for easy-to-follow jackolantern costume ideas which, when crafted, shine uniquely. Search no more with our innovative ideas for making Halloween costumes.
Don't worry. You don't have to barge your head to understand the construction of costumes, even if you're a beginner. Each of the costumes below has been explained, keeping newbies in mind.
Do you know what even best about our creative jackolantern costume ideas? They can be made using fundamental stitches. Yes, the one that every crocheter learns at the beginning of their journey, i.e., single crochet, double crochet, and treble crochet.
If you have forgotten them, we have made things easier for you by jotting down the steps required to make these stitches. Think no more and explore these creative Halloween costumes that will astonish you and develop your creative mind, but before that, let's look at the materials required to make the same.
Essential Materials To Crochet Halloween Costumes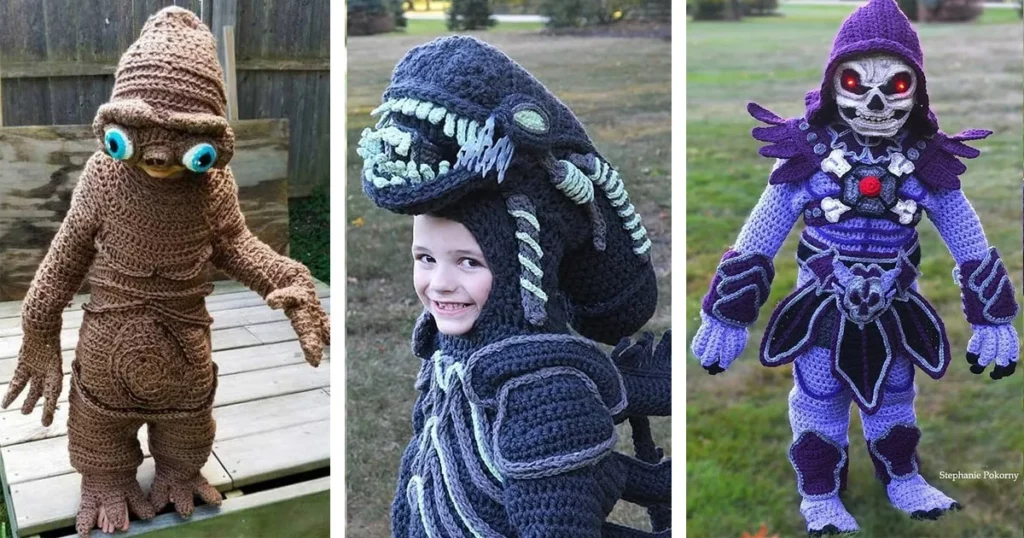 Choosing appropriate materials backs for quality projects makes your work look neat and professional. Below, we have listed the common material to each costume and how to choose the best of them.
Important Stitches for Jackolantern Costume Ideas
Before you browse below for costume ideas, we suggest exploring the stitches that helped make those costumes. This will not only inform you about stitches but also to understand the pattern better. Below are the stitches that will help make any of the costumes listed below:
1. Single Crochet
Start by making a foundation chain of the required number of stitches, i.e., according to the width of your project.
Insert the hook into the second chain from the hook. Note that the loop on the hook is counted as the first chain.
Wrap the yarn over the hook from back to front and gently pull the wrapped yarn through the chain stitch. This will give you two loops on the hook.
Yarn over again and pull through both the loops made in the last step. This will leave you with one loop on the hook.
Congo, you just made a single crochet stitch.
2. Double Crochet
The chain required a number of stitches to make a foundation chain.
Wrap the yarn from back to front and insert the hook into the required stitch or chain.
Do a yarn over and pull through the stitch. This will give you three loops on the hook.
Yarn over again and pull through two loops on the hook. You're now left with two loops.
Perform a final yarn over and pull through the remaining two loops in the last step.
Congo is making a double crochet stitch.
3. Treble Crochet
Firstly, craft a foundation chain in alignment with your project's width.
Wrap the yarn over the hook twice from back to front and insert the hook into the specified stitch.
Perform a yarn over and pull through the stitch. This will give you four loops on the hook.
Yarn Over and pull through the first two loops, leaving two loops on the hook
Yarn Over again and pull through the next two loops, leaving two loops.
Do a final yarn over through the final two loops on the hook. You just created a treble crochet.
Best Jackolantern Halloween Costume Ideas
Now that you have all the prerequisites, you're better prepared to grasp these costume ideas and apply them in real time. While going through the pattern, try to understand how the pattern is made; that'll make it easier for you to craft the same.
1. Jack-o-lantern Toddler Sweater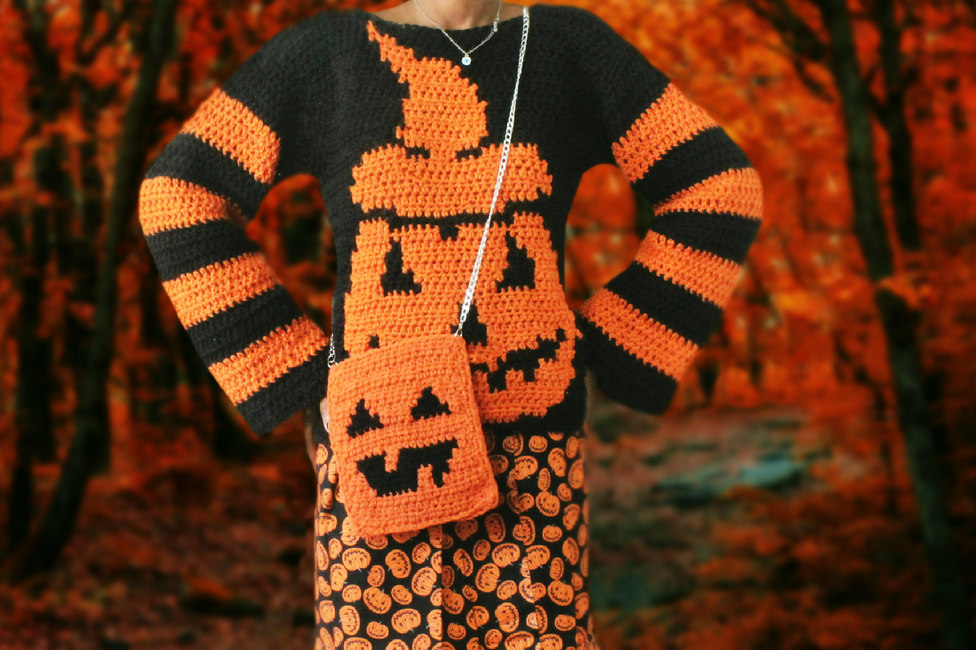 A perfect sweater for your kid, providing warmth and protecting them from all kinds of evil spirits. These jackolantern costumes are easy to make and require knowledge of only double crochet. For crafting this, you need to work orange yarn on the front by increasing and decreasing stitches, making a Halloween shape. You must work in parts (front, back, sleeves) and then sew together.
Start with a foundation chain, turn your work, and repeat each row (switching colors as required) till you attain the desired look.
2. Striped Jackolantern Cardigan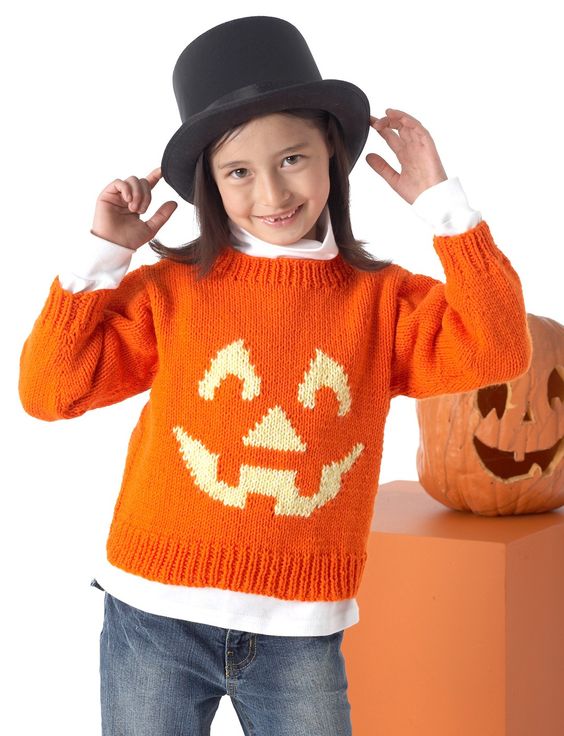 Make your child's Halloween adventures more exciting with a pumpkin pullover sweater. This jackolantern costume promises a haunting trick-or-treating experience. As time passes, your little one can enjoy the thrill of wearing this pumpkin sweater, creating a tradition that brings the season's essence to life year after year. Simply work double crochet throughout and weave off with a single crochet border and ribbing.
3. Jackolantern Face Mask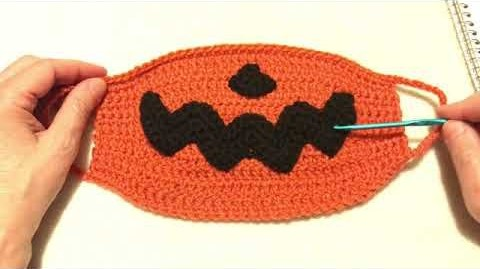 Are you bored of using the same simple mask that looks plain and uncool? These jackolantern costumes will make your breathing an exciting experience while keeping you away from all the dust and viruses. To crochet a face mask, you only need to work treble crochet throughout the body, providing your mask with an intense texture.
As you work, treble crochet and alter colors to make a Halloween face. Once you reach the desired length, decrease the stitches in the last row to make a handle, as shown above. Finally, weave all parts together.
4. Feline Fashion Frock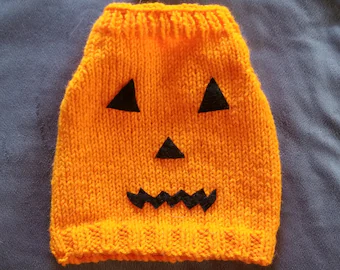 Adore your kitten with this crochet dress; it will not only keep her warm on cold winter days but also portray your warmth and compassion towards pets. It's among the best jackolantern costumes for kittens that fit comfortably. You need to craft single crochet motifs (crochet circles) by providing a tight center with the help of adjustable rings.
Then, work the first row and repeat by decreasing the stitches towards the top (according to your kitten's head circumference). Weave off, providing a treble crochet border at the top.
5. Purrfect Pom Top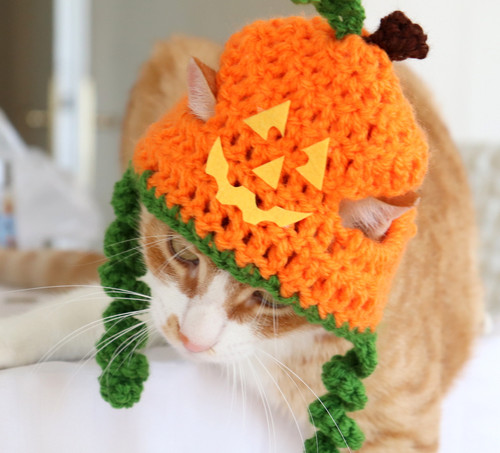 The perfect Halloween hat to adorn your cat. It has clear and spacious stitches to pass the soft air through, hence avoiding any itches. Further, this pairs up great with a feline fashion frock, making a complete jackolantern costume.
For making a pom top, start working a chain stitch and then work double crochets; once you complete a row, work chain spaces from the previous row. Repeat and add facial features with a different color yarn. Fasten off and weave in yarn tails.
6. Spooky Lantern Hat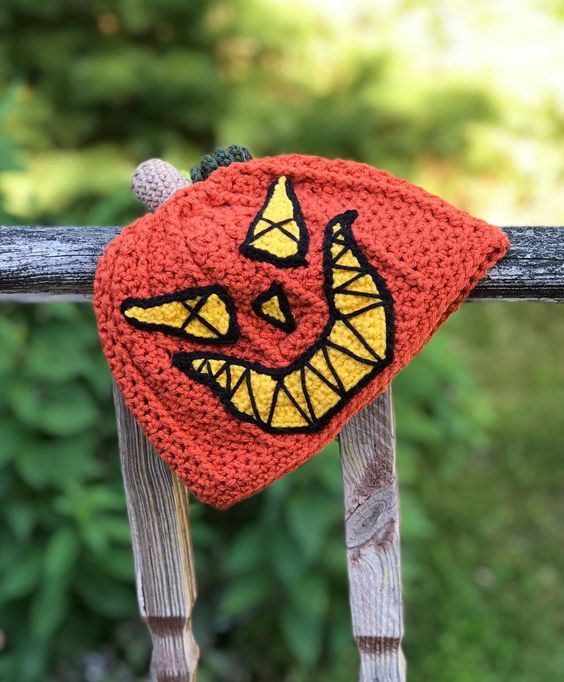 Want to make Halloween night thrilling and exciting? These spooky jackolantern costumes will fulfill all your desires, keeping your head warm. Thinking about how you can make this? Work rows of double crochet after crafting a foundation chain, and alter yarn colors at specific points to make a Halloween face. When working the last row, weave all the edges and work a single crochet border.
7. Halloween Masquerade Attire
Stucked what to dress up your kid with on an annual day at school; this masquerade jackolantern costume is the best. The best part is you don't need to hustle much with crocheting; work bobble stitches are increasing and decreasing stitches at sleeves to provide a pumpkin-shaped appearance. Once done with all the parts, sew them together and pass the work through the blocking process.
8. Infant Pumpkin Garb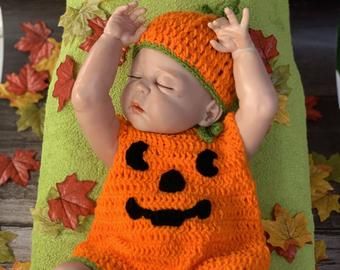 It is a unique idea to adore your little ones while providing them with the utmost warmth on cold winter days. This will showcase your crocheting skills and love and care for your kids. These dainty jackolantern costumes take your least time but portray your utmost creativity.
Crafting these adorable cuties doesn't require too many stitches; only working single crochet motifs can help you make the same. Don't forget to finish with a border for a professional finish.
9. Toddler Halloween Cap and Socks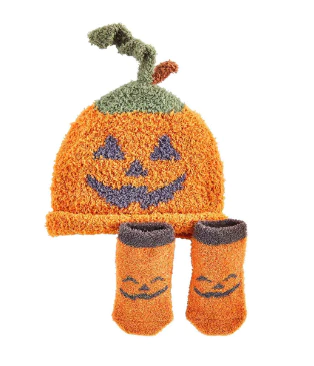 Craft these adorable toppers and feet covers for your little ones to help them enjoy the winters to the utmost. Further, these cozy jackolantern costumes will epitomize your love and care towards your kid. Want to crochet but confused about how to start?
Initialize by making an adjustable (magic) ring that provides a tight center to your motifs. Crochet throughout by decreasing stitches towards the top and adorn with embellishments for making Halloween facial features.
10. Infant Topper and Nappy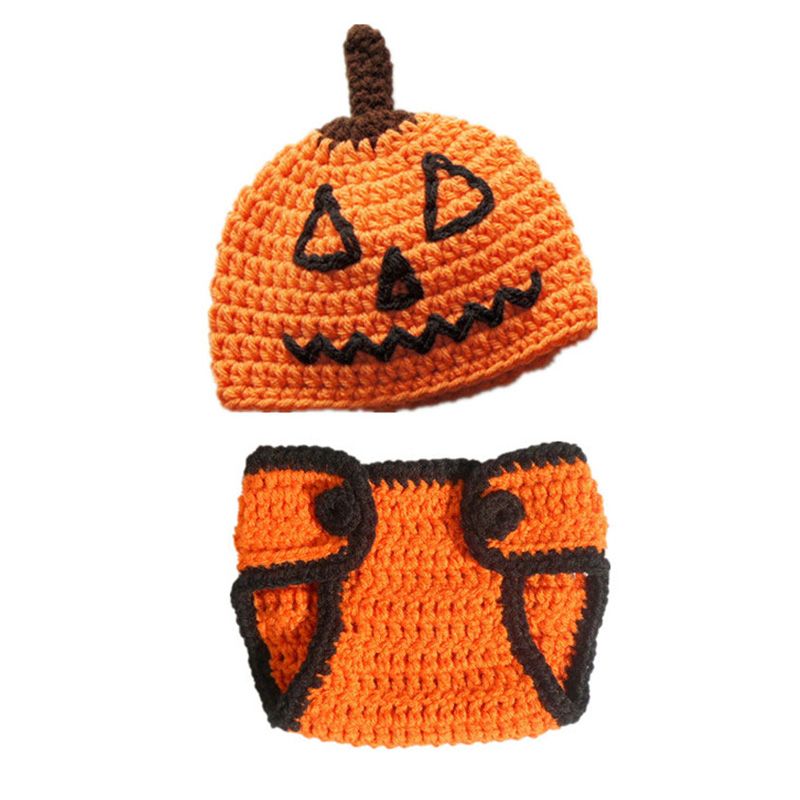 Adore your little ones with this jackolantern costume to make them feel warm and comfortable, hence, escaping from the cool winters. Want to make the same? Start by working treble crochet and decrease the stitch count as you go downward, weave off, and work a single crochet border.
Add embellishment, and you'll be ready with a nappy. For a cap, work single and double crochets alternatively but in motifs. Once you're on the last row, weave and give a final touch with a border.
11. Spectral Scarf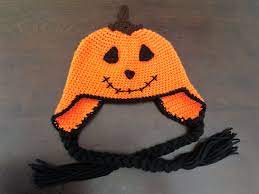 Are you looking for a comfortable hat for your lovely pets? Then this jackolantern costume is all that you need. It has tassels that help you tighten as per your pet's comfort. This Halloween scarf is a complete result of a single crochet worked in motifs and then providing a single crochet border. For tassels, opt for a readymade one and sew.
12. Halloween Headgear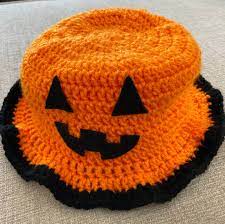 Granny's hat to get a cowboy-like look, made with a twist of yarn fibers. Now crafting this jackolantern costume is interesting as well as tedious. Make a magical ring to provide a tight center to your motifs, then make a foundation chain.
Now, start making treble stitches into chains and complete the first motif. Now, as you crochet, switch colors for facial features and increase the stitch count toward the end.
13. Halloween Cap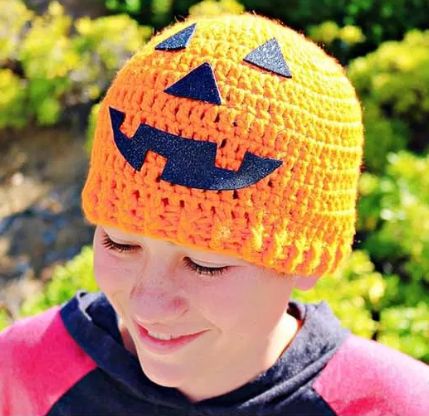 Want to protect your little ones from negative energies while showing crocheting skills and adding a personal touch to their costumes? Crochet this jackolantern costume that is a perfect cap, protecting your kid from all kinds of evil influences.
Simply crochet double and treble crochets in alternative motifs. Alter colors and provide facial features without trimming the old yarn; continue with the old yarn to the top till you're left with three rows. Finally, sew the above part.
14. Baby Bib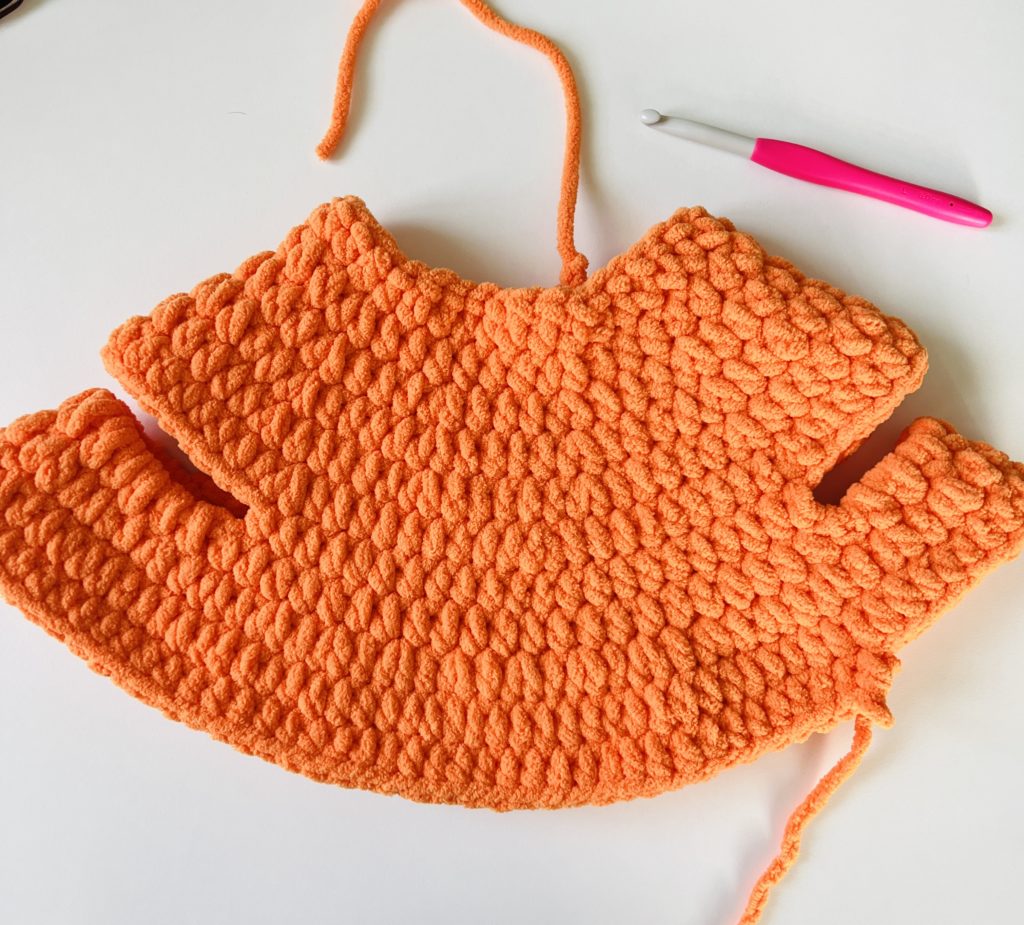 Crochet this unique baby bib to gift your close little ones. These jackolantern costumes will surely be loved by them, making them cheerful. It isn't hard to make it. You must crochet two motifs with double crochet stitches and then sew them together from all three sides. Now, sew all the edges and provide tassels for tightening at the back of the neck.
15. Smiling Scarf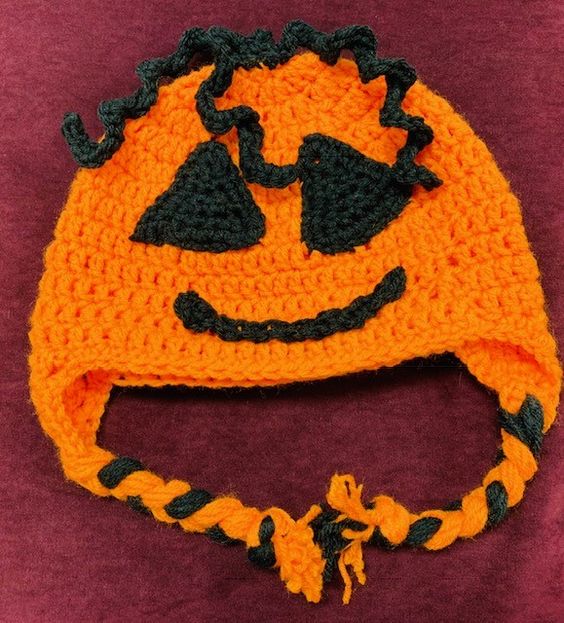 Tedious but unique, this jackolantern costume will help you cover up your child's head on cold winter days. We know this sounds tedious, but don't worry; the stitches used are the common ones: double and treble crochet. All you need to take care of is using high-quality and thicker yarn. Further, while crocheting, ensure your stitches are tight. Both of these will contribute to the strength of your project while ensuring it lasts long.
Conclusion
All the above-listed jackolantern costumes reflect items used in your or your loved ones' day-to-day lives. Making them is easy if you have a firm grasp on stitches and understand the pattern mentioned above. If you're confused, try to craft the particular costume in mind. That's surely going to be helpful.
Now that you're towards the end of the article, we believe you must have gone through each Halloween costume. Your mind must have interesting ideas or be fueled up with queries. Whatever the case, feel free to share with us in the comments.
We'll address all and ensure you don't have to hustle much in crocheting jackolantern costumes. Further, let us know How creative the costumes were. Did you understand the pattern? Which was the first one you created?
Frequently Asked Questions
What is the Best Yarn for Jackolantern Costumes?
You can choose any fiber yarn, but ensure they are high quality, durable, and easily washable. This will make neat costumes while retaining them longer without losing the charm. If you're confused, choosing acrylic or cotton yarn will never disappoint you.
What Crochet Hook Size to Choose?
The Crochet hook is responsible for the texture of your jackolantern costumes; therefore, choosing the appropriate size matters. For the same, refer to the label on your yarn; it entails the most suitable size for your chosen yarn. Apart from that, a 0.5 mm hook works wonders with worsted-weight yarn.