When it comes to winter accessories, nothing can beat the elegance and style of a crochet scarf. A crochet scarf not only helps beat the chills but also adds an extra oomph to your outfit presentation.
Be it a formal event, a regular day at your workplace, or even a hangout with your friends or family – a scarf (more specifically, a crochet scarf) can work wonders in elevating your look.
And, for crochet beginners, to crochet a scarf is to take your first step towards mastering the art. So, if you are wondering if you can crochet a scarf, take the fact that you came across this article as a sign that you should start at it! In this article, we will discuss 15 types of crochet scarves that are easy to DIY and also chic and comfortable!
Crochet Scarf for Beginners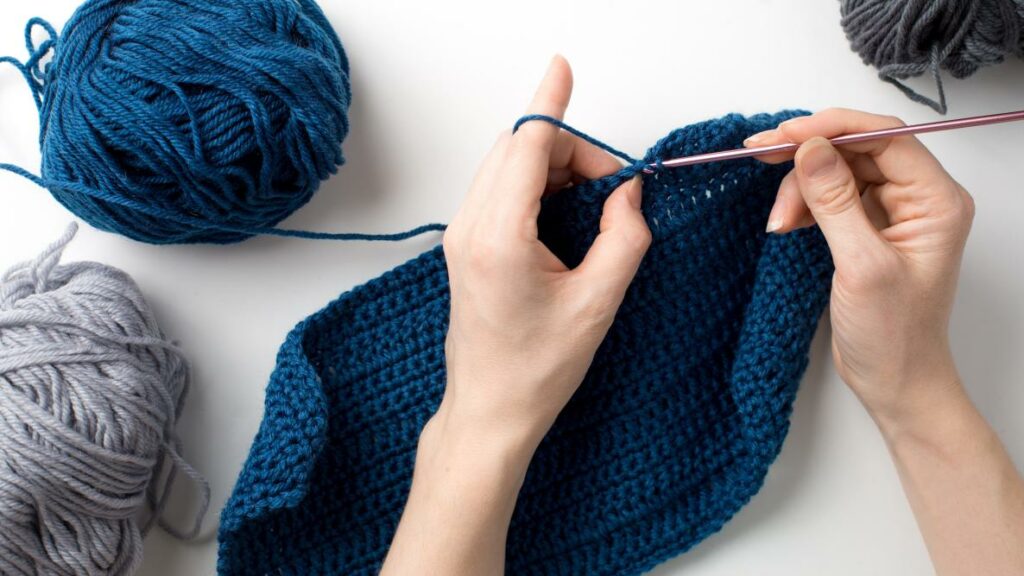 Before we begin our listicle of 15 quick and easy crochet scarves, here's a quick fact check. Crocheting is therapeutic art that helps calm down your nerves. For beginners, making a crochet scarf is the basic level on which they can test their expertise in the same. And the specialty of crochet scarves is that they are both functional and decorative – a unique attribute that is not found in any other garment piece.
Moreover, the significance of a handmade crochet scarf extends beyond creating a statement piece – it is the perfect gift you can make for your loved ones, including your mother, sister, or friends. The consideration of making a DIY crochet scarf in itself serves as a reminder of your love, warmth, hospitality, and concern for them.
Requirements for DIY Crochet Scarf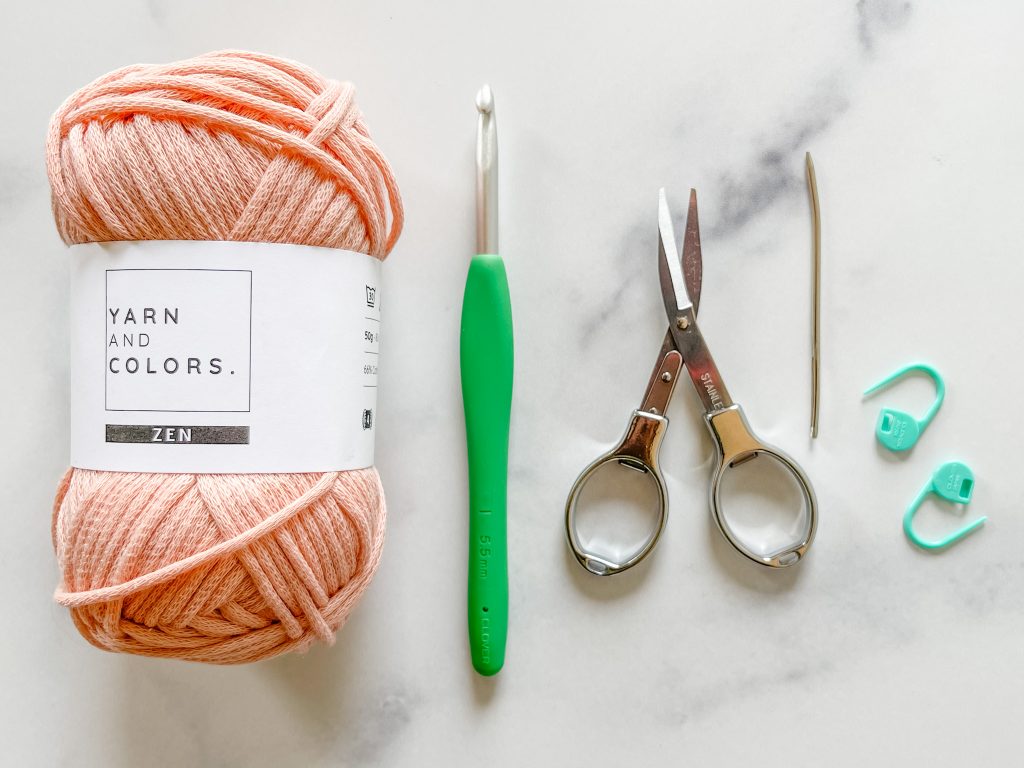 Crocheting can be an instant mood lifter, and here's what you need to get ready before you decide to make your own crochet scarf from the designs given below.
Now that you have your crochet supplies ready, without any further ado, let us move on to easy crochet scarf patterns that are ornamental and comfortable!
Top Quick and Easy Crochet Scarves
Listed below are easy crochet scarf patterns that we are sure will delight you and the ones you gift it to!
1. Modern Granny Square Crochet Scarf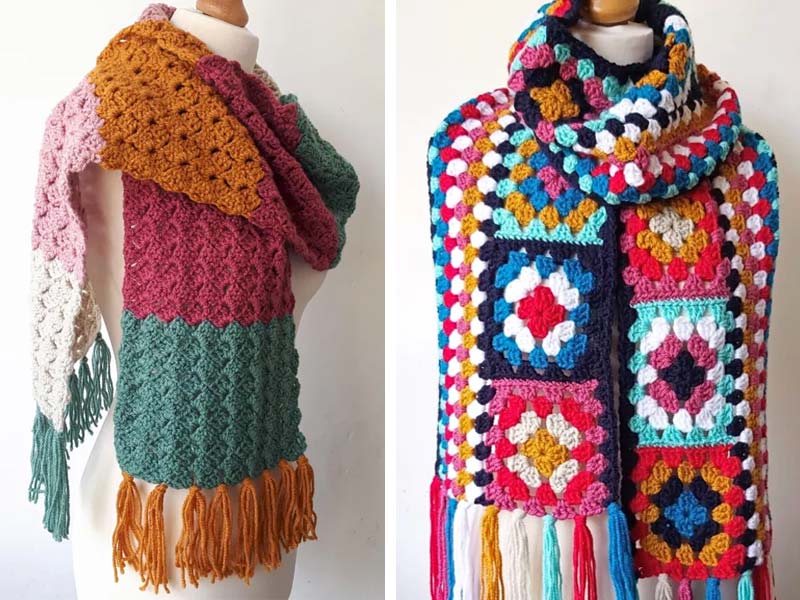 Love your granny squares and granny blankets? If yes, then this modern granny square crochet scarf is the ideal one for you! Make granny stitches using double crochet. It is easy and simple and is a modern take on the classic granny squares. Thus, it preserves a rustic charm in its make without compromising on style.
This scarf is prepared by making granny squares throughout the length, and using acrylic or worsted yarn is the best choice. The best part about making this crochet scarf is that you can use leftover yarn skein for a colorful palette!
<iframe width="1280″ height="720″ src="https://www.youtube.com/embed/hABPH90yFgs" title="Cute Granny Square Scarf Crochet Tutorial" frameborder="0″ allow="accelerometer; autoplay; clipboard-write; encrypted-media; gyroscope; picture-in-picture; web-share" allowfullscreen></iframe>
2. Bobble Stitch Crochet Scarf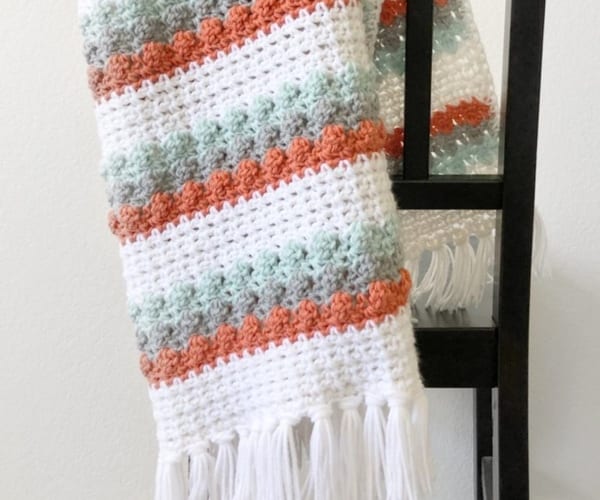 Bobble stitches are laborious but worth every minute of work. Looking chunky and cozy, they are the perfect oversized crochet scarves. You can alternate single crochet with bobble stitches for the perfect party wear or date accessory.
Bobble stitch crochet scarves work best in solid colors, but multicolored scarves look just as awesome! Just make sure that you are putting the bobble stitches on the same side of the crochet scarf, and you should be good to go.
3. Easy Triangle Crochet Scarf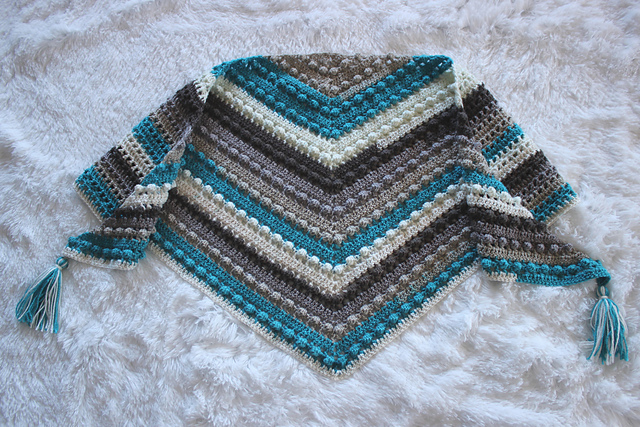 This is one of the most versatile crochet scarf patterns. Relatively simpler than other DIY techniques, the triangle crochet scarf is perfect for beginners. You only need some basic stitches with a designated pattern for increasing and decreasing flow.
Requiring only one skein and a design that is easy to make once you can figure out the flow of the pattern – it is an inexpensive and charming crochet scarf design. Plus, the triangle scarf is unisex – so you can also gift it to the important men in your life as well! The pointed tip should be placed in the front when wearing it, like a bandana.
<iframe width="1280″ height="720″ src="https://www.youtube.com/embed/kgUqkzVcol8″ title="Super Easy Triangle Scarf" frameborder="0″ allow="accelerometer; autoplay; clipboard-write; encrypted-media; gyroscope; picture-in-picture; web-share" allowfullscreen></iframe>
4. Lacy Crochet Scarf
No woman's wardrobe is complete without a lace outfit. But why stop at outfits when you can incorporate the subtle charm of laces in a crochet scarf? Despite the precise and meticulous look of the pattern, even a beginner can make one with ease. Yes, it's not as complicated as it looks.
A combination of single, double, and treble stitches make up a bold lacy crochet scarf. So, if you want to hone your skills, stitch out a lacy scarf in a chevron pattern. Perfect for springs and summers, adding frills to a lacy crochet scarf takes the look a notch higher.
<iframe width="1280″ height="720″ src="https://www.youtube.com/embed/Waa-isE8VSU" title="How to Crochet Very Easy Lacy Scarf, Lacy Rows Stitch, Crochet Video Tutorial" frameborder="0″ allow="accelerometer; autoplay; clipboard-write; encrypted-media; gyroscope; picture-in-picture; web-share" allowfullscreen></iframe>
5. Shell Crochet Scarf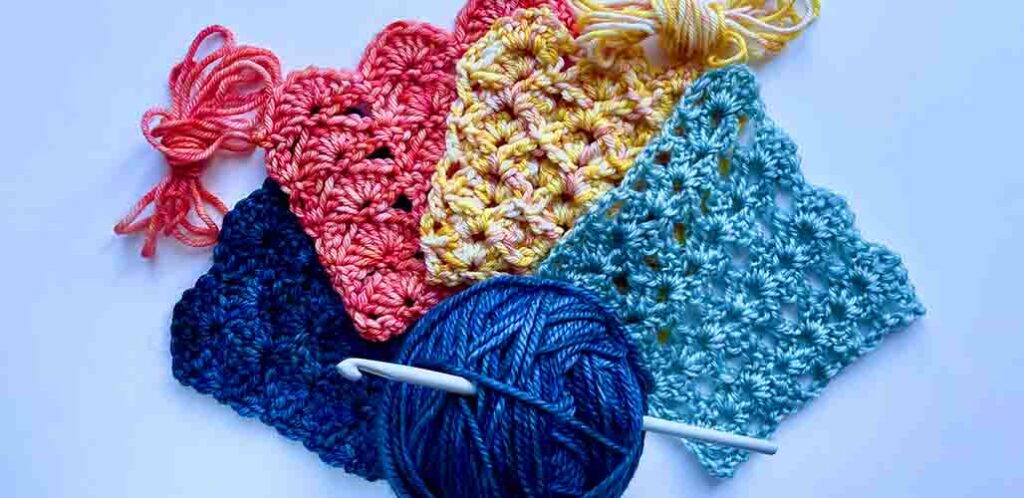 Are you someone who enjoys doing the shell stitches? Then, this might be the perfect one for you! One of the most modern crochet scarf patterns, the shell crochet scarf reminds you of macrame. These scarves are very versatile both in terms of wearability and the making process. That is, you can wear it as an infinity scarf or display it over your body.
In terms of the making process, you don't have to keep track of counting rows. You have to just concentrate on making chain stitches by putting the needle hook through the next chain. Don't forget to make one for yourself before heading out to the beaches for your next vacation!
<iframe width="1280″ height="720″ src="https://www.youtube.com/embed/vgy3OlO49bg" title="Shell Stitch Scarf Crochet Pattern | Easy Crochet Scarf Tutorial" frameborder="0″ allow="accelerometer; autoplay; clipboard-write; encrypted-media; gyroscope; picture-in-picture; web-share" allowfullscreen></iframe>
6. Mosaic Crochet Scarf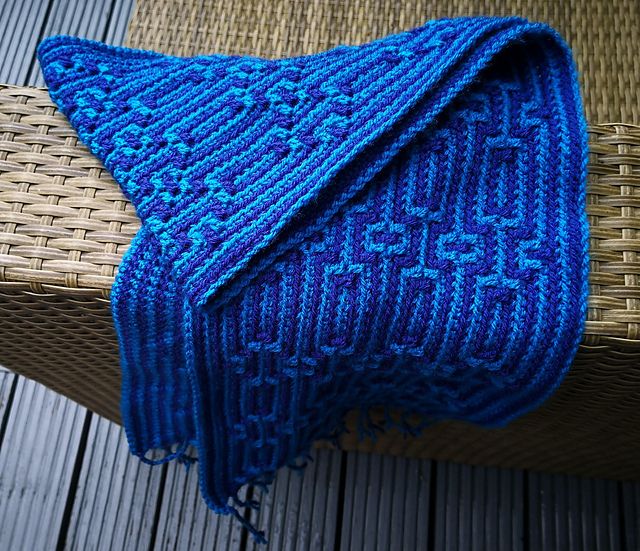 Just like the name suggests, the mosaic crochet scarf is a colorful and enigmatic pattern. Different geometric patterns in the same or different colors – this scarf pattern gives the perfect illusion of a heavy and conscientious crochet scarf. Knowledge of how to make single and double stitches is sufficient to make a DIY mosaic crochet scarf.
It preserves a traditional appearance and gives a boho look to the user. You can also use bobbles for the patterns for an even more alluring appeal. Use cotton yarns to elevate the prominence of a mosaic crochet scarf. For expert crocheters, it won't take more than 2 to 3 hours.
7. Color Block Crochet Scarf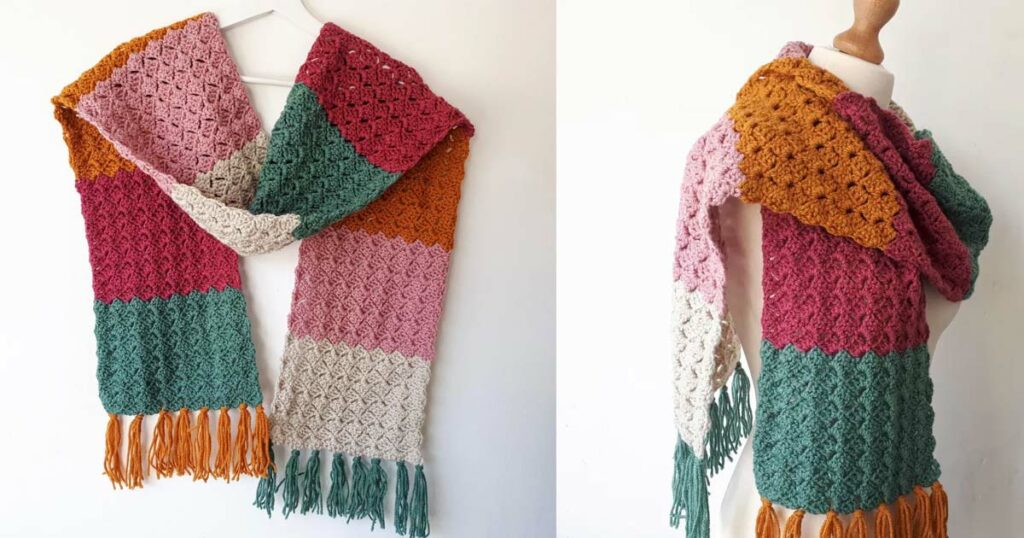 All crocheters have been through the trauma of having to throw up their unused skeins in the litter. But not anymore. One of the modern crochet scarf patterns, the color block crochet scarf comes not just as a life-saver but also imparts a trendy look. Utilize your discarded skeins to give it a multi-colored look, exactly what the name suggests.
Bright, solid colors and stripes make up this multifaceted crochet scarf. The pattern is repetitive, hence, not too time-consuming even for amateurs. It is also the perfect gift idea for baby showers, birthday parties, family reunions, sports fans, or themed events!
8. Willow Crochet Scarf
Crocheting your first ever DIY scarf? Then you should give THIS crochet pattern a try! Made from bulky yarns using coarse double stitches – this is what you could call the beginner level in crochet scarf patterns. Yet, it does not look or feel as simple as it sounds. The willow scarf is very comfortable, keeping the wearer snug and warm.
Add pockets to it that can double up as hand warmers. It presents a unique ribbed effect, which is why wearing it across your bosom is the perfect trick to flaunt it instead of the infinity style. Soft pastel colors add to the simplicity of this minimalistic crochet scarf.
<iframe width="1280″ height="720″ src="https://www.youtube.com/embed/bSZeeXYmve4″ title="How to Crochet Willow Square Easy Tutorial" frameborder="0″ allow="accelerometer; autoplay; clipboard-write; encrypted-media; gyroscope; picture-in-picture; web-share" allowfullscreen></iframe>
9. Diagonal Ripple Crochet Scarf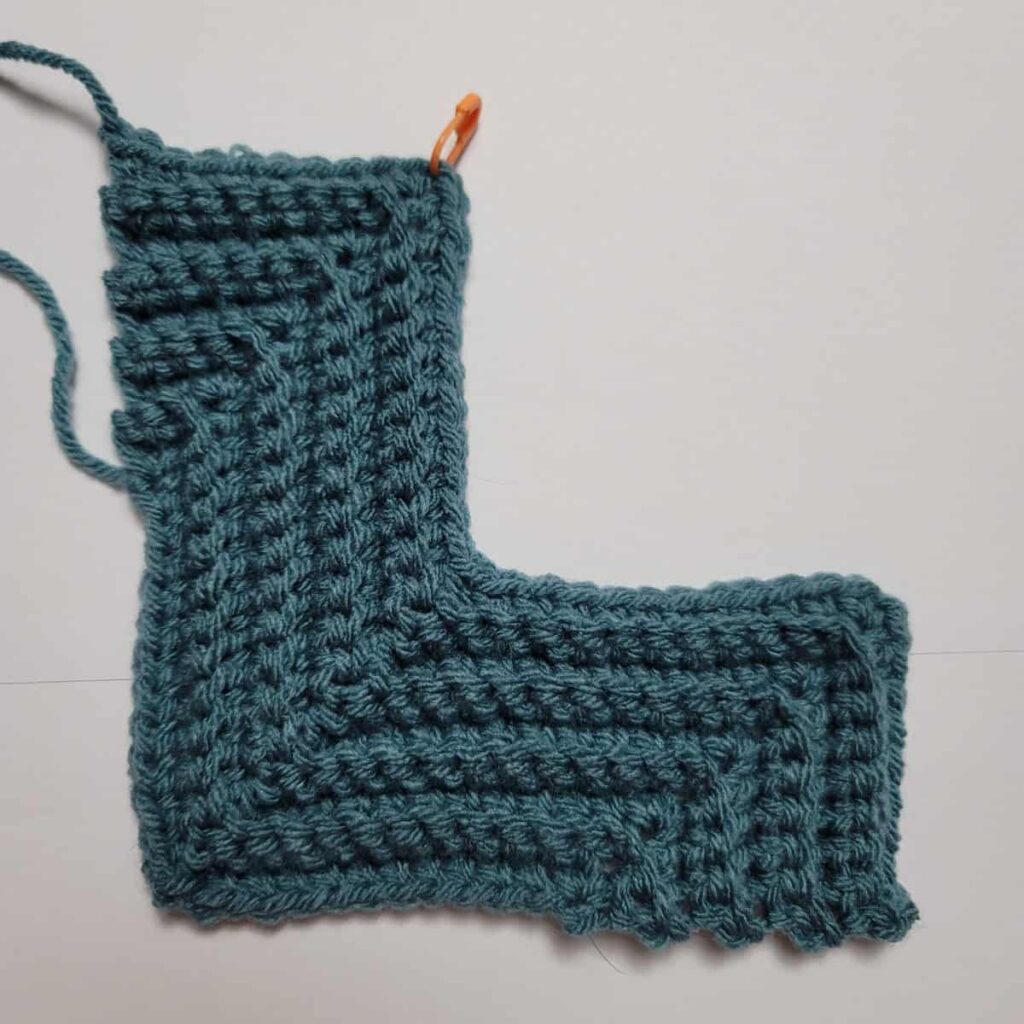 Running short of time to prepare handmade crochet scarves you so badly want to gift to your family for Christmas or Thanksgiving? We've got you covered. Try this DIY diagonal ripple crochet scarf that uses the corner-to-corner technique. It is a foolproof basic stitch crochet scarf pattern idea that looks elaborate when adorned gracefully but is easy and takes much less time than other basic patterns.
Worsted yarns are the best for this purpose, and one skein alone should serve your purpose. Beginner-friendly and lightweight, the diagonal ripple pattern is famous and for the right reasons.
10. Braided Infinity Crochet Scarf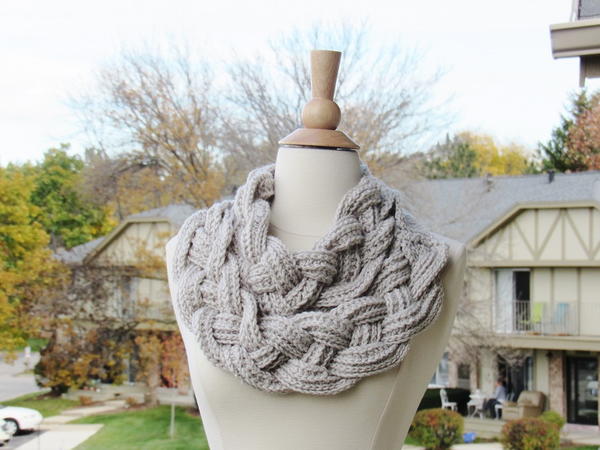 On the lookout for an infinity scarf pattern that is distinct and will surely grab the attention of the onlookers? Well, then, you're finally at the right pointer. A braided infinity crochet scarf is just the one that you need. This pattern never gets old. After all, who wouldn't love the dash of quirky on an academic pattern?
And the best part is that you can use any stitch as long as one layer is long enough to be braided. So, instead of trying out new stitches that you may not be comfortable with, you can use a stitch that you are adept at and fold the long strip to give the illusion of an overlapping chained stitch.
<iframe width="1280″ height="720″ src="https://www.youtube.com/embed/g-w2QcUtmnE" title="Crochet Braided Infinity Scarf – Free Crochet Pattern + How To Braid A Single Strand" frameborder="0″ allow="accelerometer; autoplay; clipboard-write; encrypted-media; gyroscope; picture-in-picture; web-share" allowfullscreen></iframe>
11. Paw Print Crochet Scarf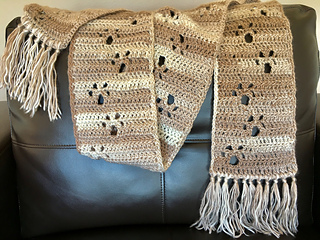 An easy-to-follow crochet scarf for beginners, you have to try this out if you are a pet lover. The small paw print stitches make for a fun and interesting crochet scarf idea. The paw print crochet scarf is a patterned combination of double stitches and chain stitches. Throw in a paw print beanie, and you're all set for the winter hangouts with your friends.
This is the best gift idea for pet lovers and paw parents; we bet nothing could be more meaningful than this crochet scarf. Use vibrant colored yarns to highlight those precious paw prints.
12. Bonfire Crochet Scarf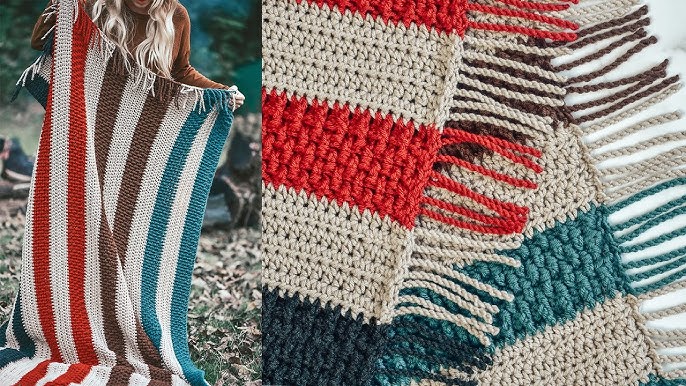 Full of layers of different textures colors, and accents, the bonfire crochet scarf is a marvel in itself. Exactly like a bonfire, this crochet scarf keeps you warm and makes you look vibrant. You could use it at a friend's sleepover or your honeymoon; this pattern screams cheerfulness under a subtle mask of sophistication. And you can never go wrong with it. It almost looks as if it is knit, even though it is a simple combination of single and chained stitches alternating with each other.
13. Buttoned Crochet Scarf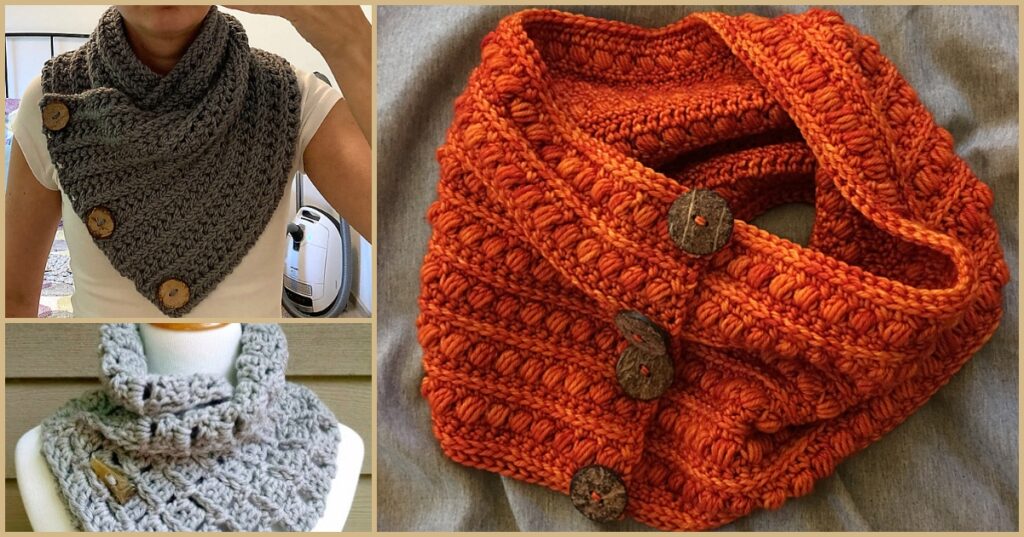 Button embellishments have been age-old fashion statements. And that hasn't changed, even with crochet scarves. Buttoned crochet scarves make for the best accessory that looks pretty without being too over the top. They are easy to DIY, even for crochet beginners. Keep the buttons at the sides and preferably use the triangle shape to let the buttons take center stage. Big buttons in complementary or contrasting colors work great for office wear. Using good quality buttons is mandatory because you don't want a scarf to malfunction in the middle of the day, or do you?
14. Boyfriend Crochet Scarf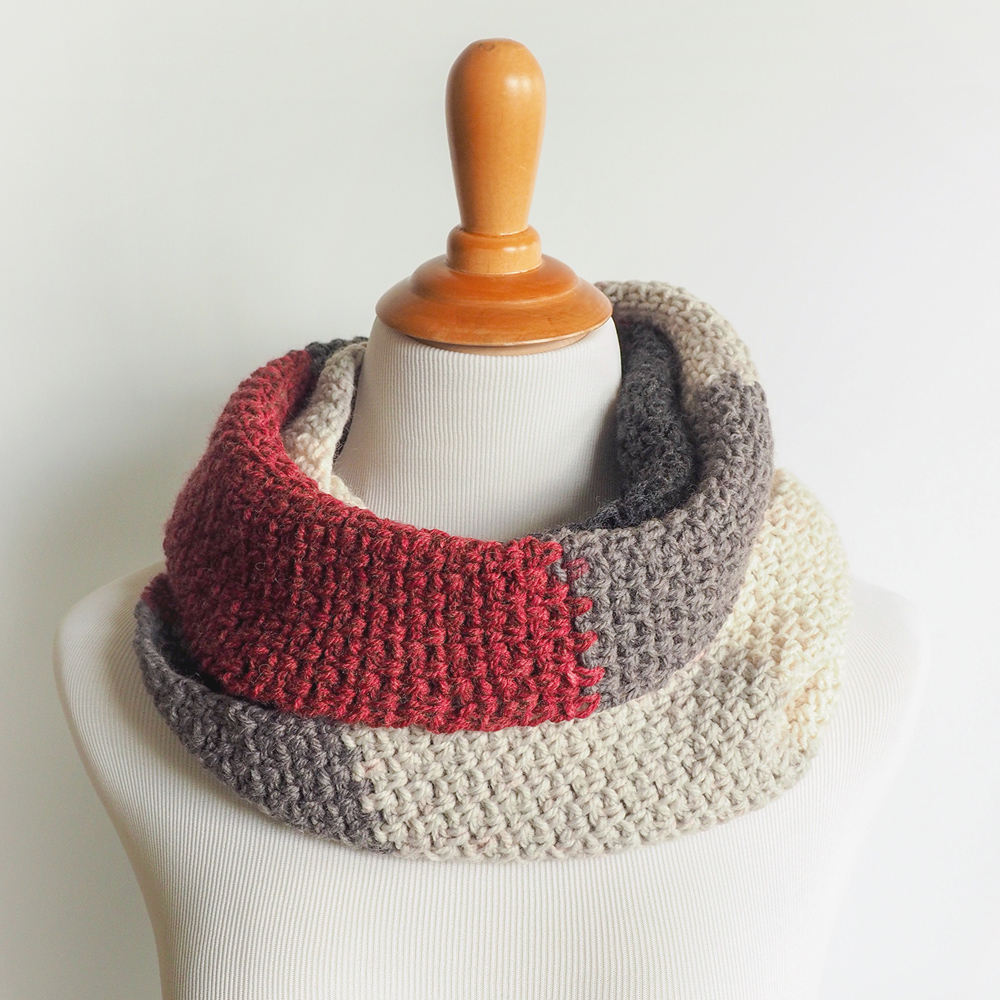 Designed exclusively for men, the boyfriend crochet scarf speaks of refinement. The ribbed patterns enhance the polished texture of this scarf. Moss stitch and paired double stitch work best for this scarf pattern. However, you can give several other stitches a try, including the Pinecone stitch, Alpine stitch, or the Waffle stitch. The craftsmanship of the stitches dictates the appearance of the boyfriend crochet scarf. Made of coarse worsted yarn, this scarf pattern exudes ruggedness and warmth – perfect for keeping your man sheltered during the winters.
15. Cari Keyhole Crochet Scarf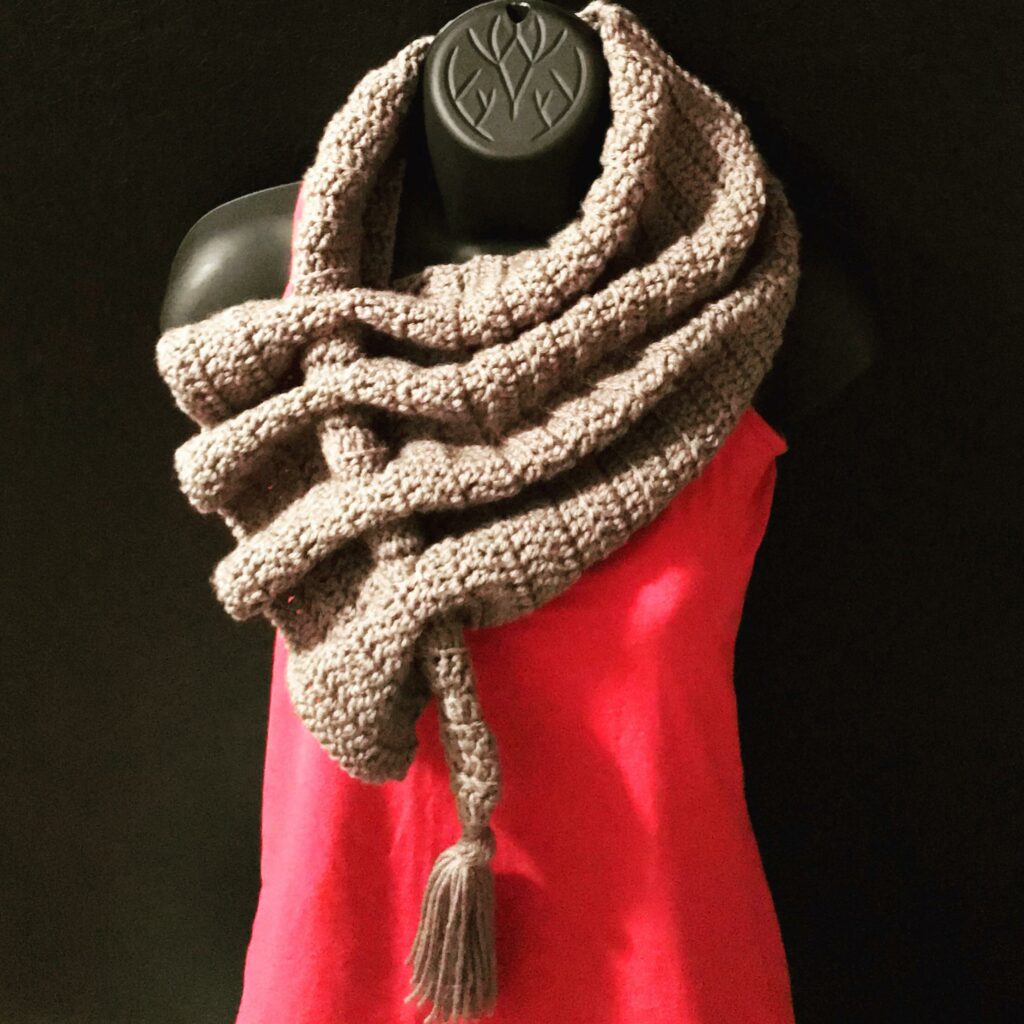 One of the most distinguished modern crochet scarf patterns, the Cari Keyhole crochet scarf is sure to turn heads. It is guaranteed to be the showstopper of your outfit. A design so complicated yet made with basic and repetitive stitches – you can only understand the depth of this crochet scarf when you DIY one yourself. Given the easy process, you can enjoy your favorite series while doing it! Perfect for oneself and also for gift purposes, the Cari Keyhole crochet scarf sets a standard for itself.
<iframe width="1280″ height="725″ src="https://www.youtube.com/embed/Oy5NVTgbC0o" title="The Keyhole Scarf! – Easy, Quick, &amp; Customizable! – a Crochet Tutorial!" frameborder="0″ allow="accelerometer; autoplay; clipboard-write; encrypted-media; gyroscope; picture-in-picture; web-share" allowfullscreen></iframe>
Takeaway
A DIY crochet scarf is the perfect handmade gift for your loved ones. A fashion statement – crochet scarves are elegant and practical, keeping you protected from the cold.
They are lightweight, thus adding to the list of advantages of crochet scarves. This makes it easier to carry them. Whether a beginner or an expert, crocheting a scarf is fun, and the presence of a variety of options makes it even more happening.
So, which crochet pattern do you want to try out? Which one would you like to make for yourself, and if gifting a loved one, which pattern would you make for them? We'd wait for these answers from you, so don't forget to type them out in the comments section below.
Frequently Asked Questions
How Fast Can You Crochet a Scarf?
It depends upon the length of the scarf, the material of the yarn, and the expertise level of the crocheter. Since scarves are usually made up of bulky yarn with coarse stitches, for an expert, it would take about 2-3 hours to make a DIY crochet scarf. For a beginner, it could be counted as a weekend project.
Which Crochet Stitch is Best for a Scarf?
Knowing basic stitches like single, double, and treble stitches is a prerequisite for hand-making a crochet scarf. You can use a combination of the basic scars to create crochet stitches like granny stitches, moss stitches, linen stitches, etc. It depends upon the skill level of the crocheter, and there is no absolute "best stitch" for a crochet scarf.
How Long Should a Crochet Scarf Be?
According to the rule of thumb, a crochet scarf should ideally be the same length as that of the wearer. This provides flexibility for the wearer to wear it any way they like, either as a free fall or infinity pattern. On average, though, it should be around 60"-70" in length and long enough for the wearer to wrap it at least once around their neck.
What is the Easiest and Fastest Crochet Stitch?
The double stitch is the easiest and fastest crochet stitch. It is a basic stitch that all beginners start their crocheting journey with. However, intricate patterns of a double stitch pave the way for elaborate and gorgeous crochet scarves that are warm and soft and provide a greater degree of protection.