The Speckled Moss Stitch stands out among the several crochet techniques as a beautifully balanced combination of traditional grace and contemporary charm, providing a distinctive method for creating a treasured baby blanket.
The moss stitch, sometimes referred to as the linen stitch, serves as the pattern's foundation and creates a tapestry of texture and refinement while fostering a sense of nostalgia. With the addition of speckled yarn, this stitch is improved and becomes a vibrant, whimsical canvas that inspires wonder and excitement with each stitch.
It is unmatched how much fun it is to watch this blanket take shape row by row; it is a creative project that offers both meditative instances and inspiration-spurting times. Through this comprehensive guide, you will come to know – how to make a Crochet Speckled Moss Stitch Baby Blanket as well as get insight into the passion that goes into each stitch, making it a work of devotion and spirit.
Keep reading to explore how you can make a moss stitch baby blanket with ease!
What is Speckled Moss Stitch?
The traditional moss stitch is combined with a contemporary spin using speckled yarn in the crochet pattern known as the Speckled Moss Stitch. The moss stitch, sometimes referred to as the linen stitch, produces a densely woven fabric with texture, and the inclusion of speckled yarn provides fun bursts of color throughout the pattern.
Single crochet (sc) and chain stitches are alternated in a specific order to make the Speckled Moss Stitch. Work a single crochet into the chain space of the single crochet from the previous row in each row, and vice versa. As a result, a chaotic pattern that resembles scattered speckles is produced. The simplicity and adaptability of the Speckled Moss Stitch are what make it beautiful.
Materials Needed for Crocheting Speckled Moss Stitch Baby Blanket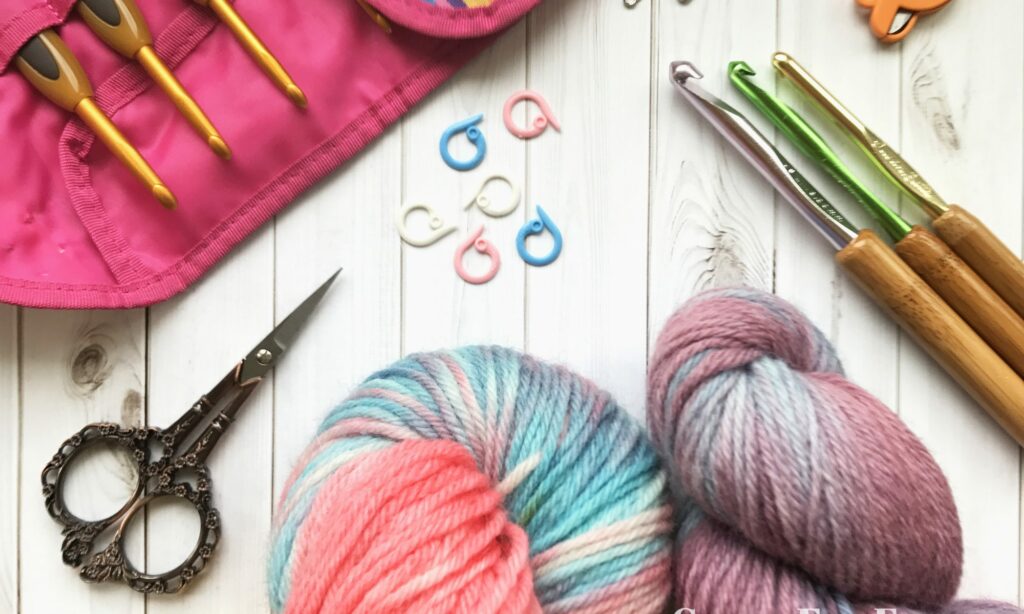 Check out the pieces of equipment you need to keep ready for making the moss stitch baby blanket.
Yarn: The comfort and attractiveness of the blanket depend greatly on the choice of yarn. Choose a baby-safe yarn that is gentle and soft, like baby acrylic or cotton blends.
Crochet Hooks: To accommodate the specified yarn weight, you'll need a set of crochet hooks in various sizes. Start with the appropriate hook size for the yarn and increase or decrease it as necessary to get the required tension and stitch size.
Tapestry Needle: A tapestry needle is required for tying up loose threads and adding finishing touches. It guarantees that the finished output will look tidy and professional.
Scissors: As you work on the blanket, you'll need a pair of sharp scissors to cut the yarn and tidy up any ends.
Measuring tape: To make sure your blanket is the right size, precise measurements are essential. You may track the scope and development of your project with the use of a flexible measuring tape.
Stitch Markers:If the design calls for a particular stitch count or repeating pattern, stitch markers are useful for keeping track of your stitches. They make crocheting easier by preventing misunderstandings and errors.
Directions on Crocheting Speckled Moss Stitch Baby Blanket
Are you intrigued about the speckled moss stitch baby blanket making? Following are the steps you need to follow to make one:
Step 1: Understanding Gauge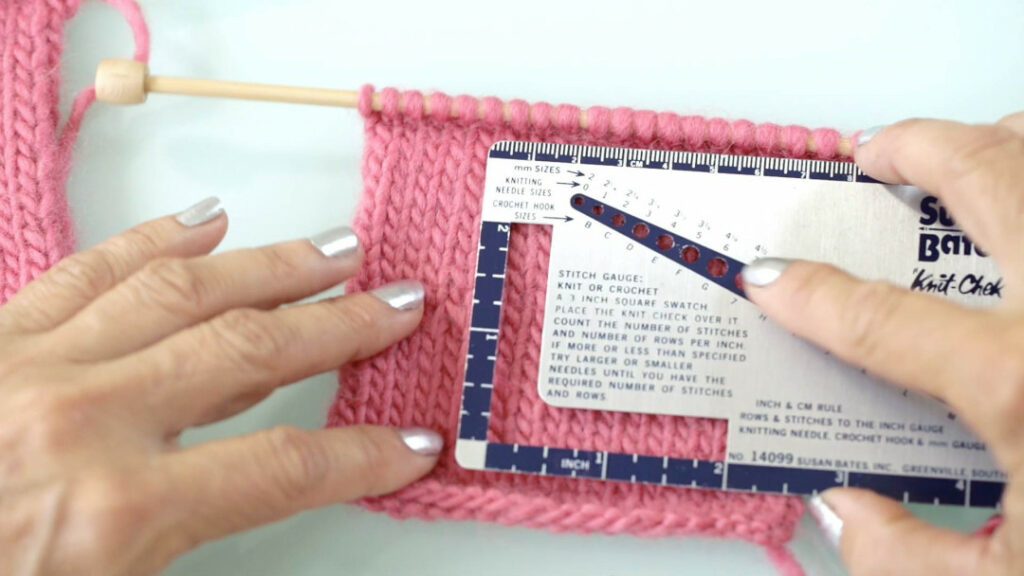 Make a gauge swatch out of the moss stitch design before beginning your project. Measure the stitches and rows per inch using a 4×4 inch square. To get the suggested gauge specified on the yarn label, you may need to change the size of your hook.
Step 2: Foundation Chain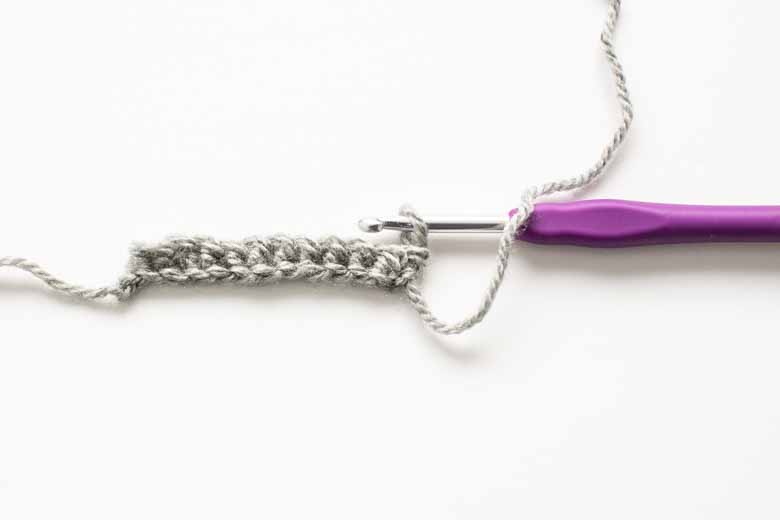 Make a foundation chain that is a multiple of 2 stitches, plus 1 extra stitch for turning, to begin your blanket. The width of the blanket will depend on how long your foundation chain is. Try with various chain lengths until you have the appropriate width.
Step 3: Initiating the Moss Stitch Pattern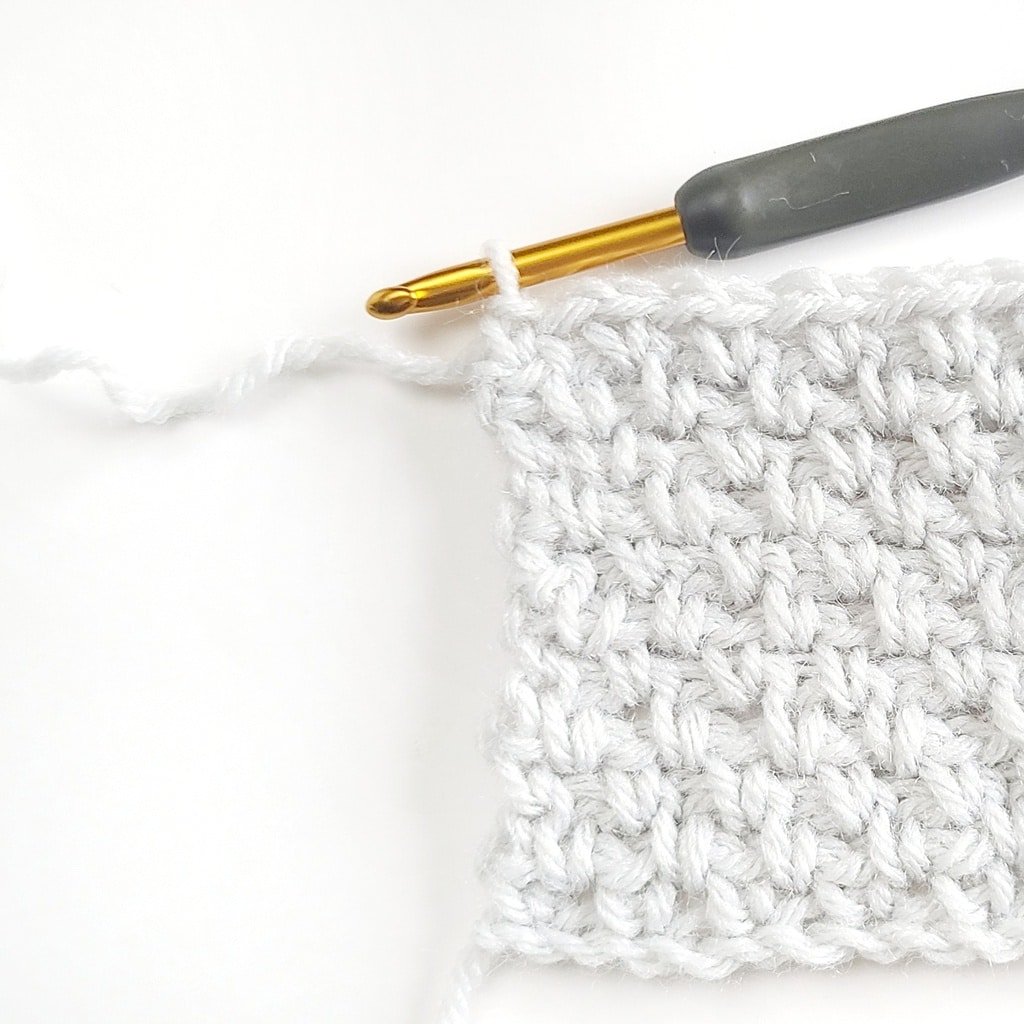 Single crochet (sc) into the chain two from your hook in row one. Repeat across the row, stopping with a sc in the final chain. Skip one chain, sc into the next chain, chain 1. Turn your work.
Step 4: Continuing the Moss Stitch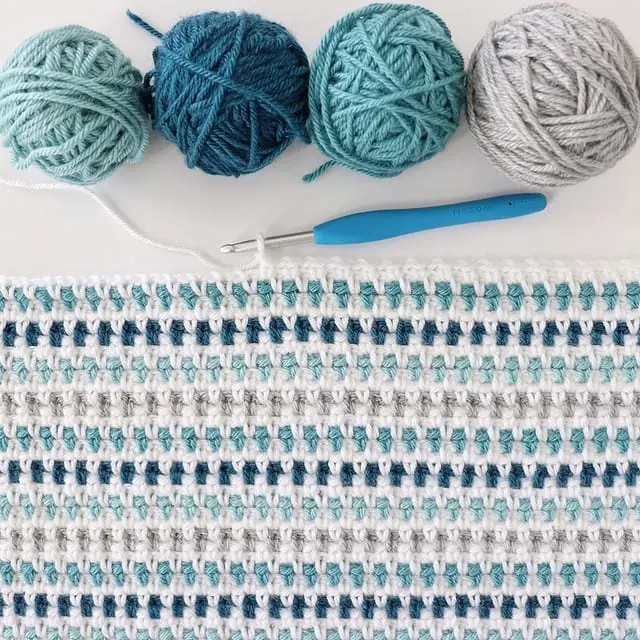 For Row 2, single crochet into the first chain space after chaining one. Repeat this sequence across the row, finishing it off with a single crochet in the turning chain. Chain 1, Skip the single crochet from the previous row, and then single crochet into the next chain gap. It's now time to turn in your work.
Step 5: Color Changes (Optional)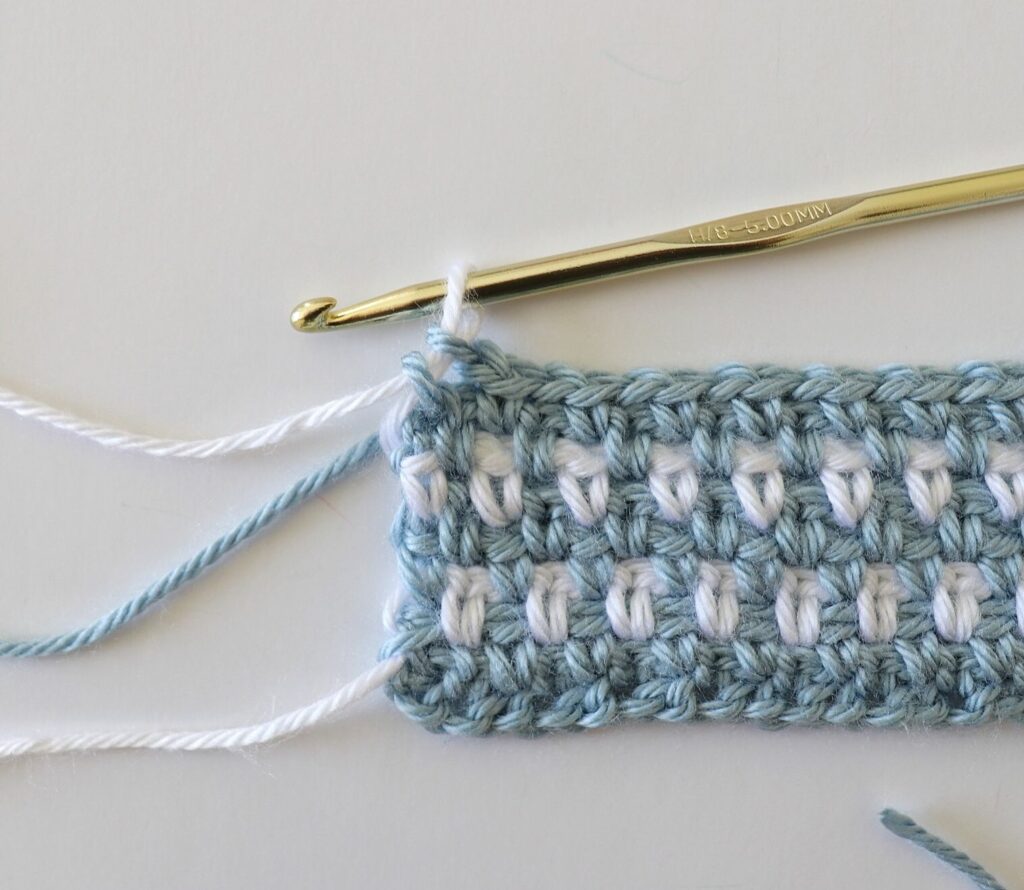 Begin a new row with a different color if you wish to incorporate numerous colors for a speckled effect. With the new color, finish the final yarn over the final single crochet. Later, for a tidy finish, weave in any loose ends.
Step 6: Using the Moss Stitch to Create Length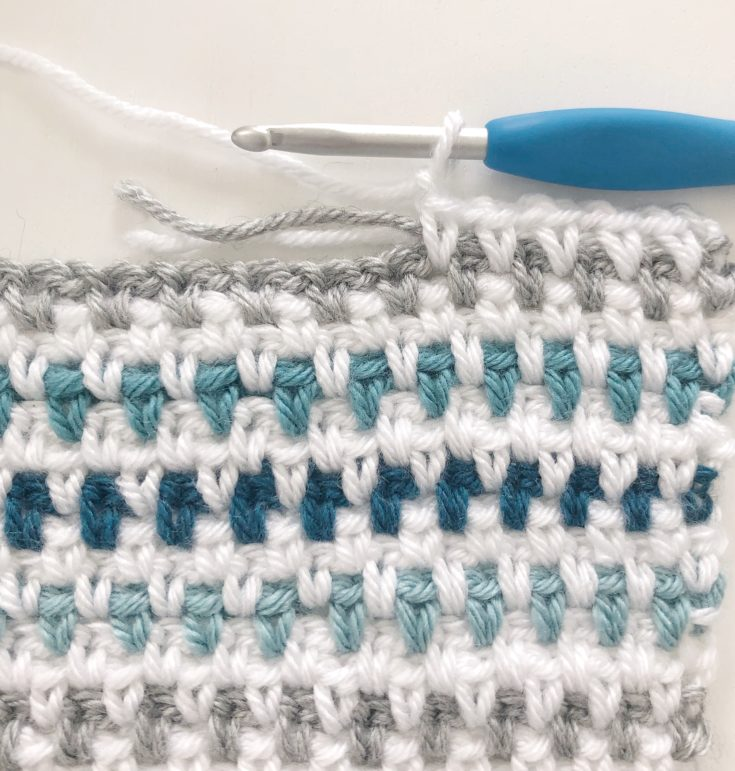 Rows in the moss stitch design should be completed, alternating colors as required. Continue to crochet until your blanket is the appropriate length, usually between 30 and 36 inches. This will help you to get the best appearance with the ideal setting in order to make the most of your overall creation.
Step 7: Adding a Border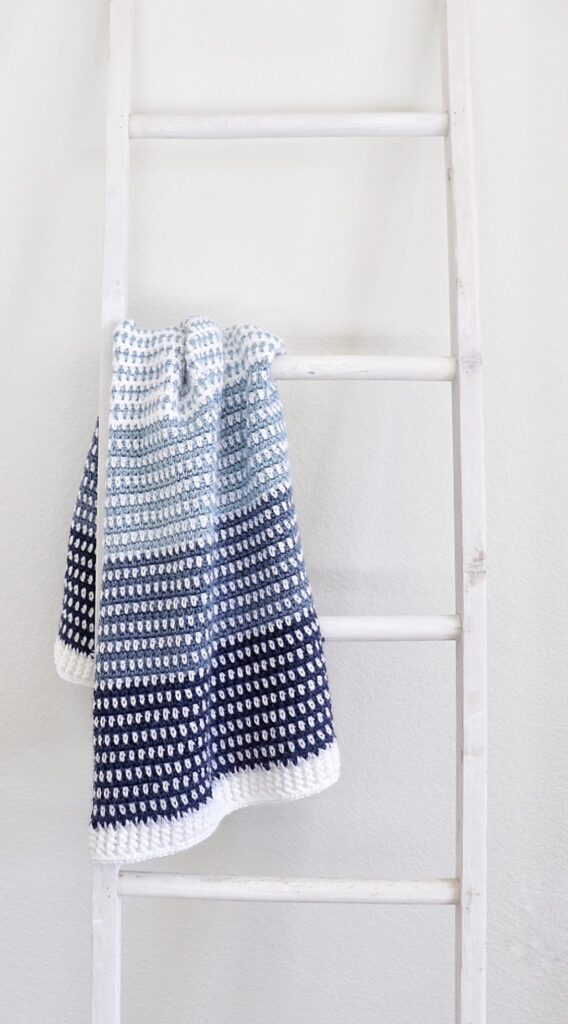 Include a border for a professional appearance. Use the same color or one that goes well with it. To prevent the corners from curling, add extra stitches when working a round of single crochet stitches around the entire blanket.
Step 8: Weaving in Ends
Finish the last row and border, then fasten the yarn off. Any loose ends should be carefully woven around the edges of your creation using a yarn needle. This process provides a tidy and expertly finished product.
Step 9: Washing and Blocking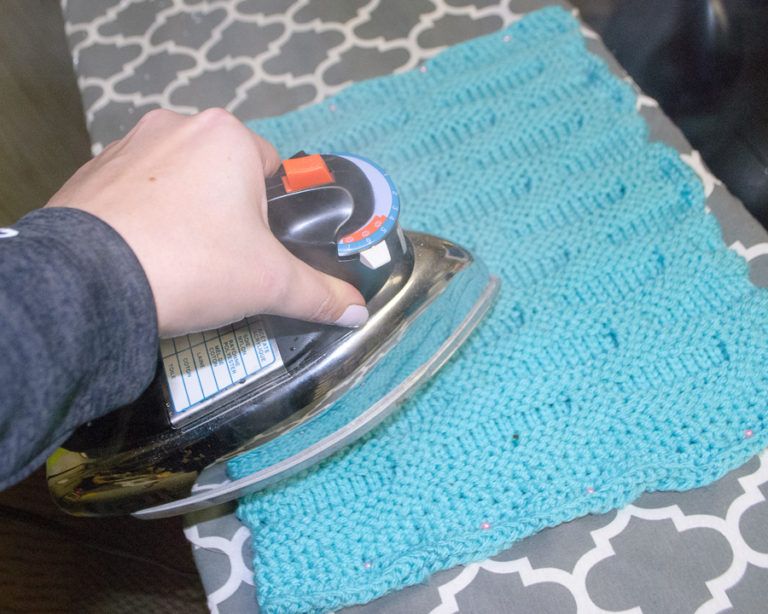 Washing and Blocking: Wash and block your blanket before using it or giving it as a gift. Follow the blanket's cleaning directions on the yarn label and gently hand wash it. It should be shaped to the correct size and dried flat. Blocking improves the appearance and guarantees even stitching.
Essential Tips for Crocheting Speckled Moss Stitch Baby Blanket
Choose a baby-safe yarn that is gentle and soft. Baby acrylic or cotton blends provide excellent selections because they are soft against the skin and simple to maintain.
Before you begin, arrange your colors in the desired pattern if you want to create a speckled effect.
To ensure that your stitches are uniform over the blanket, consistent tension is crucial.
Before beginning the blanket, practice a few rows if you haven't used the moss stitch previously. It's crucial to become used to the rhythm of moss stitch to start with the speckled type of stitch.
To prevent unraveling while changing colors, tightly weave in the ends. Ensure they are securely secured before weaving them in as you go or saving them for later.
In each row of the moss stitch, single crochet and chain stitches are alternated. Keep checking, for you might have mistakenly added or skipped any stitches.
In order to shape and level out your stitches, blocking is an essential step. When it is finished, lightly damp your blanket, shape it to the required size, and allow it to dry flat.
Other Creations Using Speckled Moss Stitch
Speckled Moss Stitch has the capacity to elevate and make entirely distinctive items. Following are some other useful items you can make using this technique:
1. Speckled Moss Stitch Shawl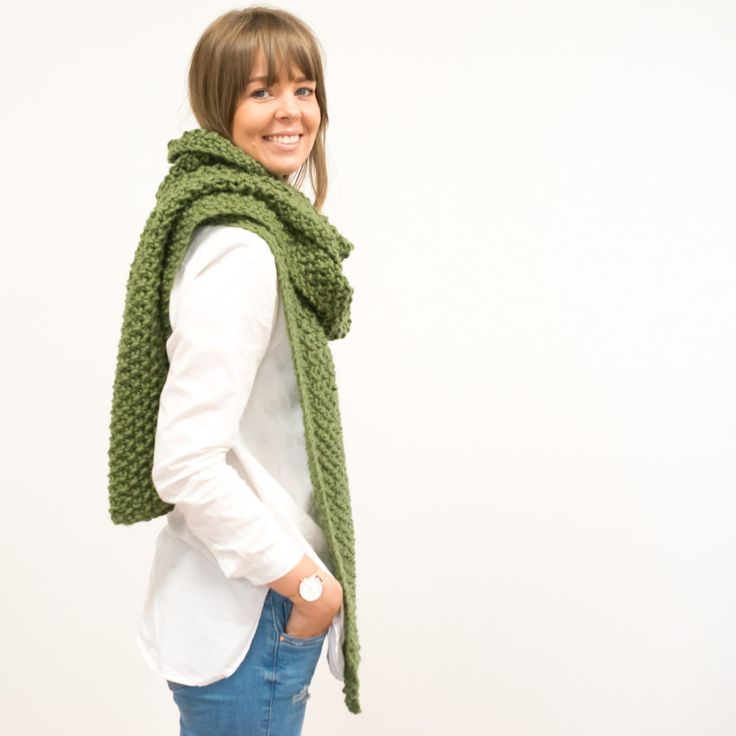 Start by creating a chain that is the desired width of the widest area of the shawl. To form a triangle, complete rows of the Speckled Moss Stitch, gradually increasing on one side. It's a gorgeous accessory because of the texture of the pattern and the scattered hues.
2. Speckled Moss Stitch Hat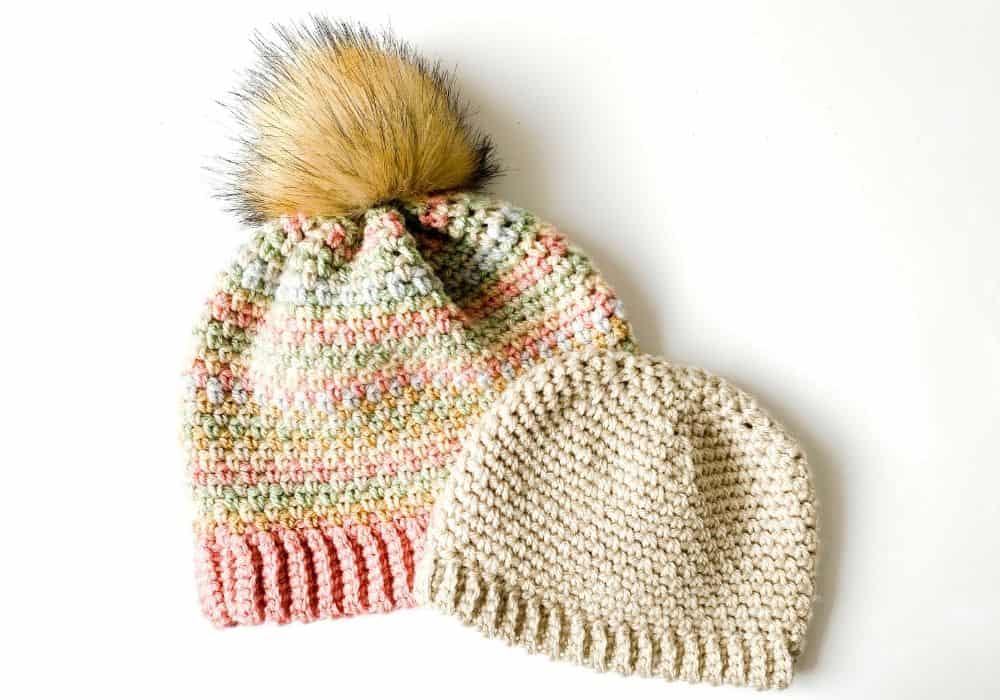 Start with a foundation chain that is the same size as the wearer's head to make the speckled moss stitch hat. Make a hat by using the Speckled Moss Stitch technique and working in rounds. Add color variations and a ribbed band as a nice finishing touch.
3. Speckled Moss Stitch Cardigan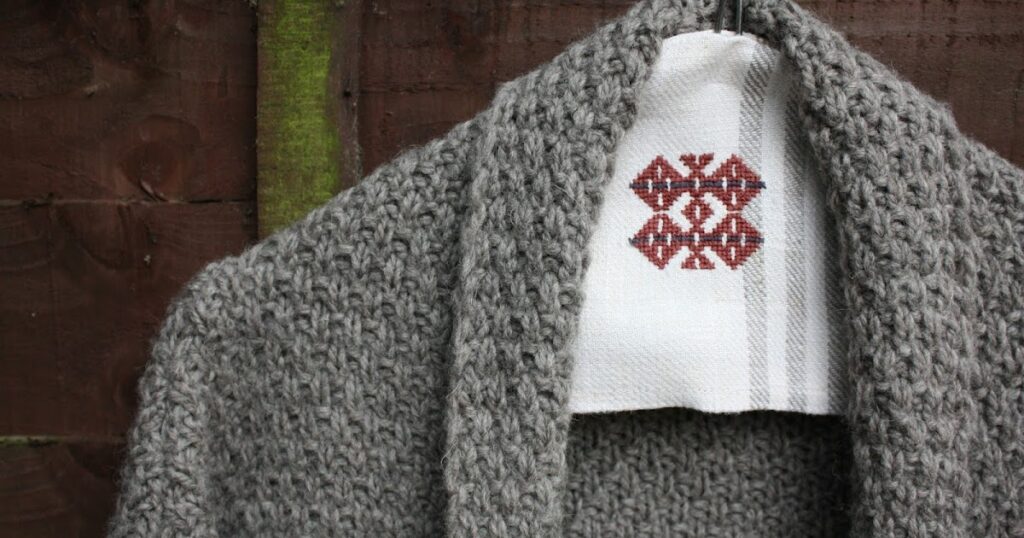 Make a cardigan by cutting out rectangular panels for the front and back, then attaching sleeves. The adaptability of the Speckled Moss Stitch is evident in clothing. After piecing the pieces together, add ribbed cuffs and a hem.
4. Speckled Moss Stitch Scarf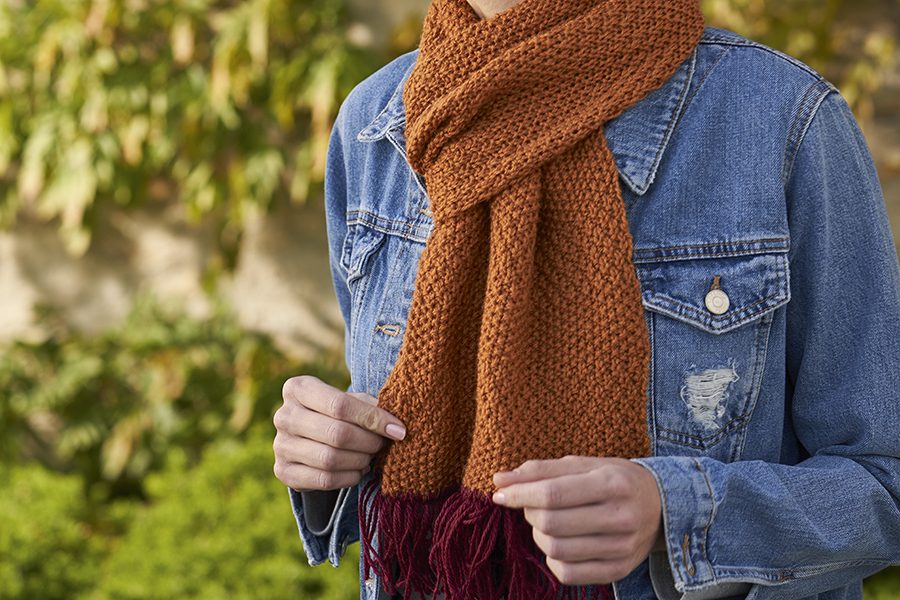 Create a warm scarf using the Speckled Moss Stitch to highlight its distinctive texture. Crochet the scarf to the appropriate length using a width that suits your preferences. To create a speckled look, adjust the colors. Finished with a clean border.
Conclusion
The Speckled Moss Stitch is highly regarded in the crochet world due to its distinctive fusion of traditional elegance and contemporary flair. A variety of advantages and traits are combined in this stitch pattern, which adds to its significance and crafters' love for it.
The reversible design of the Speckled Moss Stitch represents life's cycles and how generations are linked.
Crocheting gives you an opportunity to take your time, calm down, and focus on something meaningful in a world that frequently moves too rapidly. The warmth of your Speckled Moss Stitch Baby Blanket is carried by its fibers as much as by your devotion.
This guide has shown in detail how you can make a Crochet Speckled Moss Stitch Baby Blanket.
May the warmth and solace brought about by your stitches serve to create a priceless memory!
Frequently Asked Questions
Can I Use Multiple Colors in This Project?
Yes, you are free to utilize a variety of colors for your creation. The only thing to keep in mind is knowing the combination of colors that will look good. Start a row with a new color and complete the last yarn over the last sc with the new color to create a nice speckled appearance. Later, just weave the frayed ends in for a polished appearance.
Can Beginners Attempt This Speckled Moss Stitch Baby Blanket?
Certainly! It is intended for crocheters of all experience levels, including beginners, to use this guide. Although it appears complex, the moss stitch is simple to do, making it a good alternative for those just learning to crochet. Even novices may make a lovely Speckled Moss Stitch Baby Blanket with step-by-step instructions provided in the guide.
Are There Other Projects that Work Well with the Speckled Moss Stitch?
Definitely! The textured elegance of the Speckled Moss Stitch can enhance a number of artwork. It works great for making scarves, dressing up dishcloths, and even designing fashionable clothing like cardigans. Because of its versatility, you may incorporate the appeal of the spotted yarn into a variety of adaptable and fashionable designs.
What's the Best Way to Store and Care for the Finished Blanket?
Your blanket will last longer if it is properly cared for. It should be gently folded to avoid stretching while being stored in a cool, dry area. A mild hand wash, followed by laying it flat to dry, will preserve the yarn's quality. To preserve the brilliant colors and delicate texture, keep it away from direct sunlight and high humidity.