The world of crochet is not limited to a few stitches. Instead, it is a whole world that needs to be explored. Every stitch can generate a new, different stitch, leading to beautiful patterns.
The versatility crochet offers is unimaginable, and the best thing about crochet is that it has almost everything for experienced people and newbies.
Spider stitch crochet is one such stitch that both novice and experienced crocheters can use. It not only assists in creating attractive patterns but also adds depth to any project you are working on.
Spider stitch crochet is easy to follow and requires simple stitches and basic techniques. If you are a person who is unfamiliar with spider stitch crochet, then don't worry.
In this article, you will explore everything about the stitch and will love to use it in your beautiful projects.
What is a Spider Stitch Crochet?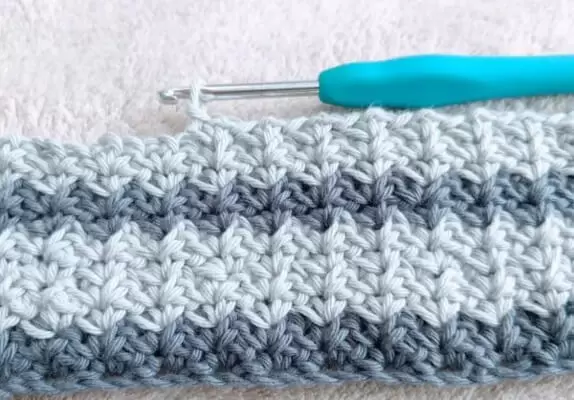 A Spider stitch crochet is a beautiful crochet that makes the project attractive and stunning. It includes single V stitches made along the entire length of the project for a dense texture. The main thing about spider stitch crochet is that it is completely made using a single crochet but in a unique way that gives it such a look.
So, even if you are a dabbler in the crochet world, you can still make this beautiful pattern easily.
The best part is that there is no end to the number of ways you can use the stitches to create fabulous things like blankets, scarves, mats, and much more beyond your imagination.
The final texture obtained looks pretty, and that's why many people use spider stitch crochet in the project despite it being a little difficult.
Material Required to Make a Spider Stitch Crochet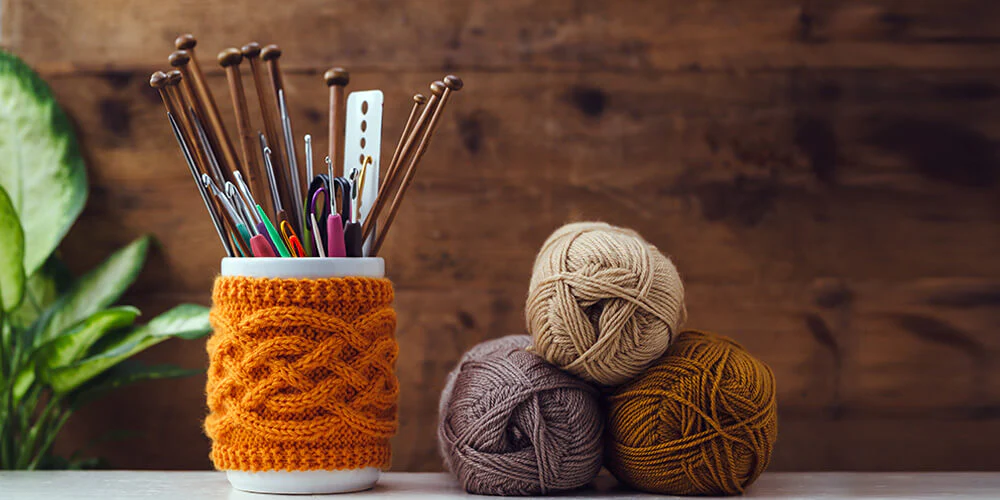 You only need three things to use spider stitch crochet to create any stunning product, after which you can begin. These three things are a suitable yarn, a hook of the recommended size, and a pair of scissors.
Detailed Guide on Making a Spider Stitch Crochet?
You must carefully follow the procedure given below to create a beautiful spider stitch crochet pattern. The pattern is not complex, but it is important to be accurate and follow the instructions carefully. In addition to this, the pattern should be completed in the correct order to ensure the stitches are correctly connected.
Step 1: Make the Foundation Chain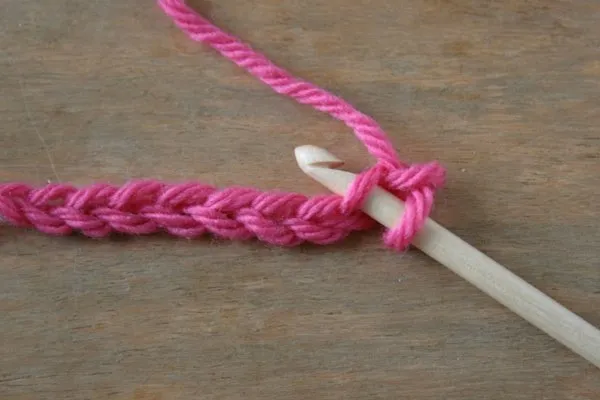 The most important step for your spider stitch crochet to look good is to make the foundation chain. Add the number of chains you want according to the project you are working on.
The process of making a foundation chain is the same for all types of stitches you make. To make the chains, you must first make a slip knot and then yarn over. Then pull through the loop of the slip knot, and here is your chain.
Repeat this process of yarn over and pulling through until you get the number of chains you want for your project. When working with a spider stitch crochet, make a foundation chain with a multiple of two, and in the last, keep one stitch extra for the chaining purpose.
Step 2: Make the Second Row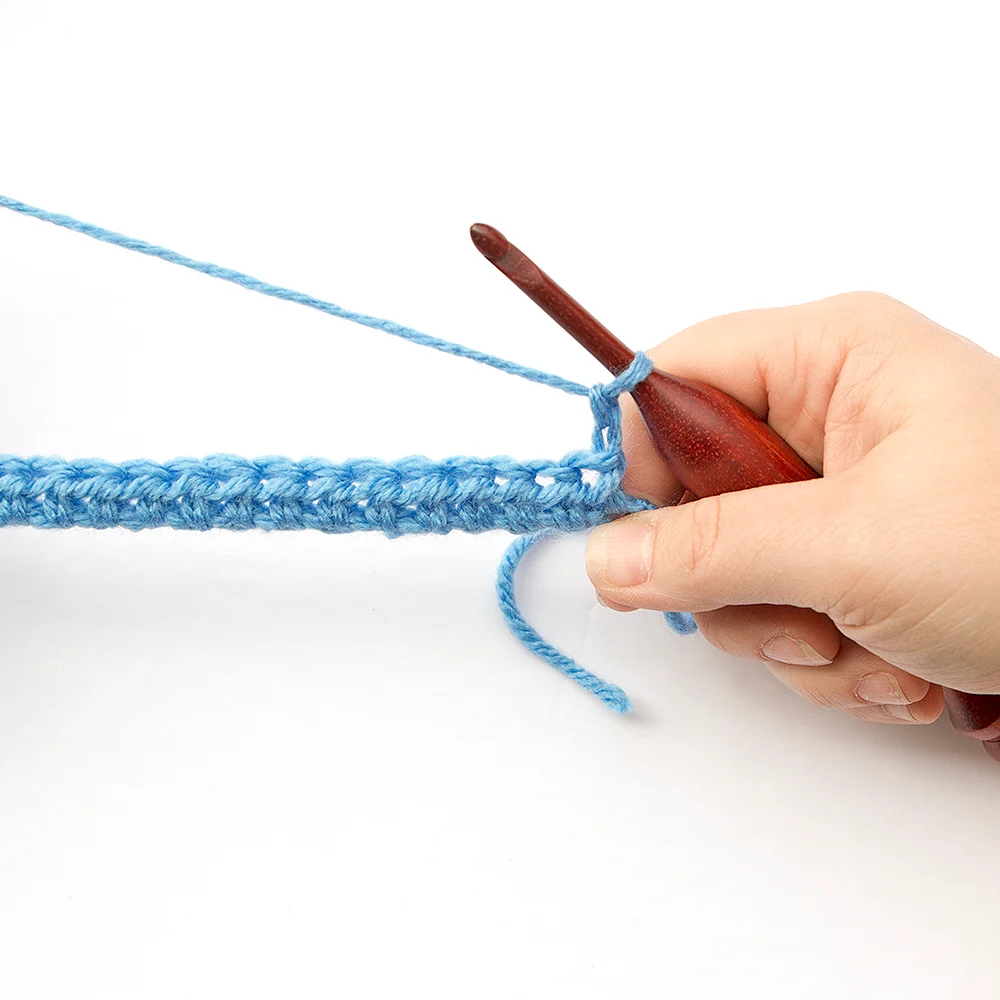 This row is often referred to as the setup row. To make this row, skip the first two stitches, and then from the third row on, make a single crochet in all the chains until you reach the end of the row. To make a single crochet, you need to insert the hook in the chain, then yarn over and pull through. This creates a loop. Now, again, yarn over and pull through both loops, and you have your single crochet. Repeat the same step for the entire row. On reaching the end of the row, chain two and flip over.
Step 3: Work on the Third Row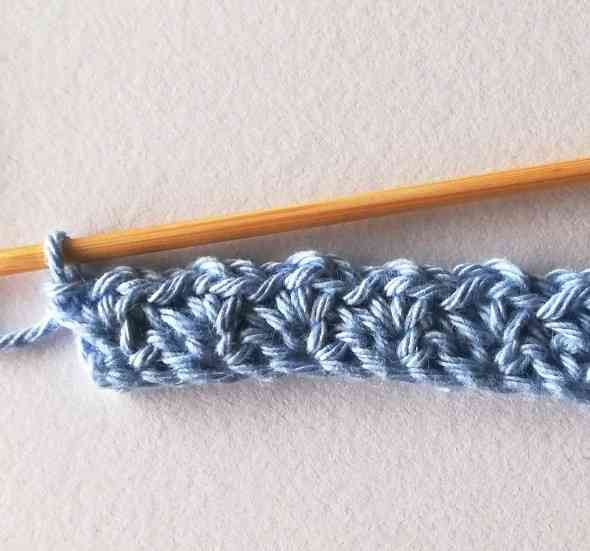 From here begins the spider stitch crochet row. So make sure that you follow the steps very carefully. Skip the first chain, and then to make the spider stitch crochet, you need to single crochet, chain, and then again, single crochet all in a single chain. Then you have to skip a chain and again single crochet one single crochet in the next chain. Similarly, follow the procedure for the entire row. Make sure that you only skip one chain between.
If you find it difficult to chain one in between two single crochets, you can chain two in between, but make sure that you repeat the same for the entire row. Once you reach the end of the row, single-crochet the last chain. Then, chain two and flip over.
Step 4: Repeat the Third Row Throughout the Project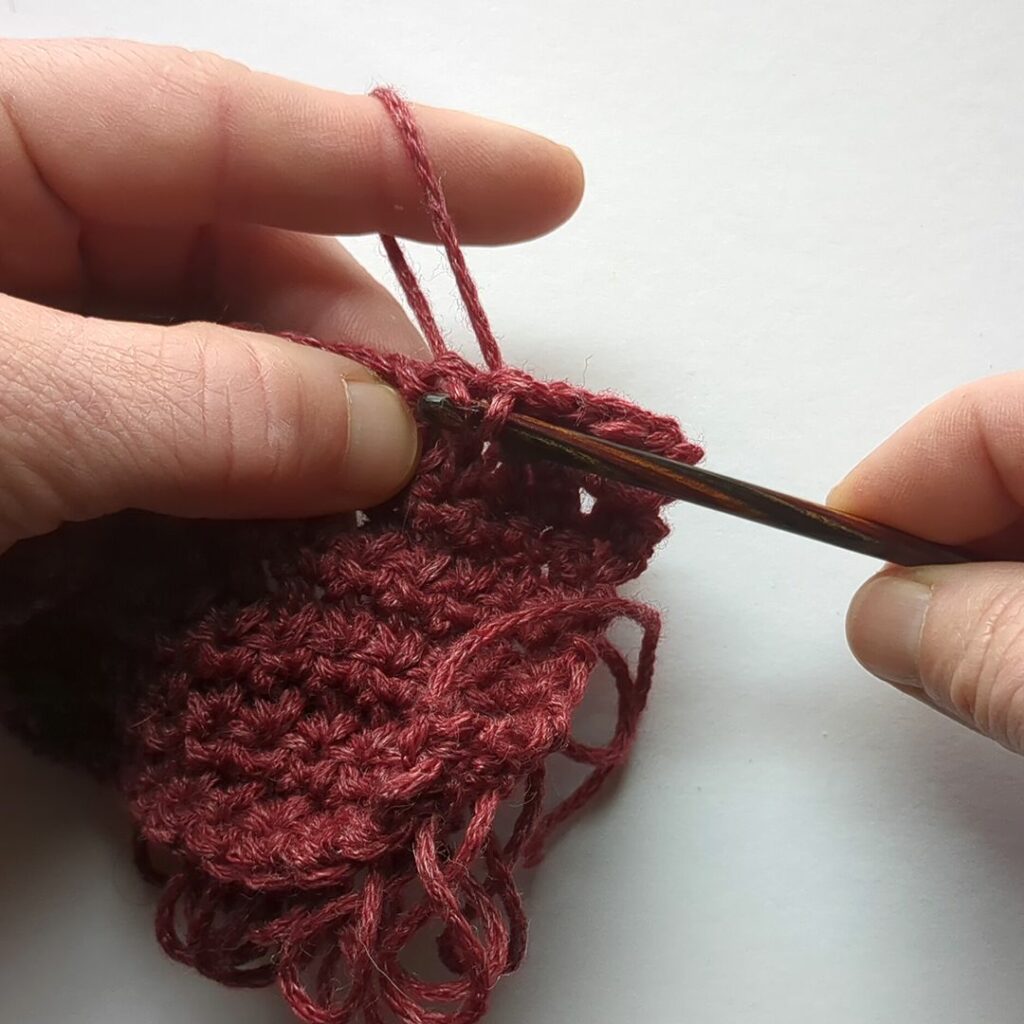 All the steps involved in the third row have to be followed throughout the project until you achieve the desired length of the project you are working on. But when you come to the third row, it is important to find out the exact place you have to make your stitch. So, for this, you need to observe the pattern. You will observe in a particular stitch, there are two vs. and a single stitch in between.
You need to pull through that single stitch and then work with the spider stitch crochet process, i.e., you have to single crochet, chain one, and then single crochet again in the space between those two Vs you obtain. Similarly, repeat these steps for the entire project afterward. Do not forget to flip the work when you reach the end of the row.
Step 5: Make the Ending Row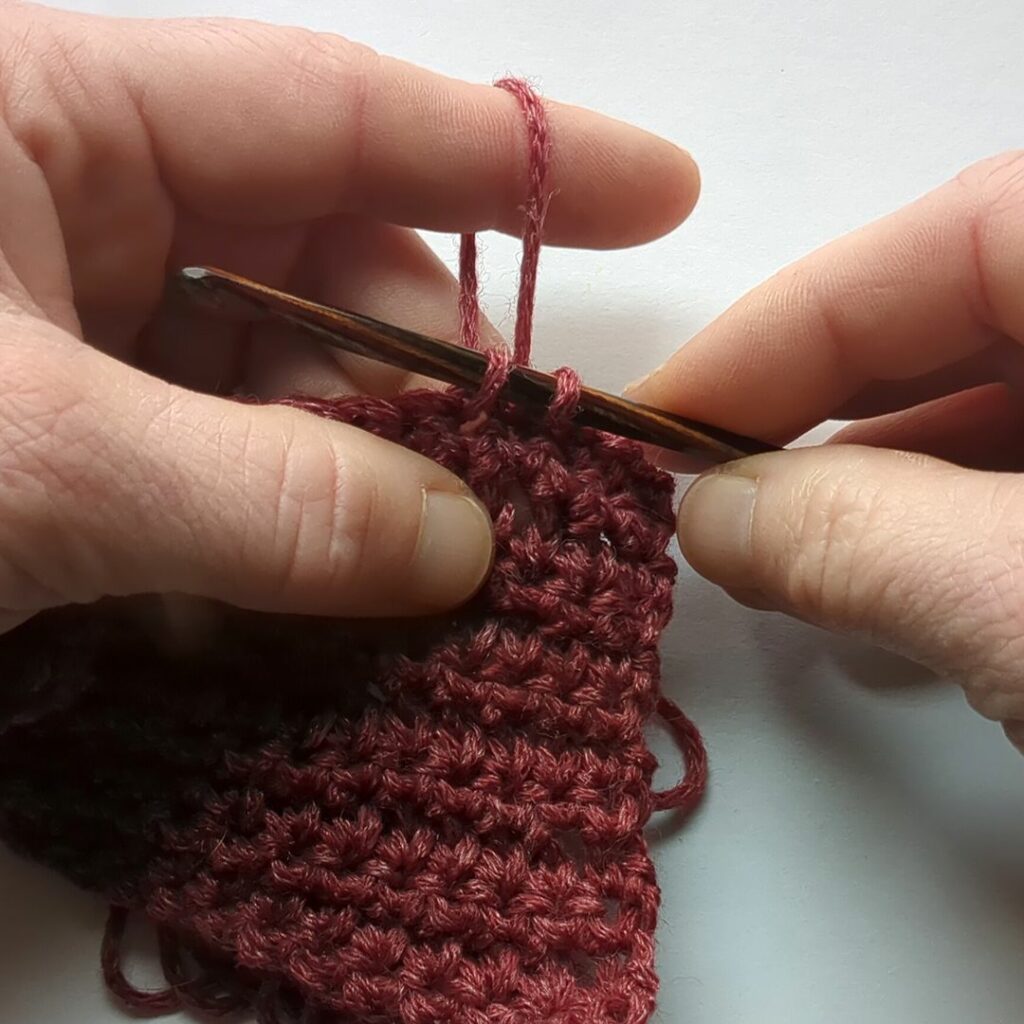 Once you have made the desired number of rows in a project, make an ending row to secure the stitches and prevent them from flaring out. The steps involved in the ending row are similar to the ones you took in the foundation row.
To make the ending row a mirror of the foundation row, ensure there are the same number of stitches in the chain as you have at the start. So, on reaching the end, make a single crochet in between the single crochet and the V.
Then, in the skipped chain, make a slip stitch. Follow the same for the entire row, and you have your ending row complete. In the end, chain one, and then you have your beautiful project with a combination of spider stitch crochet patterns done.
To make the spider stitch crochet pattern, you have to work very carefully with the third row, as this is a little difficult, and you would be repeating the process involved in row 3 in your entire project.
So, when working initially with row 3, you can work slowly, and once you feel that you can work comfortably, you can increase your speed. It will decrease the chances of errors in your project and give you accuracy throughout.
Where Can You Use Spider Stitch Crochet?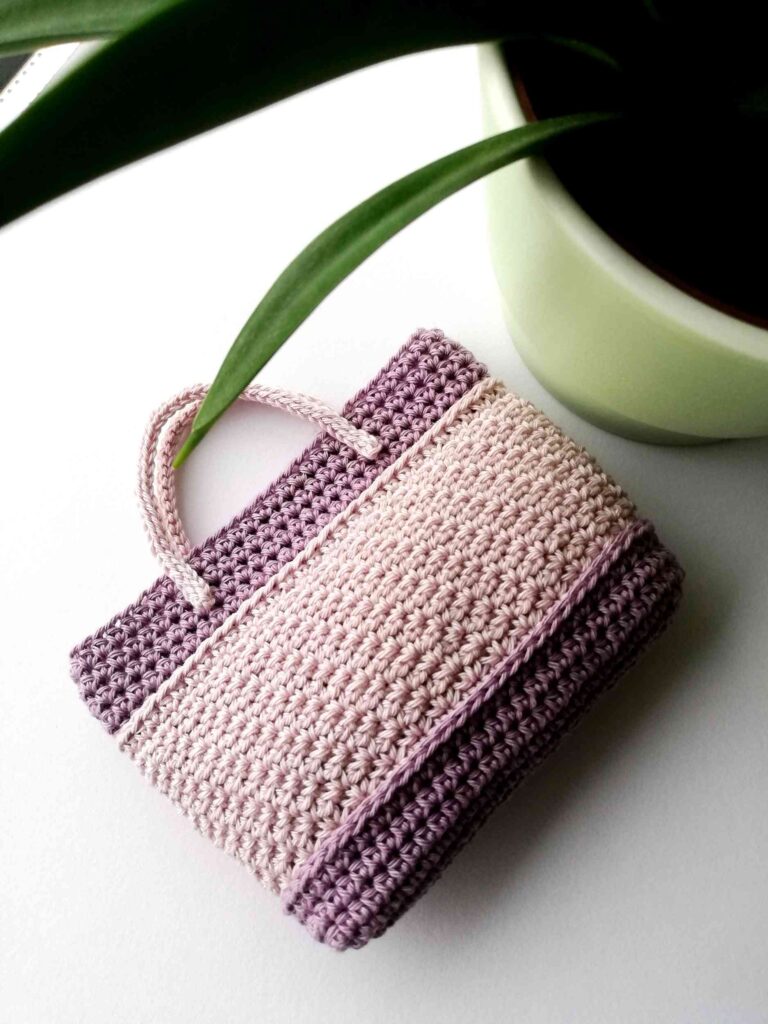 There is no end to the number of ways in which you can use spider stitch crochet to make beautiful projects like blankets, hats, scarves, throws, etc. A few of them are given below.
Spider stitch crochet dishcloth: You must be wondering why we mentioned dishcloth, as this is not something very important. But if you are new to spider stitch crochet, then to practice and improve your skills, there is certainly nothing better than making a dishcloth or a washcloth and gaining expertise in the pattern. This will help you to have a command over the spyder stitch crochet and, at the same time, have something to clean your valuables.
Scarves: Once you notice that you have started gaining command over the spider stitch crochet, you can further improve your skills by making a beautiful scarf. A scarf is a project to enhance your creativity before you move to something complex. You can experiment with the scarf's colors to make a pretty and attractive scarf.
Blankets: Once you begin well-versed with the stitches and add more to your creative skills, you can switch to big projects like blankets. Blankets are one of the fun projects that you can create with the help of spider stitch crochet. It will help you make a warm and comfortable blanket.
Baskets: Manage the clutter of your home by making baskets using spider stitches. The dense pattern helps to create quirky baskets that will not only help to manage the clutter but also serve as a good decor item for your house. These baskets are also easy to make, and you can make baskets in various sizes and colors to match your home decor.
Things to Keep in Mind when Working with Spider Stitch Crochet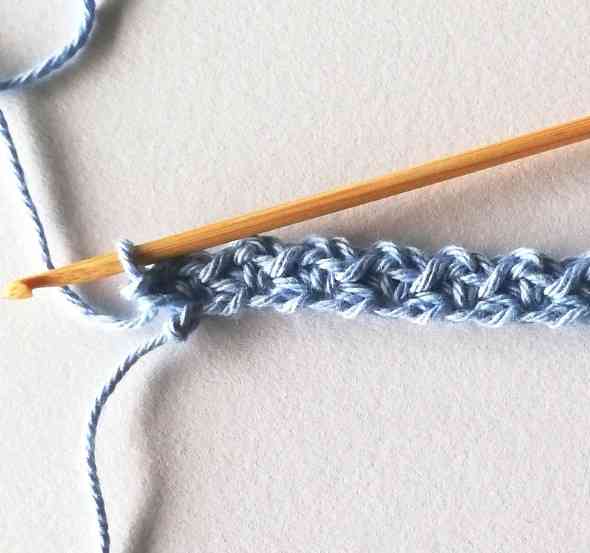 For a smooth work experience and to minimize errors when working with a spider stitch crochet, it is important to follow the below-mentioned precautions. These precautions will help you make your project a success.
Follow the instructions carefully: Before you begin with the working phase of spider stitch crochet, it is best you read the instructions carefully at least twice so that all the steps involved are clear to you and you find it easy to work with the pattern. A Spider stitch crochet requires a lot of focus, so do not hurry up with the process; instead, work patiently.
Find the chaining spaces carefully: To make the chaining of the next row, you have to insert the hook between two spider legs, or, you can say, between two V stitches. For this step, ensure you insert the hook at the correct position only, i.e., the two spider legs; otherwise, you won't achieve the desired texture.
Use the hook of the recommended size: For a uniform texture throughout your project and to achieve proper consistency, always use the hook of the recommended size. The specifications of the hook are given on the yarn you purchase. So, do not forget to check the yarn before beginning your work with any hook.
Hold the hook properly: Crocheting is an art; to excel in it, you should learn how to hold it properly. Moreover, when working on patterns like spider stitch crochet that involve more labor, you should always hold the hook properly to avoid straining your hands and ensure that the work is done accurately.
Advantages of Using Spider Stitch Crochet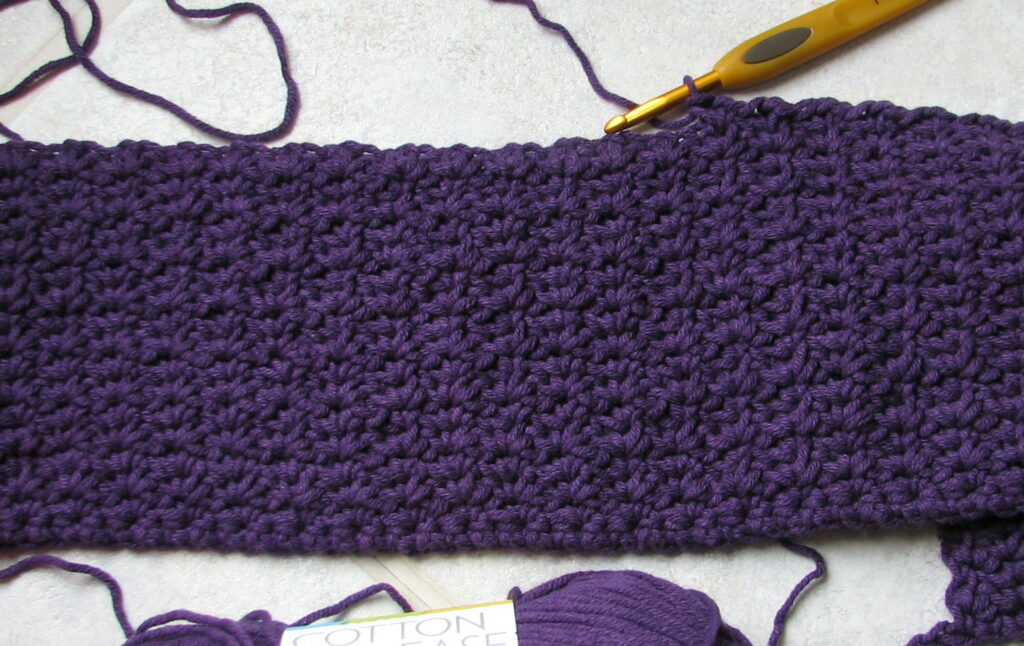 You must wonder if Spider stitch crochet requires so much focus and attention, then how it can be advantageous. But this isn't true. A spider stitch crochet has many advantages, and a few of them are listed below:
Beginner-friendly: There is no doubt in the fact that if you are just familiar with a single crochet stitch, you can also weave a beautiful blanket using the same.
It produces beautiful patterns: The spider stitch crochet produces awesome results, which makes it an ideal choice for a variety of projects like blankets, which you can gift to your loved ones.
It is easy to work on: Once you become familiar with the pattern, you will realize that it is almost repetitive throughout the whole project, so it is very easy to work on this pattern at a fast pace.
Ease of customization: You can create beautiful patterns by experimenting with the color and texture of your yarns. Thus, you can create a vibrant project or a simple and decent project, both using spider stitch crochet.
Conclusion
Spider stitch crochet is a tricky yet simple pattern that gives fascinating results. Although you might face difficulties while working with spider crochet stitch patterns initially, with time, you will find them very simple and will be able to work at a faster pace. Once you get familiar with the pattern, you can use it to make various things like blankets, baskets, scarves, and a lot more.
It is also a beginner-friendly pattern; if you have the minimum skills in crochet, you can still work with spider stitch patterns to make something mesmerizing. It is a great way to enhance your crochet skills.
So grab all the material you need to make one beautiful thing you want with Spider Stitch and start your journey. And if you love the process, make one for your loved ones, too. They will surely appreciate your creativity and affection for them.
Don't forget to drop your views on this stitch pattern.