Adding a crochet ribbed border to your blanket not only enhances the elegance of your blanket but also elevates its overall texture and structure.
This border gives a finished and polished look to the blanket, which in turn gives a subtle appearance to your bedroom because, after all, the blanket does count as an appearance-eating factor for any room.
Having the crochet ribbed border also adds depth to the blanket, which results in coziness and extra warmth when wrapping yourself in it.
These borders are not difficult to add to the blanket but require careful attention when crocheting. In this blog, we will look at the materials required, the steps involved, and some of the different designs for the crochet ribbed border to add an extra touch of style.
Let us quickly look at the perfect tutorial for adding a hint of sophistication with a Crochet ribbed border to your favorite blanket!
Materials Needed for Crochet Ribbed Border
The first and foremost in the tutorial is to know what material is needed for crafting the crochet ribbed border for your blanket. Here's a list of materials needed:
Crafting a crochet ribbed border for the blanket has a lot of consideration to be given to the crochet hook that is to be used, as it should align with the size of the yarn weight. For a balanced appearance, soot for a larger hook size with thicker yarn allows the ribbing finish to showcase its texture beautifully.
For the thinner and finer yarn, choose a smaller hook to finely detail the ribbed pattern. The right balancing of hook and yarn ensures that the crochet rubbed order comes up equally, ultimately filling up the appearance of your blanket and also giving a very polished look.
When crafting the crochet ribbed border, choosing a yarn that goes with the blanket color scheme is important. You can opt for a yarn that matches the one used in the blanket, as it can give a completed and polished look really well. Also, you can opt for a contrasting color as it gives a dynamic and vibrant look to the blanket.
For darker blankets, going for a lighter crochet ribbed border creates an eye-catching effect, and just like for lighter blankets, going for a contrasting color or darker border gives a sophisticated look. The choice of color totally depends on personal preferences and a creative mind.
Adding a crochet ribbed border to your blanket compulsorily requires a Yarn Needle. The needle has a large eye to insert the yarn, and it cautiously weaves the loose ends for a very finished look. Ensuring the border is secure and seamless, the yarn needle modifies the blanket into a beautiful masterpiece.
Whether matching the yarn to the color of the blanket or using a contrasting yarn, the yarn needle ensures that tying up the loose ends gives the overall blanket an enhanced look, making it from just a blanket to a work of art.
Scissors are an essential component in the creative journey of any crochet craft. A pair of scissors can turn your blanket into a masterpiece with its work of finishing. This tool helps cut the accurate yarn, which ultimately lends the blanket a polished look. Whether cutting excess yarn or trimming yarn to precise lengths, scissors are a refining tool for crocheting ribbed borders for your blanket.
But at the same time, remember to use sharper scissors because detailing to anything makes it a perfect piece. Now that we know the materials that are needed for the crochet ribbed border to make your blanket a work of art, let us look at the steps of crafting this crochet border.
Steps to Follow to Make Crochet Ribbed Border
Crafting a crochet ribbed border is not difficult but an easy task as well because it requires a lot of detailing to give a polished and finished appearance to the blanket. Here are some basic steps to follow:
Step 1: Prepare Your Blanket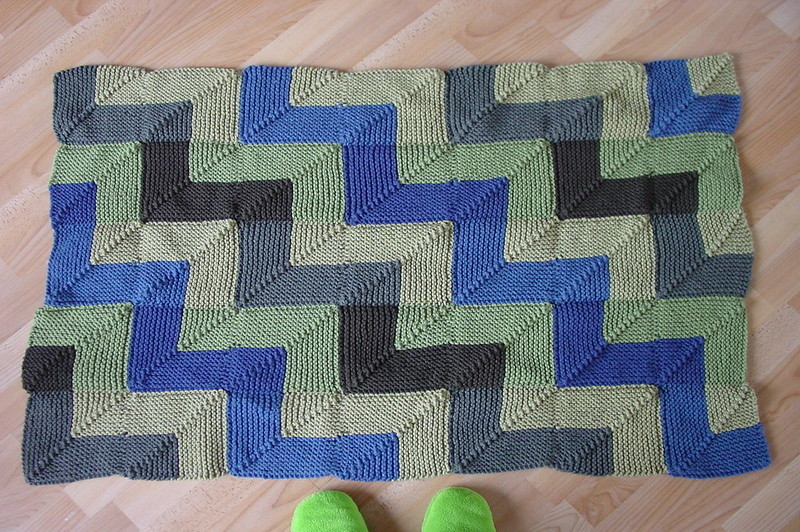 Make sure that the blanket is completed fully with neat edges and is properly shaped, rectangle, or square (depending on personal preferences) before you start adding the crochet ribbed border. If there is any loose end, make sure that they are weaved off and have a clean look because it will ultimately help in attaching a good ribbed border fitting.
Step 2: Measure the Blanket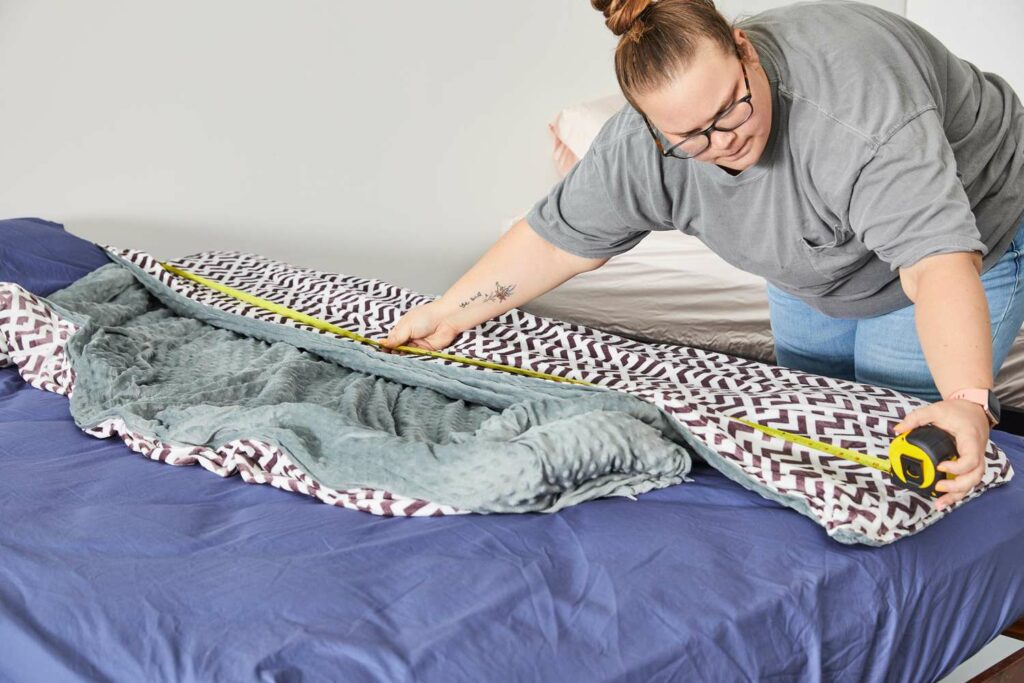 Once the blanket is prepared completely, place that completed blanket on the smooth or even surface properly and evenly. Measure the required width for your ribber border; usually, 2 to 4 rows of ribbing work well. With the above measurements, proceed to calculate the appropriate number of stitches required for your picked border.
If your blanket's stitch count does not align properly with the ribbed stitch pattern, go for some minor adjustments to the stitch count, and it will surely help you to the seamless integration of the border of your blanket. This step will work as a foundation for the next steps of crafting your crochet ribbed border.
Step 3: Choose the Stitch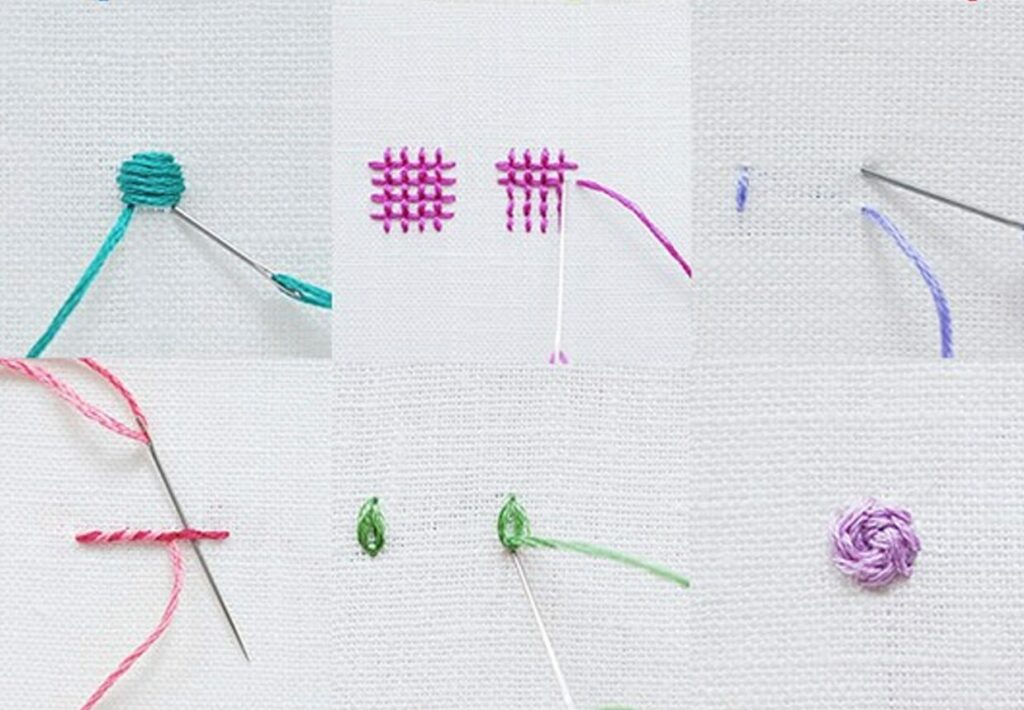 Selecting the perfect ribbing stitch is an essential thing to consider while adding a crochet ribbed border to your blanket for an excellent look. There are a few options to consider:
Single Crochet (SC): This simple and classic ribbing pattern is a wonderful option, especially for people who are just starting with crochet.
Half Double Crochet (HDC): A little bit taller than a single crochet, half double crochet ribbing gives your border a little more weight.
Front Post and Back Post Stitches: The front post and back post stitches ribbing method is an excellent choice for a more detailed and popular ribbed look with increased rows.
Make sure that you pick the ribbing stitch for the crochet ribbed border of your blanket that comes under your level of expertise and that gives the visual appeal as per your preferred aesthetics.
Step 4: Start with the Border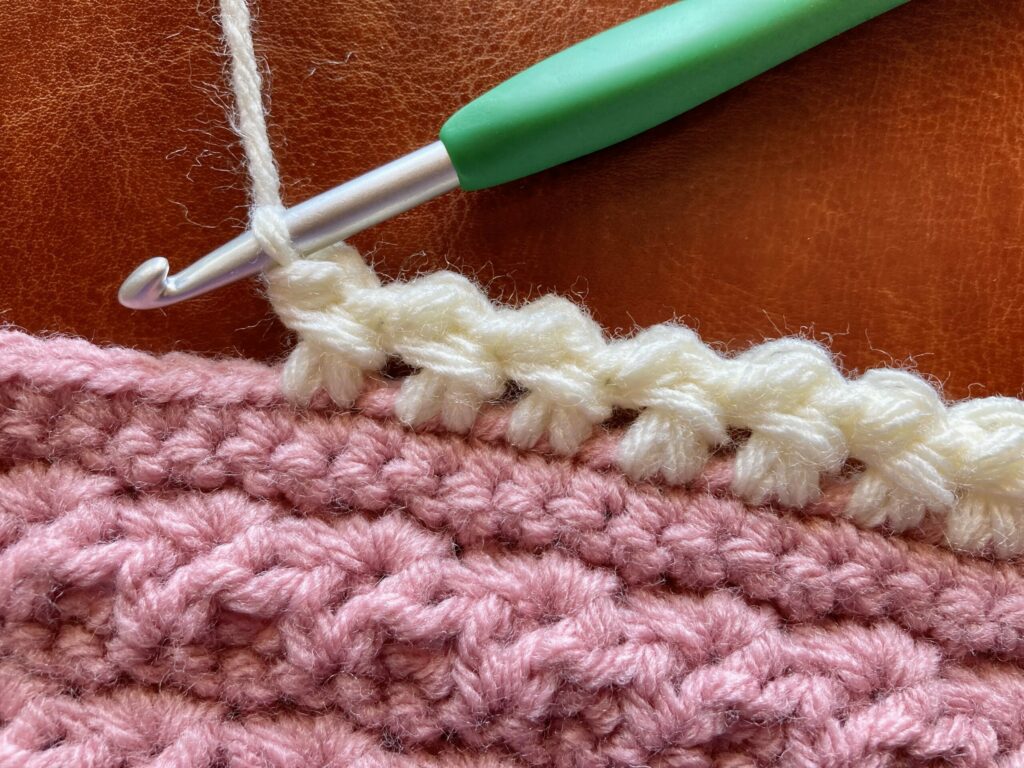 Using a slip knot and crochet hook, attach your yarn to a corner of the blanket. Attach the ribbing stitch you choose to the blanket's edge in Row 1. To make a single crochet or HDC, lace the hook through the stitch, thread the yarn through, pull up a loop, and sew the end of the stitch. Repeat Row 1 and continue using the same ribbing pattern with the same tension for however many rows you desire or require.
Step 5: Finishing the Ribbed Border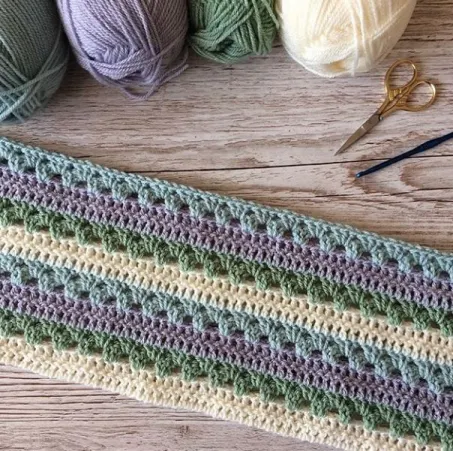 To finish the crochet ribbed border, cut the yarn and leave a few inches of tail. Now, pull the tail of the yarn into the last stitch to securely fasten it off. Adjust it tightly and use a yarn needle to weave off the loose ends for a very polished result of a crochet ribbed border.
Step 4: Block the Blanket
Once the banket is done with the crochet ribbed border, it is best if you block your blanket. Steam or soak the border in the work and spread it on a flat surface. This process will help the ribbed border look in even with the blanket.
After every step is completed, you can look at the blanket and admire your craftsmanship in crafting this super sophisticated crochet ribbed border for your blanket. Remember, perfection takes time, but keeping a few things in mind for perfection can ensure that it is retained for other crocheting as well.
Essential Things to Adhere During Crochet Ribbed Border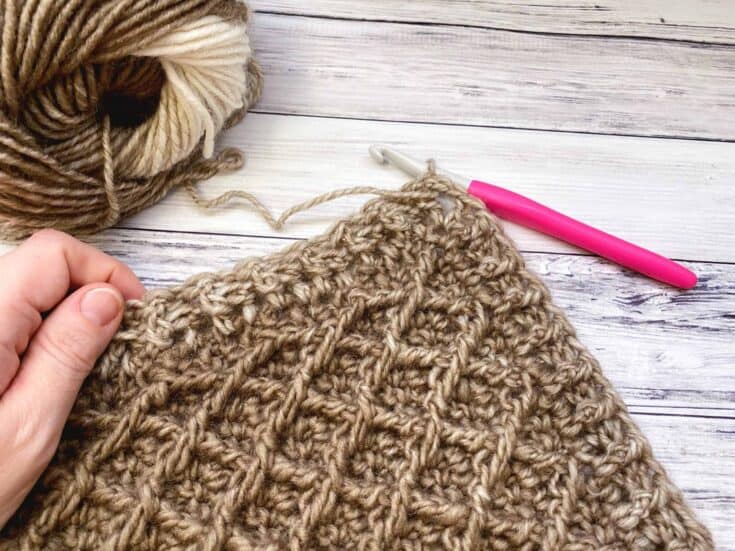 Adding the crochet ribbed border to the blanket can be visually appealing, but to make it perfect, there are a few things that should be kept in mind. Some of them are:
Yarn Choice: Make sure that the yarn that you've chosen for the crochet ribbed border goes in sync with the blanket that you wish to attach to. Be it contrasting or the same color, make sure that the texture and feel of the yarn match the quality of the blanket, as it can play a very crucial role in the overall aesthetics and appearance of your blanket.
Border Width: Decide on the border width as per your personal preferences. A broader border can give a bulky and framing look to the blanket, whereas a narrower border can give a very delicate and sophisticated touch to the blanket. Ensure that the border width complements the blanket and does not look odd when added to the blanket.
Stitch Pattern: For your ribbed border, pick a crochet stitch pattern that reflects your crochet skills. Single crochet, double crochet, front post double crochet, and back post double crochet are frequently used for ribbed borders. To determine which stitch pattern enhances your blanket the best, experiment with a few samples.
Corners: The border of the blanket requires quite a lot of attention when attempting to add a crochet ribbed border. Corners do require extra stitches and shaping so as to make sure that borders stay blat and do not look uneven. Having appropriate can include having different corner stitches methods that can keep borders complemented with the blanket.
Swatching: Before you begin the crochet ribbed border for your blanket, it is always better to make a small swatch with your chosen stitch pattern and yarn. Creating a swatch ensures the blanket does not wrinkle out when attaching the borders.
Stitch Count: It is always necessary to decide on the stitch count as the border fitting to the blanket depends on it. Depending on the stitch pattern, you might need to work a specific multiple of stitches to maintain the pattern evenly and properly.
Finishing Techniques: The completion of the border requires finishing very important touches. Use yarn and scissors to trim and make the borders neat. Remember to give the finishing properly to the border, as it can either make or break the look of the aesthetics of your blanket.
Time and Patience: Adding the crochet ribbed border to your blanket can be really time-consuming. Do not rush out to attach these borders; take time and be patient with the crocheting method, as it can give a very beautiful appearance to your blanket.
Visual Appearance: The crochet ribbed borders can give your blanket a very sophisticated look, but be very cautious to follow the overall color scheme of the blanket for a highly attractive visual appearance.
These are some of the things to keep in mind while attaching a crochet ribbed border to your blanket. Remember, this can be a bit consuming, princess, but be assured that the outcome can leave you speechless. The pattern, as mentioned earlier, of crochet ribbed border is a basic one, but there are other types as well.
Different Types of Crochet Borders
There are many types of crochet borders other than crochet ribbed borders to add to a blanket, but it all depends on personal preferences as well. Some of the very creative patterns for these borders are:
1. Rolling Fans Border
This easy crochet border is very versatile and can be added easily to any blanket edge. Double crochet shells are arranged in layers to create the design. This lovely crochet edging is simple enough for beginners.
2. Crochet Dot Border Stitch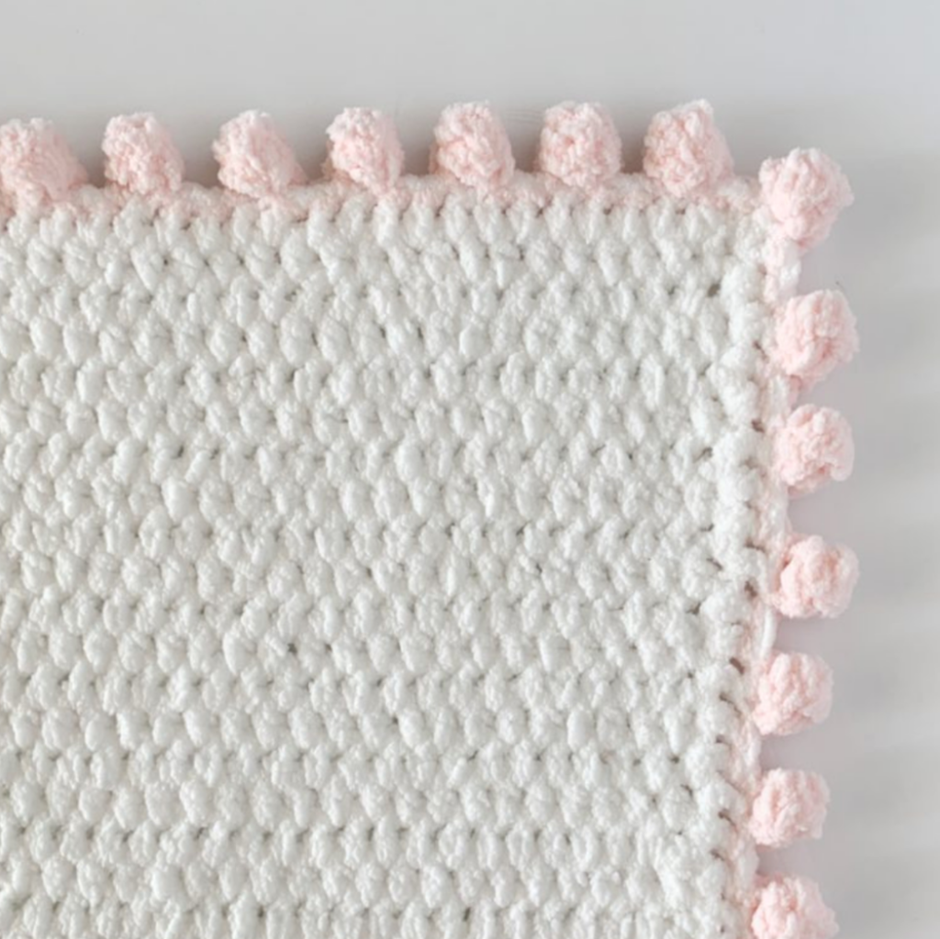 This simple dot edging pattern is very beautiful yet delicate. The stitches used are double crochet. This particular crochet border can be used for kid's blankets.
3. Crochet Pom Pom Border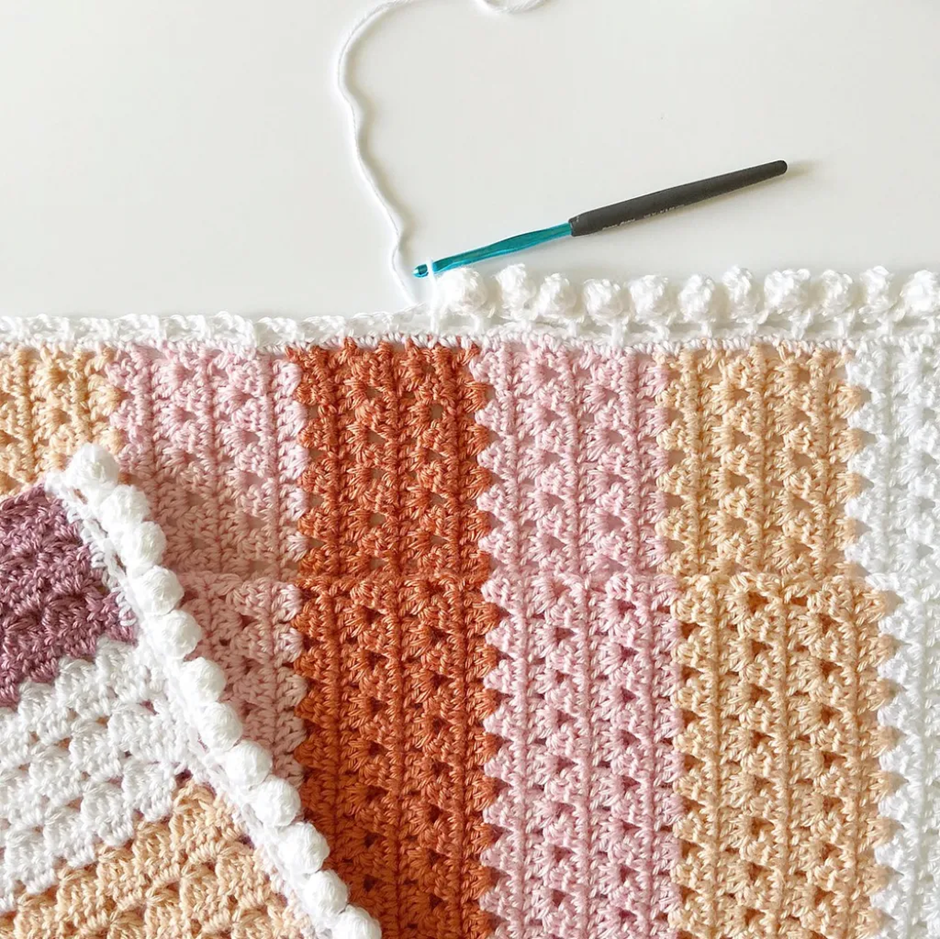 These pom pom crochet borders are similar to the crochet bot border, but these are much closer to each other. These give a playful look to the blanket.
4. Crab Stitch Border
This stitch, which is essentially a single crochet made in the opposite direction, makes the ideal basic crochet edging. This would be an excellent way to complete a blanket that is quite intricate.
5. Crochet Flower Border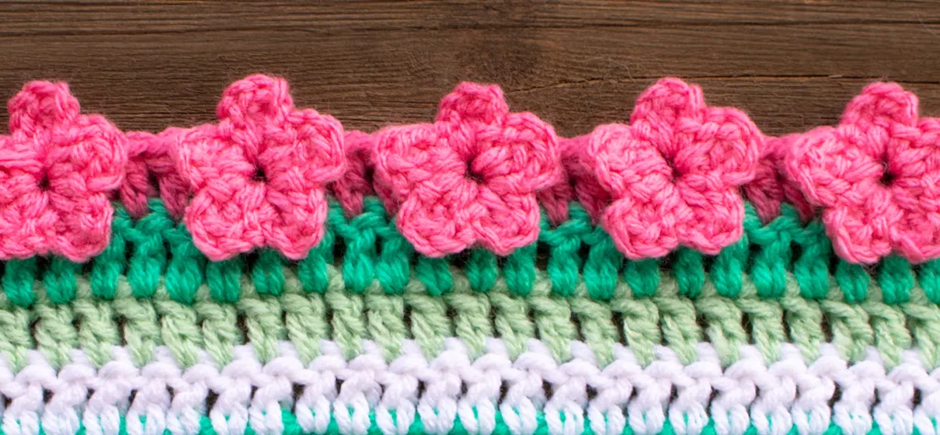 These cute little 3D flowers are absolutely pretty and easy to make. Adding this flowery crochet border to a blanket can give a delicate appearance to your blanket in no time.
6. Camel Stitch Border
This border is a very cleaner option to add to your blanket. The single-stitch pattern adds depth and sophistication to your blanket most easily and conveniently.
7. Crochet Ruffled Border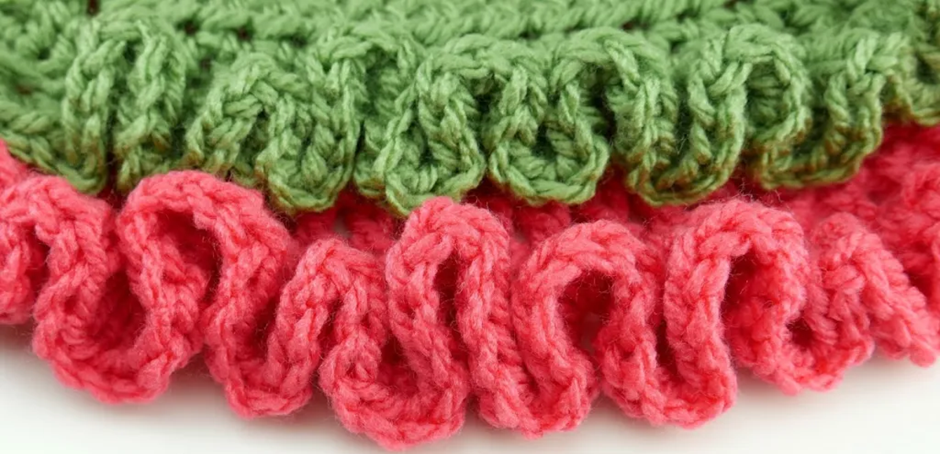 Worked in simple stitches, this ruffled border can make your blanket look very elegant. Such a border can be used in kids' blankets as well to give a very playful look to it.
8. Windows Border Crochet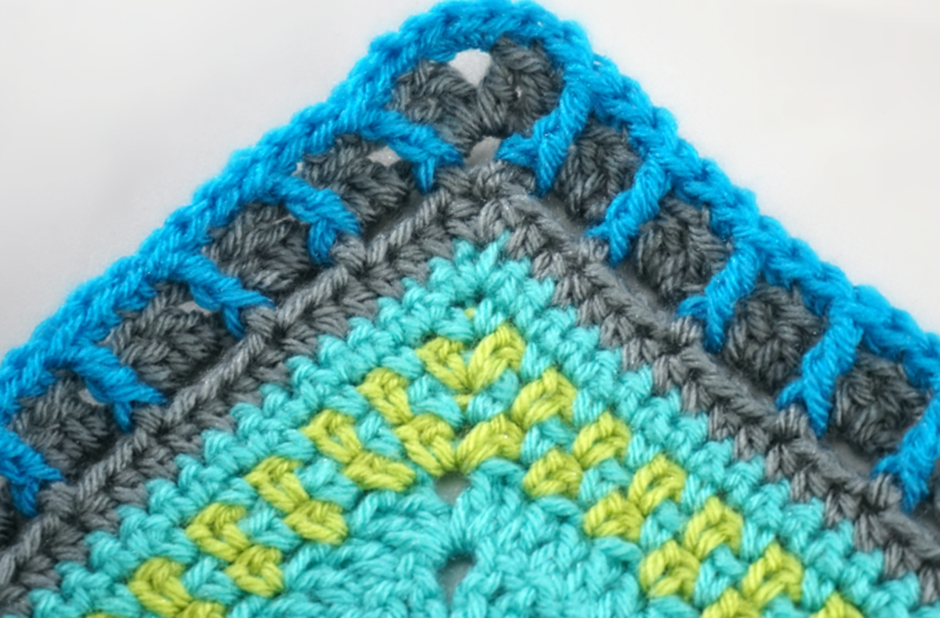 This is one of the perfect borders for adding to the blanket. The border can be attached to the blanket's edges quickly, giving it a very graceful appearance.
9. Crochet Eyelet Border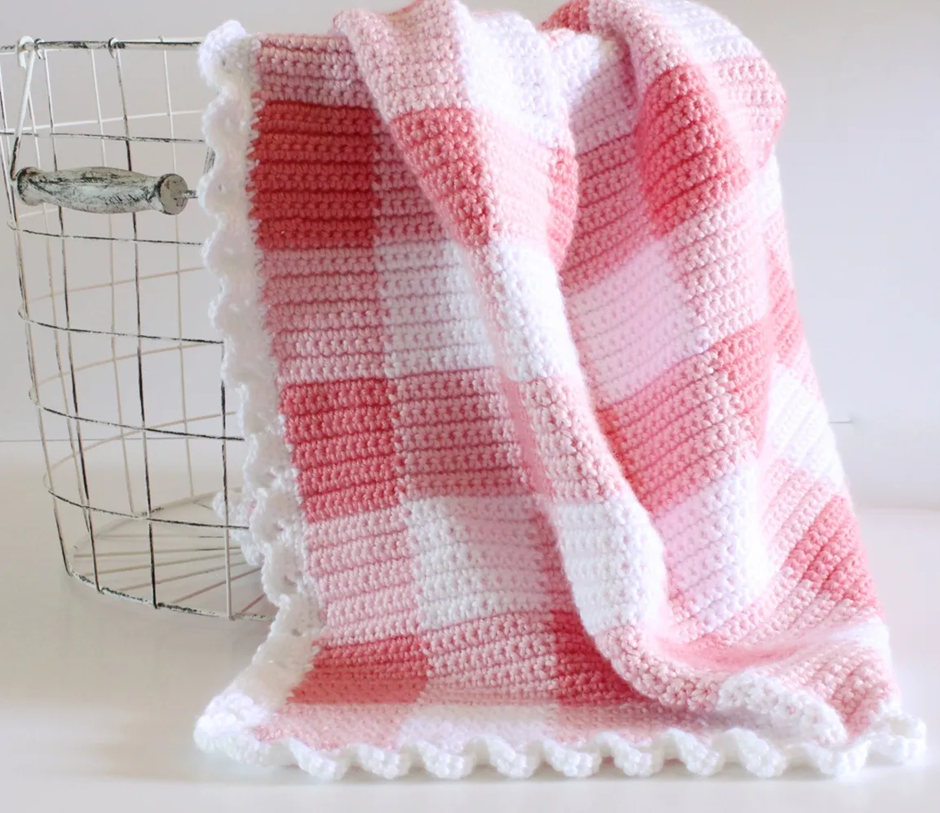 This crochet border adds elegance and a delicate sense of feeling to the blankets when incorporated. It can perfectly suit the kid's blanket because of its super cute appearance.
10. Crochet Moss Stitch Border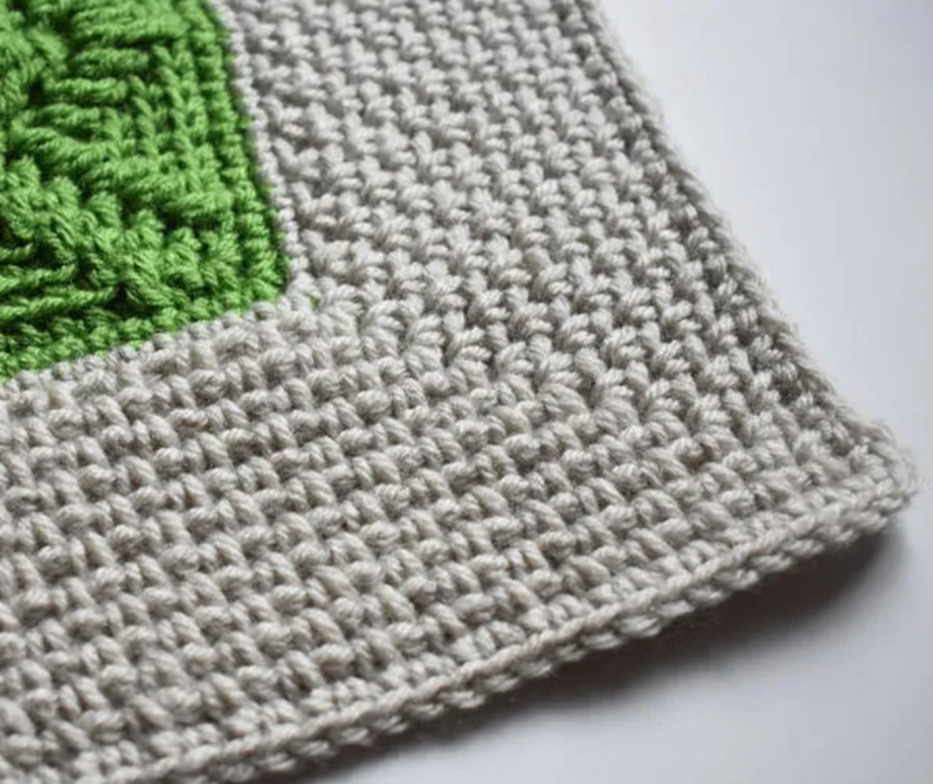 The crochet moss stitch border gives a very tidy and clean look to the blanket, making it an ideal border for the blanket. This border subtly complements the blanket.
The crochet mentioned above borders are some of the patterns that can be used in blankets other than the crochet ribbed border. Every order is versatile and can be used as per an individual's preferences.
Conclusion
The crochet ribbed borders are exquisite in terms of enhancing the overall aesthetics of any blanket. These are not difficult to craft but require a lot of detailing and time.
But with practice and patience, the desired appearance of a crochet ribbed border can be attained. Gradually, a keen understanding of stitch count, tension consistency, rhythm, and creativity will ensure that the borders will fit well with the blanket and elevate its look and feel.
The sophistication and coziness added to the blanket with the crochet ribbed border can make you admire it all night while you wrap yourself to take a sound sleep.
So, hurry up, take your yarn and the hook to craft the border today for your favorite blanket. Let us know in the comments below how this crochet ribbed border turns out for your blanket!