Thinking versatility? We've got the answer for you! Try a gingham pattern for crocheting your fall blanket project. Perfectly in sync with modern trends, the gingham crochet pattern allows for experimentation and fun for your DIY art project. Hence, if lively and colorful are the keywords you focus on for crocheting a new blanket that (obviously) is not too overbearing to the eye but makes a mark for itself, we'd recommend the gingham pattern.
And once you start crocheting it by yourself, you will understand why. Whether you use it for yourself or want to gift a handmade item, a gingham crochet blanket fits the bill perfectly, exactly like the missing piece of a jigsaw puzzle. And it is solely because of the adaptability of gingham checks that they are never out of fashion, be it in the textile industry or the crochet industry. 
In this article, we will showcase 20 gingham crochet blanket patterns for you to try your hand at.
What is a Gingham Pattern?

If you have been crocheting for a couple of years, you will probably know what it is and how to make a gingham pattern. If you have just begun your journey in crochet, you will still know what a gingham pattern is because we are sure you've seen it and maybe even worn it, and you didn't know the name ever seen those checkered shirts or tops that portray three colors? Quite common, right? Well, those are gingham patterns! And when you crochet the pattern, you get a very interesting and very chic gingham crochet pattern.
The most important part is changing yarn colors; you can use anything from basic to advanced stitches to make your gingham pattern crochet blanket. A reversible plaid pattern – the gingham crochet blanket beautifully highlights a splash of colors.
As a novice, you can use basic stitches like single and double crochets, and as an expert, you can use tapestry or corner-to-corner crochet stitches to create the pattern gingham on your DIY crochet blanket. 
Collection of 20 Gingham Crochet Blanket Patterns
The key to choosing the right gingham pattern is first to determine the use of the crochet blanket. Whether you want to use it for a winter blanket for yourself or a fall blanket or make a gingham throw for kids, it will help you select the right yarn and, consequently, the right pattern. These patterns are minimalistic yet elaborate enough to be gorgeous and bright. Here is a collection of our 20 favorite gingham patterns for your crochet blanket project. 
1. Crochet Herringbone Gingham Pattern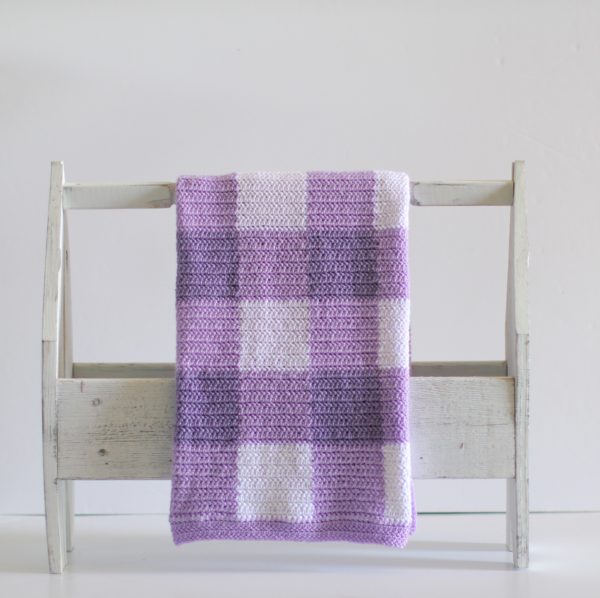 A warm gingham blanket pattern, the herringbone gingham crochet blanket is for intermediate and advanced crocheters to try. It makes for a soft and elegant fall blanket that both adults and children can use. Medium-weighted yarn would work best for this gingham crochet blanket. The tapestry stitch is most commonly used for this pattern, making it a great homecoming gift for a loved one. If you are unsure about the tapestry crochet, an easier version would include the half-double crochet for this basic but powerful gingham pattern. 
Click Here for the Complete Tutorial Guide
2. Cluster Crochet Gingham Pattern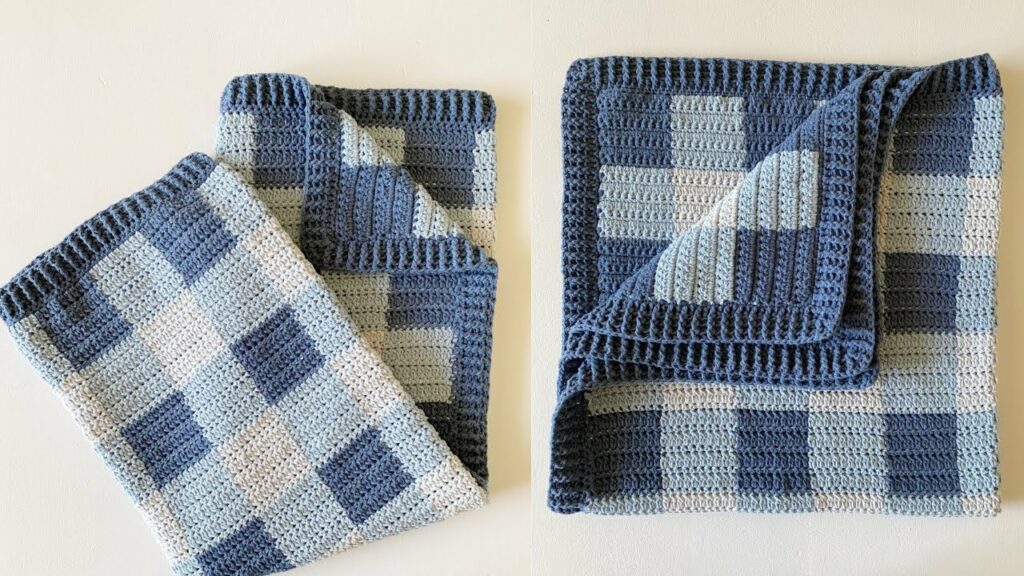 If you are well-versed with the cluster stitch, we urge you to try out this cluster crochet gingham pattern blanket. A highly versatile pattern that one can use for washcloths, blankets, and throws, soft pastel colors work best for this. The subtle and intricate stitch pattern makes it look like a complicated design, but in reality, upper beginners should be able to work out this design easily. This pattern, when crocheted on lace-weight yarn, makes for the most comfortable gingham throw for infants. 
Click Here for the Complete Tutorial Guide
3. Nine Square Gingham Pattern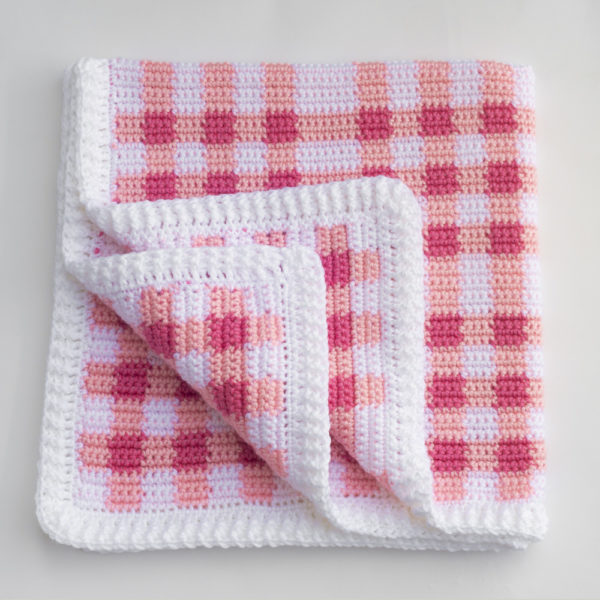 It's all about patterns and textures regarding the nine-square gingham crochet blanket. The spacing dictates the entire look and feel of this minimally aesthetic blanket pattern. Uniform spacings alternate throughout the gingham throw blanket of this pattern. It is repetitive, but there are variations to the repetition, which is the unique factor of this crochet design. We would recommend a white backdrop on which you can crochet this pattern using two shades of the same color. 
Click Here for the Complete Tutorial Guide
4. Griddle Stitch Gingham Pattern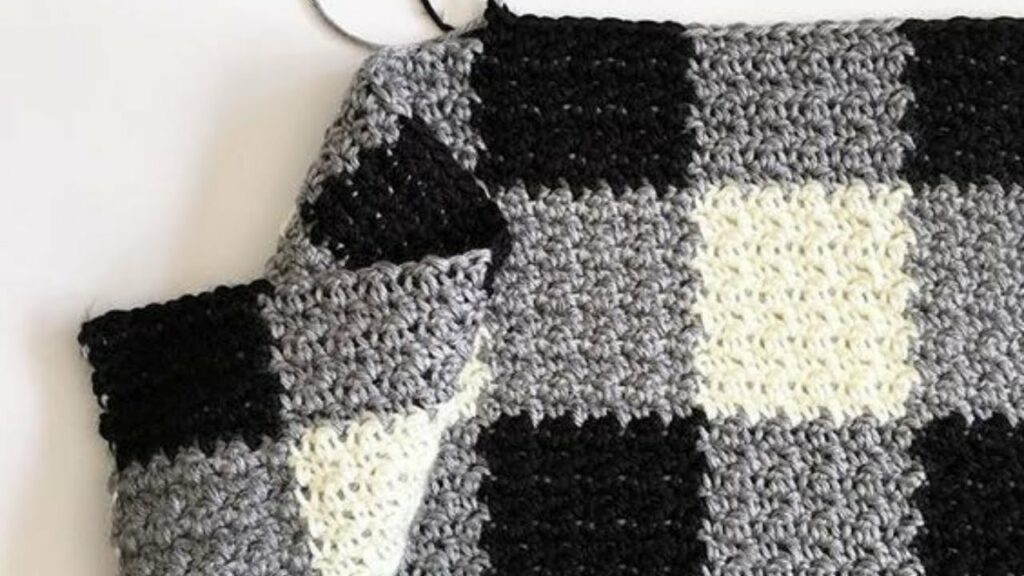 Alternating single crochets and double crochets form the basic framework of the griddle stitch. This griddle stitch forms the foundation for the griddle stitch gingham blanket. A highly exquisite design, the meticulous stitch pattern speaks for itself in terms of refinement. It may look like a highly advanced pattern, but it is actually for beginners as well. Stitch a border at the edge for a complete look, and try colors like black, gray, and white for a classic look. 
Click Here for the Complete Tutorial Guide
5. Crochet Picnic Gingham Pattern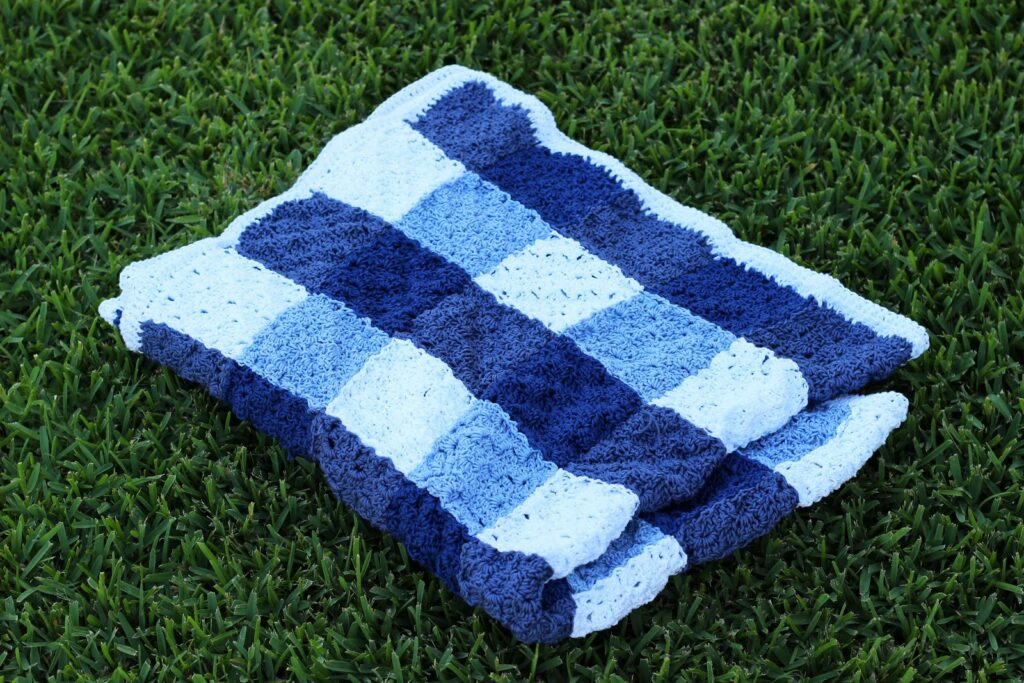 What is the first word that comes to your mind when thinking about having a picnic? For us, it is adventure, laughter, and merrymaking. And it is no different with the crochet picnic gingham blanket pattern. The ribbed texture of this pattern makes it one of the most comfortable gingham blankets. The best part is that using acrylic yarn for this gingham pattern makes it so squishy that you would want to sit down and hug the blanket the entire day! Featuring tapestry crochet, this is a practical choice.
Click Here for the Complete Tutorial Guide
6. Modern Crochet Gingham Pattern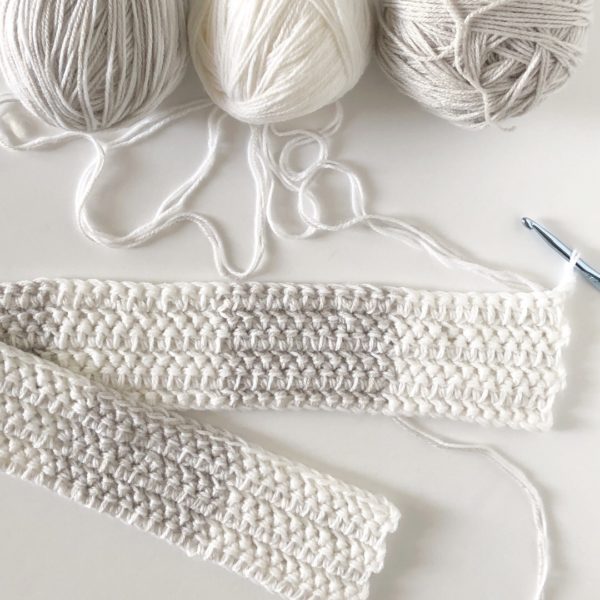 The modern crochet gingham baby blanket is a classic, and by the looks of it, you've probably understood why. It works great with any yarn, ranging from lightweight to heavyweight; you can use it as a winter blanket or a throw, depending upon which one you choose. Try working with a herringbone stitch to bring out the real essence of this texture. While it may sound odd for a baby blanket, using basic color combinations like gray and white or black and white will allow the real beauty of the pattern to shine through. 
Click Here for the Complete Tutorial Guide
7. Heart Crochet Gingham Pattern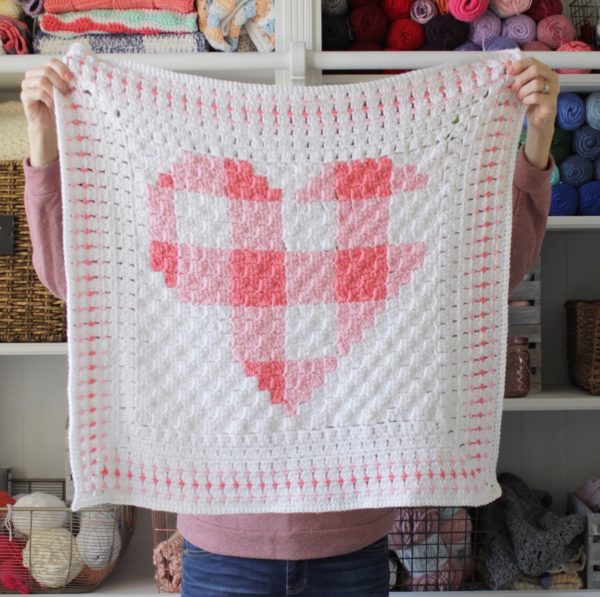 A cute and quirky gingham pattern, the gingham heart crochet blanket is perfect for babies, children, and teenagers. Knowledge of the corner-to-corner stitch is essential for curating this gingham pattern. We'd suggest leaving out the border because the frayed edge adds depth and dimension to this lovely pattern. As you may have guessed already, working with yarn colors pink, red, and white will elevate the motif of this gingham pattern and bear fruit to your visualization. 
Click Here for the Complete Tutorial Guide
8. Buffalo Check Gingham Pattern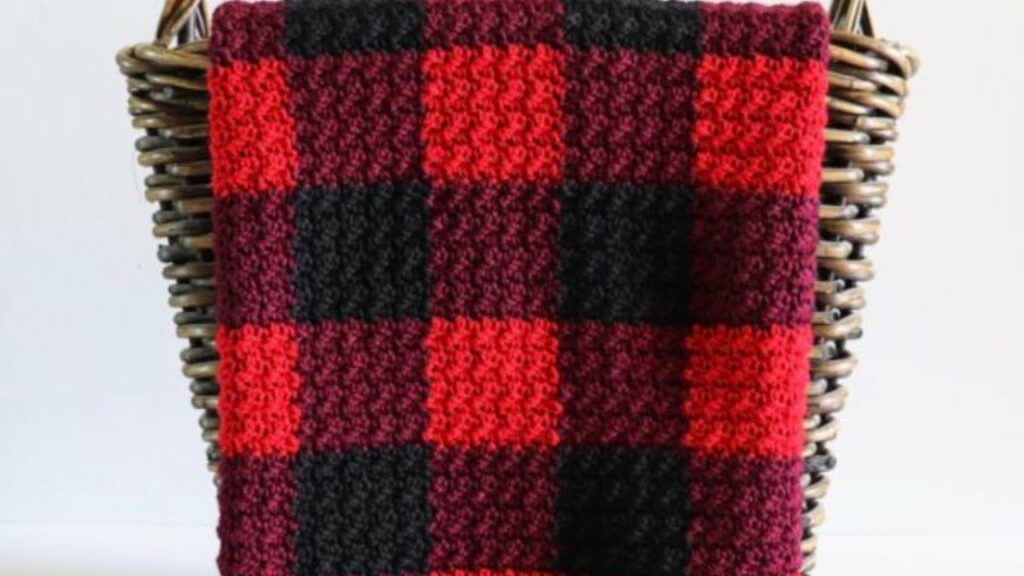 The buffalo check gingham pattern blanket gives off a rustic appearance and is not the only reason why we love it. Passing the vibe check of a weighted blanket, the buffalo check pattern is more functional than other gingham crochet blankets for beating the chills. Use bold (and preferably dark) colors for this ornamental and utilitarian crochet blanket pattern. Although we are not very sure about the origin of the name of this checked pattern, it never ceases to amaze us with the level of coziness it provides! 
Click Here for the Complete Tutorial Guide
9. Granny Square Gingham Pattern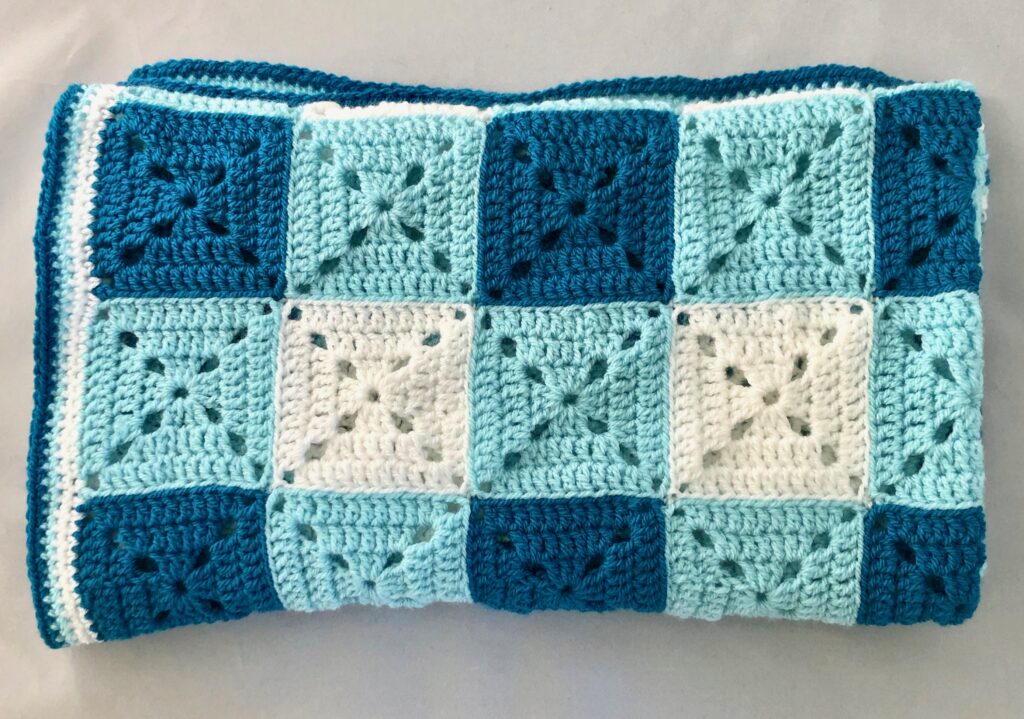 We don't think granny squares will ever go out of trend, nor will gingham patterns. That is why we considered combining these evergreen crochet stitches for a blanket that doubles up as a throw and a picnic blanket. Granny squares work well with almost every other pattern, but we feel that they have a unique chemistry with gingham pattern crochet. Suitable for use by all age groups, beginners can do a commendable job with this gingham pattern only if they are adept at joining granny squares together. 
Click Here for the Complete Tutorial Guide 
10. Pumpkin Crochet Gingham Pattern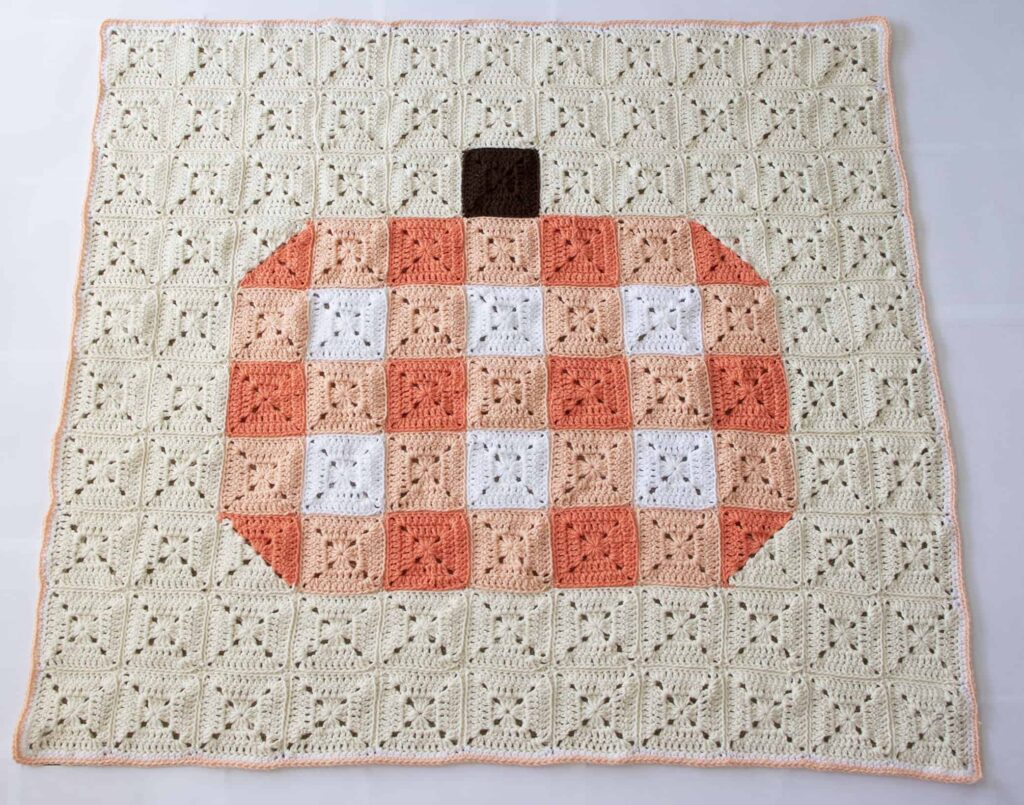 Unlike the heart pattern, the gingham pumpkin crochet pattern is relatively simpler. And here's a hint why – there's a reason for placing this pattern at this bullet pointer. Yes. It's right below the granny square gingham pattern blanket because, just like the previous pattern, this one, too, uses granny squares to portray the outline of the pumpkin that forms the focal point for the blanket. A great birthday gift for children, they will treasure this gingham blanket for years after they stop using it and keep it as a memory to remember you and your efforts.
Click Here for the Complete Tutorial Guide
11. Crochet Windowpane Gingham Pattern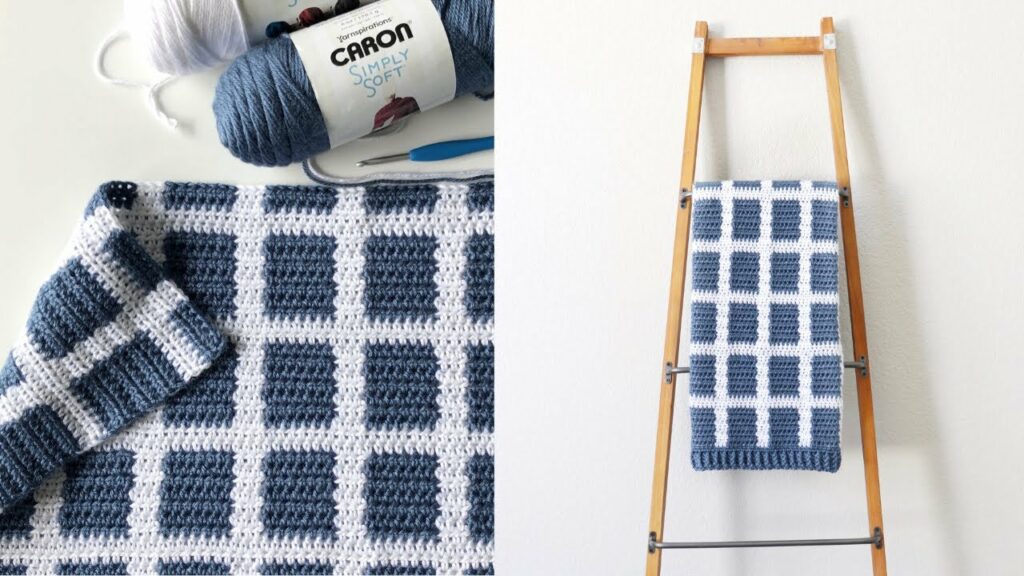 Clearly depicting a windowpane that symbolizes the yearning for exploration, the crochet windowpane gingham pattern blanket is truly a marvel. It is a masterpiece not just for the one who crochets it but also for the pattern itself. Absolutely beginner-friendly, once you start with the project, you will be surprised by how quickly you will get the hang of it! No wonder it is one of the gingham blanket patterns that does not take much time to complete, irrespective of the skill level of the crocheter. You can either pair either a warm color or a darker color with white. 
Click Here for the Complete Tutorial Guide
12. Crystal Waves Gingham Pattern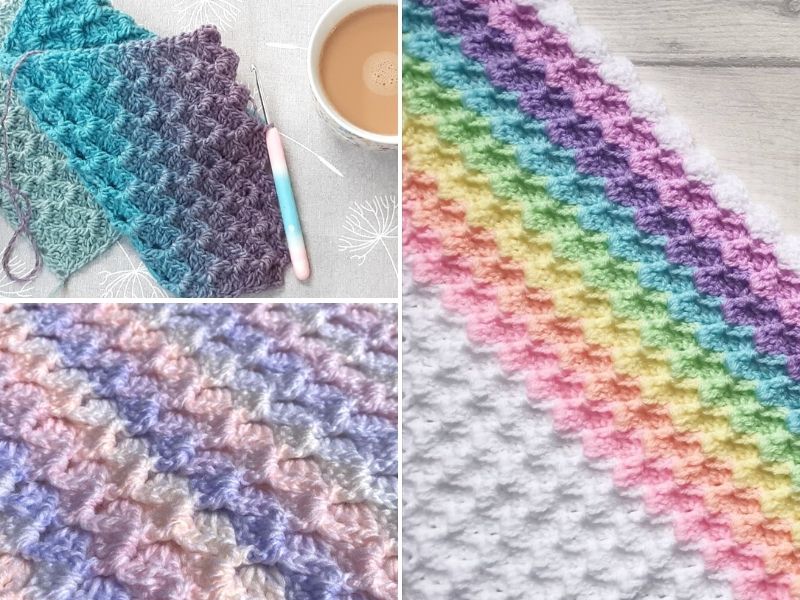 This gingham pattern blanket deserves all the hype. With a crushed texture, the crystal wavegingham pattern is great for adults with a sophisticated and artful taste. Resembling the ripple stitch pattern, this blanket shows off an elegant hue of colors radiating their vibrancy most skillfully. Worsted yarn is the right choice for crocheting this blanket pattern using the simple garter stitch. It also elevates the nursery look if you want to crochet it for your child. 
Click Here for the Complete Tutorial Guide
13. Crochet Flowers Gingham Pattern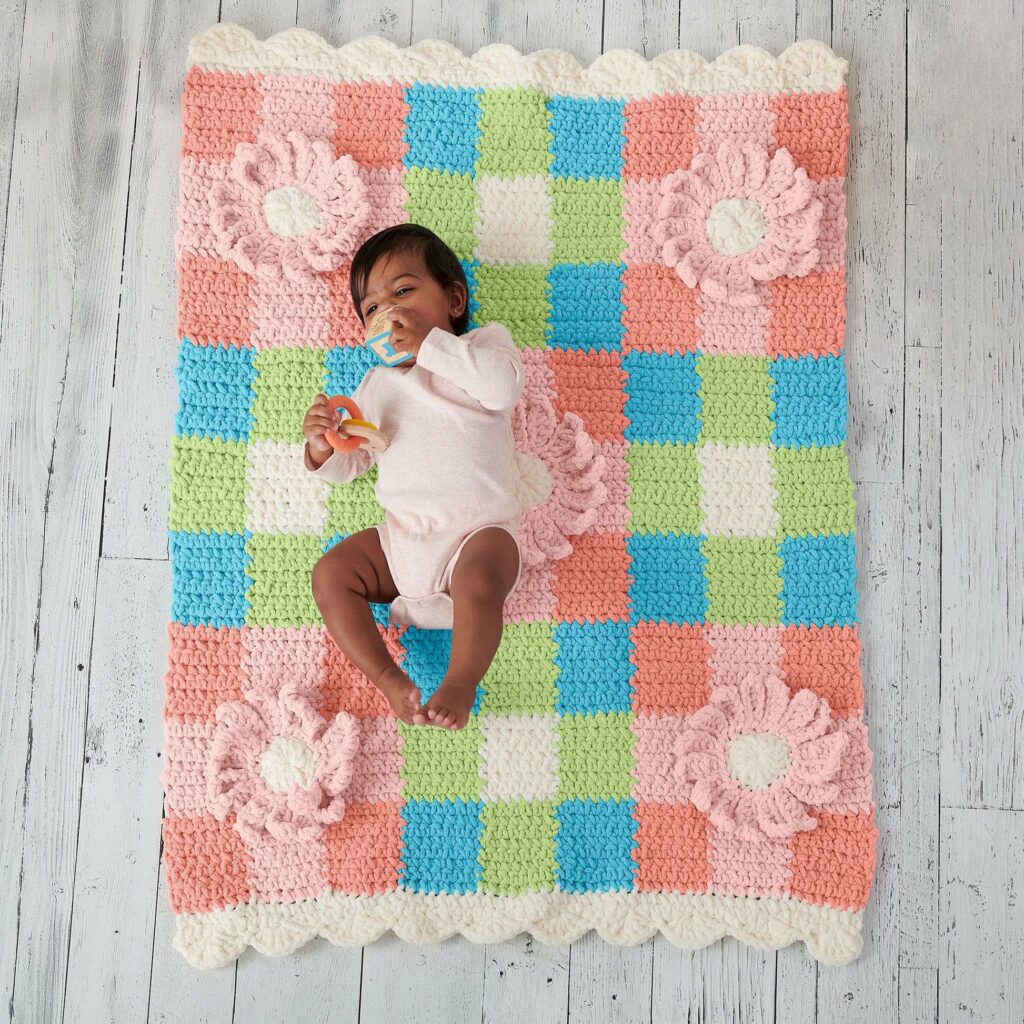 The combination of flowers and gingham is hard to miss. Not only is a flower and gingham crochet blanket attractive, but it also imparts a soothing visual sensation. A soft and simple design, it has a life of its own and takes center stage when used as a gingham throw blanket. Use as many color variations as you want to, but we would suggest limiting it to the flowers. Use a muted background and colorful flowers to call attention to the latter. 
Click Here for the Complete Tutorial Guide
14. Crochet Stairs Gingham Pattern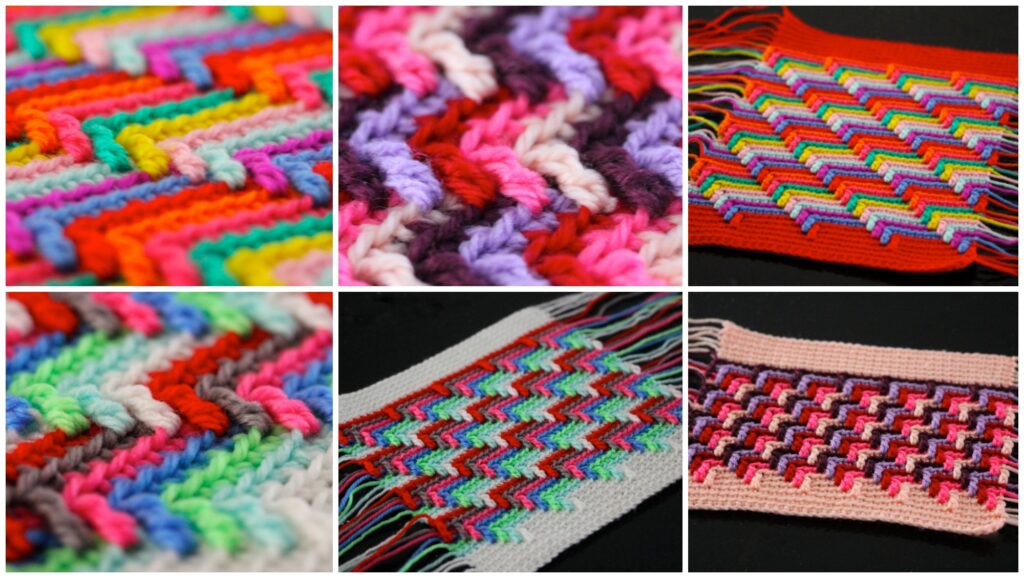 Want to crochet an abstract gingham pattern blanket? Then this crochet stairs gingham blanket is the one for you. Simple stitches in a longer pattern will suffice for making this blanket. One may argue that this is not a gingham pattern, but with a slight variation, you can actually gingham this abstract scheme. Still wondering how? Use different variegated yarns for the different faces of the stairs! Simple now, isn't it?
Click Here for the Complete Tutorial Guide
15. Cheaters Gingham Pattern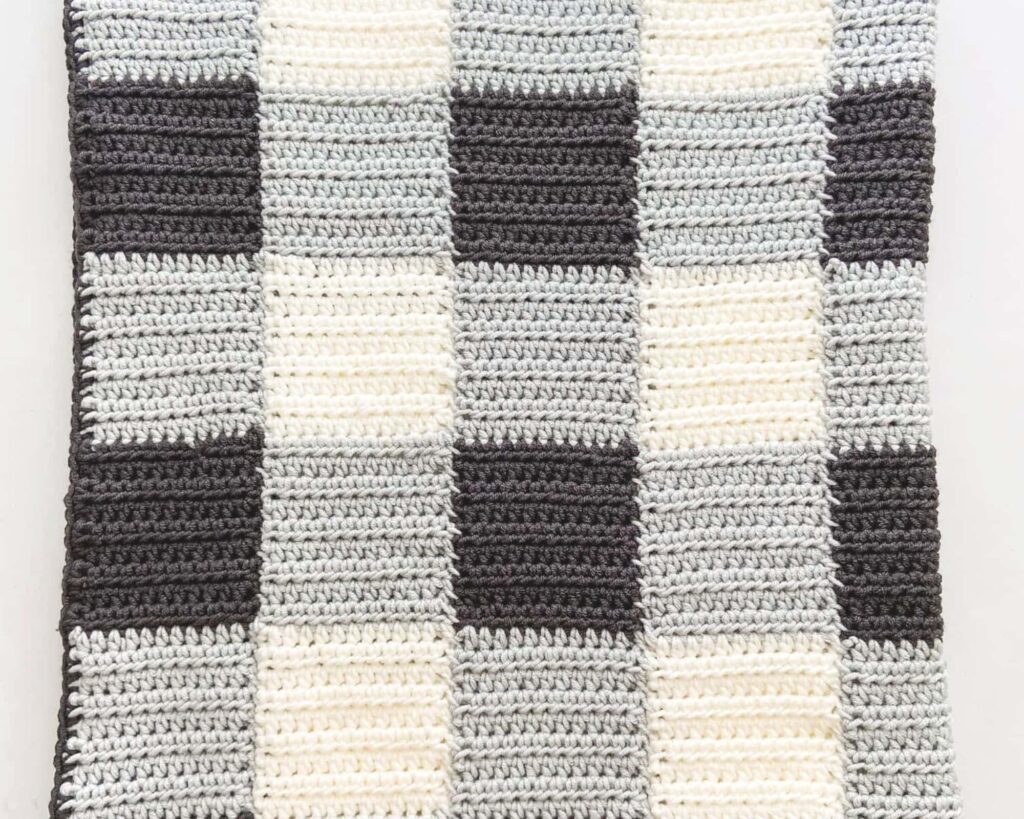 For all gingham pattern lovers out there who still lack the expertise to crochet the gingham stitch, the Cheater's gingham pattern blanket is for you. Forget about carrying all the extra yarn and the extra time required to do so – with this non-conventional gingham pattern, you need not worry about all that. It makes for a beautiful, chunky weighted blanket; this innovative faux-pas gingham pattern is called so appropriately. Although it does not need the classic gingham stitch, one gets the look of a real gingham pattern, and no one will be able to differentiate unless told. 
Click Here for the Complete Tutorial Guide
16. Rainbow Gingham Pattern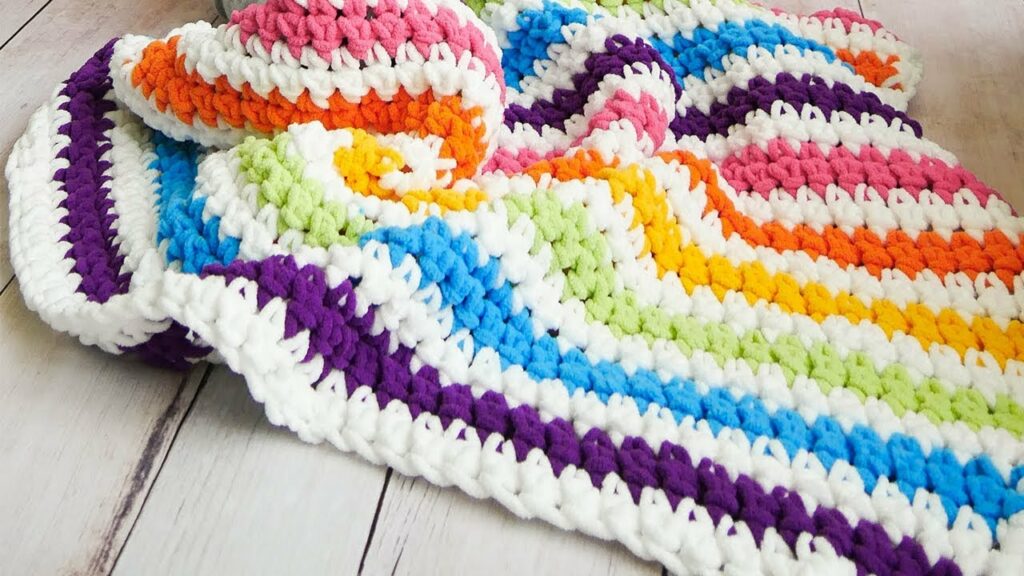 Rainbowgingham pattern blankets are hands-down the most vibrant blanket patterns. Contrary to popular belief, not only are they liked (oops, LOVED!) by toddlers and children but also adored by mature adults. Be it pride parades or at a friend's sleepover, you can flaunt your rainbow gingham blanket, and everyone will bestow compliments. Changing yarn colors is again the most crucial aspect of this pattern. You can try the linked stitch, including the linked treble, to master this blanket design.
Click Here for the Complete Tutorial Guide
17. Homemaker Gingham Pattern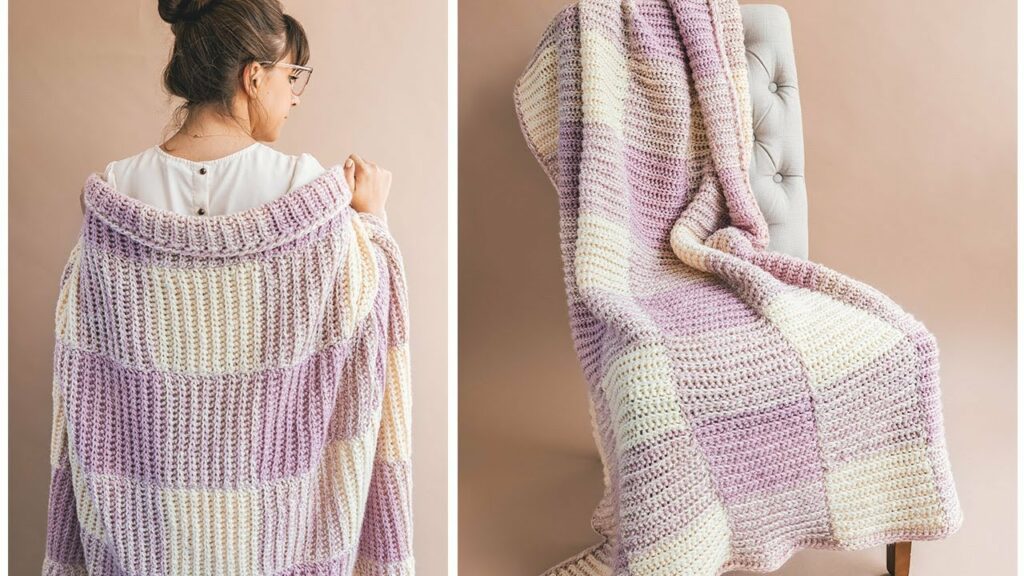 A rather unusual gingham blanket pattern, the homemaker gingham pattern is feminine. It radiates an element of grace and subtleness thanks to the ruffled texture. Perfect for those in-house movie dates, this gingham throw makes you cozy and snug. Soft blush velvet or lacy yarn would be our recommendations for crocheting this blanket pattern. You could also add patterned buttons if you want it to double up as a cardigan alternative.     
Click Here for the Complete Tutorial Guide
18. Plaid Gingham Pattern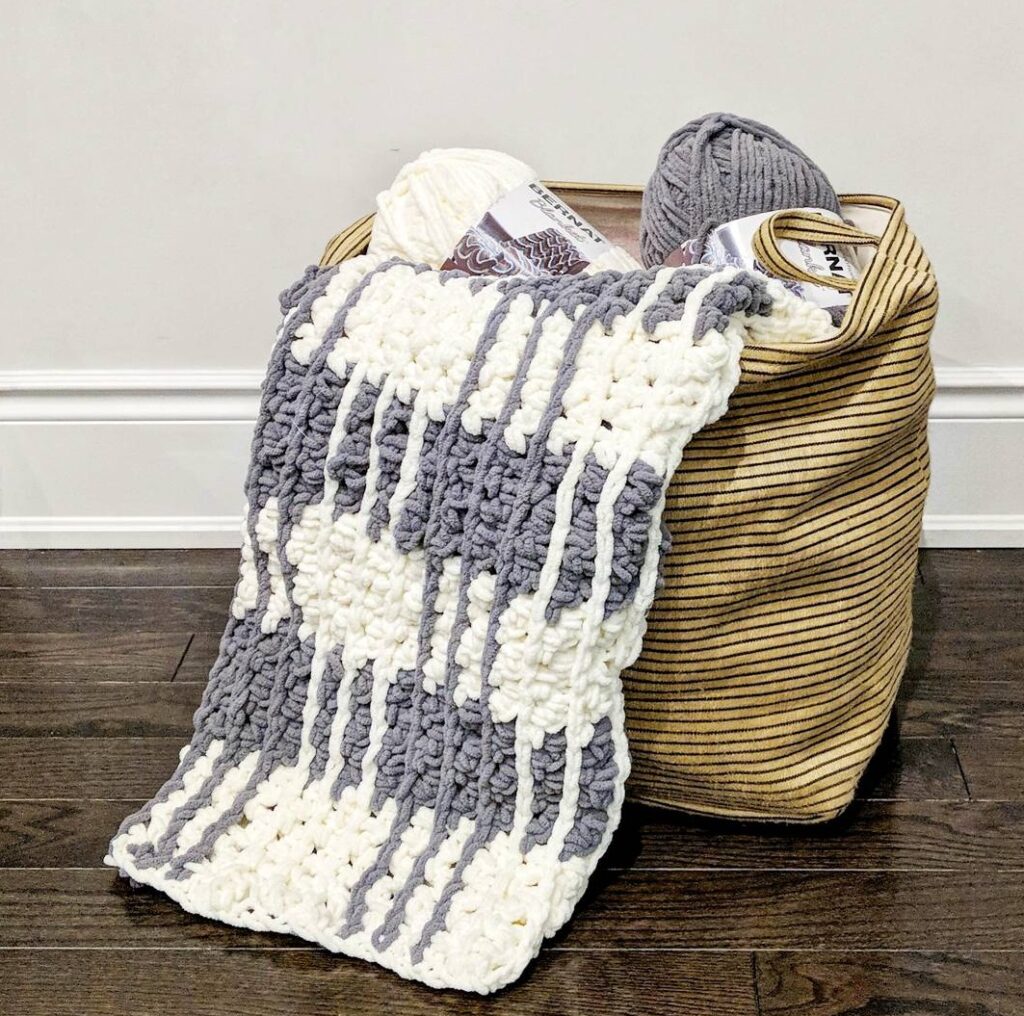 The plaid gingham afghan is a timeless pattern. Simplicity and innocence sum up this gingham pattern. And it is because of the nature of the plaid afghan that you can use this as a contrast to highlight the dash of colors in your wardrobe. That is, it acts as a canvas for your wardrobe. When crocheting this particular pattern, work with high-quality polyester or acrylic yarn only because this retro classic can be passed on as a heirloom, so you cannot compromise on the texture of the yarn. 
Click Here for the Complete Tutorial Guide
19. Multicolored Square Gingham Pattern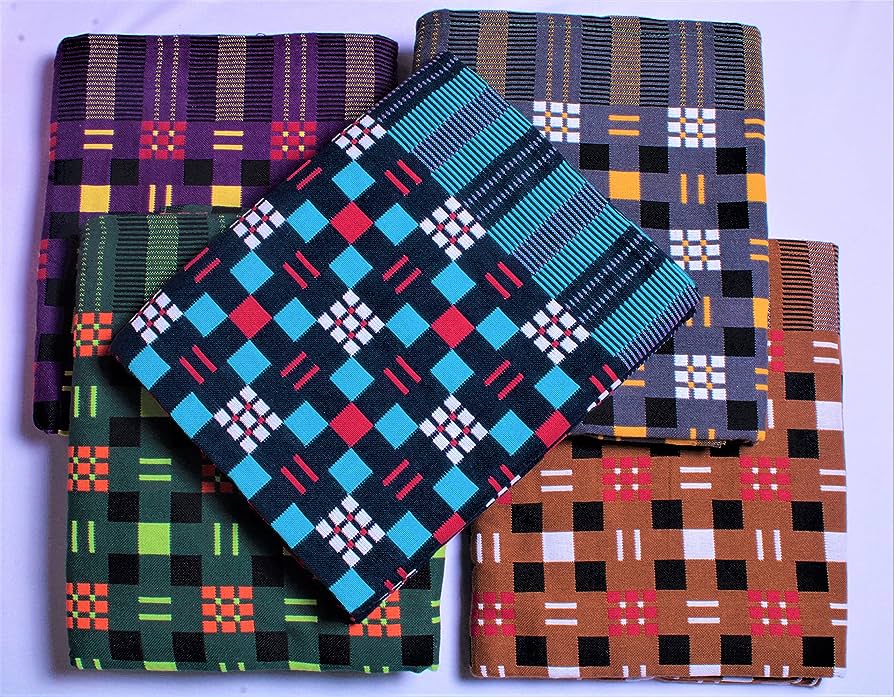 The multicolored square gingham pattern resembles a lot like the rainbow gingham pattern. However, it differs significantly in the placement of the color pattern. The colors are asynchronous; that is, there is no definite scheme that the palette has to follow. You are free to experiment with the color format. You may use 2 to 3 different colored squares or squares in multiple colors placed in an irregular arrangement. The non-conforming pattern exudes an incomparable charm. 
Click Here for the Complete Tutorial Guide
20. Mini Squares Gingham Pattern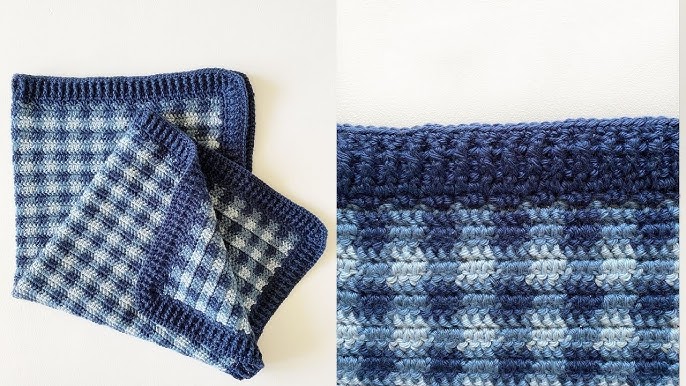 The name reveals it all, and very accurately. This gingham pattern comprises a regular arrangement of mini squares. They are usually crocheted equidistant to each other or may exhibit a regular pattern of increasing and decreasing distance between the squares. The mini squares gingham blanket generally represents squares of the same color. Still, the crochet canvas is your place of zero limitations and zero boundaries, so go ahead with mini squares in various colors if you wish to!
Click Here for the Complete Tutorial Guide
These are the ultimate gingham patterns for blankets that you must not give a second thought to trying. Lay your hands on the right yarn type (depending upon the pattern that you choose), and we bet there will be showers of compliments for your dedication to your art and the intensive labor of love.
Conclusion 
To sum it up, gingham pattern crochet blankets are a classic masterpiece that you will cherish for a long time. Their timeless appeal makes them stand out amidst every new trend. That is why you can never go wrong with gifting, selling, or using a gingham crochet blanket.
Be it a throw, a shawl, a picnic spread, or a weighted winter blanket – gingham patterns beautify every piece, and their pragmatic feature underlines the cherry on top. The gingham pattern is beginner-friendly; save a few tips and tricks to help you improvise your artwork over time.
A thoughtful gift not only in terms of elaborate craftwork but also a heirloom that others would covet, gingham pattern crochet blankets are every crocheter's best friend concerning flexibility and novelty.
Which pattern among the above would you like to crochet first? Have you crocheted any of the gingham blanket patterns stated above? Which stitch did you use, and what variation did you opt for? We're eager to know about them! So, do not forget to leave a comment for us that answers one or more of these questions. 
Frequently Asked Questions
Why is It Called the Gingham Pattern?
With no conclusive history or reliable knowledge of gingham pattern origin, there are many theories with regard to the terminology. However, the most popular theory states that this pattern originated in Asia, and it got its name from the Malay word "genggang" which literally translates to "checkered." The geometrical check pattern corresponds rightly with this meaning. Hence, this is considered to be the reason why the gingham pattern is called so.
How Do You Identify Gingham?
For someone who is not into designs and patterns, this can be a straightforward task. But for someone who is into the above genre and likes to keep themselves updated, it can be a pretty daunting task, especially because gingham and checkers look very similar. The main difference between the gingham pattern and the checkered pattern would be the confluence of colors.
Can You Wear Gingham in the Fall?
Many people have doubts regarding the question of when you can wear gingham. To clear the query once and for all, here's our expert advice. Not just limited to fall, winter, autumn, or summer, one can wear the gingham pattern all year round. This holds for gingham crochet blankets as well that you can use as a light throw for the fall or as a heavy warm blanket for the winter.