They say the fragrance of goodness lasts the longest. Then how about a thread of handwoven love? From Eco-friendly clothing and home linen to classy accessories and baby toys. Christmas is around the corner, and if you're a fan of gifting plush handmade presents, then we have the best news! This article lists the best 28 Crochet Christmas ideas to greet your loved ones with gratitude.
Artwork requires a great deal of heart work. But let's agree on this: Handmade gifts are the best ones to make their hearts sing. Whether you're planning for a family or corporate gifting, a simple act of sincere effort outweighs plastic-packed, readymade gifts.
So why wait? Read on to find the best gift choice for the best time of the year!
1. Crochet Mandala Pattern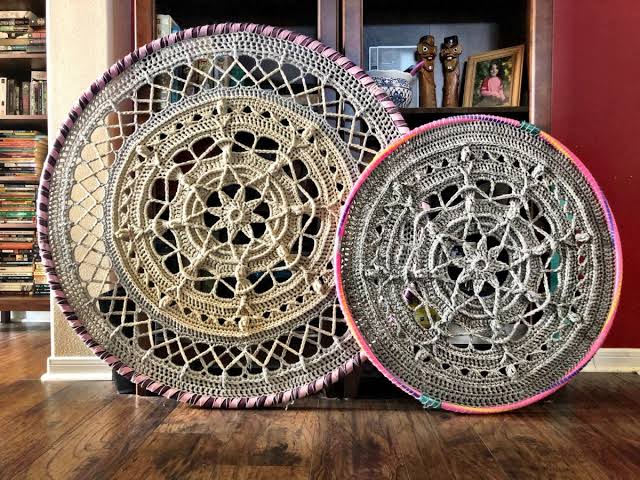 Christmas welcomes classic home decor on the way! And what's better than a plush Mandala design for the same? Over the years, the craze for the Mandala pattern has made it the Magnum opus of modern artwork. That's right! It's time to get excited because this blissful workout is one of the best crochet Christmas ideas to ooze the oomph of your dear one's home, from larger-than-life crochet Christmas gift ideas like mega-size Mandala for walls to quick and chic gifts like dream catchers.
Mandala Design has it all! As a result, the Mandala pattern is your perfect go-to for one-size-fits-all Crochet Christmas ideas for all types of big and small gifts.
2. Fingerless Gloves Crochet Pattern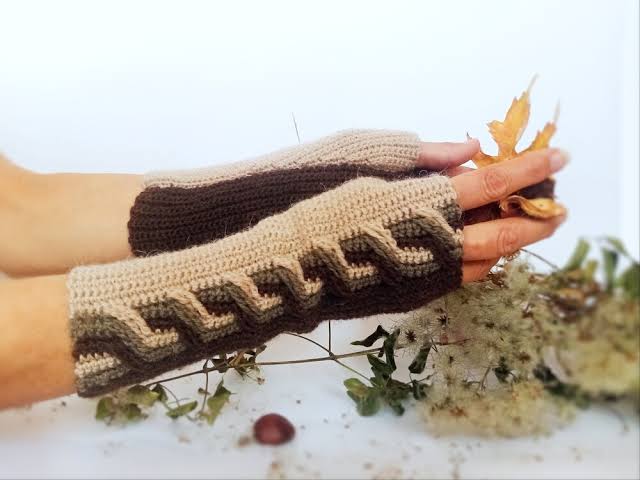 Oh, come on! Don't pretend like you don't love it already. And why not? Wondering what to gift your cool teenagers this Christmas? Then smile right away! Because we're here with bomb Crochet Christmas ideas for teens and tweens. Fingerless gloves have rightfully garnered the attention of all ages in modern times. Crochet Fingerless gloves can be creatively created in different designs.
Pocket gloves, asymmetrical fingers, and beyond. When handcrafted with perseverance and patience, this one-of-a-kind gift takes little time to make Christmas extra special for your loved ones. So, fly your imagination and stitch with love!
3. Removable Crochet Cushion Cover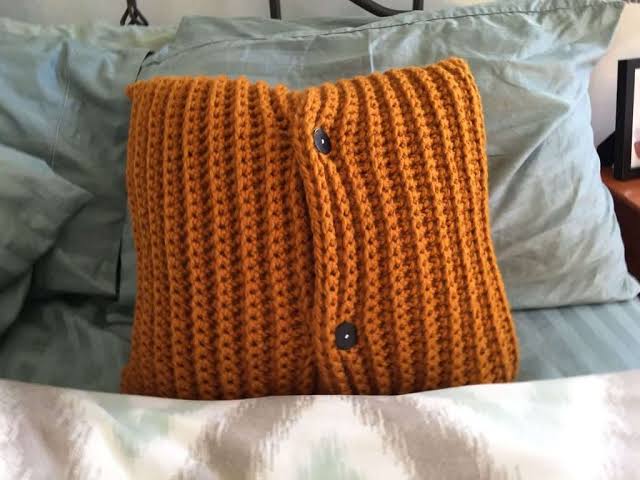 When it doesn't go right, go cushion supplies! Cushion covers are the top crochet Christmas ideas when you don't have expertise on what they may like. Jokes aside. Sometimes, it's best to play safe. And when it comes to bedroom gifts, a thread of handwoven love always works! You can either make it a three-piece tout ensemble of cushion cover, bedtable cover, and doormat.
Or you could send a sweet gesture with a warm mini cushion cover gift. Whichever you prefer, a removable crochet cushion cover is here to save the day. After all, who doesn't have a cushion in their homes?
4. Crochet Soap Saver Pattern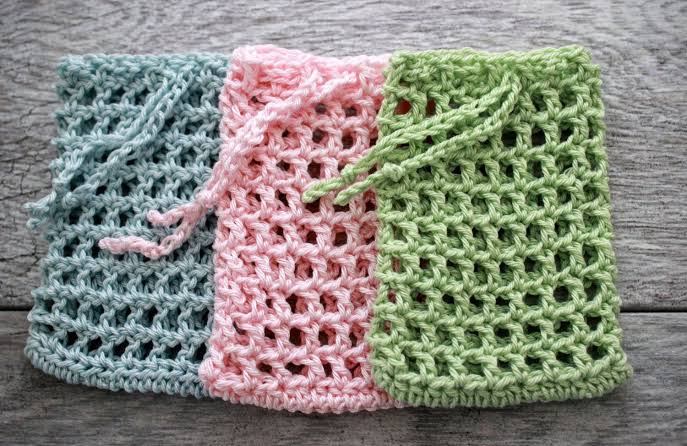 Who says a novice can't show off their skills? This one is for all our late-night-night, last-minute handmade gifts enthusiasts. As a beginner who is still mastering the art of stitching crochet, soap savers are excellent Crochet Christmas ideas to flaunt your talent. This classic handwork can also be gifted as a dish set or mobile cover with minimal changes.
You can also create an opening cover on one side for safety reasons and also to make it look more attractive. Rather than packed expensive gifts that scream corporate vibes, your loved ones might just be waiting for a handmade gift like this. Are you ready for it?
5. Crochet Baby Socks and Slippers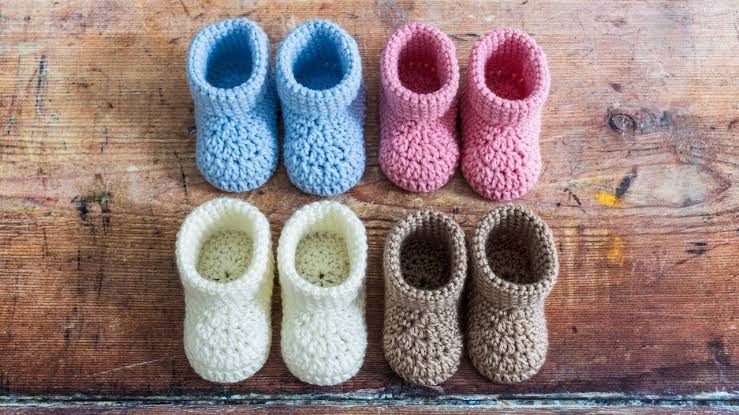 Santa Claus never misses a baby gift, so why should we? Crochet Christmas ideas for the best baby gifts could never be any easier. Be it stockings and socks for decorating the big Christmas tree, you can now make a kid's heart sing with an all-rounder Christmas surprise. Crochet baby slippers are an easy modification to the classic crochet baby socks.
This forever-in-demand Christmas gift surely brings a smile to everyone's face. Whether you decide to gift both socks and slippers or any one of them, the Christmas spirit is sure to light up the mood with this crochet delight. So what are you waiting for? Tickle the toes of your little ones with crochet socks-cum-slippers in hand. 
6. Crochet Hat Pattern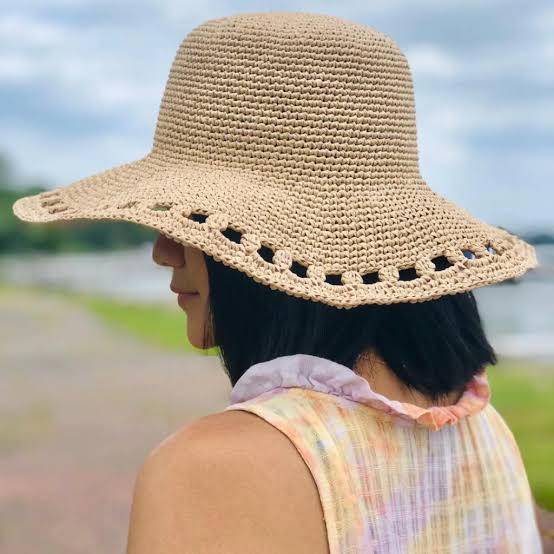 A lady or a gentleman, hats are for everyone! Not only Crochet pattern hat is an awesome date gift, but also a timeless masterwork loved by people of all ages. They are an effective tool to keep the fashion game spot on while protecting your head from heat, wind, and cold.
Different kinds of hats and caps can be used for fulfilling different purposes. If you're yet to find the magic spell in adding the spirit of the season to your surprise present, Crochet Christmas ideas for hats are the way to go! 
7. Crochet Purse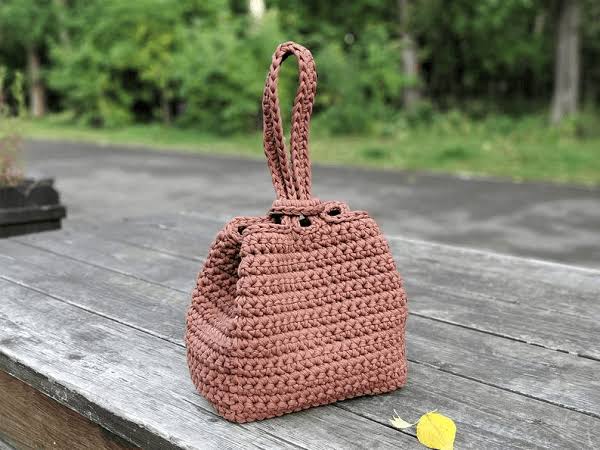 Purses and bags are the first and most important travel essentials for one and all. They may come in various sizes, but they're all widely popular among all genders. This makes Crochet pattern purses an impeccable Crochet Christmas idea for your loved ones.
For men, pocket purse can be an outstanding choice. For kids, theme-based Crochet purses like unicorn, Barbie, Ben 10, and beyond can be used to enhance their wardrobe and widen their smiles.
8. Crochet Cotton Scrunchies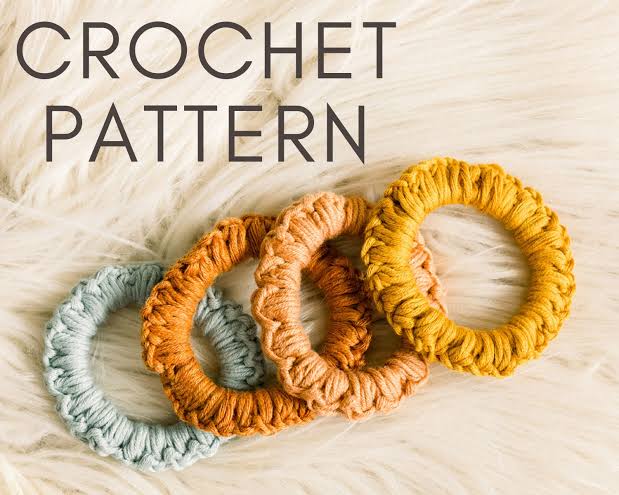 Looking for a ninja technique that instantly converts a casual Christmas gift into a classy one? Then, this crochet Christmas gift idea is all you need. Crochet cotton scrunchies are here to bring sass to your regular group gifting to friends. A reusable, washable, yet irreplaceable gift to your female friends. Ace up to a better and brighter future with these sustainable scrunchies. 
9. Kitchen Towel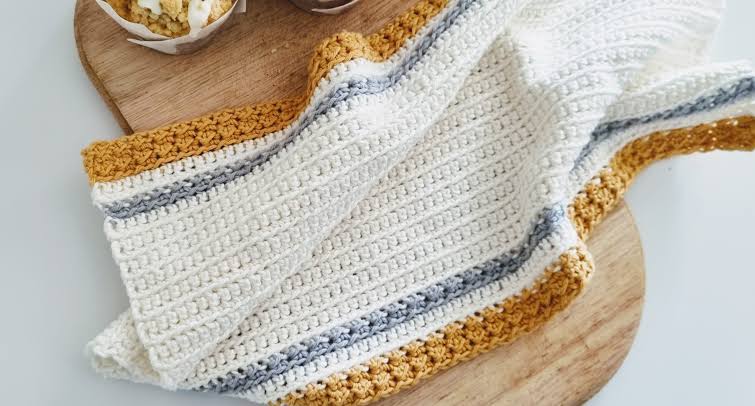 Good towels are always a great idea! A Twist in regular kitchen gifting is Crochet kitchen towels. Imagine surprising your family and friends with something they always needed and almost didn't realize. If you don't have much time, you can also make a Kitchen towel topper and join a stainless steel handle in it.
This can be used to hang all the small napkins for various purposes. A must-try gift for chefs and cooking enthusiasts to pop color in their casual day of work, kitchen towels are the trending Crochet Christmas ideas to bet on!
10. Infinity Scarf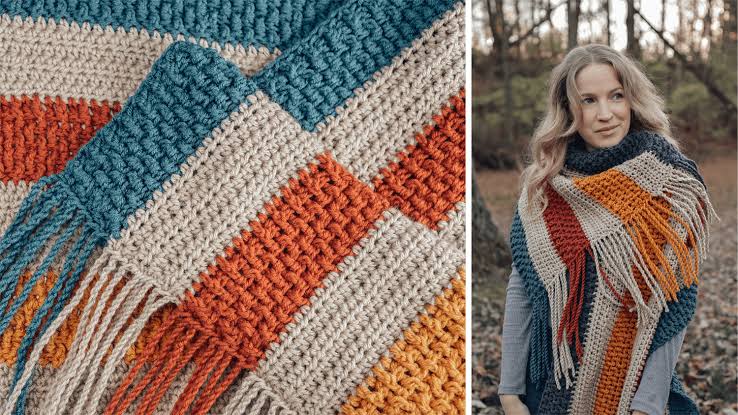 Crochet Infinity Scarves are another exemplary take on timeless fashion. But that isn't all! The scarf protects the body from heat and dust, cold and mist, and whatnot. The tout ensemble oozes the oomph and an irresistible desire to wear the wonderful work of art.
But does that mean this cool Crochet Christmas idea is reserved only for ladies? Not! Men's scarves are as popular in modern times and an exceptional choice for Christmas gifting for men, women, and kids alike. 
11. Head Warmer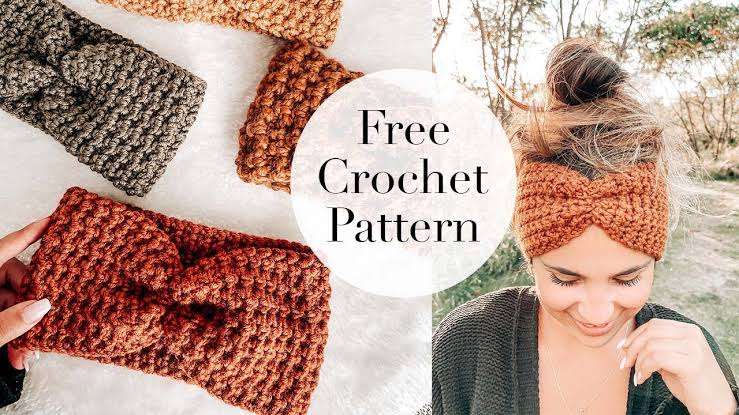 Styling your hair with a headband is a funky way to add a twist to your regular wear. Whether you're into minimal casual fashion or a forever dolled-up beauty, headbands will make heads turn! 
The original purpose of a Headband is to keep your ears warm and safe from the cold. However, over the years, headbands have been widely used as a hairstyler-hair band and continue to do so. For Crochet Christmas ideas, headbands are most popular among gals, kids, and winter wear. 
12. Crochet Toys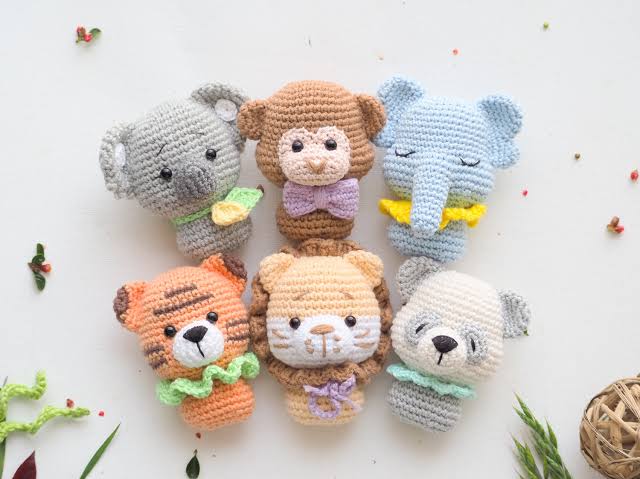 Toy Story, anyone? Who hasn't played with toys in their childhood? If you know any child or adult who is fond of toys, then crochet toys are back again to please everyone. 100 percent cotton fabric yarn is an ideal choice for designing good for all tools of play.
Baby dolls, Teddy bears, and Crochet balls are just some of the stunning toys that can be beneficial for people and the planet. Thats right! These toys are zero-waste, plastic-free, natural, and safe to use. Set up a kid-friendly and sustainable example with squishy crochet toys made of vegan yarn.
13. Tote Bags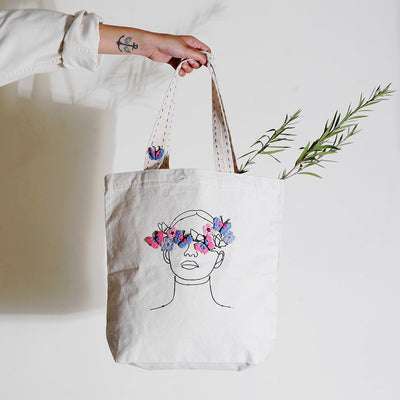 Are you worried about climate change? Wondering what could be done? Then try gifting a handwoven tote bag this time if you are running short of time and looking for something readymade. Then, you can try online shopping instead. Earth-friendly e-commerce websites like Amala Earth and Bare Necessities provide easy online platforms to buy readymade Crochet shoulder bags, Bento Bags, and of course, trendy tote bags.
14. Bookmarks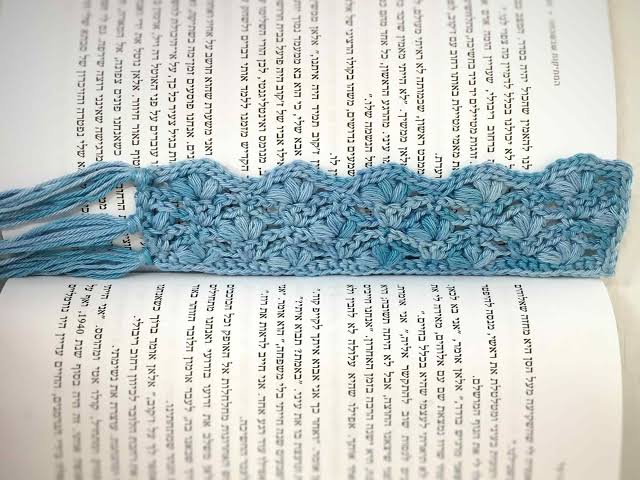 This one's for all the nerds out there! A perfect Crochet Christmas gift idea for a book lover. Tired of boring paper-printed bookmarks? Pick out their favorite book and pack it with a handmade crochet bookmark inside. They might not be a ready-made product, but well, what about love? Ditch the regular paper bookmarks and replace them with a piece of your art. For who's better than a connoisseur to gift art?
15. Placemats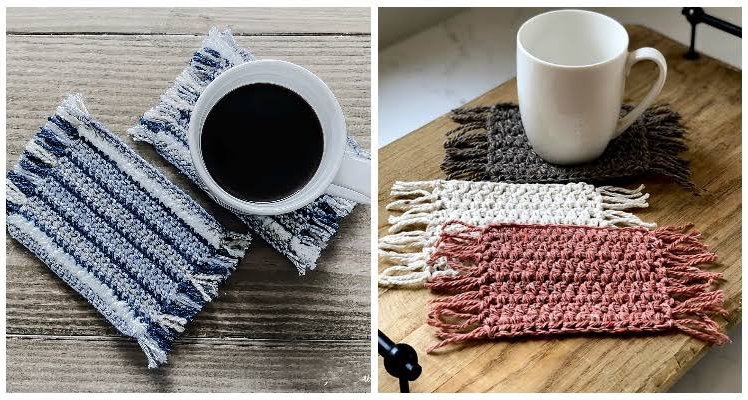 Placemats are a curated accessory that adds beauty to the home decor and sanitation of your place. Mug rugs and door mats are some of the common examples of this funky crochet Christmas idea. Add a pop of color in the room of your loved ones with your handmade crochet art that takes little time to make
 16. Baby Blanket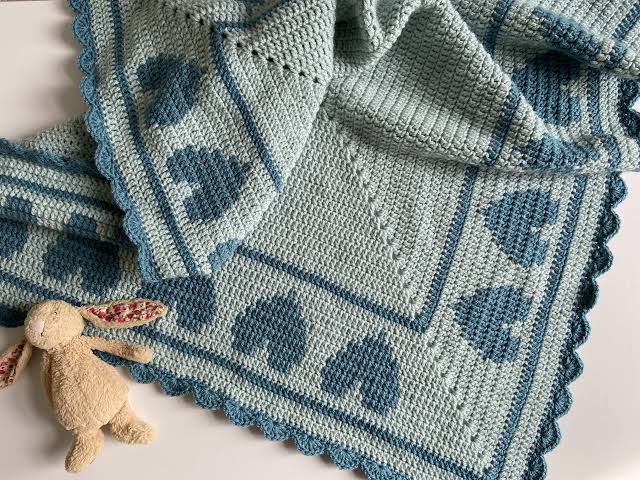 The birth of a newborn baby is the biggest news for the family. But the trouble is caused when tons of synthetic fiber and plastic are bought in the name of baby accessories. Are you tired of gifting boring jingle jangle bells on every Baby shower? Then how about knitting your happiness and blessings in a Crochet baby blanket? Sounds exciting, right? Crochet baby blankets are the top crochet Christmas ideas that rock in every baby ceremony. All you need is a vegan-friendly 100 percent cotton yarn that soothes your baby with the best sleeping experience.
17. Crochet Keyrings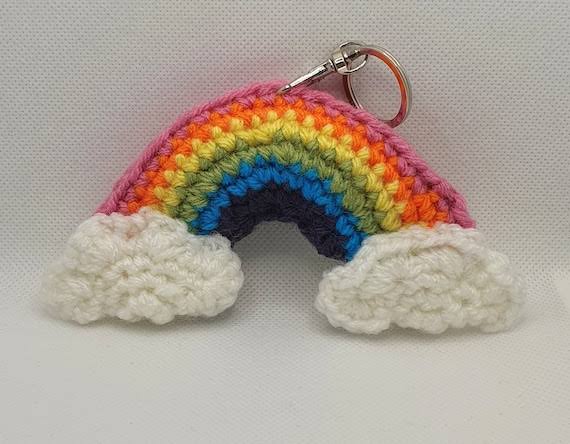 The tiny little handmade gifts are a memory of a lifetime. Whether Wristlets, enchanting pendants, or a keychain, this crochet-designed handwork of love is all you need to make this Christmas brighter for your dear ones. This rainbow keyring in the above image is a perfect match for kids to lock their cupboards at school. You can try different designs for Crochet Christmas ideas of keyrings.
18. Boot Cuffs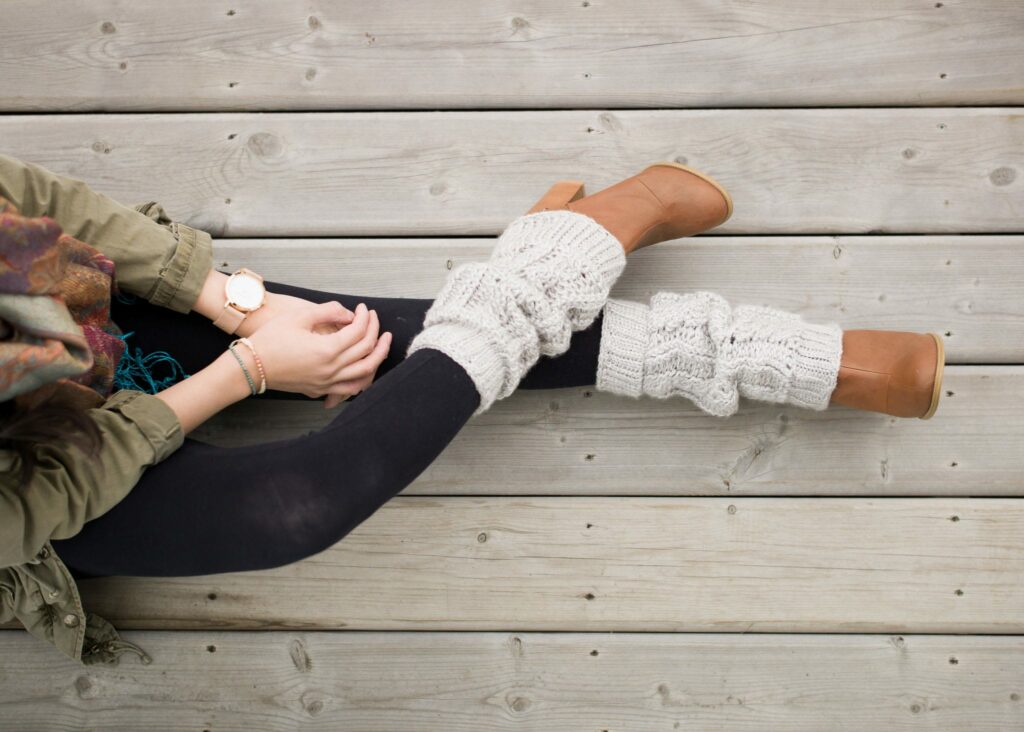 It's time to sharpen your winter fashion while maintaining the agility of your foot. Upcharge your fashionista friend with the coolest Crochet bootcuffs made with love. Boots sway away the classy and elegant lady boss vibe, and crochet boot cuffs add like the cherry on top of it all. It is advisable to take one of their boots for a sample or mark their foot size to ease the process of weaving the ultimate Crochet Christmas idea!
19. Glass Case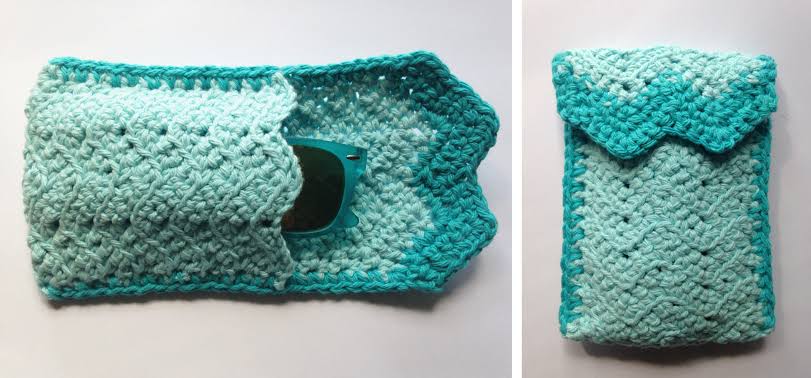 Do you have a careless friend who breaks their glasses now and then? Then, this Crochet Christmas idea might be their savior. Crochet Glass case is a blessing in disguise for all those who use eyewear for contact lenses, eye numbers, and driving two-wheelers. Weavers can make extra pockets for lenses and contacts to make them more useful.
 20. Waterbottle Holder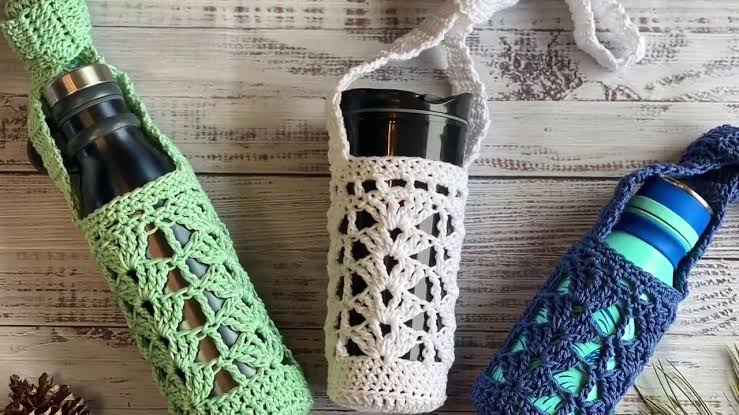 Handling water bottles can be a tedious task, especially while traveling without a bag. But not if your loved ones gift you this classic crochet water bottle holder. The one-of-a-kind holder is not just beautiful to look at but is also extremely useful while handling multiple things at once. A solid replacement for polythene bags, this Crochet Christmas idea is suitable for everyone all year long. 
21. Crochet Women's Clothing Pattern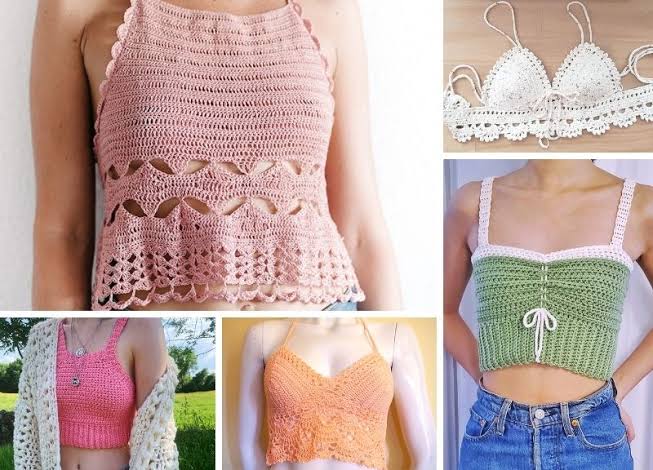 Suppose you are waiting for a perfect crochet Christmas gift idea for women and have enough time on your hands. You've just hit the jackpot. Because we've discovered the secret sauce to happy women, all it takes is a handmade gift of an extraordinary piece of clothing, from refreshing tank tops to cool ankle pants. These crochet Christmas ideas are blockbuster gifts that would surely garner attention for your Crochet skills. 
22. Crochet Candle Jar Holder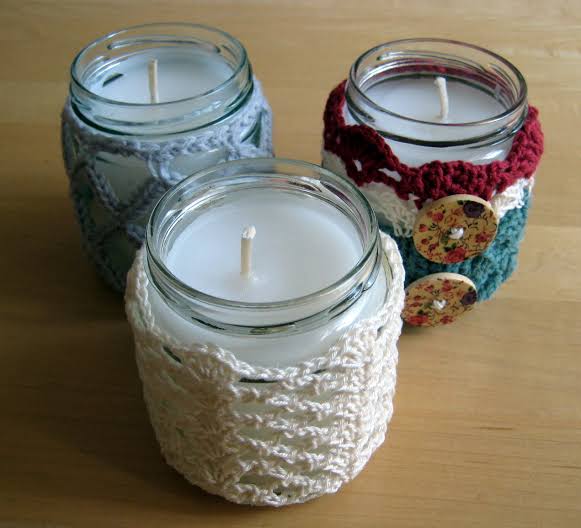 Mental wellness should rightly be the priority for people of all age groups. So why not gift healing and soothing vibes via a Crochet candle jar with natural fragrances? You can also add buttons and other designs to enhance the look.
Moreover, if you're looking for something else, you can also turn this glass jar into a stationary metal jar covered with crochet patterns. This could be a pencil box for kids and a pen holder for adults. With little practice and time, you can make this everlasting gift of joy!
23. Crochet Christmas Tree Ornaments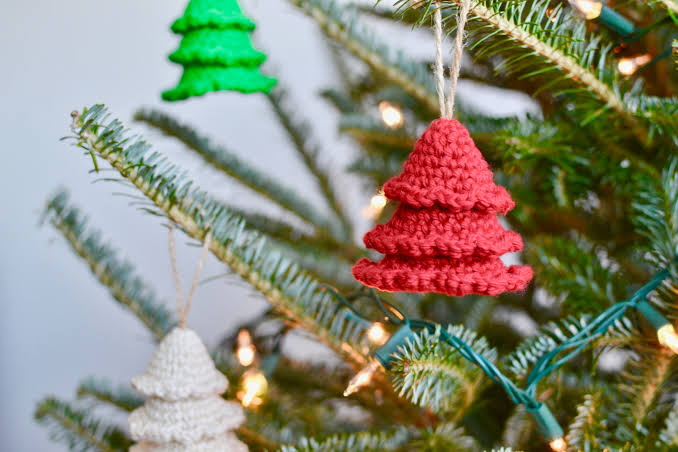 Snowflakes, Christmas bells, mini red caps, reindeer, and tiny Christmas trees are just some of the countless examples of decorating ideas for Christmas trees. But this time, all of them could be made at home without any major additional cost. Save your bucks by knitting your heart out on various Crochet patterns and invent fresh Crochet Christmas ideas this year! And gift them to kids, adults, those in need, and, of course, YOU!
24. Yoga Bag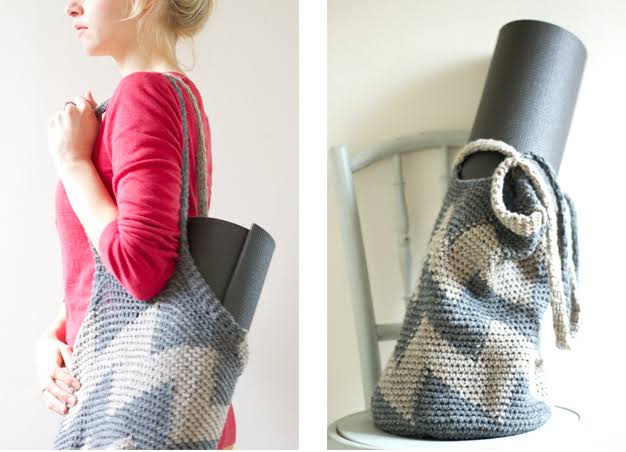 It's not a cakewalk to impress fitness enthusiasts, is it? But what if we knit a Crochet yoga bag for them? A handwork of heart made with a labor of love. Crocheting a yoga bag would help them carry their yoga mat and other supplies. Crochet Christmas Ideas has an abundant collection of presents that guarantee a delightful experience. And the Yoga bag is a good one! It can also be used as a workout bag in the gym. In this way, these bags can be used for multipurpose while being a climate-friendly visual delight to all!
25. Crochet Earrings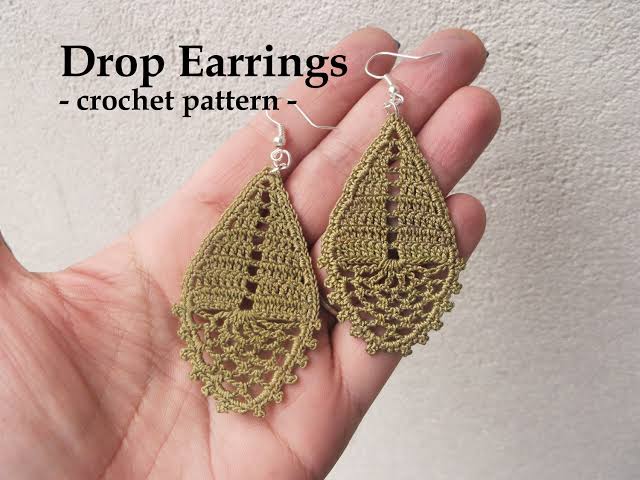 Crochet Pattern handmade artwork is in a one-in-a-million Christmas gift that screams ooze and why not! And when it comes to ear-styling, we know the grid! Whether traditional, indo-western wear, or a dress look, earrings have found their place in every corner. Modern and sleek earrings for young girls might be the best Crochet gift ever. Choose the design according to their taste.
The length, color, size, and pattern should be carefully curated to make it a sweet Crochet Christmas idea for gifting your loved ones. Ear-styling fandom is highly sophisticated yet rooted in the hearts of local bazaars. So make sure you're adding the intricacies of an extraordinary earpiece to add ornamentation to your body. 
26. Crochet Hanging Baskets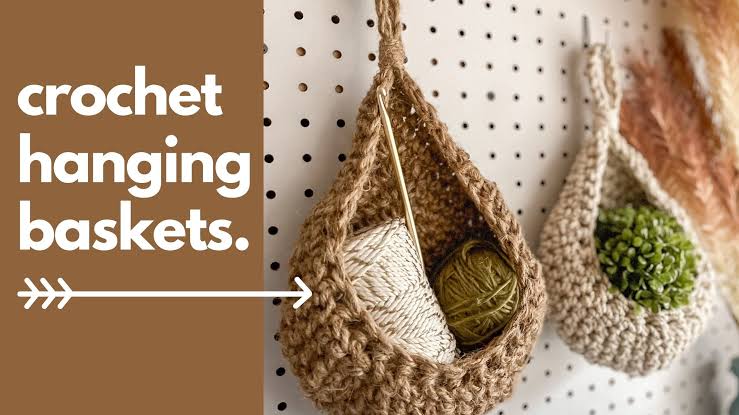 Elevate your loved ones' home design with your crochet masterwork. A gift worth that's worth the wait and time. Hanging baskets add to the aura of their room. A beautiful Crochet hanging basket would lift the mood and be visually pleasing to the eyes. It also helps in keeping the most important things right before your eye.
So the next time you're confused about what to buy as a Christmas present for your family and friends, try Crocheting a hanging basket and watch them feel grateful for your efforts. After all, Crochet Christmas ideas aren't a fetish fever dream but rather a forever fantasy.
27. Crochet Kitchen Supplies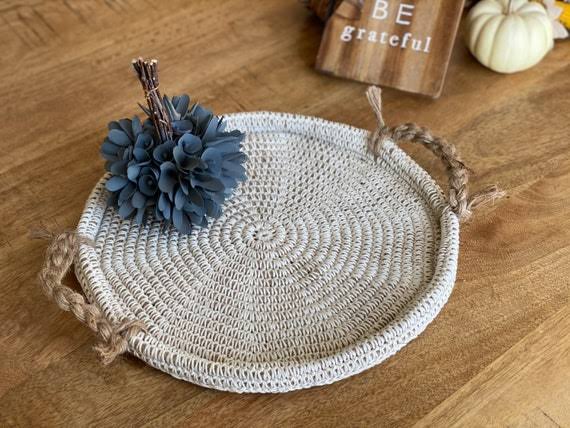 All the singles out there struggle with one common problem: Kitchen supplies! From Crochet knit Trays and Fruit baskets to Dishcloths and towel-toppers. A terrific crochet Christmas gift idea is to crochet kitchen supplies. You can easily create different patterns with this Crochet Jute Cord tutorial and make a beautiful tray, as shown in the above image.
These Crochet utensils are durable, unlike the throw plastic cutlery used worldwide. Gift this beauty and make a bountiful of memories. Pretty Easy and Fun!
28. Face Scrubbies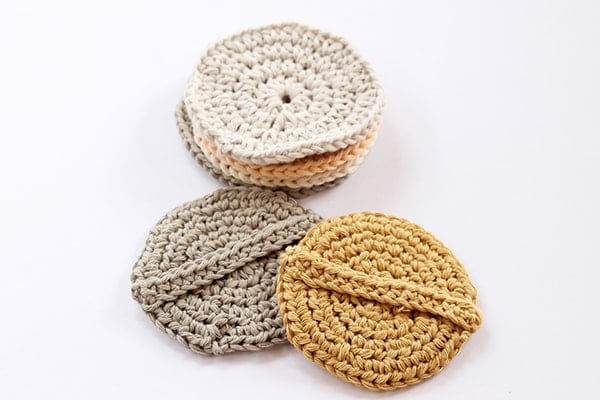 Looking for a wow-worthy present for a water baby? Then keep reading because this sustainable saga follows an eco-friendly bathing accessory that helps in gentle face and body wash. Face Scrubbies are an irresistible Crochet Christmas idea for gifted kids and adults alike. 
These breathable crochet face scrubbies can also be used as a face powder pad. In short, crochet face scrubbies are an excellent skincare and makeup essential for your everyday routine. What's more? This last-minute DIY Christmas present is washable and reusable, unlike other synthetic scrubbers and disposable wipes.
The Ultimate Decision 
Christmas gifts are beyond the glitz and glamour of December. In the past years, a movement has risen from the common masses that challenge our old and unhealthy ways to replace them with the right ones! One such progressive change is the emerging demand for handmade gifts. Ahem! That's how you found your way to Crochet Christmas ideas, right? When combined with 100 percent cotton or jute yarn, Crochet Christmas ideas make the best choice for a plastic-free, long-lasting, and memorable gift.
A piece of your heart in the piece of your art, can it be any better than this? The above list explores various types of to-be crochet Christmas presents for your favorite people. So, are you ready to make a Stella surprise this year?