Making something unique and attractive for children is the dream of many parents. Making small things on their own is not a way of showcasing creativity; rather, it shows the love and dedication of a parent towards their children. It shows how much you care for your tiny tot and how much they mean to you.
There are a lot of things you can make on your own for your little one, and one of them is a crocheted baby bib. They are one of the easiest projects to begin your crochet journey.
So, if you are looking for some good inspiration to make a cute bib for your little one, then worry no more; we have curated a list of 20 best-crocheted baby bib patterns you will find helpful. All of them are easy to make, and you will love making them for your kids.
1. Combination of Single and Double Crocheted Baby Bibs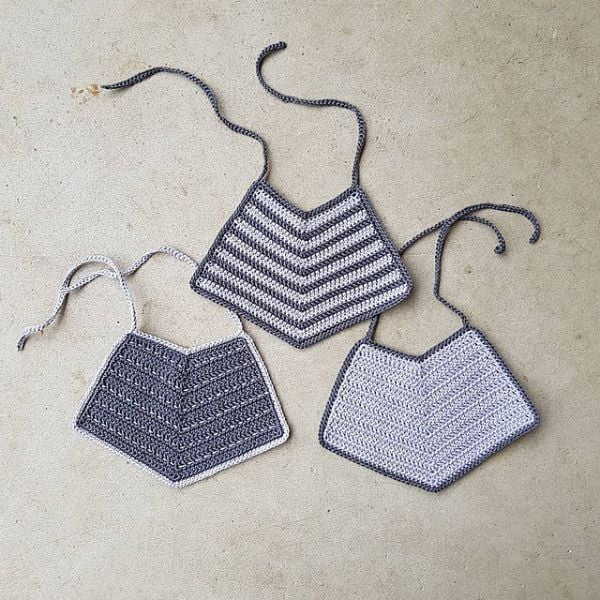 Make a pretty crocheted baby bib for your kids by using a combination of single and double crochet. This baby bib is made using a double crochet pattern, and the edges are made using a single crochet. You can select different colored yarn to make the edges, as this will highlight the edges when using single-stitch crochet.
The single-stitch crochet will provide a unique texture to the baby's bib. If you are new and do not know very typical techniques, then you can make these kinds of bibs for your kids that will look attractive as well as charming. You can select any shape you find best to work, then begin working on the crocheted baby bib.
Click here for the Complete Tutorial Guide
2. Circular-Shaped Crocheted Baby Bib
A circular-shaped crocheted baby bib looks very cute and is easy to make. With the circular shape comes a huge variety of ideas and patterns that you can consider to weave an alluring piece of crocheted baby bib.
You can make a colorful baby bib, or if you wish, you can stick to one particular color for a monochromatic look. Similarly, you can go for any stitching pattern, from the basic to the complex, based on your preferences and the look you wish to attain.
Click here for the Complete Tutorial Guide
3. Crocheted Baby Bib with White Edges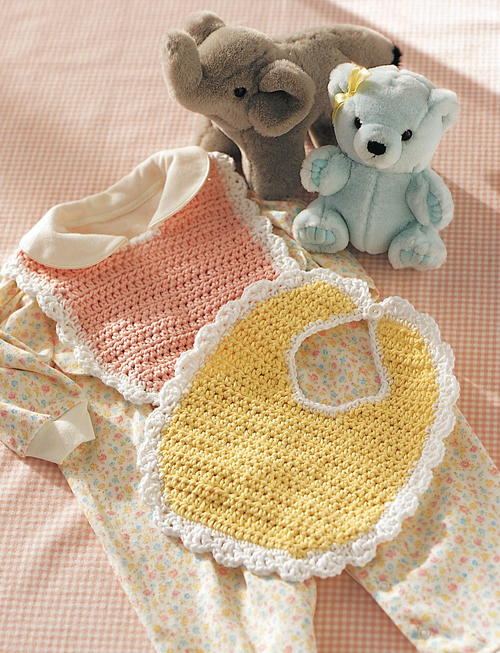 An easy way to add depth to anything, including crocheted baby bibs, is by adding white. White can draw everyone's attention to it. When working with a baby bib, you can't opt for a complete white pattern, as there are chances that the stains won't come off the bib. But there is no harm in adding a cute white edge to the bib to highlight the pattern.
So next time, if you want to elevate the look of the baby bib instantly, add a white edge to it. The best thing about white-colored edges is that they complement both the dark and light-colored bibs.
Click here for the Complete Tutorial Guide
4. Bibs with Matching Boots
Make your kids feel special by making a crocheted baby bib with matching boots. When planning to do something exciting, you can consider this idea. Though it might take some more time to make this beautiful pair, once completed, you will find it was worth all the effort you have put in. You can customize the bibs and boots as per your preferences to make them quirky.
Experiment with the colors of the yarns, stitch patterns, and a lot more. Make these bibs more than just a piece of clothing by adding effects like heart-shaped patches or making pockets. Add details to the bib to make it fancy, and then your toddler can carry it outside, showcasing your creative skills.
Click here for the Complete Tutorial Guide
5. Bibs with Buttons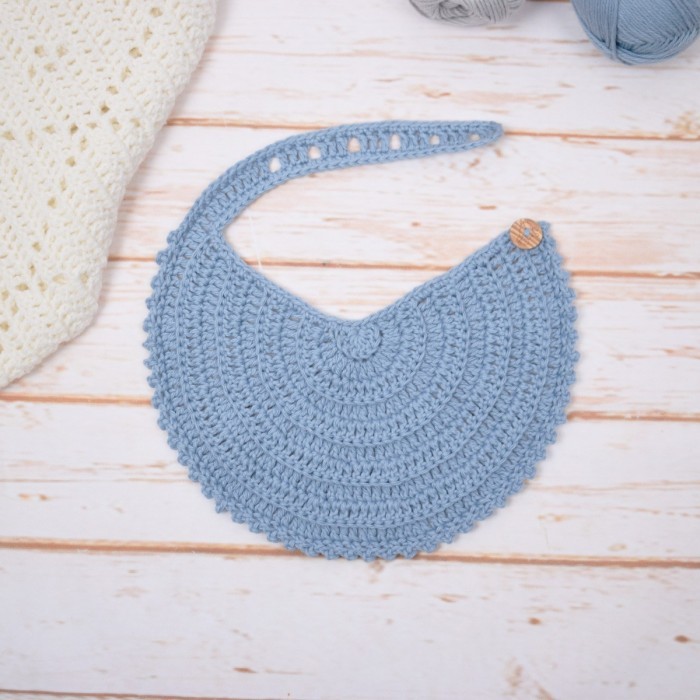 If you are tired of tying the bib straps, then you should certainly go for a crocheted baby bib with buttons. It saves you from unnecessarily keeping an eye on your tiny tot so that he does not drop the bib anywhere while eating, playing, etc. The buttons prevent the bib from falling off. These bibs are best for small children, especially newborns.
And you can always get creative with the buttons. For example, you can use cute buttons or any other kind of button to replicate the look you have in mind. Therefore, you can say that not only do the buttons have better functionality, but they can also be used to decide the whole look of the bib.
Click here for the Complete Tutorial Guide
6. Bunny-Shaped Crocheted Baby Bib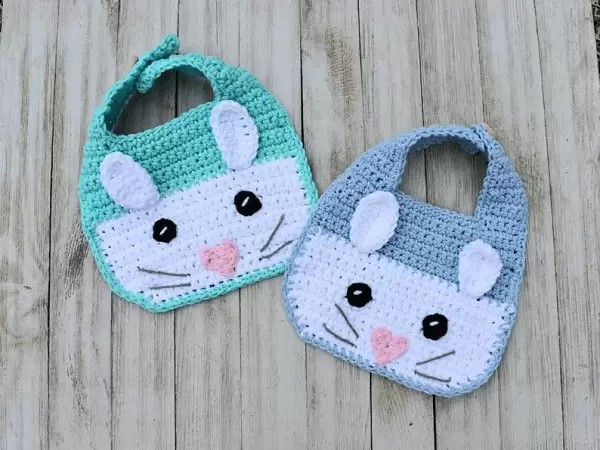 If you are looking for a cute crocheted baby for your tiny tots, you can consider bunny baby bibs. Adding a rabbit or a bunny will impart a very cute look to the bib. Now, you can either crochet the bunny using white yarn or any other color that compliments the main color of the bib.
However, if you are not so much into crocheting, you can use a bunny patch to add a bunny to the bib. Even if you are in the habit of experimenting, you can try making a bunny-shaped bib. It will certainly be the unique bunny bib idea that will set your baby's bib apart from the others.
Click Here for the Complete Tutorial Guide
7. Vibrant Crocheted Baby Bib Patterns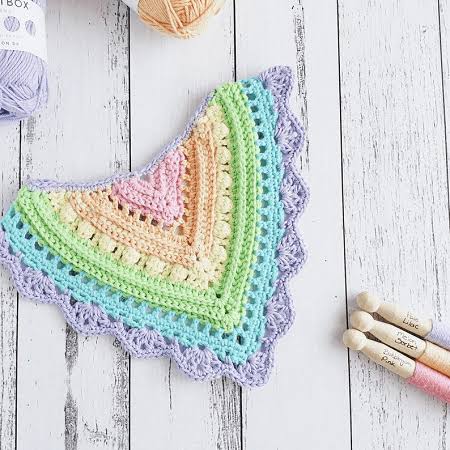 Your tiny tot's crocheted baby bib should not be monotonous and dull. You can make it exciting by adding lots and lots of colors to it. This will make the bib lovely. You can make a colorful and lovely baby bib using one of the many available patterns. If you add colors to any basic pattern, then its look will be entirely changed.
For beginners, the best way to make an attractive bib is by adding many colors to the pattern they select. If you wish, you can add two colors or more than two colors to create a mesmerizing look. Once the colorful baby bib is ready, your child will become so happy upon receiving it that he will not remove the bib even after eating his food.
Click here for the Complete Tutorial Guide
8. Bandana Baby Bib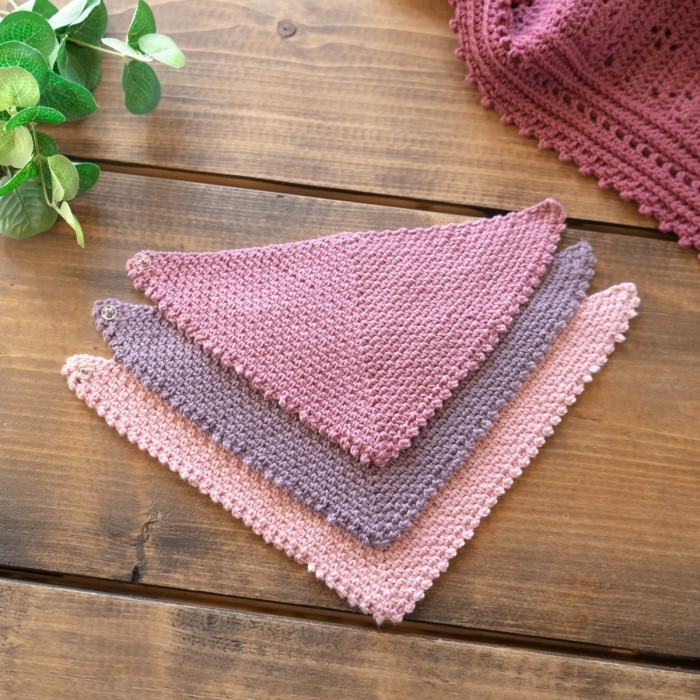 A must-have bib for all those looking for an easy crochet baby bib pattern is a bandana. Bandana crochet baby bibs refer to the triangular-shaped baby bibs meant to protect children's clothes from food stains. These are highly versatile and offer ease of customization to crochet enthusiasts. If you are looking for something unique, you can try this idea.
This bib includes the use of a moss stitch, which gives it a flexible pattern. The entire bib is made with a moss stitch; only the edges are crocheted with single stitches. Another noticeable thing about these bibs is the choice of super soft bamboo yarn, which makes them flexible and breathable, making them ideal for small kids.
Click here for the Complete Tutorial Guide
9. Boho Baby Bib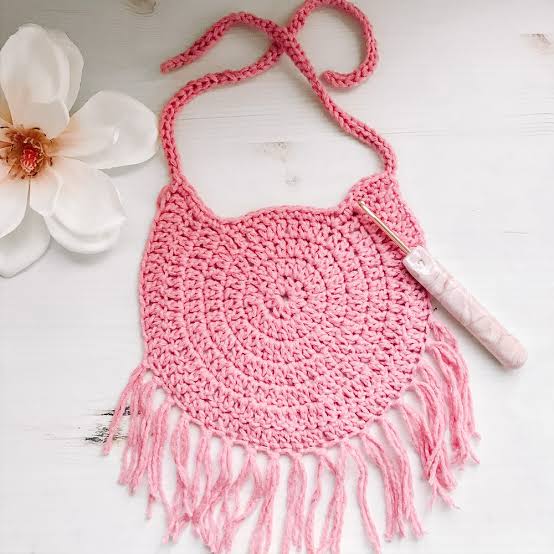 Add boho vibes to your toddler's life using this crocheted boho baby bib. This bib is all set to make you familiar with bohemian style. You can easily add a traditional touch to the modern lifestyle using these bibs. To make a boho bib, the choice of colors should be made accordingly, as they play an important role in achieving this look. Another focus should be on the material of the yarn.
For a bohemian-inspired look, always ensure that the yarn you use is comfortable and soft. These bibs are also a good gift. So, if any of your dear ones are about to become parents, surprise them with these bibs. They will love your dedication and appreciate it.
Click Here for the Complete Tutorial Guide
10. Monster Crocheted Baby Bib Ideas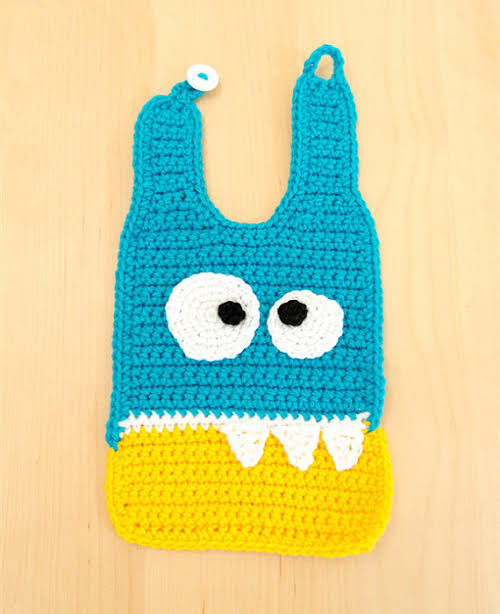 Who says that children need to be afraid of monsters? How about being acquainted with them? Sounds crazy. Well, it isn't, actually. Being acquainted with monsters means incorporating a cute monster pattern for your crocheted baby pic to make it quirky. If you are running short on ideas, you can give this monster crocheted baby bib idea a try.
It is a beginner-friendly design, and the main effect is achieved using yarns of different colors. To make an eye-catching monster bib, use colors like purple, green, blue, orange, etc. You can do further experiments if you wish. For example, you can try a new shape, this time for the bib and the closure method based on your choice.
Click Here for the Complete Tutorial Guide
11. Pink Bib Ideas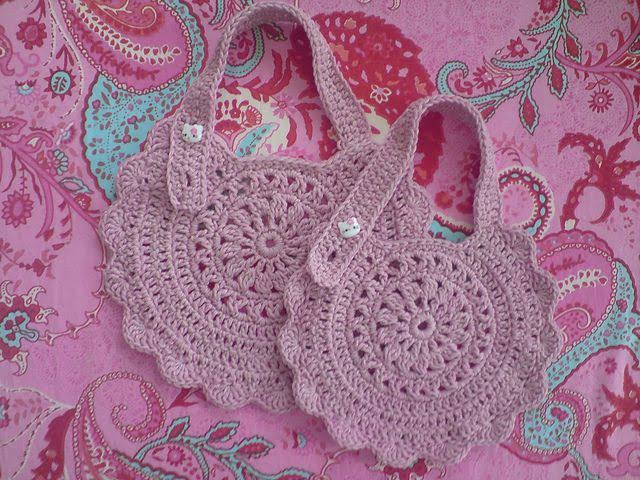 When making a crocheted baby bib for girls, pink is a color that you cannot skip. The pink crochet bib will highlight the cuteness of your girl. When using pink, you are not limited to specific shades; there are various colored yarns available, from the light ones like baby pink to the darker shades. Choose the one you find best for your baby doll and give her a completely cute and charming look using the bib.
You can experiment with the design and pattern to achieve the desired look. Use your creative skills to make the best bib for your baby girl using pink-colored yarn and a hook of the recommended size.
Click here for the Complete Tutorial Guide
12. Bib with Ribbon Design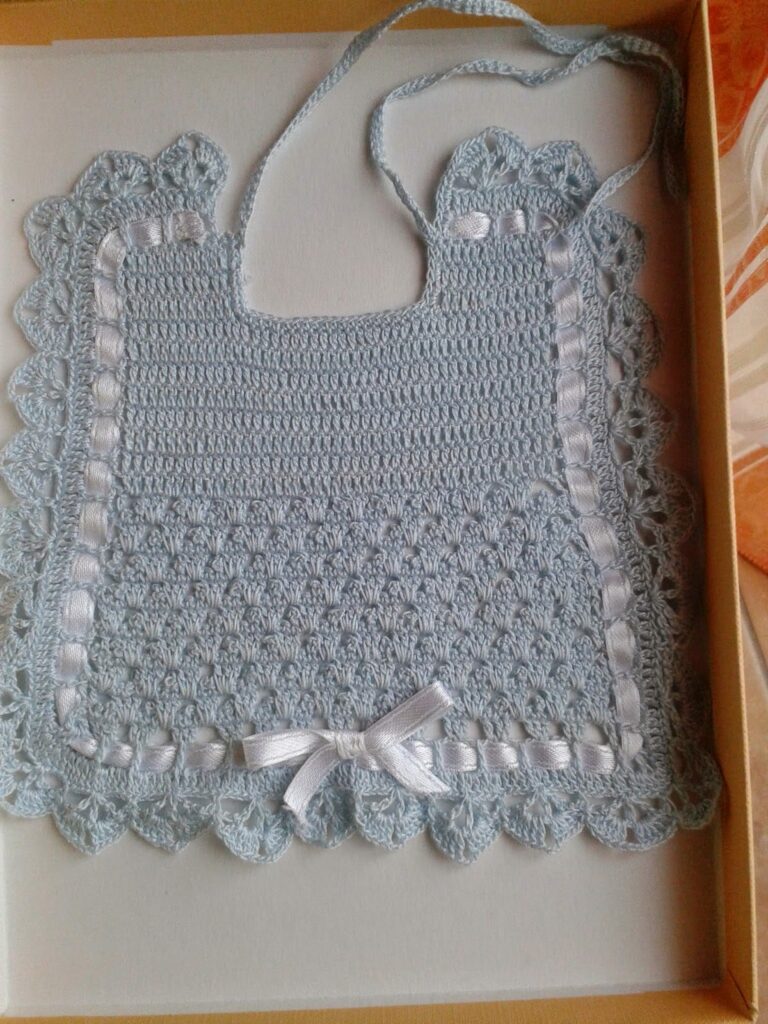 If you have nothing in mind but want to do something distinctive, you can add ribbon to any basic crocheted baby bib. This will enhance the look of any basic pattern. You can consider adding ribbon accessories like flowers, or you can make ribbon edgings. Even if you think of adding more ribbon, you can consider making ribbon straps for the crochet bib.
The use of ribbon is not limited to just these three options. There are plenty of ways to add ribbons to the bibs. All these ideas will be a great way to add charm to the basic bib and make it different.
Click here for the Complete Tutorial Guide
13. Crocheted Baby Bib Ideas for Intermediaries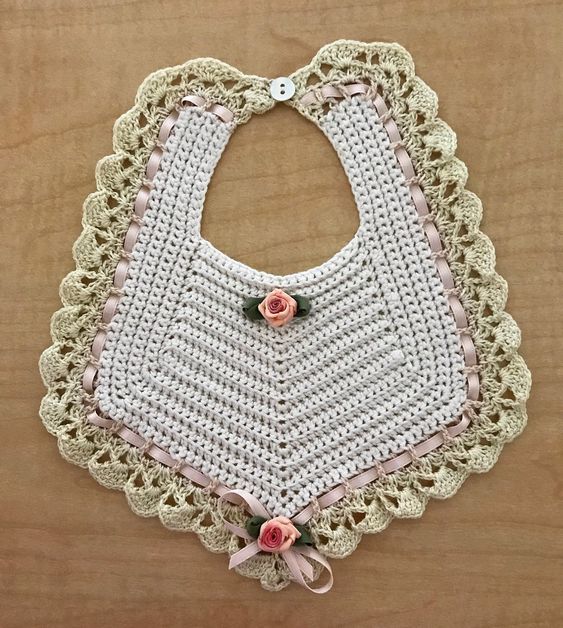 If you are a crochet enthusiast with knowledge of various stitches like double stitch, single stitch, etc. Then, try something new rather than sticking to the basic ideas. For example, you can try this exceptionally beautiful crocheted baby bib, which is a combination of two to three different stitching patterns.
The usage of several yarn colors enhances the appearance further. The shape is also unique. It will look so pretty once made that you will also be amazed by the final look. So, do not hesitate to pursue ideas like these. This is also one of the bibs you can gift to your little nephew or niece. They will surely love your gift.
Click here for the Complete Tutorial Guide
14. Crocheted Baby Bib with Garter Stitch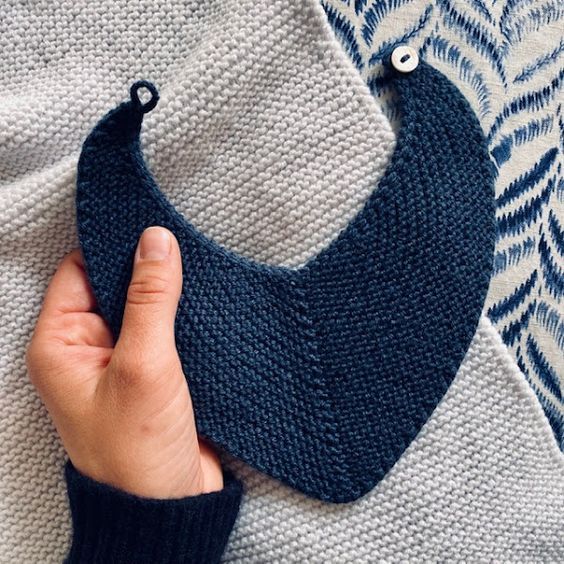 The garter stitch pattern is famous for bibs because of its reversible pattern. It produces a textured bib, but you must pay more attention while working on this stitch. To make the garter stitch, you must work back and forth on a circular needle, following the designated steps for a particular pattern.
Another advantage of working with the garter stitch crochet pattern is that you can work from any side, as there is no specific wrong or right side to this kind of stitch. The garter stitch might look difficult initially, but once you work on it, you will enjoy the process and not stop at just one bib for your tiny tot.
Click here for the Complete Tutorial Guide
15. Watermelon Pattern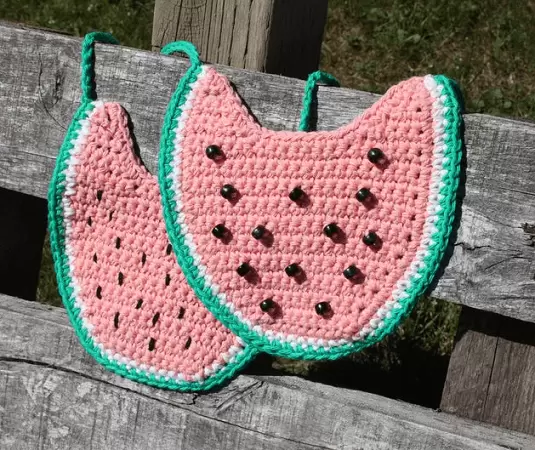 Add a funky vibe to your kid's life with a watermelon-patterned crocheted baby bib. When it comes to children, the patterns should be as colorful as possible so kids love wearing them. One such easy and beginner-friendly pattern is this watermelon pattern. It is not only vibrant but attractive at the same time.
And with this pattern, you are not short on experimentation options. You can crochet the watermelon pattern in all kinds of shapes. Also, to make this pattern, you do not need to be a master of crochet. If you are familiar with the basic stitches, you can easily make one for your kid.
Click here for the Complete Tutorial Guide
16. Animal Bib Patterns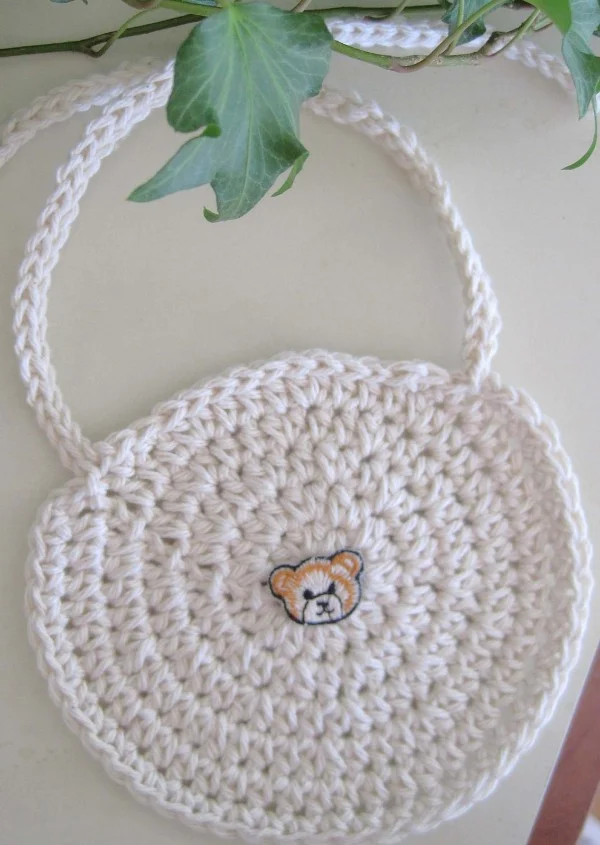 Another eye-catching crochet baby bib pattern is an animal bib pattern. They look very cute and attractive. Moreover, for small children, they are a good option as they will love to wear them. You can use any kind of animal pattern, like pigs, dogs, cats, etc.
There are many options available, so you can find the one that works best for your child. To do this, you need to follow the instructions required for a particular pattern, gather your materials, and start working. You can showcase your creativity by adding some extra add-ons to the bib.
Click here for the Complete Tutorial Guide
17. Full Coverage Baby Crochet Bib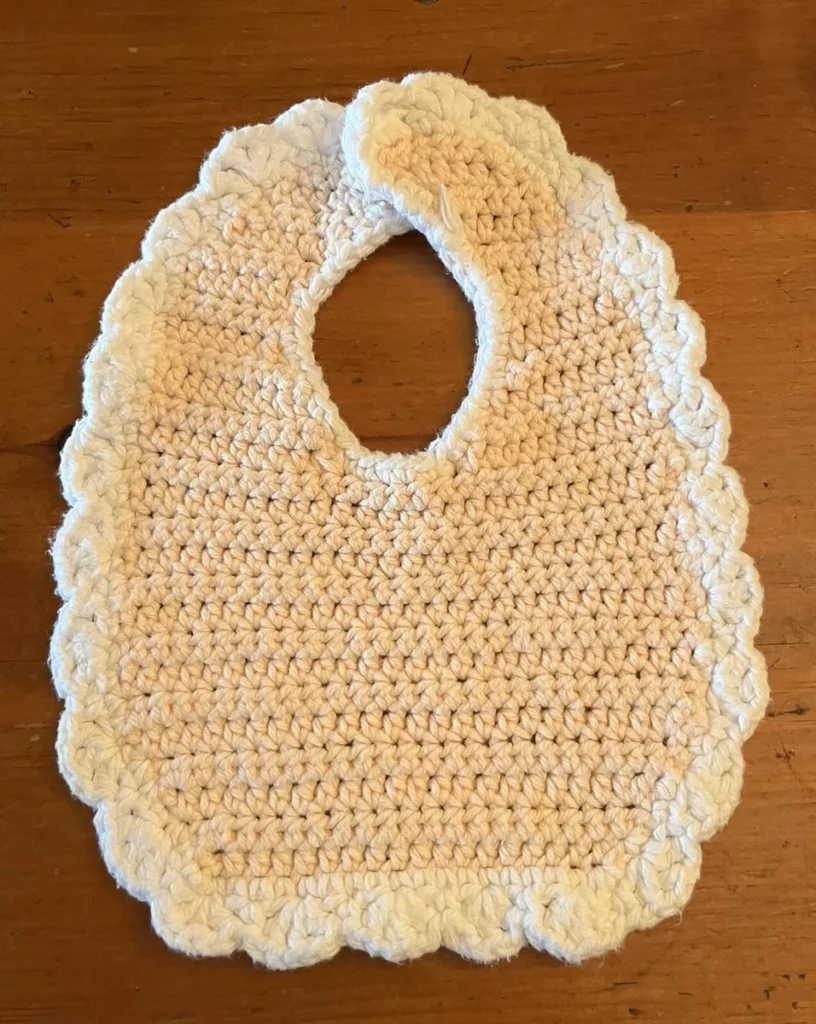 For children, one of the most desirable options for a bib is one with full coverage. The reason behind this is that, as they are small, they can't eat properly and end up spilling the food on their clothes, thus spoiling them. So, to avoid this problem, go for a bib that offers full coverage. This saves you from the hectic task of changing or washing clothes frequently.
You can easily make a cute full-length bib for your kid with soft yarn. Select any pattern you find most appropriate. Furthermore, they allow you to showcase your skills even more by providing you with more areas to work on.
Click here for the Complete Tutorial Guide
18. Simple to Crochet Baby Bib Patterns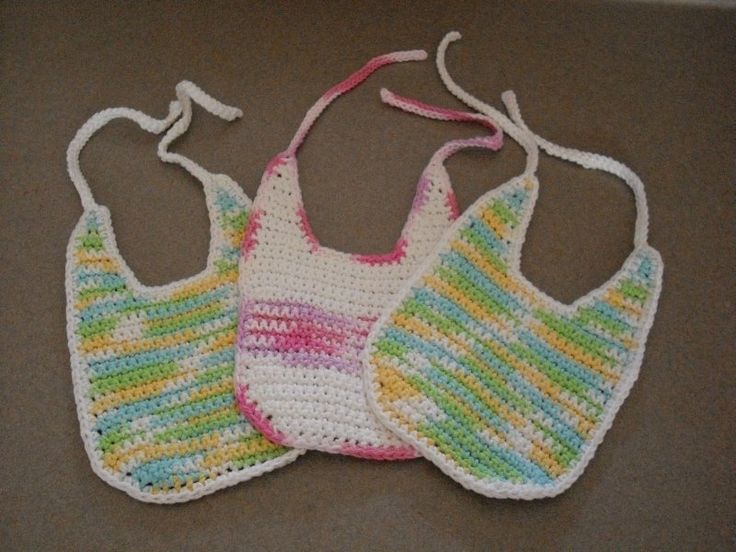 If you are in the mood to make a crochet baby as your next project or for your little one, you can begin with this. First of all, you can make it using any yarn you have, with no particular specifications or design requirements. Secondly, you can easily customize it, as it is just like a blank canvas on which you can do any experiment you want.
For example, you can add a cute crochet design in the corner to give it a distinctive look. And even if you want a very simple crochet bib for your child, this is also the best option.
Click here for the Complete Tutorial Guide
19. Vintage Patterns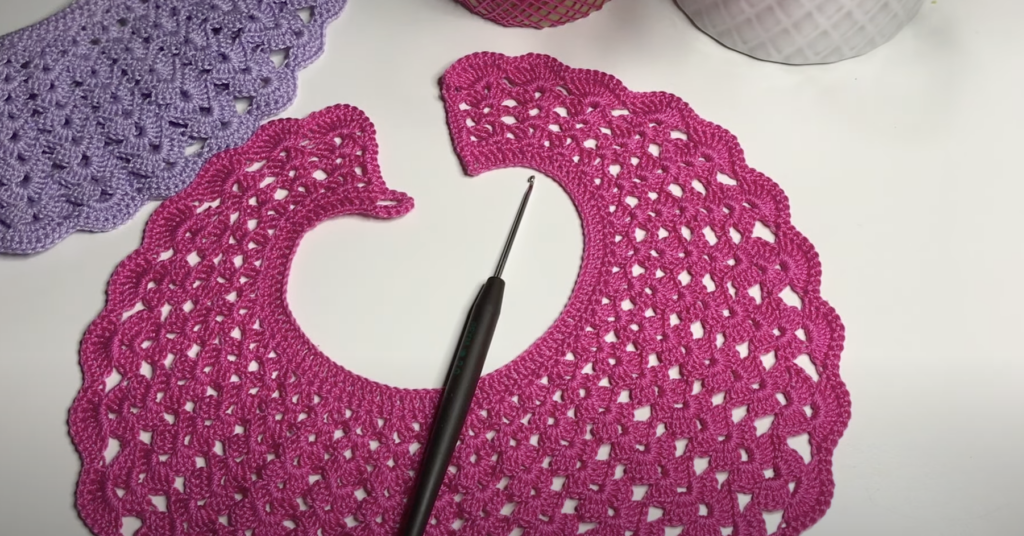 Make your tiny tot feel unique by gifting them one such antique patterned crocheted baby bib. This bib has a vintage look, making it unique to gift your cuties. Add accessories like laces to give it a more vintage feel. Making vintage accessories does not mean you have to put a lot of effort into achieving the desired look.
Some easy patterns can be used to make vintage bibs. You need to do each step precisely, keep an eye on the precautions mentioned, and then you are done. However, you can experiment with the color of the yarn and the kind of yarn you want to use. Also, select a hook recommended for that particular yarn.
Click here for the Complete Tutorial Guide
20. The Baby Shark Pattern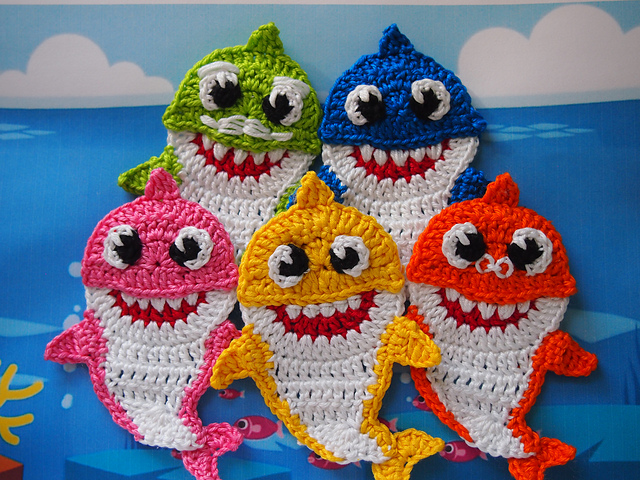 Just like the animal or monster crocheted baby bib pattern, we have a cute baby shark pattern for small children. This pattern is also beginner-friendly and can be easily replicated. The use of blue, gray, and white yarn makes this bib cute, and once your child wears the bib, his cuteness is also going to increase.
The good thing about it is that it looks attractive, so you can also make one and give it to some of your friends who might require these bibs. It is a perfect gift for baby showers or birthdays. It is also a great way to show your creativity and love for crocheting.
Click here for the Complete Tutorial Guide
Conclusion
A crocheted baby bib is a good present you can give your child by putting your efforts, love, and dedication into it. To make a bib for your child filled with your love, you can take help from the mentioned ideas, and as we know that creativity has no bounds, you can experiment with the ideas in your mind. This will help you make something entirely different and mesmerizing for your toddler.
So what to wait for? Grab the things you need, get creative, and get to work. Secure each stitch of the bib with your affection and add colors to the bib just like you want to add happiness to your kids' lives. And last but not least, don't forget to put the bib on the kid and then have a tasty and healthy meal with them without worrying about the clothes getting spoiled.