Crocheting a baby boy blanket can be a great way to make your early days memorable. It will help to keep your baby warm and safe during cold days. The handmade cute blanket will also add a personal touch to your baby's nursery.
The crochet baby blankets are also ideal to gift to new parents or soon-to-be parents. You can gift them for baby showers, baby's welcome parties, and birthdays. Baby blankets are also easy to crochet and take a short time to finish as the project size is small and the style is simple (unlike baskets, dresses, or sweaters).
You can also get various interesting patterns for beginners to expert level to crochet baby boy blankets. It makes it easier to choose a pattern depending on your skill level and time. But the endless options can also leave you confused. So, we have made it easier for you. In this blog, we have listed the 28 most adorable and trendy baby boy blanket crochet patterns to try.
So, let's start exploring!
What is the Best Stitch for a Baby Blanket?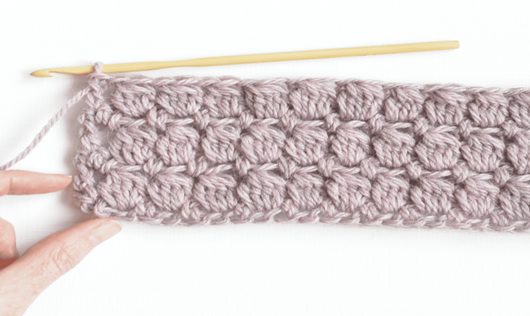 Your best choice for making a baby boy blanket crochet pattern will differ for many reasons. Generally, it is advisable to make baby blankets with a crochet stitch comprising fewer holes or openings. These stitches ensure the baby's hands or fingers do not get tangled in the gaps.
Additionally, consider the climate. If the baby lives in a hot area, using open stitches to allow aeration is ideal. It helps prevent the baby from feeling too hot. Some of the best choices include lacy stitches like a granny stitch, V stitch, etc.
Use cotton, bamboo, or linen to make the blanket airy and lighter for hotter climates. The blankets with open crochet stitches offer ventilation if used to cover the baby's face.
Conversely, no holes in your crochet stitch are optimal for colder locations. You may choose wool blends, faux, or fur yarn to keep the baby cozy and warm.
What Should Be the Perfect Size for a Crochet Baby Blanket?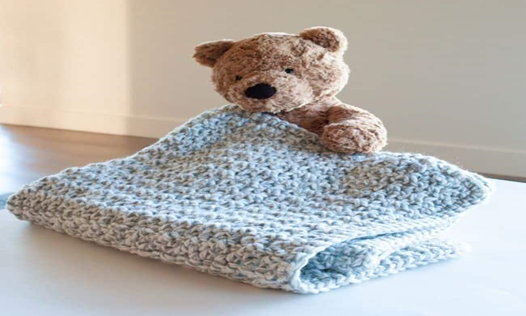 The best part about a baby boy blanket crochet pattern is that you can make it in multiple sizes. If you prefer small blankets, they perfectly fit in your prams and can cover the baby's legs. Your baby may grow out of them, but these delightful blankets make the perfect snuggle buddies in their older years.
And the best part about this is you can make a new blanket for your little one. However, you can consider the climate when making these blankets. For colder regions, making crochet baby blankets bigger is the best idea. It's possible to fold them multiple times according to your preference for added warmth. An oversized blanket will grow with your baby.
If you are making a baby boy blanket crochet pattern to gift someone, you will require a little knowledge about the size. The typical baby blanket dimension is 24 inches by 30 to 36 inches. The size is ideal for gifting a blanket for babies or newborns.
The Number of Skeins You Need to Crochet a Baby Blanket?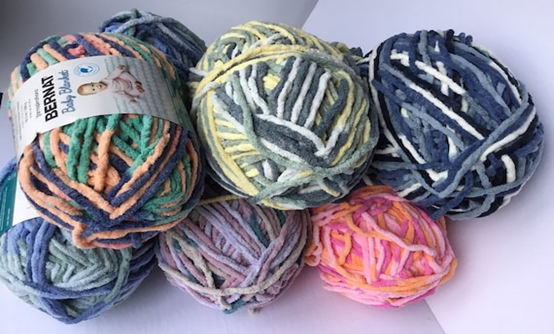 The answer to this question depends on the size of the baby blanket you are crocheting. The standard size of any baby boy blanket crochet pattern will require 700-1500 yards of yarn. So, if we think you will use worsted weight or bulky yarn for the project, the average skein weight you will get is 3.5 oz ( that mostly has 220 yards). You will need 3 to 7 skeins of these kinds of yarn to complete your baby boy blanket project.
But you must also remember the size of your baby blanket and the thickness of the yarn also play a crucial role. So, if you choose a smaller size and slim yarn, you will need fewer skeins. Similarly, if you are crocheting a bigger blanket or using thicker yarn, you will need more skeins than the standard yarn quantity.
Also, you must know the right type of yarn required for a perfect baby boy blanket-
Cotton yarn – Cotton yarn looks beautiful with vibrant colors and texture. It is an ideal option if you do not want your baby to get overheated.
Polyester or acrylic yarn – Another great choice for a baby boy blanket crochet pattern is polyester or acrylic yarn. Remember to use only high-quality and children-safe materials for your crochet baby boy blankets.
Beginners Guide to Crochet a Baby Blanket
You can crochet a baby blanket without much complexity. It is easy to crochet a pattern-less blanket for a baby. There are multiple options for building your crochet blanket. You can start from the middle to create a circle, square, or star.
You may also make multiple motifs of varying shapes and weave them together to form a single blanket. As a beginner, you must follow the simple way.
Follow the below steps to make a baby boy blanket crochet pattern:
Choose a beautiful crochet stitch to start building your blanket. You can find multiple tutorials and guides.
Select a yarn based on the climate. Pick a softer fiber that is not harsh on the baby's skin while also being machine washable and easy to maintain.
Find the multiples of your selected stitch. It will help you build the base chain.
Pick a suitable size for the baby blanket.
Start making the foundation chain with the stitch multiples. Make chains wide enough for your chosen blanket size.
Repeat the rows to create a blanket of sufficient length.
Finally, add a border by working around the baby boy blanket crochet pattern. You can also add tassels or fringe.
Adorable Crochet Patterns of Baby Boy Blankets That You Will Love
Are you confused about picking the perfect gift for your friend's or relative's baby boy or even your little one? Then why don't you try your crochet skills by getting an idea from the adorable baby boy blanket crochet pattern? Use these free crochet pattern techniques to wrap your bundle of joy in the handmade piece.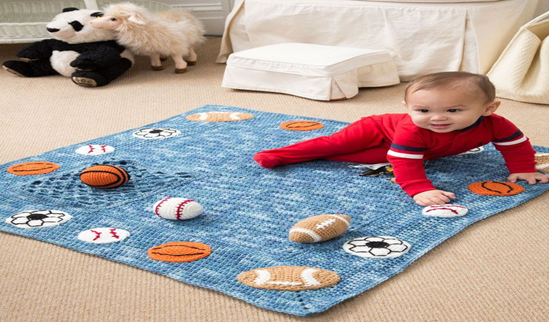 Do you know you can encourage your little kids to be athletes and develop their skills by starting with the blankets? Sounds funny, right? But, it is true. You can make a fun blanket with applique borders of footballs, basketballs, and baseballs. These are perfect for your little ones' tiny hands to grab them and throw them. From combine to fun, they can get both with these blankets. You can carry these blankets if they are having playtime at home or taking them to the park.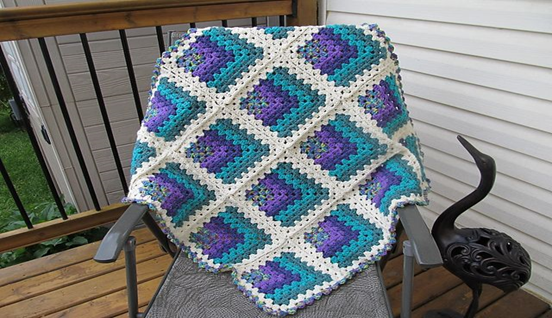 The premium quality yarn is designed for the perfect crochet project. Novice crocheters opt for this pattern because it is an easy-to-make blanket that will be cherished for years. Here, you can get a timeless granny square motif that will make the blanket ideal for keeping your baby warm and cozy. The stylish yet simple design can be easily completed with basic crochet skills! What's next? Show off your crafting skills and make this beautiful baby boy blanket crochet pattern that will last a lifetime.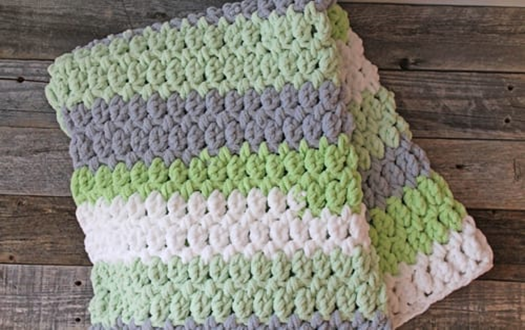 Are you looking for a modern and exclusive crochet baby blanket? This free repeat pattern makes the blanket perfect. The striped masterpiece of this blanket is a beginner-friendly design, and it includes simple stitches. Plus, the simple two-color palette and simple-to-follow techniques ensure this stunning blanket creation will surely please everyone. Get inspired now with these modern and striped crochet baby blankets!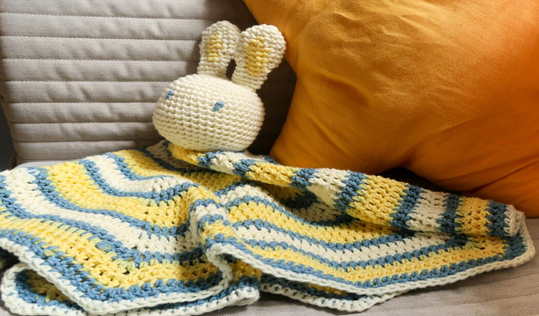 Create a classy and elegant bout-chou blanket crochet pattern your baby will love. This timeless baby blanket design features classic stripes and a great stitch that makes the whole look more elegant. This blanket is a perfect combination if you want something traditional and modern. With easy instructions, you can craft this beautiful blanket that everyone will cherish from birth to toddlerhood and even after!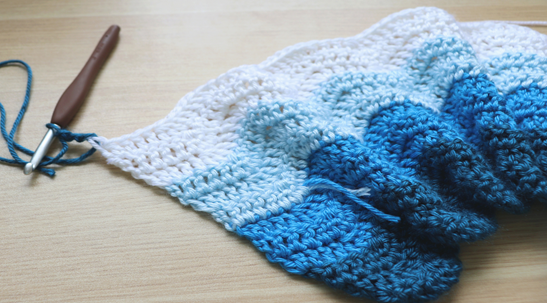 Do you want to make a beautiful yet classy chevron baby boy blanket crochet pattern with the premier yarn? This easy-to-follow method is perfect for any skill level, whether you are a beginner, professional, or intermediate. You will surely love how soft and comfortable the blanket is and how ideal it is for their delicate skin. The blanket is also perfect for extra warmth and coziness during cold winters or warmer climates. Add this blanket to your gorgeous addition!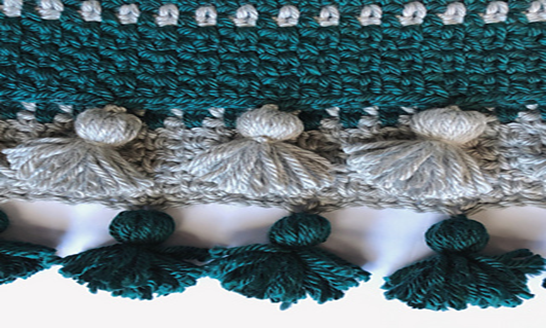 Have you checked the two-toned tassel baby blanket over the internet? This beginner-friendly blanket can be easily made using the moss stitch method and super bulky yarn. It is ideal to use in winter. Featuring two colors in two different rows, the blanket creates a unique look when your little munchkin is wrapped in something warm and soft. Made with love and care, this blanket is an ideal gift for your friends or families who have babies.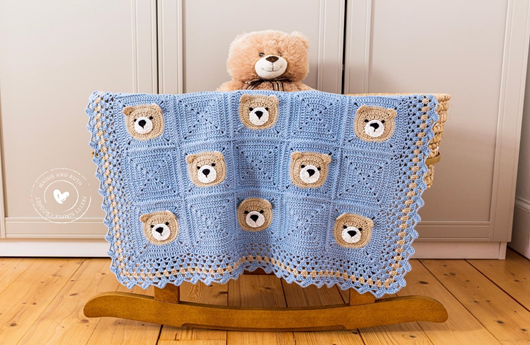 Keep your baby cozy and warm with this little adorable polar bear blanket! This blanket is handmade using a free crocheting pattern. On one side of the blanket, it features a cute and affordable polar bear face; on the other, you will find an intricate geometric design. It is perfect for your baby while you are snuggling up at home or taking it out for any outdoor adventure!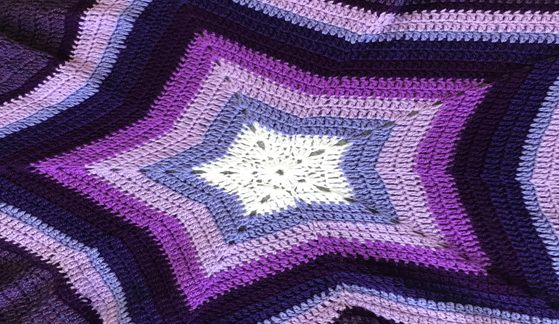 If you love crochets, this magnificent crocheted starburst baby blanket is perfect for your baby boy. The easy-to-follow pattern is also suitable to follow for beginners. Though you feel that the starburst design is intricate, it will surely add a touch of beauty and warmth. Enjoy hours while crafting this and create something special for your little one. Try out this lovely blanket now and have a perfect piece.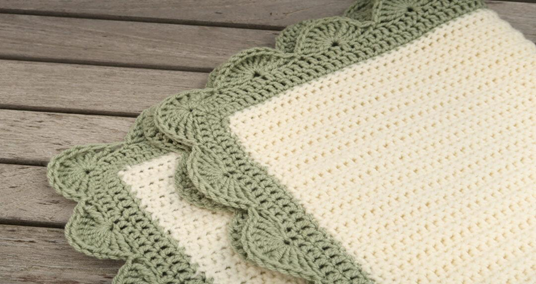 Do you want to create a timeless and beautiful blanket that could be a perfect piece for your baby? Once you check the easy-to-follow tutorial, this pattern features stitches, puff stitches, shells, and even cross stitches to create a classy and elegant-looking vintage texture. Plus, it will be easy for you to choose from several sizes for babies. By keeping the border simple, you can continue working on the project and make a perfectly warm blanket for your baby boy.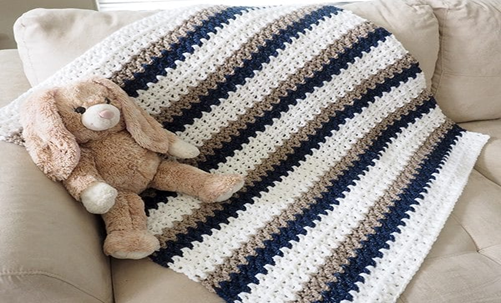 Are you looking for a perfect gift for a newborn baby? Then, a baby boy blanket crochet pattern is ideal. Whether you are a beginner or a professional, this blanket pattern is ideal for everyone. This free crochet pattern allows you to create beautiful blankets using just two skeins of yarn and some basic stitches. Choose the right yarn that will be perfect for this blanket. Get started, and it is for sure that this creation will be treasured forever!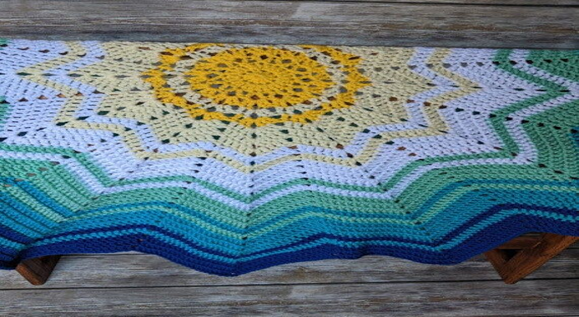 Crochet Hello Sunshine – a perfect project for any beginner! This is one of the easiest crochet baby blankets because it requires only one row of stitches. You can apply and practice your crocheting skills when you create this particular blanket. This blanket is also perfect for welcoming your new bundle of joy, or you can even give it to someone who will welcome their precious thing into the world. The design, color, and texture are sure to impress anyone. With bright colors and easy-to-follow instructions, you can create this beautiful blanket quickly! Try out this pattern today and discover how excellent the outcome could be!
A simple, bulky, and excellent Bernat yarn is great for making a baby boy blanket crochet pattern. The particular type of blanket can be created using Ocean, a pretty yet attractive multicolored yarn. Using just 2 easy stitches, you will find the blanket perfect for beginners. To make this blanket beautiful, you can use many different colors and give it a shiny and vibrant look.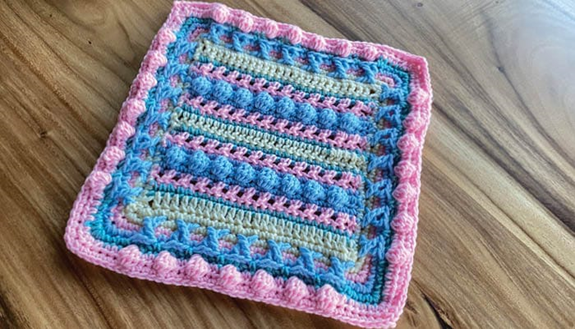 The colorful teardrop crochet baby blanket pattern is an easy and beautiful piece to keep your little bundle of joy warm, safe, and protected! The teardrop stitch combines chain, double, and triple crochet stitches. It may sound like a complex-looking repeat, but it is not. Following the easy instructions, you can easily make this blanket and take your skill level to the next level. These blankets are the perfect handmade gift. So make this pattern with crocheting and create a lovely, colorful teardrop pattern with your crocheting skills.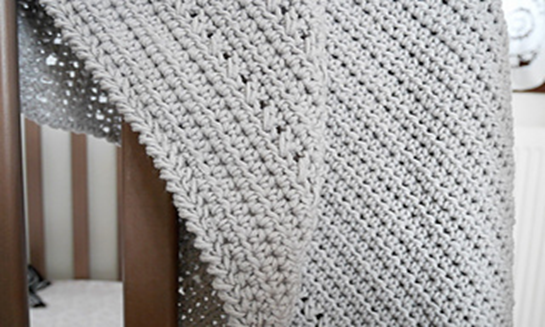 Are you ready to try the Finnegan blanket? It is the newest addition to this baby boy blanket crochet pattern. The full-textured pattern here can be easily crafted by hand. The naturally soft Aran yarn gives it a luxurious look and provides great comfort. This soft, lightweight yarn is also perfect for creating a snuggly, wiggly feel. No doubt, your little ones will feel safe and comfortable there. So, start crafting this adorable crochet baby blanket today.
Are you seeking an easy crochet pattern as a beginner? If you want to make a simple yet beautiful baby blanket, then the Barclay could be another perfect piece. This one-row repeat pattern is perfect for beginner crocheters and ideal for quickly completing the crochet work. The Barclay blanket is also ideal if you are planning a last-minute gift! The easy steps and vibrant colors here make this blanket perfect for babies.
The Thumbelina baby boy blanket crochet pattern – a gorgeous blanket that intermediate crocheters can make. You can give this gift to your little one when he is too old. Crafted using extra-soft yarn, you can easily get this delightful pattern that shows a whimsical motif. No doubt, this motif and pattern together can surely bring a smile to everyone's face.
The intricate stitching and bright colors used here are perfect for designing the blanket with more durability and comfort. It is ideal for cuddling your precious bundle of love. Whether you are an experienced crocheter or a beginner, this pattern is pure love.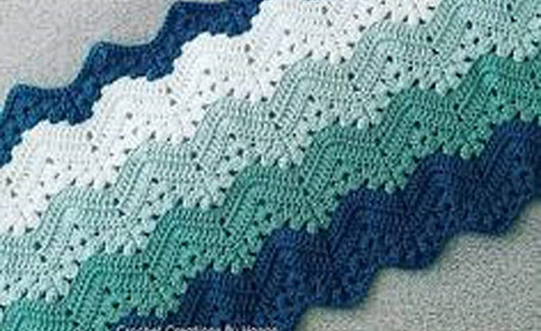 Let the crochet fun begin! Follow this pattern to create a beautiful and cozy blanket using this luxurious, soft, and comfy yarn. You will find that this easy crochet pattern is perfect for beginner crocheters who love to explore creative things. You can make this extremely fascinating blanket with just a single ball of yarn. You can add your personal touch with your favorite color choices in its unique texture. Give it to someone special, or keep it to yourself; it will be perfect for your baby.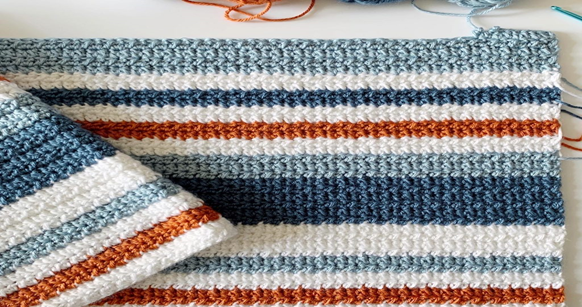 Do you want to create a baby boy blanket crochet pattern? Then, you can create a classic and timeless style with this pattern. This pattern is easy to follow and easily made using simple, soft yarn. You can give this blanket a perfect size for cuddling up your little one in style and comfort! Using the hook, tapestry needle, and scissors, the beautiful blanket will last for years. Follow this simple crochet pattern and steps to create a beautiful blanket for your baby boy.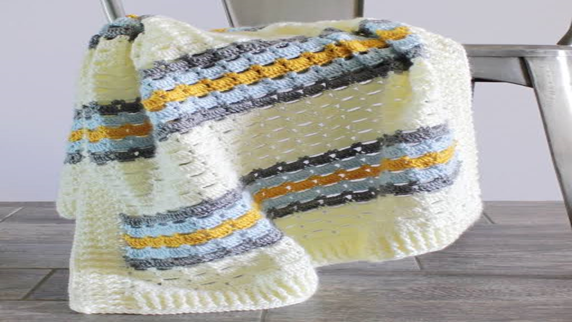 This free crochet pattern is perfect for creating a snuggly and unique baby popcorn blanket. The texture of this blanket shows great stitches and gives the blanket an added dimension. This easy-to-follow pattern can easily be done with some step-by-step instructions. The gorgeous look and feel make this blanket an instant and classic piece for the baby! Start crocheting and try this simple pattern to make everyone aww!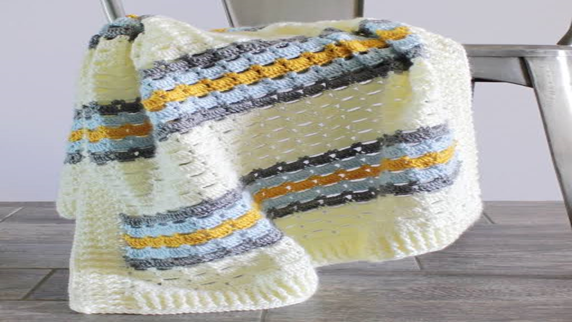 Are you looking for a special baby boy blanket crochet pattern? These blankets are perfect as a baby gift. This blue-colored bobble crochet blanket is easy to start crocheting, requiring only three stitches. Using both the double crochet stitch and the bobble stitch, you will get a super soft blanket that could surely add joy. The pattern has a cozy outcome, making it perfect for beginners and experienced crocheters. Start crocheting, as it will bring a smile to you or your loved ones!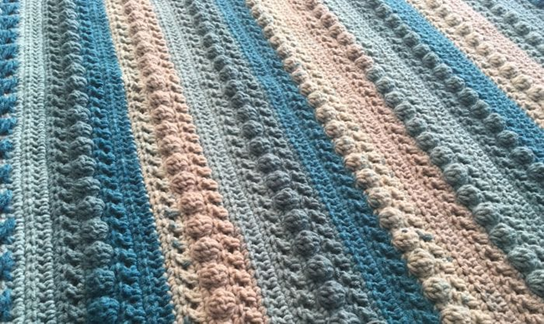 Are you excited to make a dreamy blanket in reality with this free crochet blanket pattern? Though this blanket is not gender specific, it will be perfect for your baby boy. The marshmallow blanket can easily be made with Bernat yarn for a baby blanket, creating an amazing, squishy, and comfy texture. Choose from various colors to mix and match and create the perfect pattern according to your needs! Rest assured, you will not be able to resist yourself because of this cozy color combination.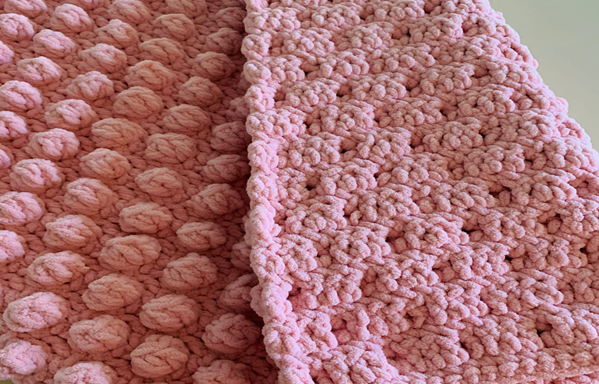 This baby boy blanket crochet pattern is perfect for beginners looking for quick and easy crocheting projects! Using the Bernat baby blanket yarn, you can easily make these super-soft, cozy, squishy Afghani blankets in less than 4 hours. With these blankets, the result is warm to keep your little one comfortable and protected all year round. Because of the free pattern, this handmade piece is so simple. No experience is needed! Try out this crochet baby boy blanket pattern now, complete it within 4 hours, and have a beautiful gift ready in less time than you think.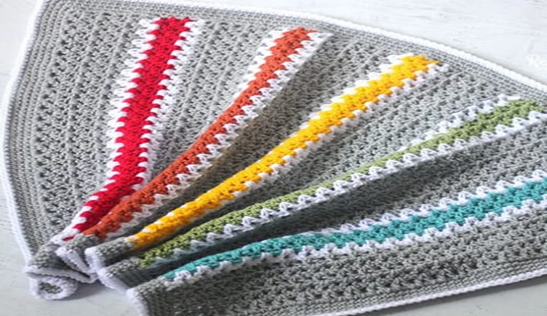 Do you love a half-strip blanket? Then, this colorful mesh stitch half-stripe crochet blanket is the perfect project for you to start with! Crochet beginners also find this a perfect blanket as this kind of blanket consists of a mesh stitch and wide half-double crochets alternatively. The changed colors in the pattern make the look more beautiful. The blanket can even be dropped and picked to restart without any hassle. This blanket pattern also provides an excellent opportunity for people to master a particular crocheting technique. Create something eye-catching with this versatile design because the possibilities are endless here.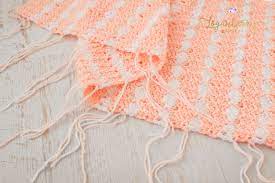 When you are looking for an exclusive baby boy blanket crochet pattern, you can keep him warm by crafting the perfect baby blanket from peaches and cream! You can make this snuggly, soft baby blanket by applying a free crochet pattern and following a simple tutorial. This blanket usually has pretty stripes with a scallop-edged trim end. You only need to pick a medium-weight yarn in two colors: creamsicle and crochet hook. Don't worry; you can easily create something special and unique that your baby boy will love!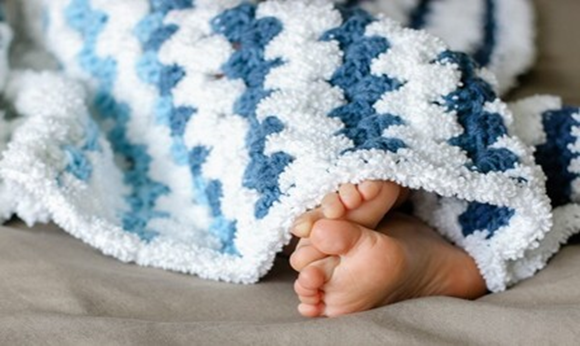 Create a beautiful baby blanket with this amazing pattern! It is easy to make a blanket and perfect for either boys or girls. You only have to choose the yarn colors that suit the expectant parents. Using the medium-weight yarn and a 5 mm crochet hook, you can start crocheting. It is gorgeous to work with, as the colors are perfect for babies! It is a uniquely crafted blanket. You will not regret after trying this beautiful pattern.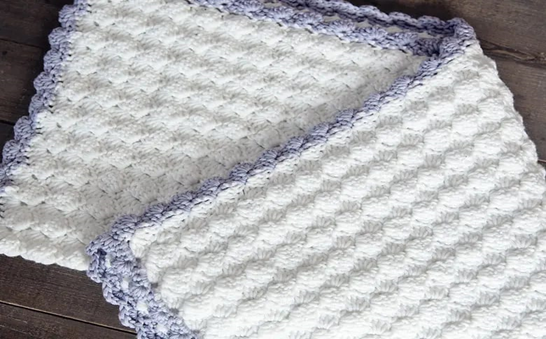 If you want to make a baby blanket by crocheting that can be completed quickly, then the Lacy shell pattern can be perfect. Make a light and airy baby blanket like Lacy Shell because this kind of blanket is suitable even in light winter. This blanket is ideal for keeping your small baby cozy and swaddled. You can make the design smaller or larger by chaining a shorter or longer foundation chain per your requirement. This shell stitch baby blanket can be made using only a small ball of yarn. Use vibrant colors or soft ones because babies look affordable in anything.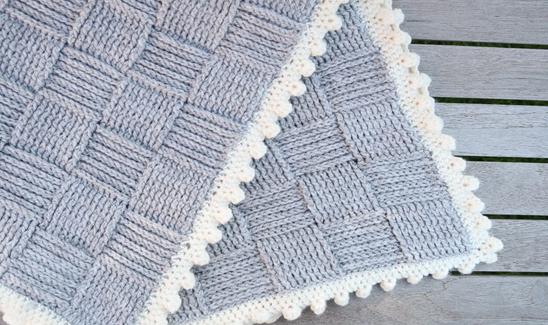 This blanket stitch crochet pattern for baby boys is an excellent choice when you are looking for a beautiful yet easy-to-make baby blanket. Perfect for novice crocheters, this easy crocheting method can be completed using a few basic materials and supplies. You can even gift this cozy blanket, a perfect item for a baby shower and even gifting to newborns. What's more? Gather your supplies and create a timeless piece that will stay forever.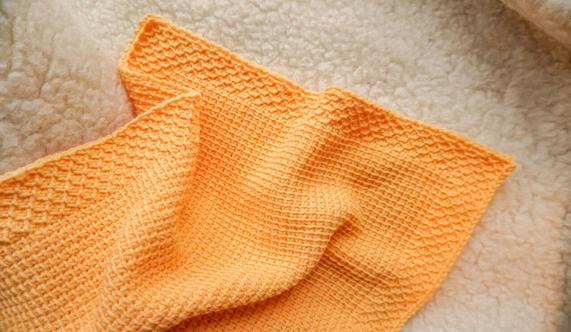 Regarding baby boy blanket crochet patterns, you can not miss crocheting the perfect Tunisian baby blanket. You want the best for your little one, and from start to finish, when you follow the steps, you can create a beautiful ombre Afghan crochet that everyone will love. The stitching technique here proves why this Tunisian type of crocheting is so addictive! Try this one and create lasting memories of love and warmth while wrapping your little munchkin.
Baby Boy Blanket Patterns: Wrapping Up
Baby boy blankets are essential for your baby boy. It helps you keep your baby safe and warm. And crocheting baby boy blankets helps you add a little more personal touch. You can crochet a beautiful baby for your kiddo or make one for someone who became a parent of a baby boy recently. The baby boy blankets are also very trendy, so you can sell them to earn through your creations.
No matter what your reasons are, crocheting baby blankets using new and unique patterns is indeed interesting. Above, we have covered 28 adorable baby boy blanket crochet pattern projects with other essential details you need to know before getting started. So, get your crochet kit and start crocheting today!
The Picasso crochet kit for beginners is a great choice for cropping your bay blankets. Also, share your thoughts below in the comment section.
Frequently Asked Questions
Which Baby Blanket Crochet Pattern is the Easiest One to Crochet?
If you are a beginner and searching for an easy baby boy blanket crochet pattern, you must know the easiest stitch. Single crochet and double crochet stitches are the easiest stitches you can try for a baby boy blanket. You can also consider combining double crochet stitches in clusters. This will help you create a classic granny ripple design for your baby blanket.
Can a Beginner Crochet a Baby Blanket?
Yes, of course. There are several beginner-friendly crochet stitches that you can use to crochet baby boy blanket crochet patterns. These patterns work with easy and basic stitches such as single crochet, double crochet, half double crochet, v stitch, moss stitch, etc. So, if you are a beginner and want to crochet a baby boy blanket crochet pattern, you can get various interesting patterns. Also, you can read the above blog to learn more about beginner-friendly patterns.
How Many Stitches Do You Need for a Baby Blanket?
The number of stitches you will need to complete a baby boy blanket crochet pattern is its size and the pattern you are using to crochet the blanket. The standard baby boy blanket crochet pattern will need 120 stitches to finish the project. So, if you make a smaller one, you will need less than 120 stitches, and if you want a bigger pattern, it will need more than 120 stitches to complete a baby boy blanket.
What Things Should Be Remembered When Crocheting a Baby Blanket Properly?
There are several things you need to remember while crocheting a baby blanket to make it proper and compatible for your baby. First choice children-friendly yarn that does not harm your baby's skin. Second, choose a pattern that is slightly open or breathable, such as a shell stitch or V-stitch, for your baby's comfort. Lastly, choose soft, bright, and light colors while crocheting a baby blanket.