Unveil the world of warmth and tenderness with our captivating collection of 20 crochet patterns, all elevated by the gentle touch of Bernat Softee Baby yarn. If your creative soul yearns to wrap your little ones in softness and style, this compilation is a dream come true.
Bernat Baby yarn isn't just a yarn choice; it's a cocoon of comfort that transforms threads into treasures. From adorable garments to delicate blankets, these patterns blend luxury and love, perfect for your precious bundles of joy.
Bid farewell to the hunt for the perfect project; we've curated this selection to fill your crochet journey with delight. Every pattern is a testament to the beauty of handmade creations that radiate warmth and affection. Immerse yourself in the art of crafting, armed with this soft baby yarn and these mesmerizing patterns. Your hands will work magic, weaving love and care into each stitch.
Why Bernat Softee Baby Yarn?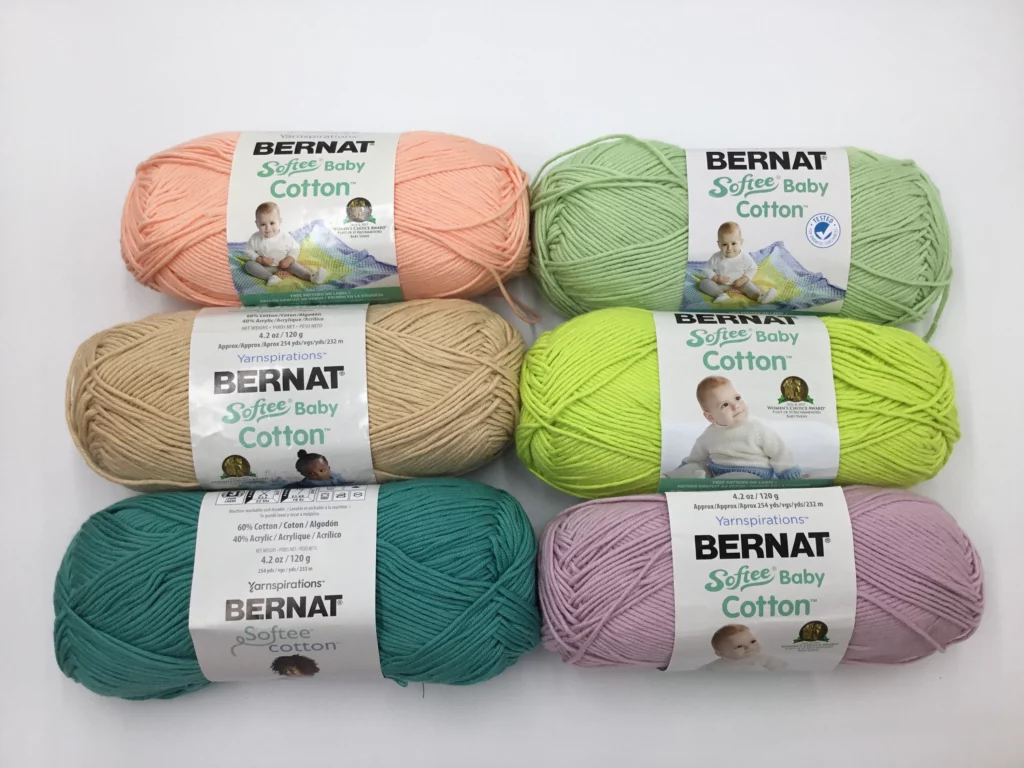 Bernat Softee Baby Yarn has emerged as a favored choice for various crochet projects due to its unique attributes. Comprising 100% acrylic fibers, it offers durability and ease of maintenance, making it an ideal selection for baby and toddler items. With a DK weight, it balances between being lightweight and creating garments that aren't overly bulky.
One of its standout features is its exceptional softness, ensuring comfort for the wearer. Additionally, Bernat Softee Baby Yarn offers an extensive range of colors, including coordinating solids and variegated options. This diversity provides ample scope for creative coordination. Moreover, the yarn's washability shines through, as it retains its quality after multiple machine washes and drying cycles, exhibiting minimal signs of wear and tear.
For those seeking dependable yarn for baby and child clothing projects, the DK weight and quality of this yarn offer a reliable foundation. Its widespread availability in major craft stores and online platforms further enhances its appeal. Experience the advantages of this versatile yarn, knowing that its attributes align with both practicality and creativity.
Delightful Baby Blanket Patterns Using Bernat Softee Yarn
1. Crochet Daisy Baby Blanket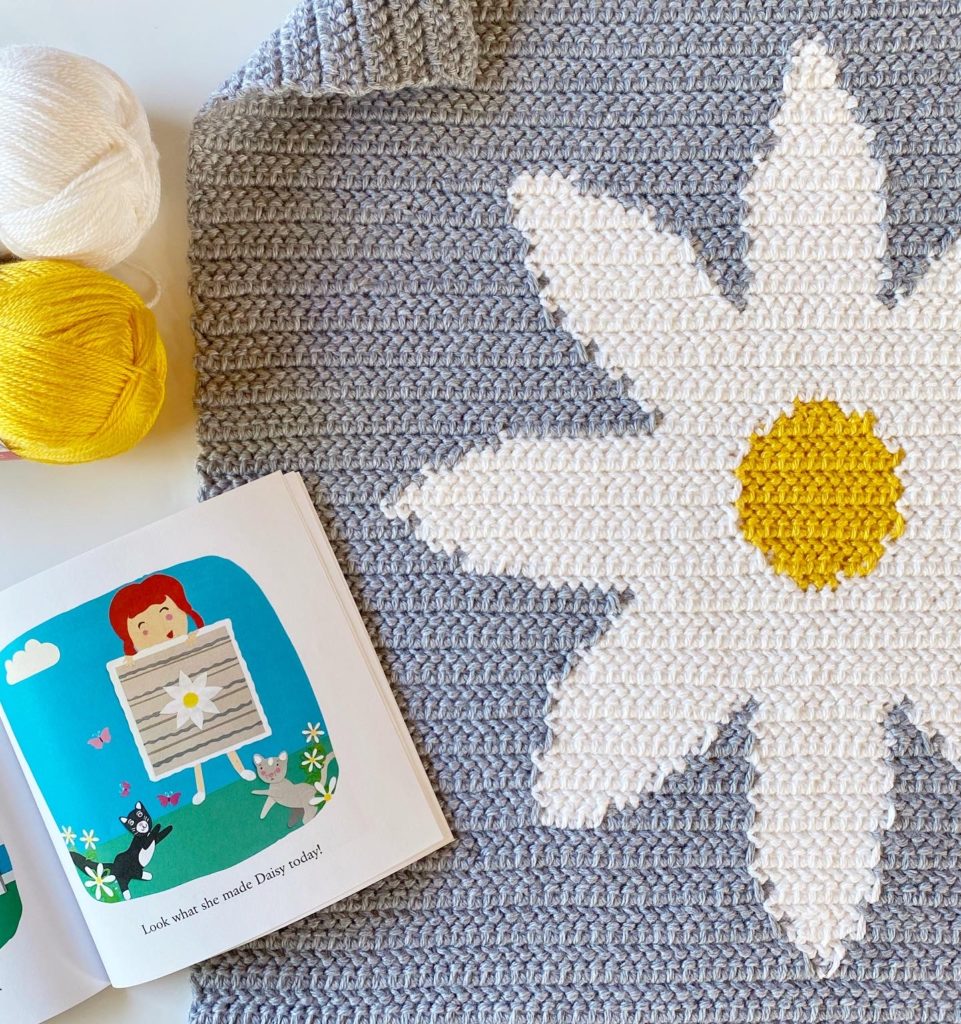 This one is an outright masterpiece that is nothing but a perfect amalgamation of creativity and comfort. Crafted with Bernat Softee Baby Yarn, this pattern intricately weaves the essence of a daisy's charm. Alternating herringbone half double crochet stitches bring the design to life, while color changes add depth. The ribbed border provides a graceful finish.
This pattern reflects the dedication, using two strands of yarn for structure. Bernat Yarn ensures softness and quality. Embrace the joy of creating this daisy-infused masterpiece, blending artistry with imagination and craftsmanship.
Click Here to See the Complete Tutorial.
2. Crochet Diagonal Stripes Baby Blanket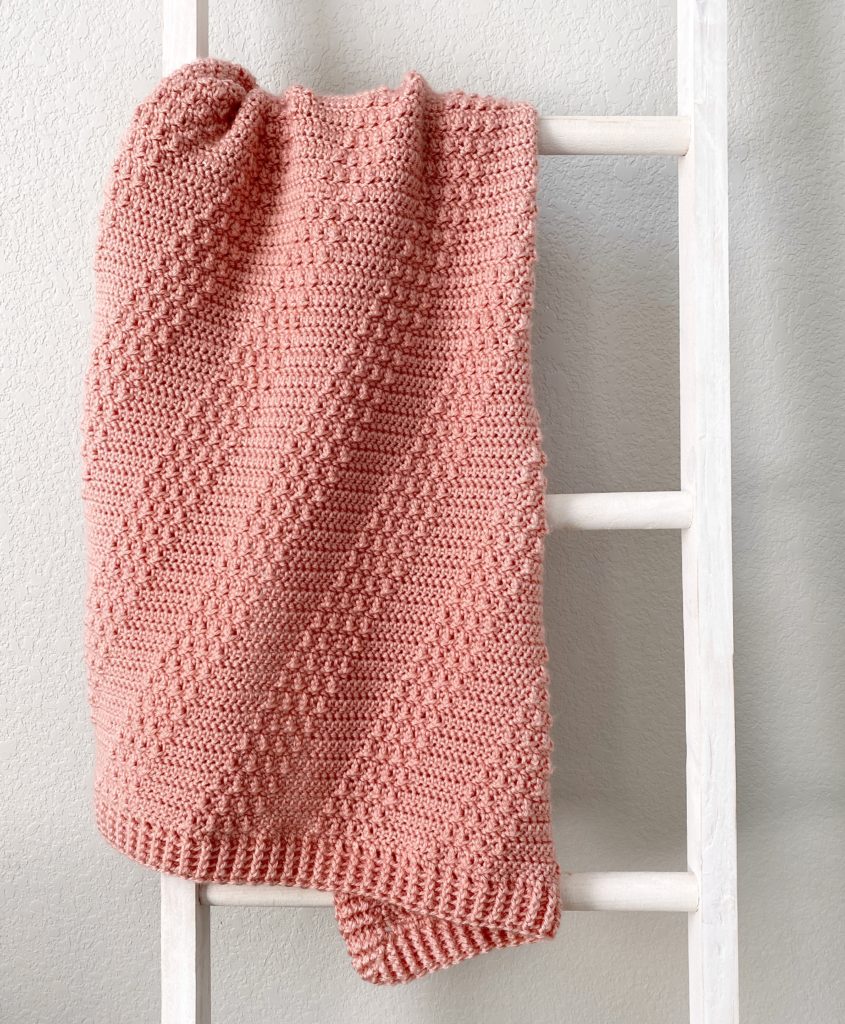 Diagonal stripes are a whole new world of beautiful crochet patterns. With this one, you'll be able to unlock the beauty of textured lines that come to life using the Herringbone HDC and Treble Crochet stitches. The elegance of this blanket might appear daunting, but fear not – we're here to guide you through the process.
Believe us, once you find your rhythm, the intricate pattern becomes a delightful journey. You won't believe the sense of accomplishment that awaits! Explore the mesmerizing art of diagonal crochet and prepare to be amazed by the elegance it brings to your crafting repertoire.
Click Here to See the Full Tutorial.
3. Crochet Textured Baby Blanket in Pink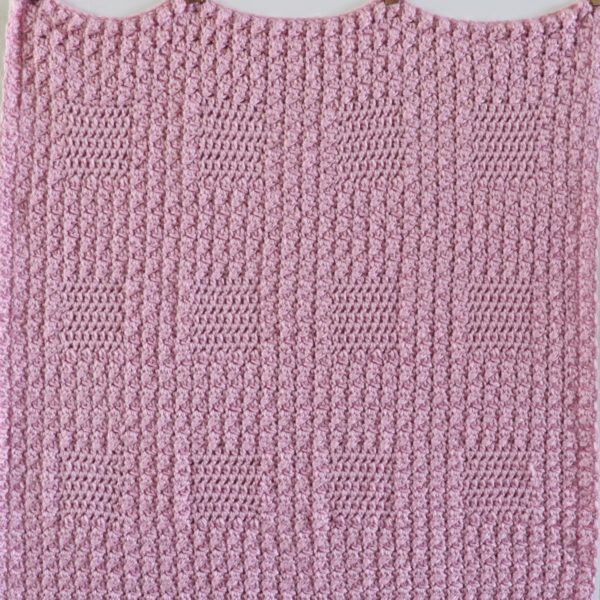 Indulge in the art of creating something extraordinary for your little bundle of joy. Let us introduce you to the Bernat Softee Baby Chunky yarn, the star of this textured wonder. With a blend of stitches that includes the intriguing DC2tog Cluster and the versatile Wide Half Double Crochet (WHDC), we're about to craft a masterpiece that strikes the perfect balance between puffiness and flatness.
Picture your baby wrapped in a world of softness and comfort, all lovingly created by you. Are you ready to dive into this pink-hued adventure and infuse your crafting with both style and coziness?
Click here to see the full tutorial.
4. Crochet Berry Chevron Baby Blanket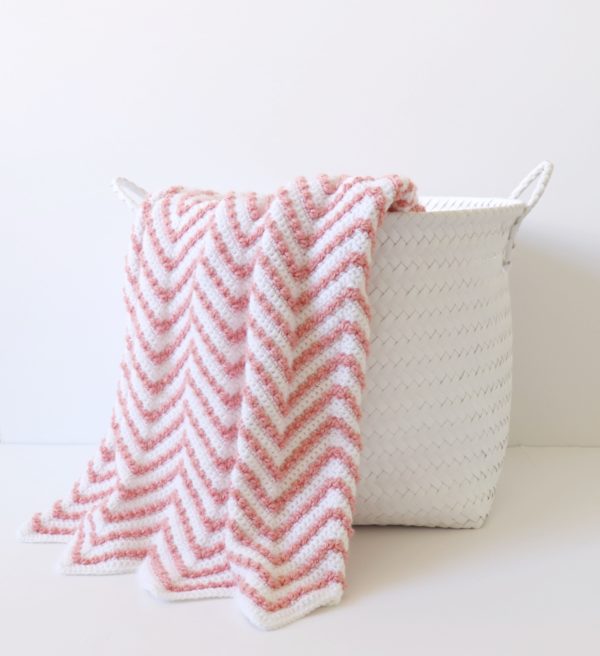 Brace yourself for a journey into the world of intricate crocheting as we explore the Berry Chevron Baby Blanket. Crafted using the exquisite Bernat Softee Baby yarn, this creation boasts delicate berry stitch bobbles that exude a sense of timeless elegance. The softness of the yarn adds an extra layer of comfort, making it a true labor of love. As you venture into the realm of chevron patterns, you'll unravel the magic of the berry stitch and will further uncover the secrets to crafting a blanket that's both intricate and awe-inspiring.
Click here to see the full tutorial.
5. Crochet Geometric Baby Blanket
Let us take you through one of the most captivating geometric designs. With this pattern, you'll likely create a crochet masterpiece that plays with shapes and colors to deliver an eye-catching visual experience. Through a careful selection of simple stitches and strategic color changes, you can work to weave a creation that's destined to be cherished for years to come. Prepare to embrace the world of crochet geometry and immerse yourself in a crafting adventure that promises both creativity and a striking final result.
Click here to see the full tutorial.
6. Navy Gingham Crochet Blanket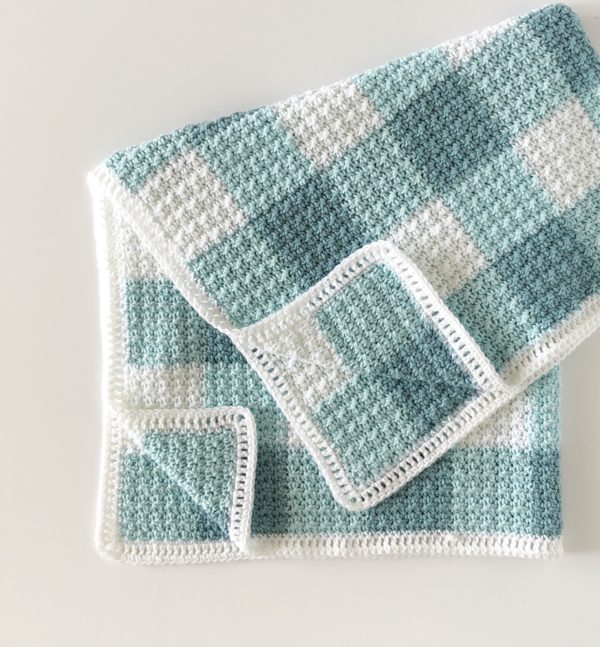 Fall in love with this modern creation – the Navy Gingham Crochet Blanket. While bringing this pattern to life, you'll explore the art of seamlessly blending navy and white hues to create a textured gingham design that transcends time. Dive into the thought process behind selecting the perfect yarn, making size adjustments, and mastering the extended single crochet stitch. With some practice, you'll be ready to create your very own navy gingham crochet blanket, which fuses classic patterns with modern crafting techniques.
Click here to see the full tutorial.
7. Crochet Dainty Stripes Baby Blanket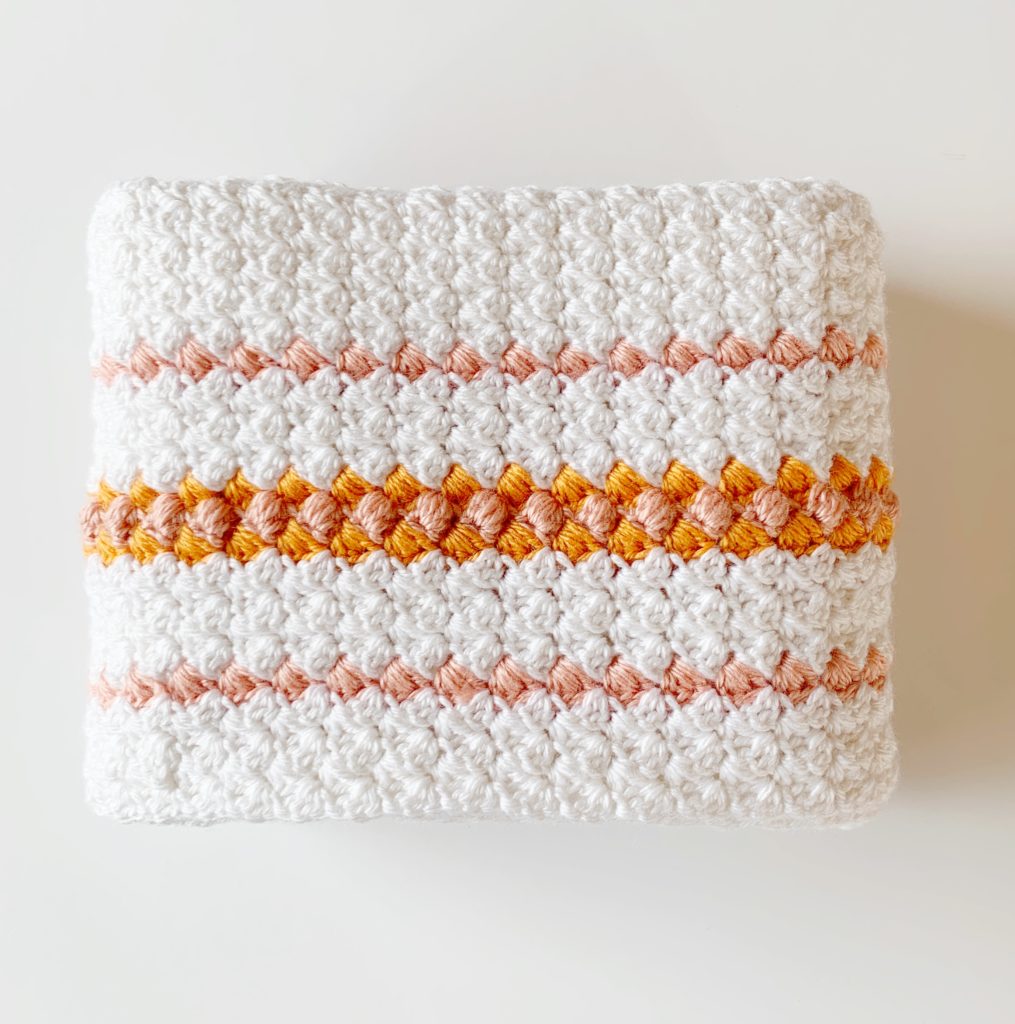 Allow us to introduce you to the world of captivating color contrasts with this charming Dainty Stripes Baby Blanket. Picture Soft Peach and Pumpkin hues coming together in a modern boho symphony that's simply irresistible. Join us as we unveil the allure of the cluster stitch, adding a touch of magic to the stripe pattern. With Bernat Softee Baby yarn in hand, follow these simple instructions to create a lightweight, airy, and undeniably stylish blanket for your little one. The journey ahead promises both elegance and effortless crafting.
Click here to see the full tutorial.
8. Crochet Colorful Polka Dots Baby Blanket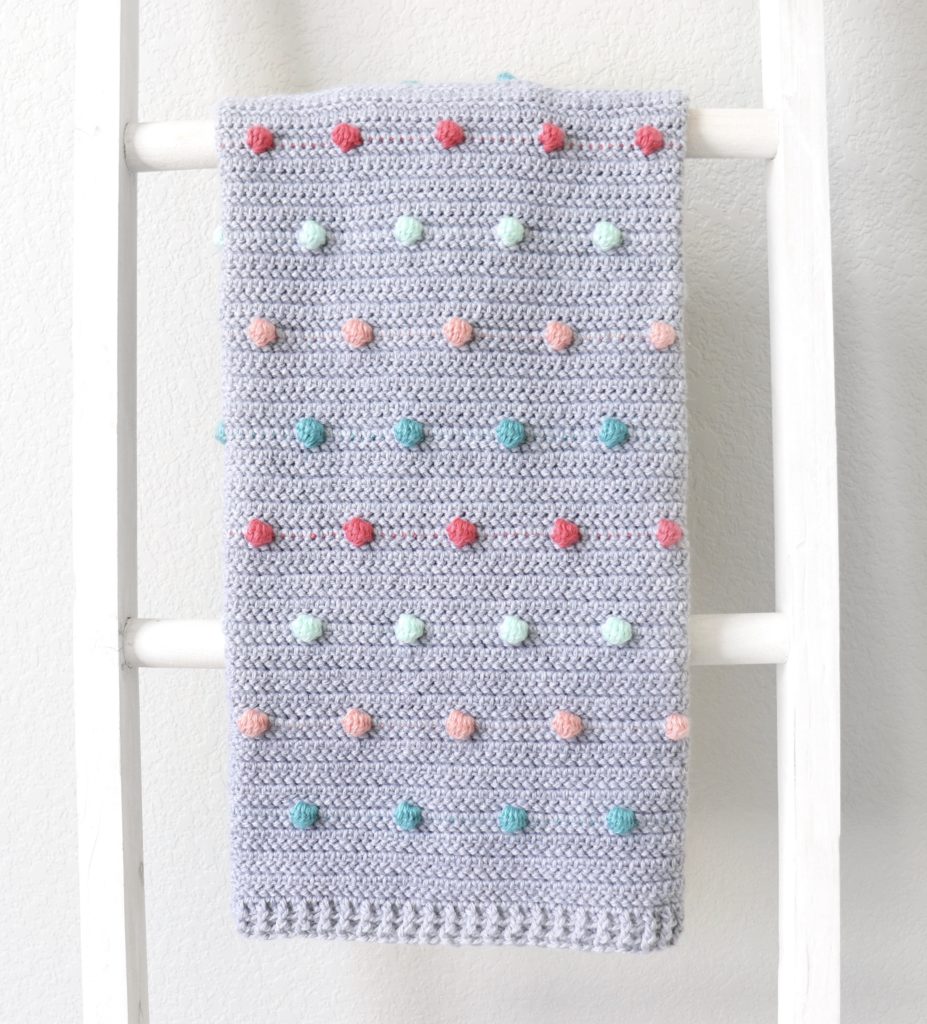 We're thrilled to present you with this latest polka-dot masterpiece. Prepare to infuse a playful touch into any nursery with colorful polka dots that dance across your creation. Join us in exploring the art of carrying yarn and crocheting over it, adding depth and texture to your work. Discover the secrets to making those dots pop against a neutral gray background or seamlessly blending them for a softer effect. Let us guide you through this delightful project, and together, we'll craft a whimsical wonder that's destined to become a cherished heirloom.
Click here to see the full tutorial.
9. Crochet Mini Half Stripe Baby Blanket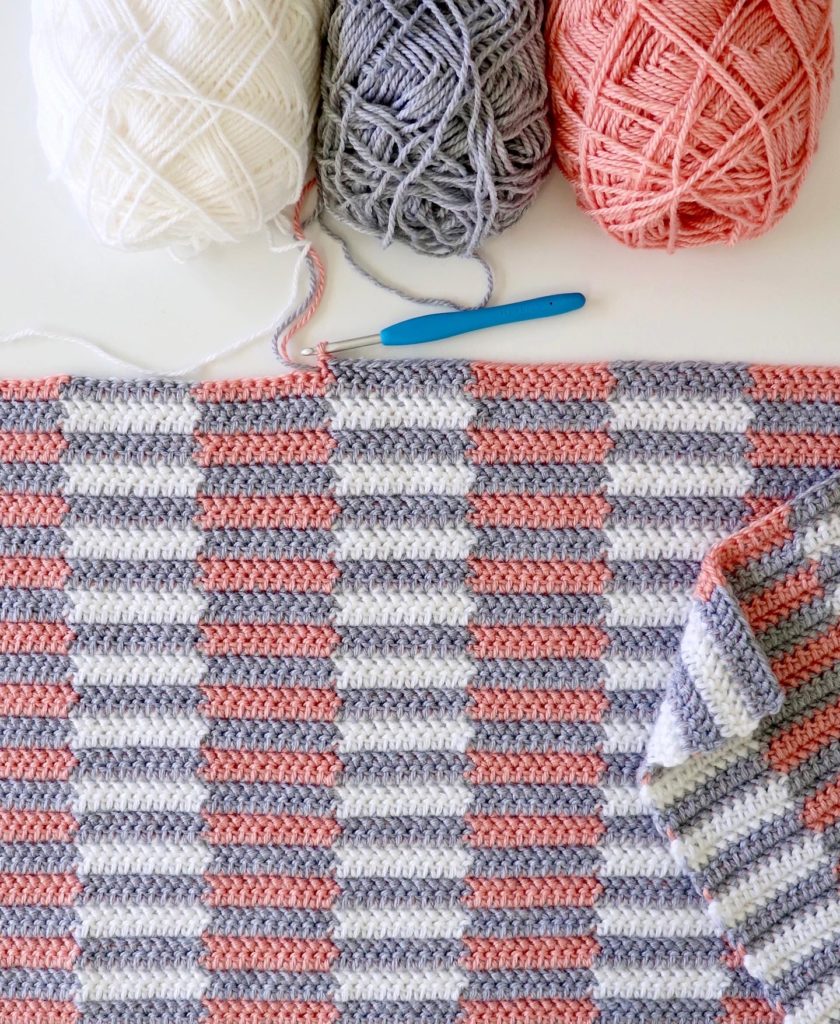 Join us in crafting a mini half-stripe baby blanket that promises cozy cuddles and endless comfort. Delve into the art of seamlessly transitioning colors and carrying yarn to create a visual treat that's both soothing and stylish. Embrace the elegance of the herringbone half double crochet stitch, elevating the texture of your creation to new heights. With the harmonious blend of Flannel, Soft Peach, and White, you're about to craft a masterpiece that's not only functional but also a visual delight. Follow this step-by-step guide and embark on a journey of crafting comfort and beauty.
Click here to see the full tutorial.
10. Crochet Triangles Baby Blanket
We're both delighted and thrilled to introduce you to this beautiful Crochet Triangles Blanket pattern! Using tapestry crochet and carried yarn for color changes, you can easily bring this pattern to life. The smaller yarn weight called for a half-double crochet cluster stitch, giving the blanket extra texture. With Bernat Softee Baby yarn, this cozy 31″ x 31″ blanket is perfect for your little one. Make triangles by creatively switching colors and letting your stitches stand out. Crochet along and make your delightful triangle masterpiece!
Click here to see the full tutorial.
11. Crochet Pink Puff Stripes Baby Blanket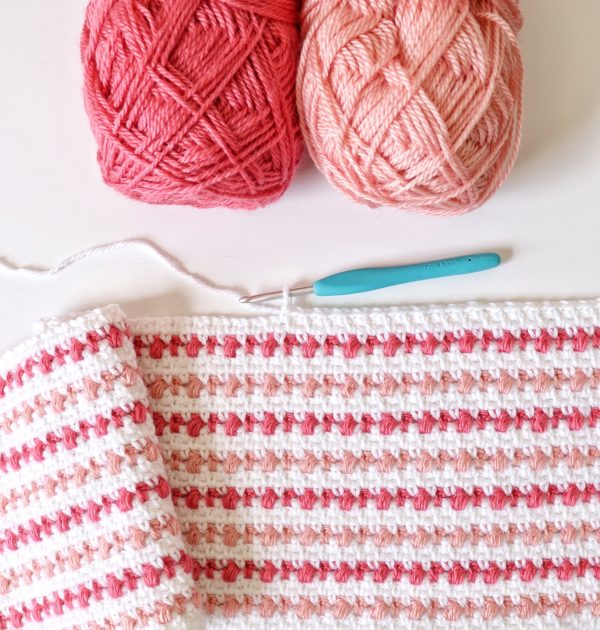 We're excited to present you this Crochet Puff Stripes Baby Blanket, a playful twist on the classic Moss and Puff Stitch Blanket. By incorporating puff stitches, we create delightful textures alternating with the timeless moss stitch. Bernat Softee Baby yarn in White, Soft Peach, and Soft Red brings this 27″x30″ stroller blanket to life. Join us on a journey of color and stitches to make a cherished gift.
Click here to see the full tutorial.
12. Crochet Nautical Baby Blanket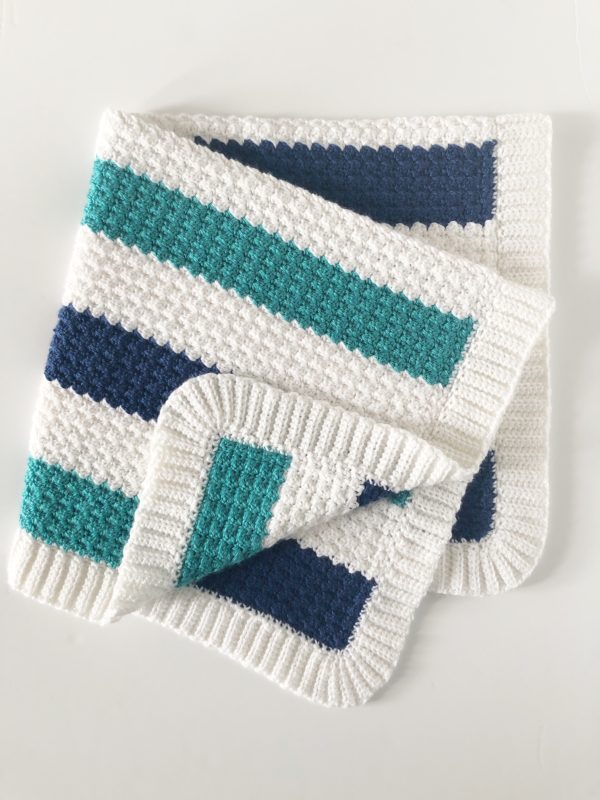 If you love all things nautical, you'll absolutely adore this pattern. This 34″x34″ blanket, adorned with anchors, is a heartfelt gift for her new grandbaby. To make it even more special, you can throw in some more colors or merge craftsmanship with a meaningful story to create a treasured keepsake. Dive into Bernat Softee Baby yarn and embrace the nautical spirit with this adorable blanket.
Click here to see the full tutorial.
13. Crochet Mini Modern Granny Blanket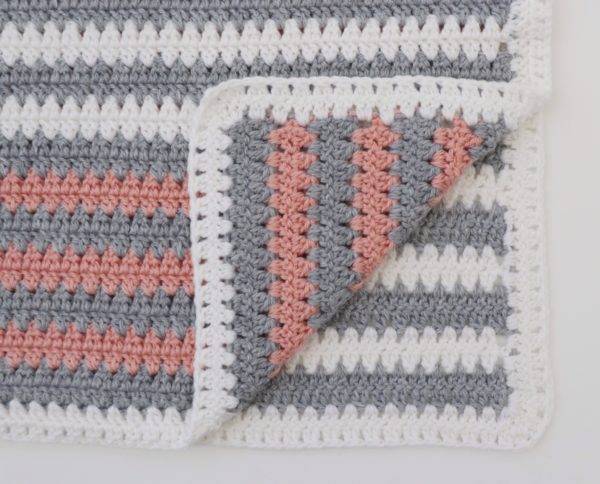 This Mini Modern Granny Blanket is a delightful twist on the original Granny Blanket pattern. These cute, compact grannies form a cozy 36″x 35″ masterpiece. Bernat Softee Baby yarn in Flannel, White, and Soft Peach brings softness and charm. With a simple repeat of stitches, you'll create a stunning textured design. Be mindful of the alternating stitch counts to keep your sides straight. Craft along with this tutorial to make a mini version of this cherished, modern granny pattern.
Click here to see the full tutorial.
14. Crochet Modern V-Stitch Blanket in Red, White, and Blue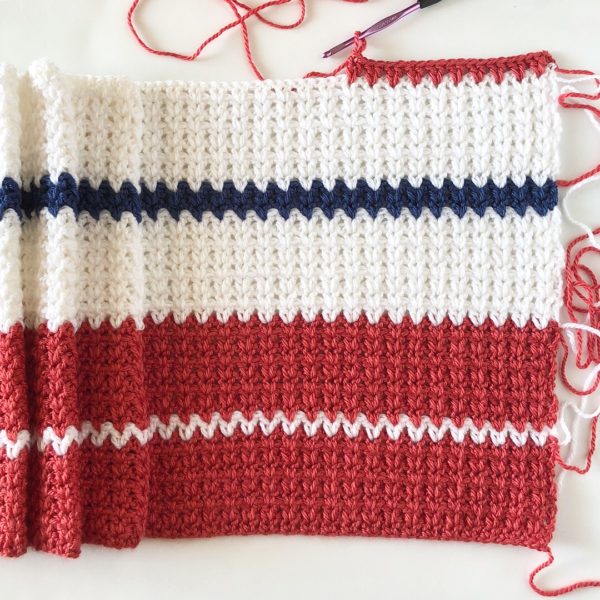 This Modern Crochet V-Stitch Blanket has a Tommy Hilfiger flair. This stunning creation celebrates timeless stripes, measuring 34″x 34″. The classic V-stitch pattern, along with Bernat Softee Baby yarn in Navy, Little Red Wagon, and White, brings sophistication to every stitch. Subtle zig-zags in each row of color changes add charm to this piece. Remember, attention to tension is key to keeping the edges straight. You'll have a lot of fun crafting this timeless and sophisticated blanket that's bound to be an heirloom.
Click here to see the full tutorial.
15. Bernat Textured Crochet Baby Blanket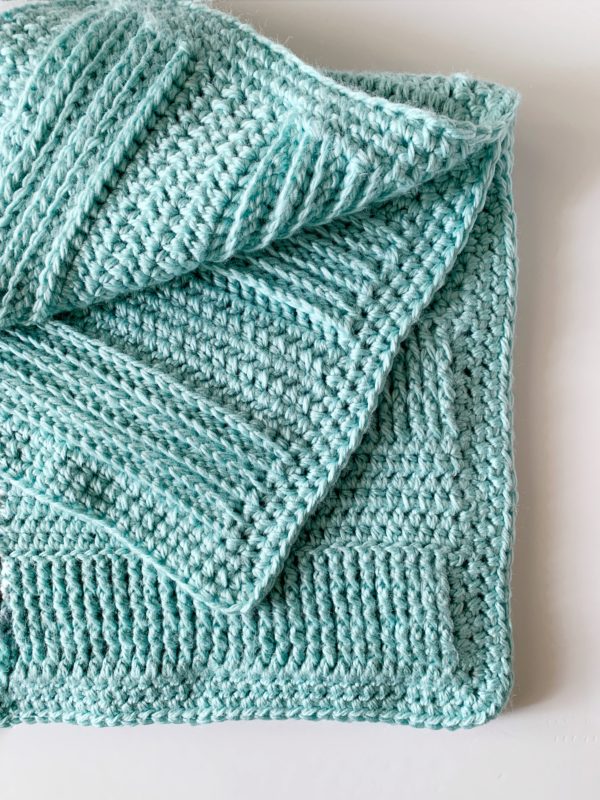 Discover the tale behind this blanket's creation! Inspired by a bathroom mat, we embarked on a creative journey to design a textured crochet masterpiece. The challenge was to find a reversible stitch pattern, leading to trials with post stitches and half double crochet. Eventually, clusters and half-double crochet emerged as the winning combo. The Bernat Softee Baby Chunky yarn brought quick results, making it soft and cozy. This pattern's perfect for beginners, too, offering detailed explanations and tips. Find a detailed guide here and create your cozy miracle.
Click here to see the full tutorial.
16. The Bunny Blanket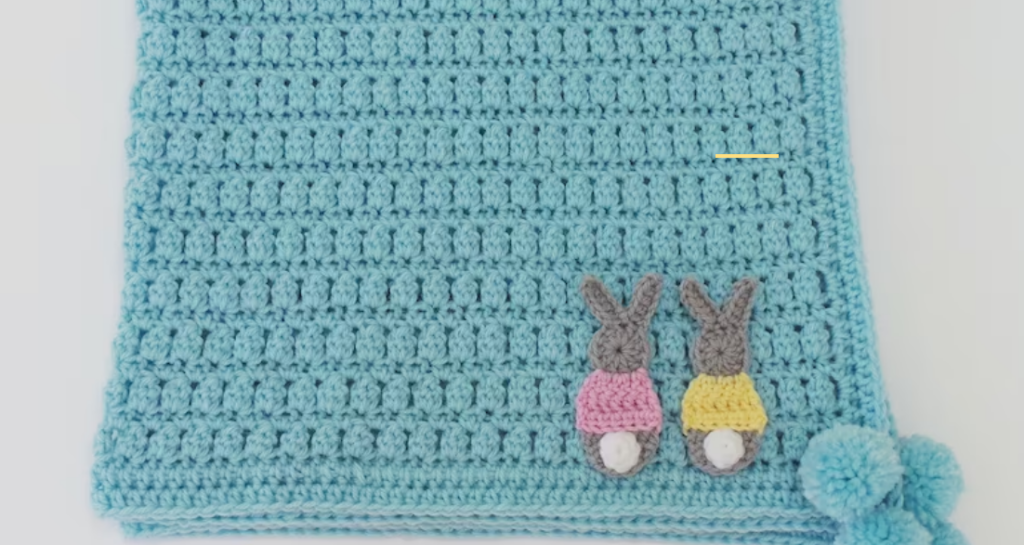 Behold the cuteness overload! A blanket adorned with adorable bunny bums and pom-poms. The Beatrix Potter-style design is both simple and captivating. Don't let the name fool you; it's not just for babies! This charming creation can bring comfort to anyone. Whether you're crafting it for a little one or keeping it for yourself, this blanket's pastel perfection and sweet embellishments are sure to tug at your heartstrings.
Click here to see the full tutorial.
17. Crochet Bernat Softee Blanket Sparkle Throw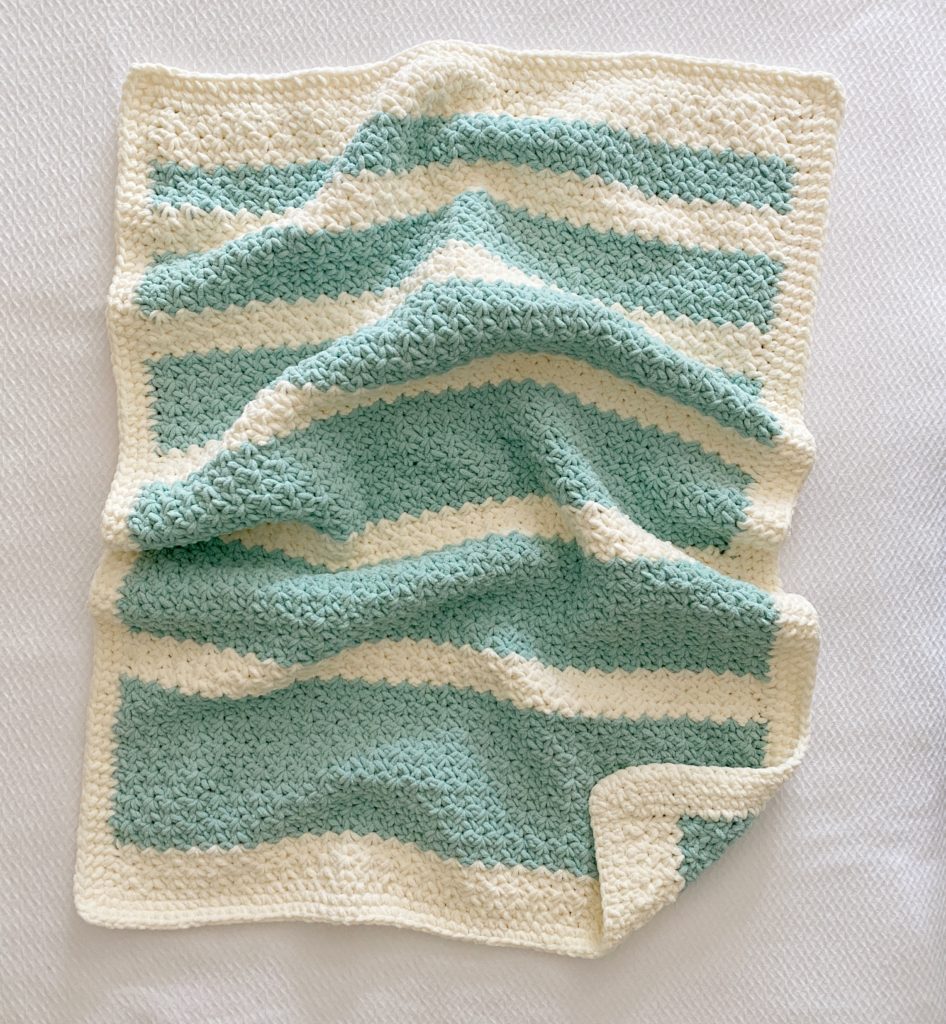 Witness the joy as your little one cozies up in the Bernat Blanket Sparkle Throw! This blanket yarn is soft, squishy, and fast to work up. It's ideal for thoughtful gifts and baby playtime. The special sparkle adds a magic touch, making it fun for little ones. The included pattern and video tutorials simplify the process, while the promise of an upcoming baby sweater pattern adds to the excitement. Experience the joy of creating and wrapping loved ones in warmth and care.
Click here to see the full tutorial.
18. The Ripple Throw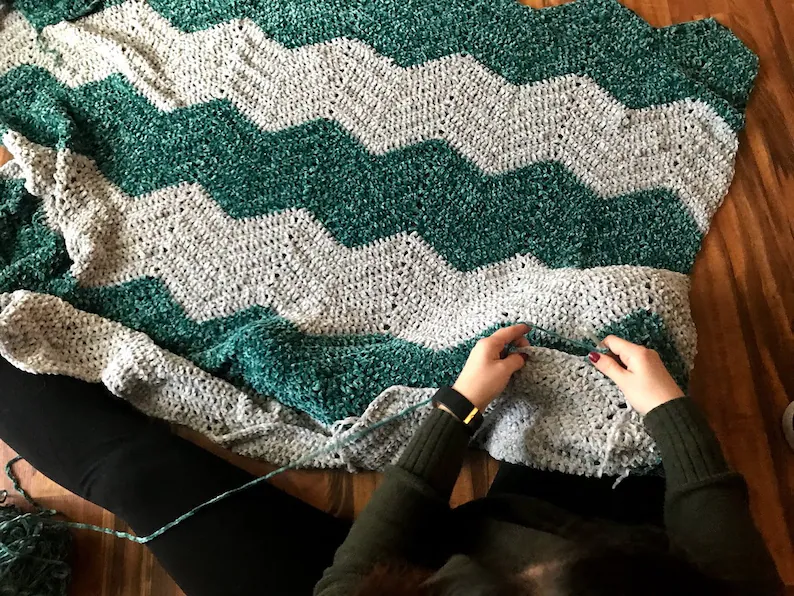 Who says it's just for babies? Indulge in the velvety softness of the Bernat Softee Baby Velvet yarn. This ripple-patterned throw is a sight to behold, with its exquisite chevron design and fluffy tassels. This masterpiece isn't just a blanket; it's a marble saver, a source of solace for tough days, and a touch of elegance to any space. Treat yourself or your loved ones to the cozy beauty of the Ripple Throw.
Click here to see the full tutorial.
19. Marshmallow Blanket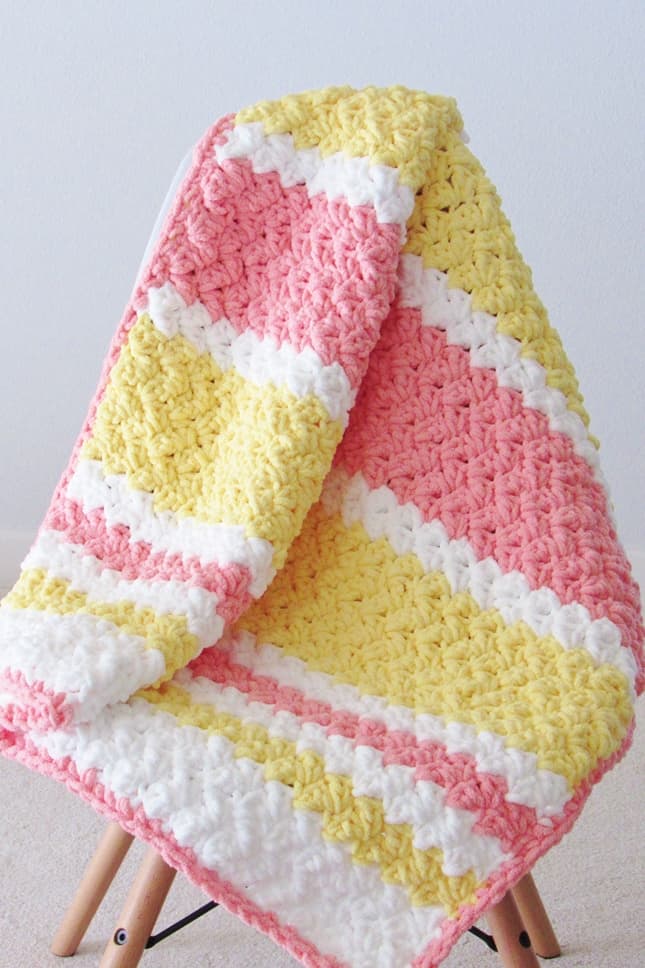 Picture-perfect and irresistibly cozy, the Marshmallow Blanket is a crochet lover's dream come true. With captivating stripes and a beginner-friendly textured stitch, it's the perfect gift for baby showers or any occasion. The secret? Super Chunky Bernat Softee Baby Blanket yarn. This step-by-step pattern, complete with photos and a video tutorial, ensures a stress-free crafting experience. Embrace the satisfaction of creating a warm, snug masterpiece that can be completed in under 6 hours.
Click Here to See the Full Tutorial.
20. The 3-in-1 Cuddly Sheep Blanket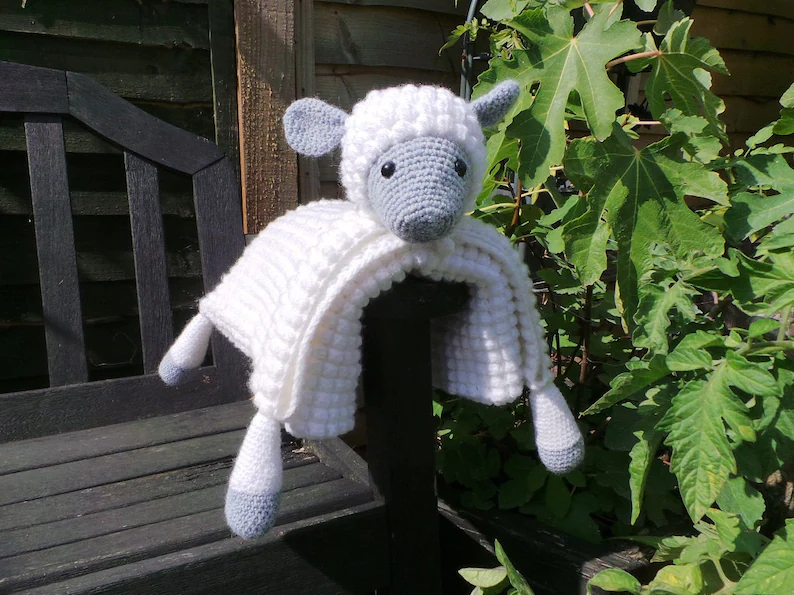 Here's unveiling the versatile wonder of the 3-in-1 Cuddly Sheep Blanket. Not just any blanket, it's also a playmat and a toy sheep! Soft-touch fabric or Bernat Softee baby blanket yarn makes this delightful creation come to life. It's a security blanket, a comfy play surface, and an adorable toy all rolled into one. Explore the world of versatile crafting, and if sheep aren't your thing, there's a range of animal options to choose from. Enjoy crafting comfort and creativity in one fluffy package.
Click Here to See the Full Tutorial.
Conclusion
As we conclude this crochet journey through the world of Bernat Softee Baby Yarn patterns, we invite you to embrace the art of creating softness and love stitch by stitch. The collection of 20 enchanting patterns we've explored reflects not only the versatility of this exceptional yarn but also the boundless creativity within you.
Whether you're a seasoned crocheter or just starting, these patterns have something for everyone. From delicate blankets to charming garments, each creation is a testament to the beauty of handmade craftsmanship and the warmth it brings to our little ones. With Bernat Softee Baby Yarn as your companion, every stitch becomes a thread of care woven into blankets that wrap your babies in comfort and joy.
So, pick up your hooks and let your imagination run wild. Let the softness of Bernat Softee Baby Yarn become a canvas for your creativity as you craft timeless treasures that will be cherished for generations to come.
Happy crocheting!