In a world that is constantly evolving, some traditions hold steadfast throughout the generations. Crocheting is an ancient craft that has been there for centuries and continues to captivate and inspire artists.
There exists a masterpiece that seamlessly bridges the gap between classic elegance and contempt for creativity – the crochet modern granny square blanketin peach and blue.
The modern granny blanket takes the foundational concept of the granny square and breeds new life into it with innovative arrangements, contemporary colors, and a newer perspective. The choice of colors plays a pivotal role in this transformation.
This granny blanket is more than just an item of decor. It's also a living testament to the resilience of heritage and the beauty of human expression. As the world hurdles forward, the blanket stands still with its everlasting beauty and boundless potential.
Amidst the chaos of life, this piece of art generates a space for artistry and the joy of creation.
The Evolution of Granny Square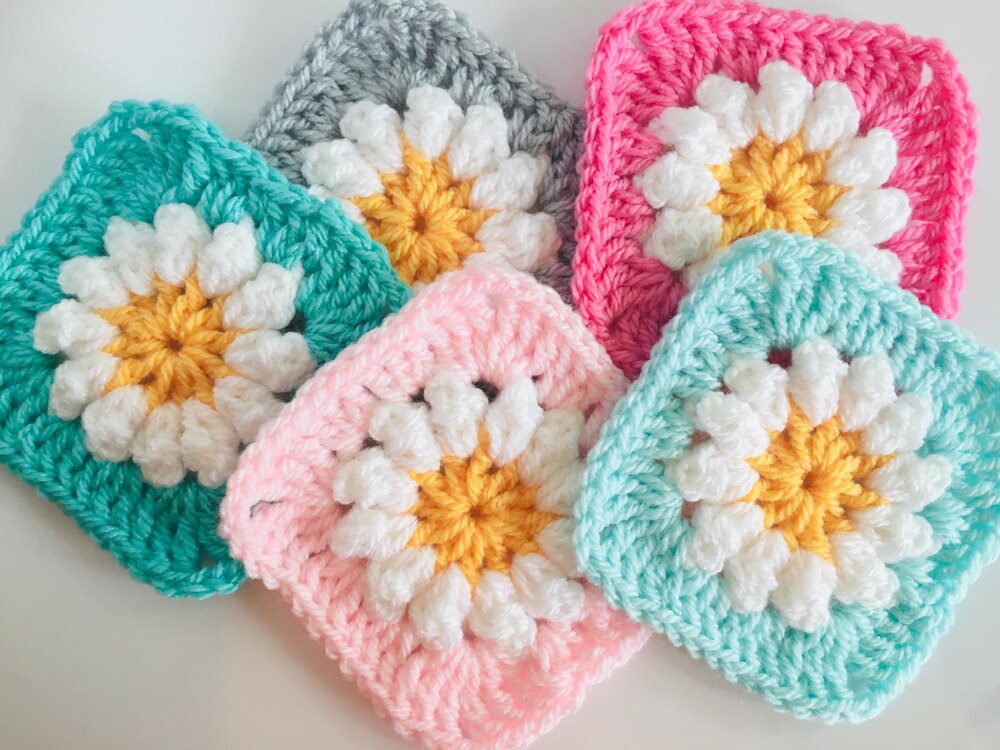 The granny Square is a simple yet versatile motif in the crochet world. Originating in the early 1800s, Granny Square was born out of necessity. It was an efficient way to utilize the yarn scraps and repurpose worn-out textiles. Its pretty basic design and double crochet stitches provided a very clever solution at that time.
As time passed, the functionality of Granny Square became a beloved form of artistic expression. During the mid-20th century, Granny Square experienced a resurgence in popularity and became a cultural movement. The color choices for granny squares slowly became more diverse, ranging from tones to vibrant hues. The turn of the 21st century witnessed the revival of granny Squares driven by the resurgence of interest in handmade and DIY culture into the modern granny square blankets.
Granny Square can be integrated into various styles, from bohemian to chic. Experimenting with different yarns and colors can help you make a unique piece to reflect your personality.
The Perfect Hues: Peach and Blue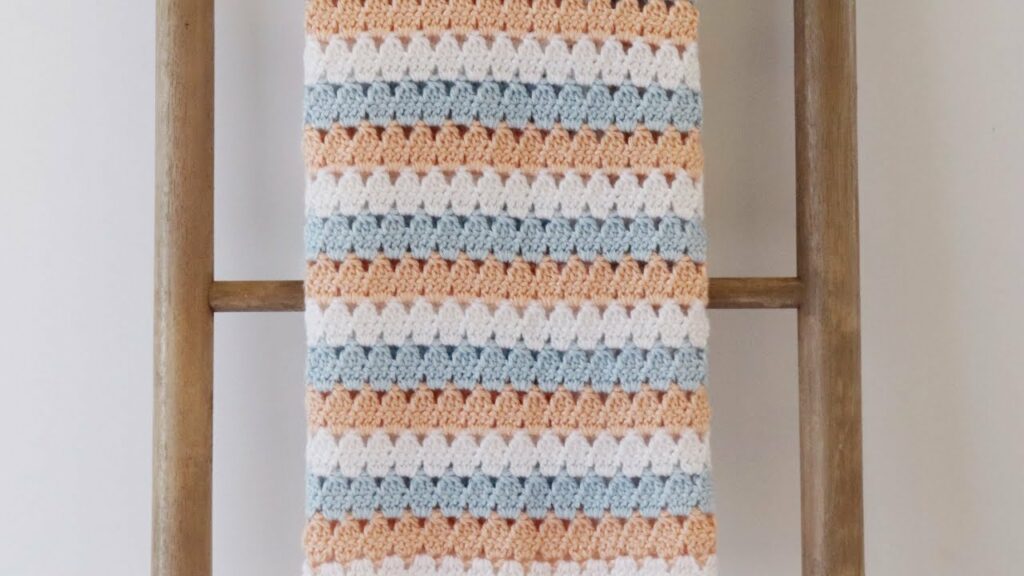 Selecting the perfect color for your modern granny square blanket is a crucial step in any creative endeavor. When it comes to crocheting a big blanket, the choice of peach and blue is a perfect choice. It perfectly adds depth and emotion to the creation, curating a harmonious balance.
Peach and blue, when combined thoughtfully, evoke a sense of beauty and calmness that goes beyond their shades. When paired with the crochet, modern granny blanket, these color bring out their unique qualities and create a visual experience that resonates deeply with the creator.
Each, with its soft and warm undertones, symbolizes gentleness and positivity. It also radiates a sense of optimism and is an ideal choice for a blanket whose purpose is to provide physical and emotional warmth. Blue, on the other hand, is known for its calming and serene qualities. Different shades of blue used in the modern granny blanket create a spectrum of emotions that reaches the depth of your mind. This color also represents wisdom, much like the Expanse of ocean or sky.
Together, these colors create a beautiful contrast that's visually appealing and emotionally comforting. The interplay mirrors, the delicate balance of nature itself, and the warm glow of sunrise meeting the cool hues of a clear sky.
Crafting the Modern Granny Square
Crafting the modern granny square blanket is a captivating journey that blends innovation with traditions and allows you to create intricate and visually striking motifs. While the foundation of this blanket is the classic crochet technique, this modern twist adds a contemporary element through color, choices, experimentation, and arrangement.
Materials Needed
To embark on the journey of creating a beautiful, modern granny blanket in peach and blue. You need to know the necessary materials that are needed for this process. This simple yet carefully chosen tool kit will help you create a unique masterpiece with your creativity and passion.
Choosing high-quality yarn in the colors of peach and blue is important to make this blanket. Yarn comes in various thicknesses or weights, and they can be either super light or super bulky. Make sure that the yarn you choose to create the modern granny blanket has a proper finish to create added depth and visual interest.
Select an appropriate crochet hook size based on the yarn you have chosen. It is important for you to choose the right hook because hooks affect the tension and drape of your stitches. Ensure that the hook you choose compliments your yarn and allows you to achieve the desired stitch gauge. For making a modern granny blanket, a larger hook is more appropriate.
A pair of sharp scissors is an essential and basic tool for any crochet project. It's important to make clear cuts on the yarn while changing colors or when you're finished with the work.
A tapestry needle, also known as a yarn needle, is used for weaving the loose ends and giving finishing touches to your creation. It's an important tool for creating a polished look and securing any yarn tails.
It's important to keep track of your progress and make sure that all the squares in your square granny blanket are consistent in size. A measuring tape can be especially helpful when you want to determine the size and layout of your blanket.
Deciding on the Pattern and Inspiring to Crochet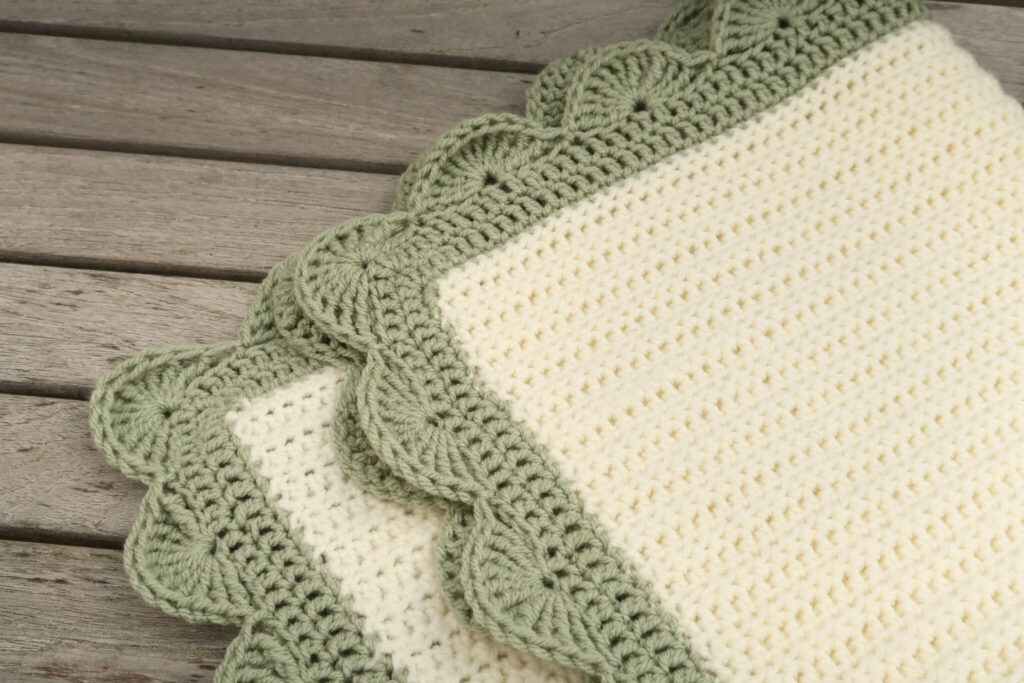 Having a pattern in mind before starting the project can give you direction for the project. While it's not a physical material, having a plan in mind will guide your color, placement, or arrangement of the granny squares. Make sure that wherever you work, you are comfortable and well-lit so you can crochet without straining yourself. Designate a proper area with good lighting and ample space to enhance your crafting experience.
Step-By-Step Guide for Modern Granny Square Blanket
Now that you have gathered all the materials needed for this project, it is time for you to start bringing your artistic vision to life. Infuse your personality into this unique blanket and turn it into a cherished heirloom.
Step 1: Begin with a Magic Circle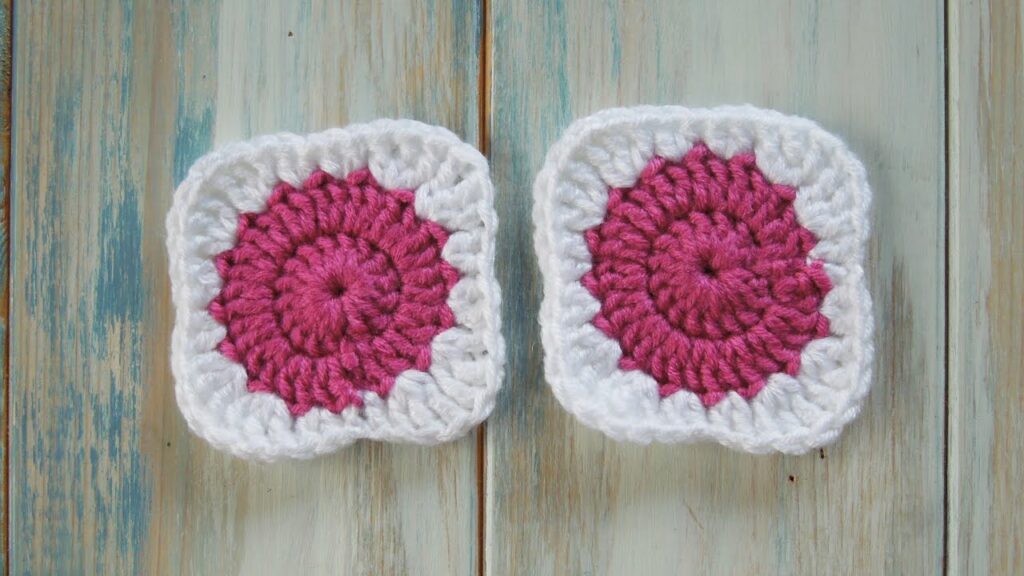 For each granny Square, you need to start with a magic circle. This technique creates a seamless and adjustable center for your square. It's derived from the traditional method of training a few stitches and joining them to form a ring, which allows you to close the circle more tightly.
Start by holding the loose end of your yarn between your thumb and the base of your fingers. Let the working yarn hang down. Take the working yarn and wrap it around your index and middle fingers. The more times you wrap it, the larger the center hole will be. Typically, two or three wraps are sufficient.
Step 2: Create the Initial Cluster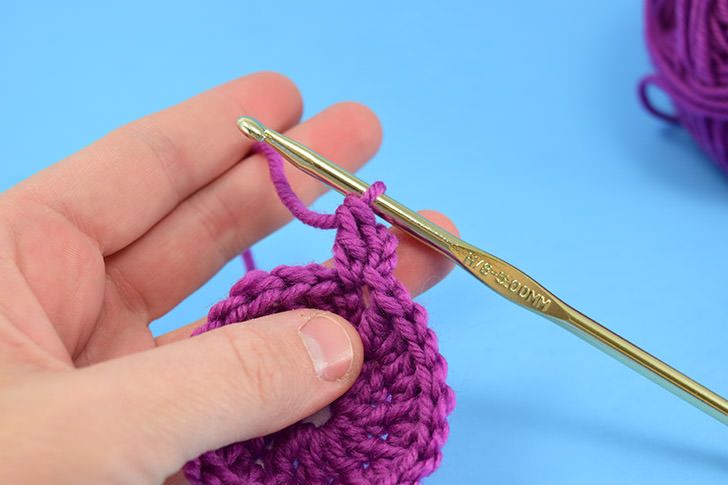 In the first round, create the initial cluster of stitches. It includes working three double crochet stitches separated by chain spaces. This cluster forms the foundation of your granny Square for your modern granny blanket.
To do this, yarn over your hook (wrap the yarn around the hook from back to front), insert the hook into the magic circle, yarn over again, pull up a loop (you now have three loops on your hook), and then yarn over and pull through the first two loops on your hook (two loops remaining). Finally, yarn over again and pull through the remaining two loops on your hook. This completes one double crochet.
Step 3: Expand the Square
Now that you have made the cluster, progress by adding more rounds to your granny squares. Create a cluster of stitches with each round and build upon the previous rounds. The number of rounds determines the size of your square, and modern granny Square typically consists of 5 to 7 rounds. You can always adjust the number of rounds as per your preference.
To expand your square, chain the desired number of stitches to create a corner. This number of chains can vary depending on your pattern, but it is often three or four chains to form a corner.
Step 4: Experiment with Colour Placement
A pivotal characteristic of a modern granny blanket is the creative use of colors that complement each other. Alternate between the peach and blue colors to create striking patterns. You can also opt for a consistent color scheme or change it as you move on with it.
Step 5: Craft Multiple Granny Squares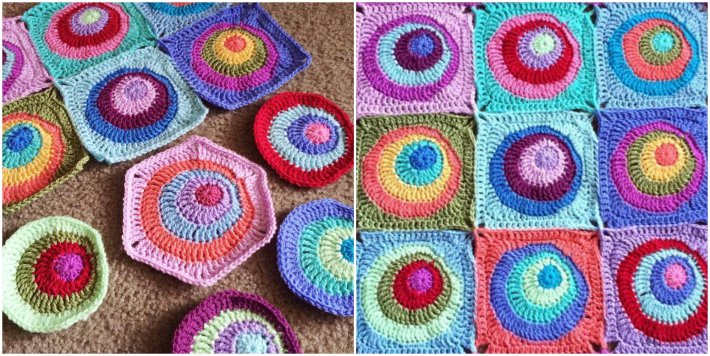 Repeat the above four steps and create multiple granny squares. Make sure that all the squares are consistent in size and color arrangement. The number of squares you make will depend on the dimensions of your blanket.
Step 6: Arrange and Join Squares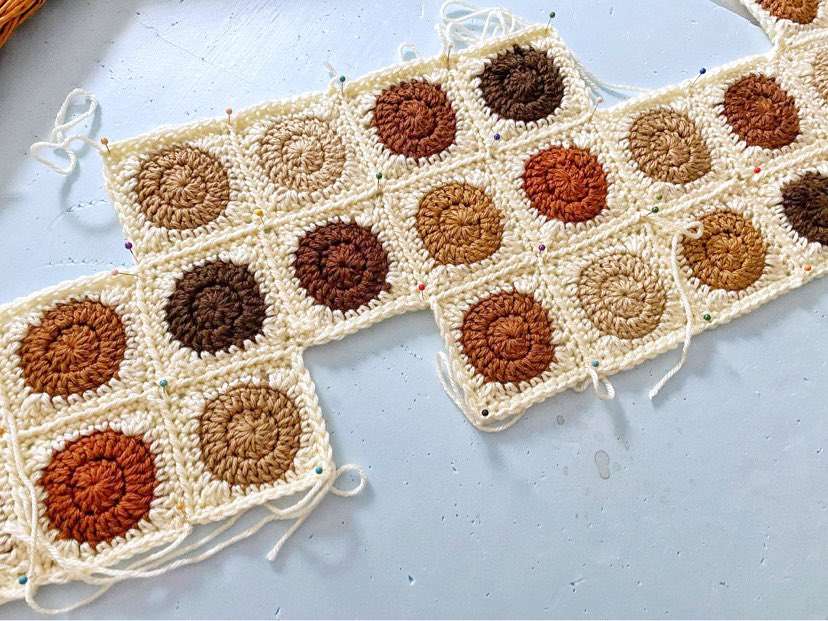 Now that you have created all the squares needed let them work out in a visually appealing pattern. Try experimenting with different arrangements until you find a layout that gives a balanced look. You can either use slip stitching, single crocheting, or any other technique to connect all the squares
Cut a length of yarn and thread it onto a yarn needle. Leave a tail for weaving in later. Begin in a corner of your first square. Insert the yarn needle through both loops of the first stitch on the corresponding edge of the second square.
Step 7: Add a Border
To complete the project, add a border around the entire perimeter. The border is not only a finished touch but also helps unify the individual squares. You can also experiment with stitches and color combinations for your border to enhance the overall appeal of the design.
Step 8: Adding Finishing Touches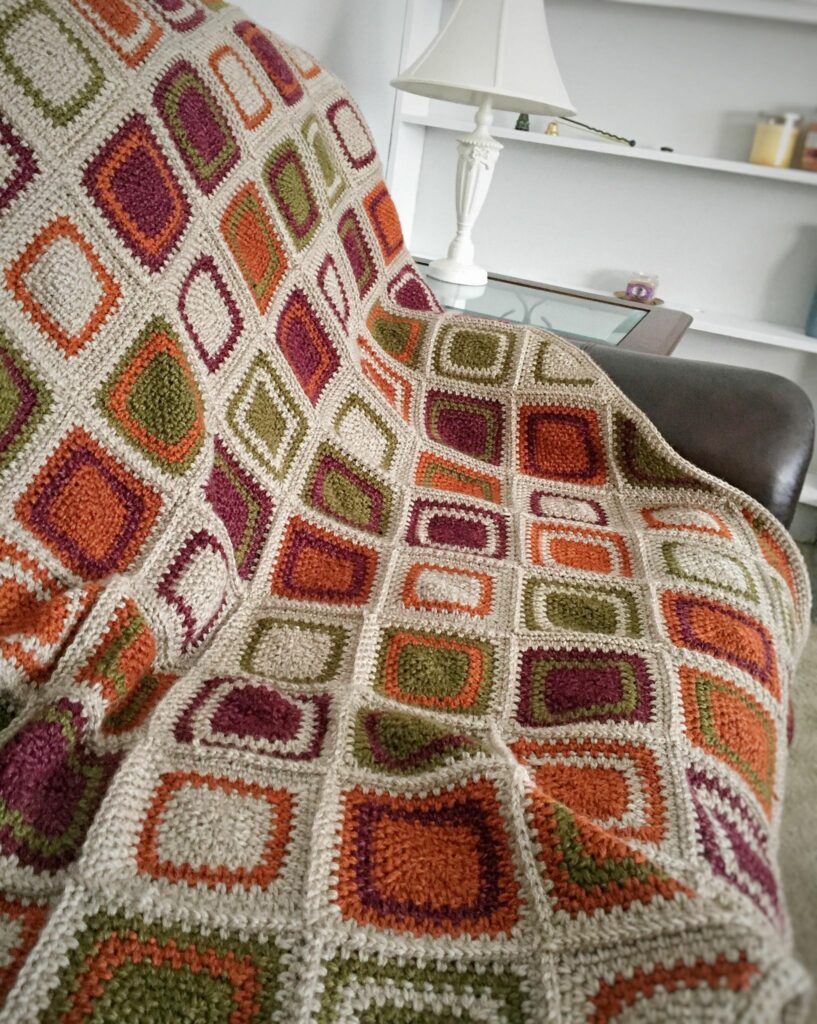 After you have added the border and joined all the squares, make sure that there are no loose ends left. Use a tapestry needle for a clean and polished appearance. With the finishing touches complete, your modern granny square blanket will bring warmth and beauty to your space. You can either drape it over a couch, give it as a gift, or use it as a bedspread. The process of creating a modern granny blanket is not just about crafting an item but also a journey of self-expression.
Embracing Modernity and Tradition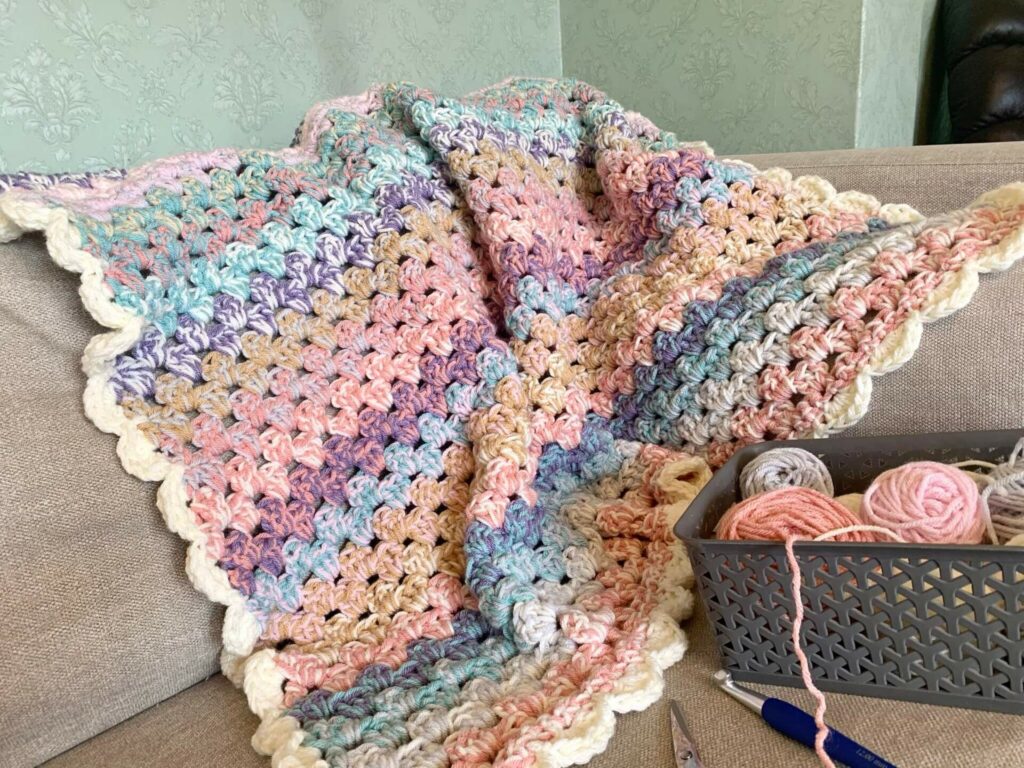 Embracing modernity and tradition within the context of a modern granny blanket is a fascinating exploration of how timeless techniques can be infused with modern creativity. This fusion of the old and the new creates a perfect balance that respects the crochet heritage while also pushing the boundaries of innovation.
The true magic of a modern granny blanket lies in the seamless harmony that takes place between tradition and modernity. It's important to embrace the foundational granny square while also using modern colors and arrangements for contemporary aesthetics. The harmonious balance speaks to the enduring appeal of handcrafted items. In today's world, which is driven by technology and mass production, the art of crocheting a modern granny blanket becomes an intimate experience.
The fusion of the old and the new is a testament to the timelessness of human Creativity, which is an art form that continues to evolve while remaining firmly rooted in its origins.
Conclusion
As the final stitches are over, a border emerges, framing the masterpiece with elegance and flare: this blanket is a testament to creating skill and imagination. It also represents the heritage and beauty of human expression. Intricate patterns and vibrant colors capture the essence of the generation passed while speaking to the hearts of those in the present. The modern granny crochet blanket in peach and blue is a testament to the enduring charm of crochet artistry.
It seamlessly weaves together tradition and modernity, inviting crocheters to explore their creativity while honoring the rich history of the craft. With its captivating color combination, cozy texture, and intricate design, this blanket is not only a decorative piece but also a source of comfort and joy. As the world continues to evolve, the timeless beauty of handmade creations like the modern granny blanket reminds us of the value of craftsmanship and the simple pleasures of creating something beautiful with our own hands.
Do let us know your views on the guide and how you plan to make your piece of art.