Are you looking for some cool crochet stitches? Then, you might have landed at the right place that would help you to address all of your grievances. Crochet checkerboard stitch is a basic yet versatile stitch for all crocheting projects.
It is one of the popular stitches among people who like crocheting. If you are a beginner, the crochet checkerboard stitch is ideal for developing your crochet skills. You can use this checkerboard pattern to create beautiful crochet items.
It is an easy crochet stitch pattern that you can do with a quick tutorial and a handful of materials you need to do the work. The checkerboard pattern is suitable for beginners and people who have been crocheting for a while. In this crochet checkerboard pattern tutorial, we will provide a step-by-step guide to crochet checkerboard stitch.
We will also discuss the materials needed, different uses, and more.
Chequered Crochet Pattern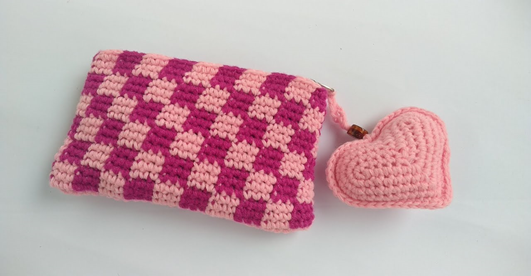 Before we begin with our crochet checkerboard pattern tutorial, we will discuss the chequered crochet pattern briefly. Learning about the chequered crochet pattern will help you understand the process better.
A checker is a pattern made with strips of vertical and horizontal lines. It creates small squares to form the pattern. The checkerboard pattern usually requires two different colors, where one checker of the pattern is covered with a checker of a different color (from all four sides).
The checker is a single square of the checkerboard pattern. And you can also use a single-color yarn to crochet a checkerboard pattern.
Materials Needed for this Stitch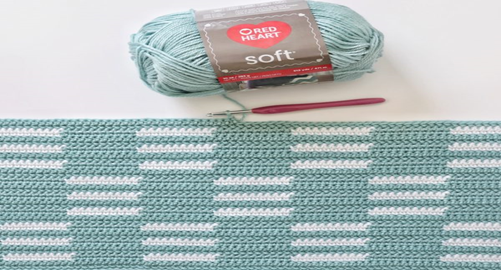 The Crochet project is fun and exciting for anyone who loves crocheting. And if you have the right materials and tools, you can experiment with different styles and patterns. So, here we will list all the essential materials and tools you need to arrange for a crochet checkerboard pattern-
Yarn: Yarn is a crucial part of crochet. You can use any kind or color of yarn you like. But remember to pick a yarn of good quality and sustainability. You can use yarns made with eco-friendly materials like cotton, natural silk, or bamboo strands. They are not harmful, provide a smooth finish, and last longer. We recommend Red Heart Super Saver Yarn for a quality finish.
Crochet hook: You will also need a crochet hook to make the crochet checkerboard pattern. You can use any hook you have for this project. But remember, the hook will determine the size of your checkerboard pattern. So, choose your crochet hook according to the size of the checkerboard pattern you want to create.
Abbreviation Related to Crochet Checkerboard Pattern Stitch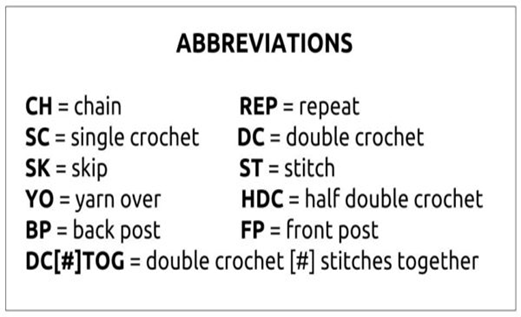 You must know some crochet abbreviations to follow this crochet checkerboard stitch tutorial properly. Below you will find a list of abbreviations.
Ch– Chain
Sc– Single Crochet
Dc– Double Crochet
Rpt– Repeat
Sk– Skip
Yo– Yarn over
Sl St– Slip Stitch
Row– You can find a "Row" at the beginning of every pattern line. Usually, a number signifies which row it is.
Fdpc– Front post double crochet
Bbpc– Back post double crochet
Essential Notes for Crocheting the Checkerboard Pattern
In our crochet checkerboard stitch tutorial, we will work on rows to create a beautiful crochet checkerboard pattern. You can use one or multiple colors for the crochet checkerboard pattern.
Adding more colors will let you experiment with textures and patterns. In our tutorial, we will use three colors to create the checkerboard pattern in crochet.
To start the process, create a slip knot and add as many chins of yarn chain as you want. To create the crochet checkerboard pattern stitch, you should take 6 foundation chains and multiples of 10 stitches. In the crochet dictionary, it is a multiple of 10+6. For instance, you begin with color A, ch 26.
Quick Tutorial Guide for the Chequered Crochet
Crocheting checkerboard pattern fabrics can be a fun project for both beginners and intermediate levels. You can take a simple crochet checkerboard patternproject and slowly level up. You only need the correct tools and materials with a detailed step-by-step guide. Below, we will share a detailed tutorial on crocheting checkerboard pattern fabric.
Row One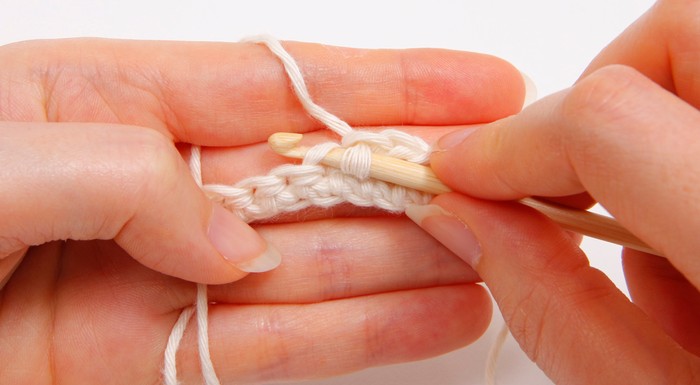 At first, use color A to sc in the 2nd ch from the crochet hook. After that, sc in the next 4 sts and dc in the following 5 sts. Continue to sc in the following 5 sts. Rpt the process from across in the final st, change color A to color B. Finally, switch to ch 3 and turn.
Row Two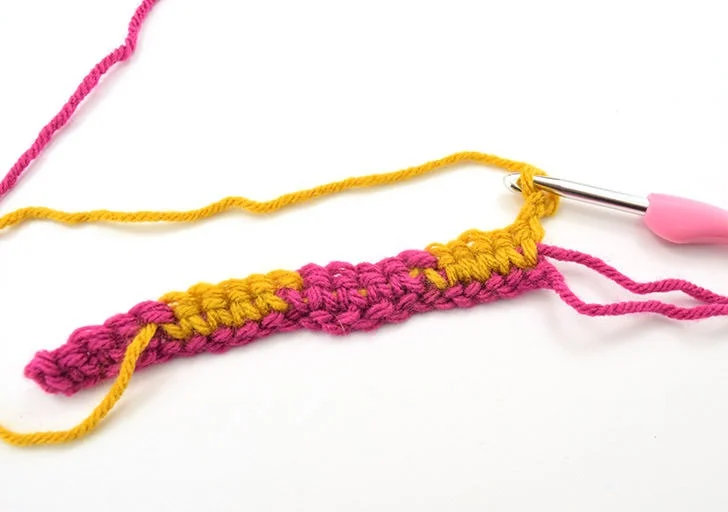 Dc in each of the following 4 sts with color B. Then sc in the next 5 sts and dc in the following 5. Rpt this process from across. In the final st, change color B to C. Then switch to ch 1 and turn.
Row Three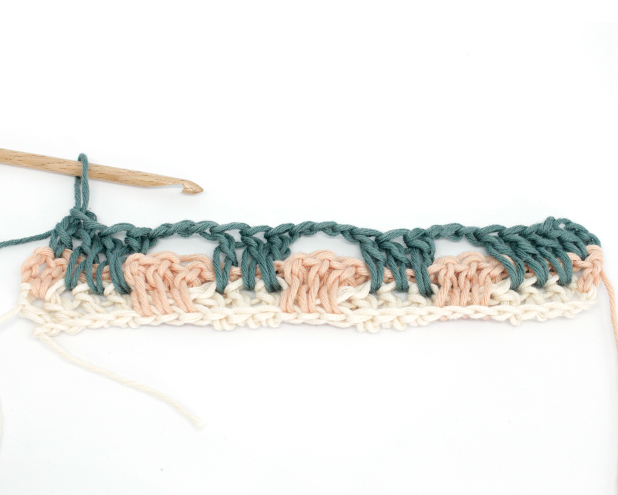 Sc first 5 sts with color C. Dc in the following 5 sts and sc in their next 5. Repeat the process from across. In the final st, switch to color A. Take ch 3 (considered a dc) and turn.
Finish it without Hassle
You must alternate colors A, B, and C and repeat rows two and three to complete the pattern. To finish, fasten off your work and weave in all the loose ends.
Different Ways to Use Crochet Checkerboard Pattern Fabric
Crochet checkerboards are very popular for making crochet items. They look beautiful whether you crochet checkerboards with a single color or multicolor yarn. Also, you can crochet checkerboard stitches in several ways. Here we have listed some common and beautiful ways to use crochet checkerboard patternfabric.
1. Sewing Color Blocks Strips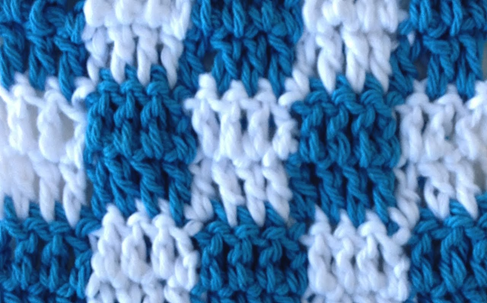 We will begin with the sewing color block strips. It is one of the easiest ways to crochet checkerboards. The sewing color block strips primarily incorporate two different colors, but you can use more colors if you want. Try to work with your favorite colors of yarn for this crochet project. The big squares or crochet checkers are easy to stitch, and you can make it as double as a blanket.
It is a genius method to create a checkerboard in crochet. Even beginners can use this method to create a beautiful checkerboard. Imagine this pattern as eight big strips or scarves that are connected. Each strip is worked in blocks in one color and then incorporates your next color. And again, add the first color, then repeat the process to complete the checkerboard pattern.
2. Tunisian Entrelac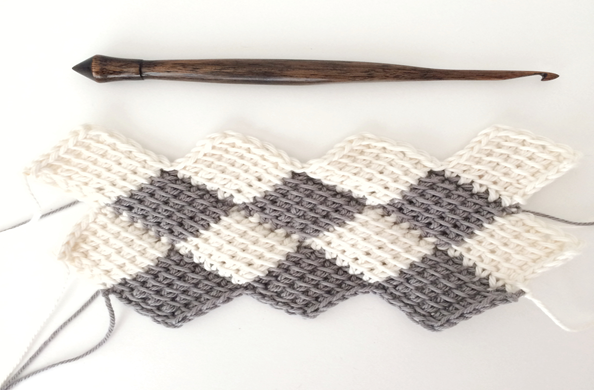 Crochet checkerboards may appear plain, but you can make them more interesting when you make them in different ways. Tunisian entrelac is another popular method for crochet checkerboard patterns. In Tunisia entrelac, the texture of each entrelac block is highlighted with colorwork.
Looking closely, you will see the entire checkerboard is slightly tilted, unlike the traditional checkerboard pattern. This variation makes checkerboard pattern fabric more interesting. But remember, it can cause eye strain if you try the traditional crochet checkerboard stitches to create the Tunisian entrelac.
3. Changing Colors Across The Row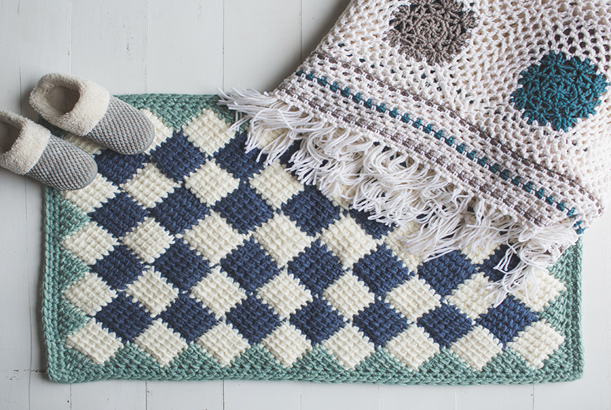 Changing color across the row is also an incredible method to crochet a checkerboard pattern. If you are not fond of seaming, then you will find this method intriguing. The result does not look like a traditional checkerboard but contains small squares or checkers.
The main difference between the traditional and this checkerboard pattern is that the first one works on color strips while this method changes color across the row. In this method, you will crochet all the colors ( the colors of yarns you took for the checkerboard) in each row.
4. Double-Ended Tunisian Crochet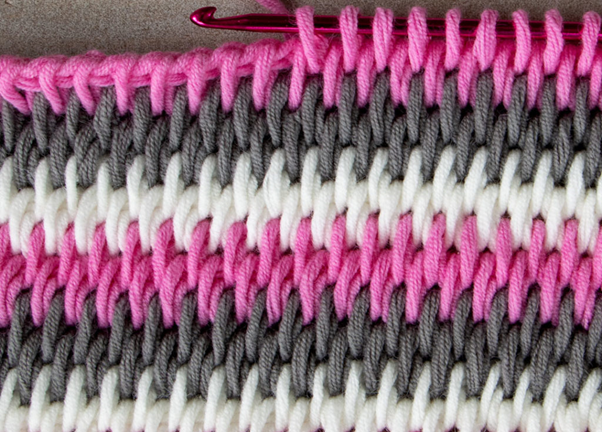 Lastly, the double-ended Tunisian crochet method is popular for creating the checkerboard pattern. In this method, you can use your crochet hook to use the front hook to pick up stitches and then use the back hooks to work them off. Here, you need to work by alternating the Tunisian reverse stitch and Tunisian knit stitch.
You need to use the color a to pick the stitch and color b to work them off. It will bring a charming colorwork pattern for your crochet checkerboard pattern. You can also use four colors instead of two for crocheting checkerboard patterns in the double-ended Tunisian crochet method.
Popular Use Of Crochet Checkerboard Pattern
The checkerboard pattern is very popular in crochet. The chequered pattern looks amazing. Also, you can create beautiful crochet items using this pattern. The design is simple, and anyone can create it (from amateur to pro-people).
Plus, there are several variations of checkerboard patterns in crochet that make them ideal for making different stuff. Here are some popular uses of crochet checkerboard pattern fabrics:
1. Crochet Checkerboard Pattern Basket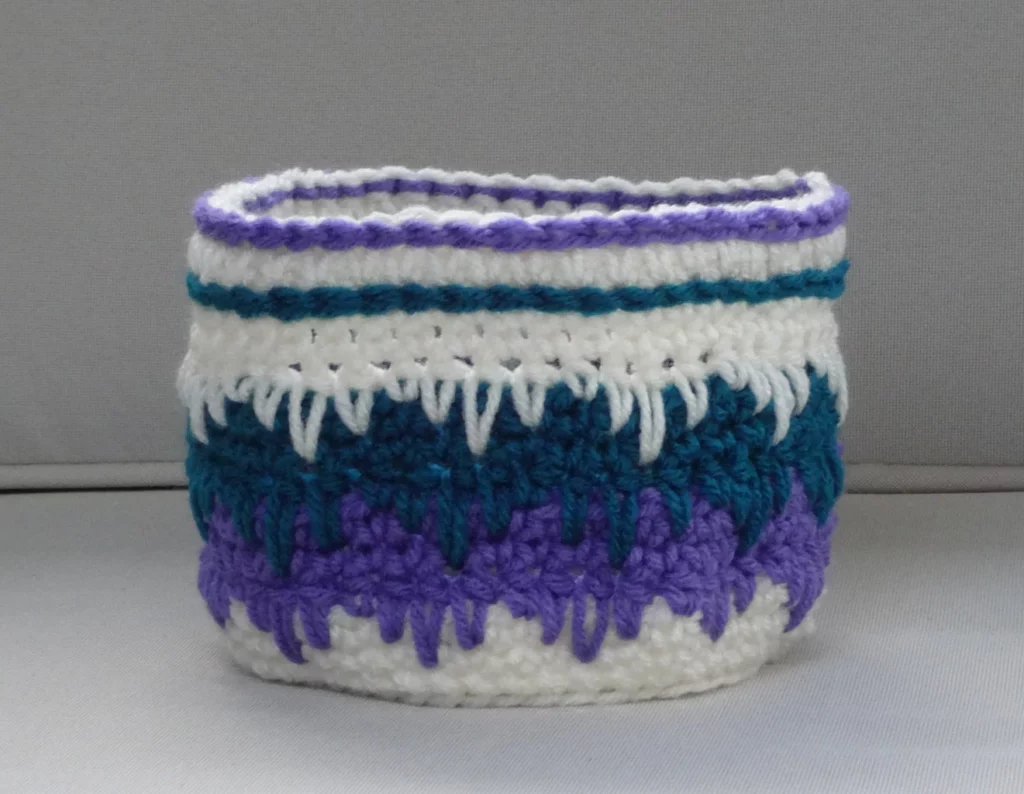 The crochet checkerboard pattern basket is one of the popular and effective uses of the checkerboard pattern in crochet. It is an ideal project for the intermediate level.
Also, if you have been crocheting for a while or are an advanced beginner, you can try it. A Crochet checkerboard basket can be a good option when searching for some small project with colorwork.
The standard measurement for crochet baskets with checkerboard patterns is 7″×4.5″×5.5″. But you can take any measurement for your crochet basket at your convenience.
These baskets make a perfect option for gifting and home decorations. You can gift them on occasions like Thanksgiving, get-togethers, farewells, etc. You can also use them for flower arrangement over the table or to hold your plant pots.
2. Checkerboard Pattern Crochet Scarfs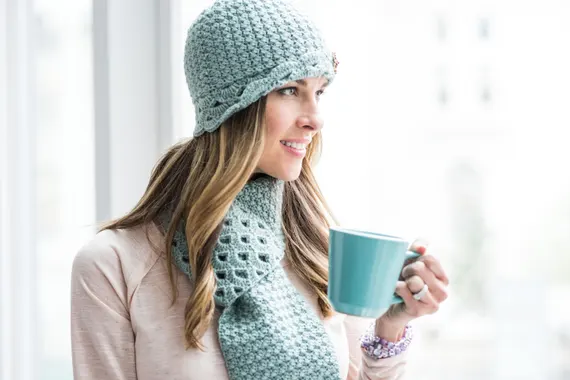 We all know that crochet scarfs have a crazy fanbase. They look adorable, comfy, and suitable for all ages. And there is no exception for checkerboard pattern crochet scarfs. It is an excellent crochet project for beginners or advanced beginners trying a checkerboard pattern for the first time.
Also, if you are a pro at crocheting checkerboard patterns, you can incorporate some interesting methods to create a beautiful and unique crochet scarf.
The standard length measurement for crocheting a chequered scarf is 140 cm. Still, you can always create a scarf and determine its length according to your needs. The ideal weight of your yarn should be 250-260 g for this project. And the type of yarn must be worsted or Aran for a smooth finish.
The checkerboard pattern in crochet scarfs looks amazing, and you can gift them or use them yourself. They are perfect for gifting on birthdays, anniversaries, get-togethers, etc.
3. Checkerboard Crochet Placemats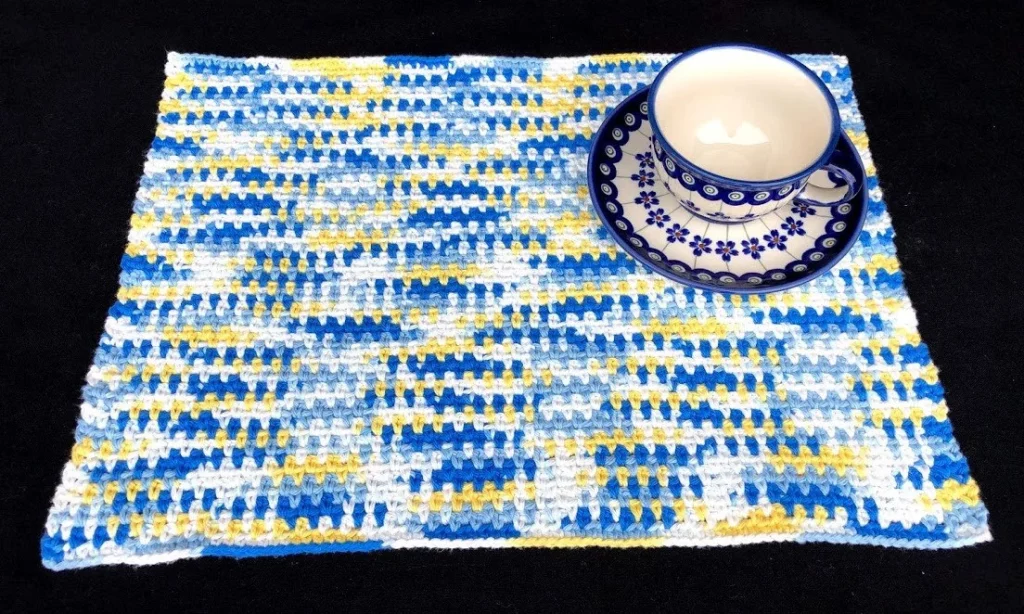 Crochet placemats are easy to create and useful. The chequered crochet placemats are easy to make, and you can do it with beginner's skills. But if you are at an intermediate level, then you can experiment with complex methods for crocheting chequered placemats.
The standard size for each finish placemat must be 35cm/14 inch to 47 cm/ 18 inch. You will need a 4.5 mm crochet hook and Worsted or Aran yarn for this project.
Takeaway: Crochet Checkerboard Pattern
The Crochet checkerboard pattern is one of the interesting crochet designs. It is also one of the simplest crochet patterns you will learn during beginner and intermediate levels. The stitch creates a beautiful pattern and results in a solid fabric.
Also, when you add multiple colors, it creates amazing texture and pattern for the fabric. But if you want, you can also make the checkerboard stitches with a single color.
Solid color checkerboard crochet stitches give a soft, classy touch, while multi-color checkerboard stitches bring a vibrant and dynamic look. Here, we have covered a comprehensive tutorial on checkerboard patterns in crochet.
We covered all the essential details, to begin with the crochet checkerboard project. So, prepare and arrange your materials for crocheting a beautiful chequered crochet fabric. Also, share your experiences in the below comment box. Spread joy and happy crocheting!